Forward Collision Warning
Regarded as a business vertical that has remained quite unnoticed and away from the mainstream popularity, automotive camera market has been gradually making its presence felt in the humongous global transportation industry. The roll-out of the auto sector's first thermal camera-equipped commercial test vehicle by FLIR Systems, Inc., proves that automotive camera industry is evolving to cater the auto enthusiasts and professionals in this age of self-driving cars and is further expanding its sphere of influence across various business verticals.
Germany automotive camera market, by type, 2018 & 2025 (USD Million)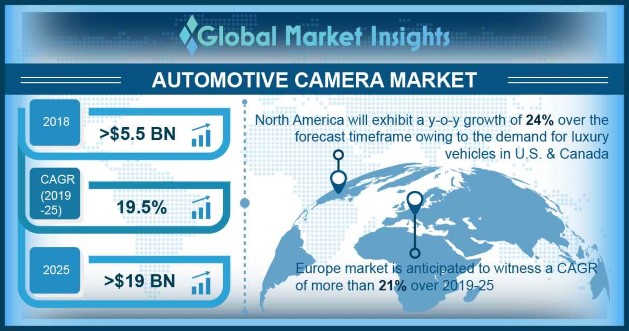 The co-relation between the regulatory guidelines and automotive camera market share
Most vehicle safety features made mandatory by policymakers, such as airbags and seat-belts, ensure protection of those travelling in the vehicle. As a result of such policies, numerous verticals such as automotive airbags market, which is slated to surpass a remuneration scale of USD 85 billion by 2025, have been proliferating at an unprecedented pace.
However, in a move that could change the mindset of the automakers and other prominent stakeholders, the US Department of Transportation's National Highway Traffic Safety Administration (NHTSA) has recently made it compulsory across the nation to install a rear camera in all new vehicles weighing under 10,000 pounds from May 2018.
The significance of this decision can be gauged from the fact that around 210 fatalities and 15,000 injuries are caused by a vehicle crashing into the other due to lack of visibility. Among these fatalities, adults aged 70 and more account for over 26 percent and children under five account for 31 percent. In this regard, reducing the risk of such accidents has long been recognized and the efficacy of rear-view cameras comes handy in ensuring the same. Numerous automakers have already made such technology standard equipment on many car models, essentially expanding the automotive camera market size.
Get a Sample Copy of this Report:@ https://www.gminsights.com/request-sample/detail/3340
Growing awareness and the need to educate vehicle drivers regarding usage of automotive cameras is fueling automotive cameras industry share
Even though the world is witnessing an unprecedented emergence of automation technologies and ADAS systems in passenger vehicles, the appropriate usage of automotive camera remains a cause of concern. It has to be noted that nine out of ten serious road accidents occur due to human behavior and these ADAS systems like automotive cameras possess the potential to save thousands of lives. Therefore, just sticking a camera in a car is of no use if people are not educated on the effective ways to use the information that is displayed on their screens and avoid crashes.
In this context, the auto regulators across developed and emerging nations are not only formulating rules for mandatory installation of rear automotive cameras but are also making efforts to educate people on the correct usage of these devices. Initiatives such as Global National Car Assessment Program in the U.S. and the programs unveiled by National Highway Traffic Safety Administration are of extreme importance in propagating the guidelines pertaining to passenger and pedestrian safety.
Speaking of the developing nations, India has taken centerstage in terms of rolling out improved version of the proposed road safety policy which includes awareness and education as some of the key features. Apparently, even automotive stalwarts are realizing that educating people is the right strategy choice and investing in one-off events is not. The prevalence of these trends across developed and emerging nations is undoubtedly helping to increase automotive camera industry size.
Challenges that may restrict automotive camera market share
The advent of trifocal cameras has enhanced the overall quality of automotive cameras. Moreover, these cameras are integrated with advanced LiDAR sensors which adds to the cost of the overall vision systems. Consequentially, it has been observed that price-conscious customers are reluctant to install automotive cameras in economic and low-cost vehicles, dampening the growth prospects of automotive camera industry.
However, with the launch of improved and technically-superior automotive cameras by startups, the prominent market players are making an effort to reduce the costs of popular automotive cameras. This trend might prove to be instrumental in revitalizing the automotive camera market size.
In the forthcoming years, automotive camera market is likely to be defined by numerous other challenges, though it is expected that core companies will, in all probability, figure out ways to deal with the constraints. As per an automotive camera industry analysis, the market size is forecast to surpass a remuneration figure of USD 19 billion by 2025.
Author Name :Saif Ali Bepari
The robust demand for safer vehicles on account of increasing road accidents have led to a massive spurt in advanced driver assistance system (ADAS) market size in recent years. Having recognized the extensive benefits of ADAS systems, numerous automakers have been working toward deploying this feature in their latest automobile brands. This paradigm shift toward implementing safety systems in vehicles on account of the increasing number of road accidents is certain to stimulate ADAS market trends.
U.S. Advanced Driver Assistance System (ADAS) Market, By Vehicle, 2018 & 2025, (USD Million)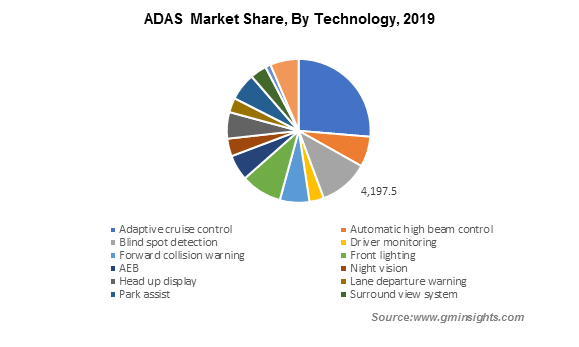 In the face of potentially hazardous driving scenarios, autonomous systems have been taking increasing precedence in recent times. Consequently, major players in advanced driver assistance system industry are focusing on the development of advanced automated ADAS systems. In order to retain a control over driving, these systems are embedded with features like emergency braking, lane keeping, automatic parking, and adaptive cruise control.
The incorporation of additional features such as machine learning and ADAS vision have even enabled vehicles to adapt themselves to adverse climatic conditions. Numerous ADAS market firms have been striving to launch diverse live-saving technologies, which have been instrumental in augmenting the industry trends.
Although ADAS is one of the benchmark features introduced in automotive industry, it has been found that the system is massively prone to cyber-attacks. Therefore, numerous ADAS market giants have been continuously working on LIDAR and Radar sensors to control cybersecurity threats. Tech companies are playing their part in eliminating security issues as well and have been found developing advanced solutions to improve security measures in ADAS systems.
Get a Sample Copy of this Report:@ https://www.gminsights.com/request-sample/detail/2461
In this regard, recently, Groupe PSA collaborated with Harman International to design a cyber security strategy for protecting connected and next-generation autonomous vehicles. The collaboration is a vivid indicator of the fact that the growing concerns regarding cyberattacks and protection capabilities of ADAS integrated vehicles will play a pivotal role in augmenting advanced driver assistance system market outlook.
The Indian OEM Tata Motors has scarcely extended its partnership with the pioneering technology provider, Wabco, having already deployed the latter's ADAS facility in its vehicles. Tata has also conveniently implemented a collision mitigation system (CMS) and a lane departure warning system (LDWS) for its Signa and Prima trucks. The move apparently, is targeted toward the minimization of road accidents and the provision of occupant safety. Having already been a strong player in the India automotive industry, Tata, through this partnership, will further strengthen its position in the regional ADAS market as well.
In 2018, one of the prominent China-based heavy-duty truck manufacturers, Sinotruk Limited, extended its cooperation agreement with WABCO Holdings Inc., that supplies advanced technology for enhancing efficiency, connectivity, and safety of commercial vehicles. The deal is anticipated to substantially improve WABCO's capability in innovative technologies such as ADAS, AMT, EBS, and ECAS. Incidentally, this agreement has so far, spanned almost three decades, and stands as a classic evidence to the fact that long-term business deals across the automotive sector are certain to propel advanced driver assistance system market size over the forecast period.
The robust developments across the automotive cosmos in the economies of India and China vividly portray that APAC will tur out to be a prominent revenue contributor for ADAS market. The rising sales pf passenger vehicles in the continent combined with the increasing demand for road safety and emission control will augment APAC ADAS market trends over the forecast duration.
The rapidly shifting trends toward the adoption of technologically advanced vehicles are thus likely to fuel ADAS industry share in the ensuing years. As the demand for such vehicles continues to increase along with changing consumer preferences, companies in ADAS market will be looking forward to launching advanced safety solutions. In accordance with the same, strategic collaborations, joint ventures, and R&D program are expected to become highly commonplace in ADAS industry soon enough. Driven by a supportive regulatory spectrum and the robust requirement of technically developed automotive parts, advanced driver assistance system market size is forecast to exceed USD 67 billion by 2024.
Author Name : Sunil Hebbalkar
Automatic emergency braking market has been gaining increasing traction in the recent years, primarily due to the rising concern and awareness regarding the death toll due to traffic injuries. However, the surging emergence of autonomous vehicles has also been majorly responsible for the expansion of this vertical. For instance, at the 2019 Consumer Electronics Show, Intel's subsidiary that develops driver assistance systems, announced that it will be supplying two China based companies with tools that would help in the development of driverless cars. But for driverless cars to become a reality, automatic preventive braking, which is an enhanced version of automatic emergency braking, have to be fully functional and installed on driverless vehicles.
U.S. Automatic Emergency Braking Market, By Vehicle, 2017 & 2024, (USD Million)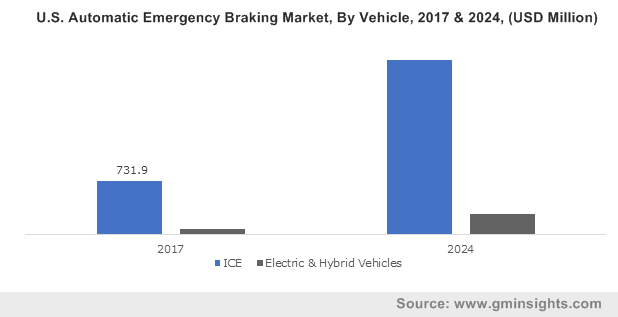 Apparently, automatic preventive braking will work by applying small preventive brakes that will increase the distance between two vehicles and maintain safe distance between vehicles rather than brake suddenly to avoid collision. Integration of such braking systems on autonomous vehicles as well as ordinary vehicles driven by humans will immensely augment the safety of passengers as well as pedestrians. Such considerations taken by automakers are certain to add a considerable boost to the growth of the automatic emergency braking market.
How has the rising intensity of road accidents encouraged the proliferation of AEB systems?
The substantial upsurge in the number of road accidents has occurred not only because number of vehicles on the road has been increasing exponentially but due to inattentive driving, drunk driving and speeding. In 2016, the National Safety Council of the U.S. estimated the chances of people dying in a car crash was 1 in every 114, which amounted to nearly 40,000 people losing their lives in motor vehicle mishaps. Naturally, the National Highway Traffic Safety Association (NHTSA) of the U.S. is working towards the promotion of road safety through the enhancement of vehicle technologies that can potentially reduce the number of crashes, thus helping to save thousand of lives each year, not to mention reduction of all the damage associated with a road accident.
Get a Sample Copy of this Report @ https://www.gminsights.com/request-sample/detail/1171
Enumerating how the expansion of the automotive sector has a role to play in AEB market growth:
The expanding automotive industry will also add a noticeable stimulus to the automatic emergency braking market. According to reliable statistics, the automotive industry was estimated to sell nearly 78.6 million passenger vehicles in 2017. In terms of production and sales, China and the United States are among the leading countries in the automotive industry with 6.9 million passenger cars having been sold in the U.S. alone in 2016.
While the automotive industry is led by such giants as Volkswagen, Daimler and Toyota, the automotive supplier industry, which also plays a major role in the automatic emergency braking market, is led by Bosch, Continental, Denso, Magna etc. Aided by initiatives like the Paris Agreement, electric and hybrid vehicles are expected to register 20% CAGR over 2018-2024, adding greater growth impetus to the overall market. As passenger vehicles witness explosive demand in the emerging economies, it is predictable that the automatic emergency braking market will also register a massive growth rate as traffic safety concerns will be rising with the increasing use of vehicles.
As the advantages of automatic emergency braking systems are coming to the forefront, governments are speedily putting regulations in place that are soon expected to make automatic emergency braking systems a mandate in all vehicles. With consumers themselves demanding increased safety in their vehicles, various safety measures like pedestrian automatic braking system, rearview camera, forward collision warning systems are becoming more common in vehicles while governments are pushing to make them mandatory in even the basic models and not only in the costlier ones.
In fact, in 2015, ten major U.S. car manufacturers committed to making automatic emergency braking a standard feature in all vehicles to increase vehicle safety. Electric car manufacturer Tesla added an automatic emergency braking system on its vehicles that uses a radar technology to bounce under vehicles to detect potential accidents up to 2 cars ahead and is activated even before the human driver has the chance to access the situation and react. Pedestrian automatic emergency braking systems are also becoming more commonly used in automobiles as autonomous vehicles are making their appearance in the market and it is of crucial importance that pedestrian safety is maintained in case of such vehicles.
In 2015, NHTSA and the Insurance Institute of Highway Safety made an announcement in which it was declared that ten of the major U.S. car manufacturers committed towards including automatic emergency braking as a standard feature in all new vehicles. Considering that the ten manufacturers constitute nearly 60% of the automakers in United States, their commitment to the inclusion of the feature is an important one and comprehensively indicates the future growth prospects for the automatic emergency braking market.
Author Name :Paroma Bhattacharya