Foundation
The global offshore wind energy market has been ablaze with a number of projects that have lately commenced power production. Recently, for instance, following the installation of its first 7 MW turbines, Scotland's biggest offshore wind farm has sent power to the National Grid for the first time towards the end of July 2018. The whole project is scheduled for completion by spring of 2019, and is expected to generate enough power to supply the equivalent of 450,000 households.
The Race Bank offshore wind farm in the U.K. and reportedly the fifth-largest windfarm on the planet has also officially opened recently in the month of June. This 91-turbine facility is expected to produce 573 megawatts (MW) of electricity and is capable of powering more than half a million homes every year.
Global Offshore Wind Market, By Region, 2016 (Cumulative Capex, USD Billion)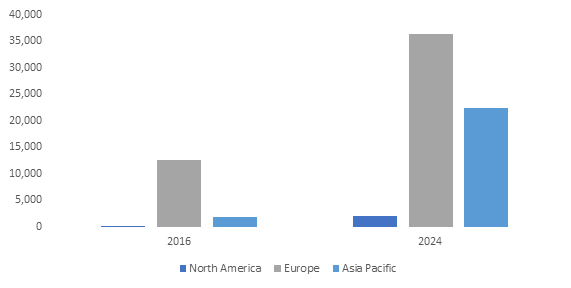 Considering the above-mentioned instances, there is no doubt that the fledging offshore wind energy industry is finally reaching maturity, promising gigawatts of reliable and clean energy and billions in economic and investment opportunities. In fact, wind is touted as one of the fastest-growing renewable energy sources in the world and has become a viable electricity generating source in more than 80 countries worldwide. Analysts deem that the developments in technology have paved the way for more reliable and effective equipment and machinery, which has resulted in the growth of the global offshore wind energy market.
China to emerge as one of the world's largest offshore wind energy markets
Quietly surpassing the U.S., China's wind energy market had emerged as one of the largest in the world in 2010. From being a mere player in 2001, the country, on the basis of strong government support and investments, has transformed its position as a market leader. As per reports, China had an installed offshore wind capacity of more than 1.6 GW in 2016. As a part of its five-year plan, the country plans to have 5 GW grid-connected by 2020. In fact, China is on a target to install 13 GW over 2017-2026, bringing its total capacity to nearly ten times as of its level in 2017.
Furthermore, in order to increase rural electrification and lower its carbon footprint, China is expected to continue to promote wind power, in turn stimulating the regional offshore wind energy industry. The country in 2016 outpaced Denmark and secured a third place in the global offshore wind energy rankings with the UK and Germany holding the top two positions.
Get a Sample Copy of this Report @ https://www.gminsights.com/request-sample/detail/1763
Accounting for over one-third of the total European offshore wind potential, the UK offshore wind energy market is another potential hotspot for wind developments. The region constitutes the world's largest offshore wind farm – London Array, producing 630 MW of clean electricity that is enough to power more than half a million of homes a year. The 500 MW Greater Gabbard offshore wind farm, touted as the second largest offshore wind farm in terms of installed capacity, is also located in the UK.
Ørsted, a renowned Denmark based energy firm, has recently announced that the construction has begun on an even bigger wind farm, officially called as Hornsea Project One, which is slated to be operational by 2020. Upon completion, this plant will be capable of supplying clean energy to more than 1 million homes. Quiet overtly, such robust investments in the UK & Germany offshore wind energy market has impelled Europe to contribute substantially to the global offshore wind power, while simultaneously establishing itself as a lucrative hub for investments. Reportedly, the UK offshore wind energy market was worth more than USD 8 Billion in 2017.
Analyzing these regional trends, it would not be wrong to quote that China, U.S., UK, Germany, Taiwan, and the Netherlands are the biggest offshore wind energy market in the world, with number of current projects both under construction and planning phase.
Offshore wind energy industry is further gaining exceptional traction from the tech behemoths showing their interests in harnessing clean energy. Microsoft, for instance, has recently signed an agreement with GE to purchase electricity from its wind farm and power its cloud data centers in Ireland. The Silicon Valley bigshots Apple & Facebook are already in this league harnessing clean power and pledging its operations to be 100% from the renewable energy sources. Moreover, Google in the year 2010 has also thrown its financial clout behind new wind farms off the U.S East Coast.
This changing competitive scenario is further likely to enrich the growth dynamics of global offshore wind energy market in the coming years. A presumption standing as a substantiation to the same is of Global Market Insights, Inc., that claims the global offshore wind energy market to surpass USD 60 billion by 2024.
Author Name :Ojaswita Kutepatil
This entry was posted in Sustainable & Smart Technologies and tagged Axis, Component, Depth, Down-wind, Electrical Infrastructure, Fixed, Floating, Foundation, Global Offshore Wind Energy Market, Horizontal, Installation, Jacket, Monopile, Nacelle Module, Offshore Wind Energy Market, Offshore Wind Energy Market Report, Offshore Wind Energy Market Share, Offshore Wind Energy Market Size, Offshore Wind Market, Rating, Rotor Module, Steel, Structure, Substation, Substructure, Support Structure, Tower Module, Turbine, U.S. Offshore Wind Energy Market, Up-wind, Vertical, Wires & Cables.