Foundry & Foundry Resin
With a major surge witnessed in the construction industry, the global silanes market is also expected to witness significant growth trends as silane finds wide application in the construction industry for its favorable adhesion and noise insulation properties. Apart from its use in construction, silane also acts as a good medium for improving performance of paints and coating by imparting crosslinking abilities for coatings to adhere to a wide variety of substrates.
U.S. silanes market size, by application, 2013 – 2024 (USD Million)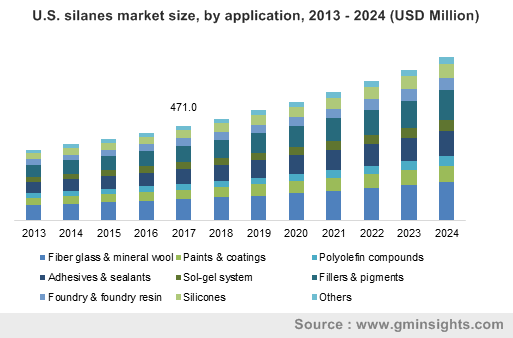 Such properties are desirable not only in the construction industry but also in automotive, paints and coatings, packaging etc. which has provided silanes industry with a wide expansion scope. Moreover, silanes are used as a precursor to elemental silicon which in turn has found widespread application in the electronics industry as the chief element in semiconductors. The myriad applications of silane in industries that are rapidly expanding have helped propel the silanes market, which is expected to surpass $3.9 billion by 2024 in terms of valuation.
According to a report compiled to predict the dominating trend for global construction by 2030, it was noted that U.S., China and India would be the leading countries that world impart a major boost to the global construction industry. It is anticipated that by 2030 the global construction output will grow almost by 85% and generate almost $15.5 trillion in terms of revenue with the three leading countries accounting for 57% of the total growth. The U.S. construction market is expected to expand faster than the China construction market with an annual growth rate of 5% and the former will overtake the latter within the next 15 years.
Get a Sample Copy of this Report @ https://www.gminsights.com/request-sample/detail/1266
Meanwhile construction rates in India will eventually overtake that of Japan and by 2021 become the third largest construction market in the world. In fact, the Indian construction market is anticipated to grow almost twice as fast as China with the urban Indian population estimated to reach 165 million by 2030, Delhi becoming the world's second largest city with 10.4 million people. By 2030, Indonesian construction industry is also expected to overtake that of Japan and in Latin America, Mexico will overtake Brazil.
With such positive growth statistics, predictable that silanes market will witness significant expansion over 2018-2024. Silane is extensively used in the promotion of fiberglass and mineral wool adhesion, materials that are widely used in the construction industry. Mineral wool is used to promote acoustic insulation in the residential and commercial buildings as well as for thermal insulation which helps in energy conservation. Therefore, the silane market is growing with the heavy demand created in the construction industry.
Speaking of energy conservation and increasing energy efficiency in buildings, various government initiatives have been launched that ensure that builders adhere to the strict rules of constructing buildings that are help in the conservation of energy and bringing down the carbon footprint of buildings. For instance, the Indian Ministry of Power recently launched the ECO Niwas Samhita that is essentially a code for energy conservation in construction of residential buildings. The move has been undertaken keeping in mind the significantly expanding building sector and the fact that in the coming 10 to 15 years, residential buildings will create the highest demand for energy. With the code being implemented with an intension of saving up to 125 billion units of electricity per annum by 2030, it is imperative that materials like silane will be used extensively to achieve such energy efficient construction ends, clearly adding a major boost to the silanes industry.
Silane also finds application in the manufacturing of solar cells and considering the booming solar energy industry in North America and Europe, it is anticipated that the silane market will register major growth trends through the deployment of increased solar power application in the two regions. Notably, the global solar photovoltaic capacity, which was 5 GW in 2005, has increased to 306.5 GW in 2016 with Germany alone having installed 41.3 GW of solar PV. In 2016, the solar PV market in the U.S. has been estimated to have worth $4.7 billion with solar technologies being heavily funded and the Solar Investment Tax Credit adding to the incentives of investing in solar power expansion.
With solar power being one of the most intensively used form of renewable energy, silanes market will garner momentum on account of the product being a constituent of solar PV and amass significant growth in terms of revenue over 2018-2024.
Author Name : Paroma Bhattacharya