Front Lighting
Global automotive lighting market outlook has observed a plethora of changes in the last few years, driven by the shifting preference toward advanced efficient lighting as opposed to traditional lighting. Designed with highly innovative technologies, excellent aesthetics, and quality, automotive lighting systems, over the last few years, have undergone a sea of change pertaining to the advent of optics and laser technologies. In order to tap the popularity of advanced technologies, most of the automotive lighting market players are looking forward to focusing on product design alternations, acquisitions, and facility expansions. Driven by their efforts and the upcoming technology trends in electronic lighting, automotive lighting industry share is anticipated to observe commendable growth ahead.
China Automotive Lighting Market, By Technology, 2017 & 2024 (USD Million)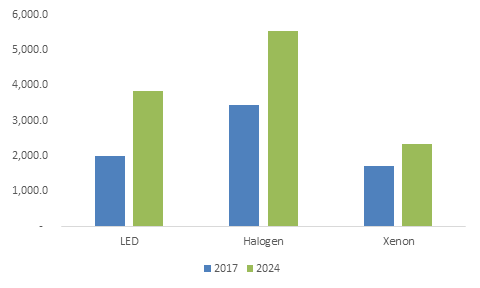 Digitalization of vehicle interiors and exteriors with LED lighting is one of the prominent technologies that has made its mark in modern vehicle lighting systems. The evaluation of highly functional, durable, and innovative products will have a significant impact on industry growth over the years ahead. For instance, recently, one of the world's largest manufacturers of semiconductors, Osram Opto Semiconductors has partnered with ISELED Alliance for developing advanced solutions for automotive LED lighting. The German semiconductor manufacturer and ISELED alliance through this collaboration are looking forward to integrating effective hardware and software system to optimize LEDs.
Over the last few years, with the increasing importance imparted to aesthetic and ergonomics of the vehicles' interior as well as exterior, the design approach of contributors in the automotive lighting industry has indeed changed. They are now giving preference for the advancement of infotainment systems that will turn out to be rather beneficial for them in terms of revenue generation. As of now, the extensive use of LEDs for deploying lighting systems in vehicles will further stimulate the automotive lighting market size. As per estimates, automotive lighting market size from LED technology will register a CAGR of more than 7% over 2018-2024.
Get a Sample Copy of this Report:@ https://www.gminsights.com/request-sample/detail/1444
The revolutionary development of high-performance light sources is also one of the approaches undertaken by companies to gain a competitive edge over their rivals in the automotive lighting market. The growing awareness among the product developers about energy efficient lighting systems has been encouraging them to adopt new business tactics focused around this parameter. Merely a few months before, LG Electronics acquired the well-known automotive lighting and headlight systems provider, ZKW Group. This strategic merger has allowed LG to extend its regional reach across U.S., China, Mexico, and several countries in Europe continent. The ZKW Group incidentally, is one of the leading providers of lighting systems to European automotive giants comprising Daimler, Porsche, Audi, and BMW which have already ditched the use of traditional lighting technologies. The new consortium of LG and ZKW is planning to develop intelligent lighting solutions which will provide high-resolution information collected from the sensors and automotive communication systems. Considerable investments poured in by technology companies in new product development with the intention to expand the product range is slated to propel the automotive lighting industry share.
In August 2018, the Canadian automotive product supplier, Magna acquired the headlight and lighting component provider, Olsa for expanding its automotive lighting business. With the acquisition of the Olsa, Magna has grown its lighting capabilities from designing and manufacturing of headlamps, tail lamps, and other lighting systems. Moreover, the acquisition of advanced technology will also help Magna better its portfolio in distinctive and featured lighting products. The rise in the integration of electronics in lighting systems and shifting focus of automakers toward styling will turn out to be rather fruitful for lighting product manufacturers.
All in all, it would be accurate enough to quote that the transformation in conventional lighting systems has enhanced automotive lighting market trends over the last few years. Tech companies have also been conducting continuous research and development activities to introduce optimized and cost-effective lighting systems. Powered by the surging utilization of modern lighting systems in next generation vehicles, automotive lighting market size will register a CAGR of 5% over 2018-2024.
Author Name : Sunil Hebbalkar
The robust demand for safer vehicles on account of increasing road accidents have led to a massive spurt in advanced driver assistance system (ADAS) market size in recent years. Having recognized the extensive benefits of ADAS systems, numerous automakers have been working toward deploying this feature in their latest automobile brands. This paradigm shift toward implementing safety systems in vehicles on account of the increasing number of road accidents is certain to stimulate ADAS market trends.
U.S. Advanced Driver Assistance System (ADAS) Market, By Vehicle, 2018 & 2025, (USD Million)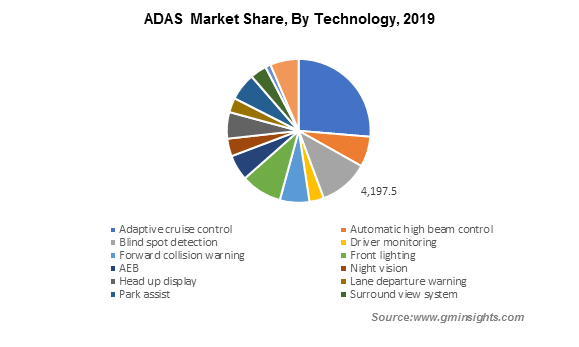 In the face of potentially hazardous driving scenarios, autonomous systems have been taking increasing precedence in recent times. Consequently, major players in advanced driver assistance system industry are focusing on the development of advanced automated ADAS systems. In order to retain a control over driving, these systems are embedded with features like emergency braking, lane keeping, automatic parking, and adaptive cruise control.
The incorporation of additional features such as machine learning and ADAS vision have even enabled vehicles to adapt themselves to adverse climatic conditions. Numerous ADAS market firms have been striving to launch diverse live-saving technologies, which have been instrumental in augmenting the industry trends.
Although ADAS is one of the benchmark features introduced in automotive industry, it has been found that the system is massively prone to cyber-attacks. Therefore, numerous ADAS market giants have been continuously working on LIDAR and Radar sensors to control cybersecurity threats. Tech companies are playing their part in eliminating security issues as well and have been found developing advanced solutions to improve security measures in ADAS systems.
Get a Sample Copy of this Report:@ https://www.gminsights.com/request-sample/detail/2461
In this regard, recently, Groupe PSA collaborated with Harman International to design a cyber security strategy for protecting connected and next-generation autonomous vehicles. The collaboration is a vivid indicator of the fact that the growing concerns regarding cyberattacks and protection capabilities of ADAS integrated vehicles will play a pivotal role in augmenting advanced driver assistance system market outlook.
The Indian OEM Tata Motors has scarcely extended its partnership with the pioneering technology provider, Wabco, having already deployed the latter's ADAS facility in its vehicles. Tata has also conveniently implemented a collision mitigation system (CMS) and a lane departure warning system (LDWS) for its Signa and Prima trucks. The move apparently, is targeted toward the minimization of road accidents and the provision of occupant safety. Having already been a strong player in the India automotive industry, Tata, through this partnership, will further strengthen its position in the regional ADAS market as well.
In 2018, one of the prominent China-based heavy-duty truck manufacturers, Sinotruk Limited, extended its cooperation agreement with WABCO Holdings Inc., that supplies advanced technology for enhancing efficiency, connectivity, and safety of commercial vehicles. The deal is anticipated to substantially improve WABCO's capability in innovative technologies such as ADAS, AMT, EBS, and ECAS. Incidentally, this agreement has so far, spanned almost three decades, and stands as a classic evidence to the fact that long-term business deals across the automotive sector are certain to propel advanced driver assistance system market size over the forecast period.
The robust developments across the automotive cosmos in the economies of India and China vividly portray that APAC will tur out to be a prominent revenue contributor for ADAS market. The rising sales pf passenger vehicles in the continent combined with the increasing demand for road safety and emission control will augment APAC ADAS market trends over the forecast duration.
The rapidly shifting trends toward the adoption of technologically advanced vehicles are thus likely to fuel ADAS industry share in the ensuing years. As the demand for such vehicles continues to increase along with changing consumer preferences, companies in ADAS market will be looking forward to launching advanced safety solutions. In accordance with the same, strategic collaborations, joint ventures, and R&D program are expected to become highly commonplace in ADAS industry soon enough. Driven by a supportive regulatory spectrum and the robust requirement of technically developed automotive parts, advanced driver assistance system market size is forecast to exceed USD 67 billion by 2024.
Author Name : Sunil Hebbalkar