Fruit Snacks Market Growth
One of the most diverse and significant components applicable in several end-use industries, fruit snacks market has witnessed unprecedented growth over the past several years. The importance of healthy snacks made with real fruit and vegetable juice, distinct flavors, and fruit concentrates are becoming an acceptable addition to children's lunchboxes and favorable choice among many working mothers. Increased preference for products with add-on flavors has helped expand food production and will offer a tremendous boost to the thriving fruit snacks industry.
North America Fruit Snacks Market, By type, 2018 & 2025, (USD million)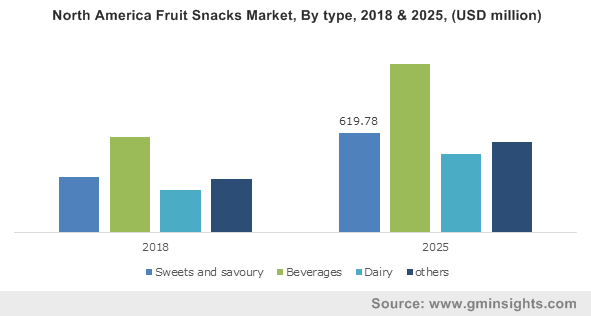 A large number of consumers today are no longer prioritizing traditional mealtimes and have developed interest in snacking at unplanned intervals throughout the day. According to a 2018 survey, 92% of Americans say that they look for a snack in place of opting for a breakfast of meal. With rising inclination towards trusted brands, healthy snacks are complementing the consumer's health-conscious mindset and will certainly stimulate manufacturers to boost product output, inadvertently benefiting fruit snacks industry outlook.
Innovative approach towards product development has emerged as one of the prominent driving factors for the advancements in food industry. For instance, in 2018 companies had invested $1.8 billion in new product launches in snack foods and sweets. Products which are newly launched and are in demand include gluten-free cookies, high energy granola snacks, savory extruded snacks, and a new twist on old favorites. Subsequently, consumption of organic products and shifting of consumer preferences towards nutritious and premium snacks will immensely transform fruit snacks market dynamics in the near future.
Many regional contenders and start-ups are adopting ways to focus on implementing new strategies, discover appealing flavors, and exploring innovative fruit blends to gain traction in the market. Welch had rolled out its new Superfruit Mix fruit snacks recently which contained blends of starfruit-kiwi, pomegranate-passionfruit, dragonfruit-blackberry, and goji–apricot. The company is consistently looking to offer more innovative fruit snacks choices for its consumers..
Get a Sample Copy of this Report:@ https://www.gminsights.com/request-sample/detail/1485
As producers seek new launches to boost product portfolio, fruits snack industry could register a remarkable growth rate as compared to several other packaged food segments. The rising expansion of fruit concentrate puree market will also help augment the industry growth.
With increasing prevalence of obesity worldwide, finding and adapting to healthy diets have become a major factor influencing the buying behavior of consumers nowadays. Organic fruit snacks in the form of dairy products like Greek yogurt rich in high-protein, fruit and blended cottage cheese snack, along with no-bake yogurt fruit snack are frequently becoming popular among people. Owing to its nutrient-rich features and easy availability in supermarkets and online stores, there is a surge in purchase of these snacks. Reportedly, online retailers distribution channel segment in fruit snacks market is anticipated to register a CAGR of more than 9% over 2019-2025 with regard to annual revenues.
Several food manufacturers are enhancing and expanding their business landscape, engaging in partnerships and developing innovative flavors to gather audience and boost their online presence. An ideal example involves a recent acquisition of Kellogg Company's cookies and fruit snacks business. In April 2019, the Ferrero Group had unveiled a definitive agreement in which it would formally buy the fruit-flavored snack, cookie, pie crust, and ice cream cone businesses from Kellogg Company for a total of US$1.3 billion. Similar acquisitions worldwide to meet the evolving product demand across several geographies will contribute substantially towards the expansion of fruit snacks industry.
Augmented consumption of flavor rich and functional snacks will have a notable impact on the overall growth of the packaged food sector. Numerous advantages as well as rising participation of regional contenders in promoting natural ingredient-based, healthy, and appetizing product range for customers with specific diet demands will fuel the development of fruit snacks industry.
Key players constituting the industry's competitive hierarchy including Welch, Kellogg, Sunkist Growers, Bare Foods, SunOpta, Crunchies Natural Food, General Mills and Flapper. Global Market Insights, Inc. has estimated that fruit snacks market size will exceed US$8 billion in valuation by 2025.
Author Name : Deeksha Pant