Furniture & upholstery
Growing application in electrical & electronics appliances as well as in the textile industry will drive decabromodiphenyl ether market growth. Decabromodiphenyl ether (decaBDE) is an additive flame retardant that has wide applications in plastics, sealants, textiles, adhesives, coatings and many other products. It is used to protect items like electronic equipment, furniture cushions, upholstery textiles, mattresses, carpet backings, vehicles, aircrafts and building materials from the risk of fire.
U.S. 83% Purity Decabromodiphenyl Ether Market Size, By Material, 2018 & 2025, (Kilo Tons)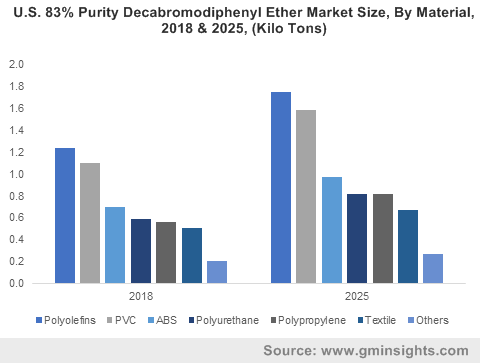 In the past, commercial decabromodiphenyl ether (decaBDE) constituted 75%-80% of the global production of PBDEs (Polybrominated diphenyl ethers), while the total production of c-decaBDE over  1970-2005 was recorded around 1.1 million to 1.25 million tons. DecaBDE consumption peaked in the early 2000's and continues to be used worldwide.
In the building industry, decaBDE is used to develop paper foil laminate, home insulation, hot melt adhesive and architectural foam. In the rubber industry, decaBDE powder is used to manufacture flame retardant rubber conveyor belts that are used in underground coal mines, and to manufacture ventilation bands used as air ducts sealants in mine ventilation systems.
DecaBDE is also found in plastics used in electrical appliances and equipment such as computers, circuit boards, cable insulations and casings. Other uses in the transportation sector include fabrics of automobiles and aircrafts. Driven by a widespread application spectrum, decabromodiphenyl ether industry size may register significant growth over the coming years.
Based on material, decabromodiphenyl ether market is segmented into acrylonitrile-butadiene-styrene (ABS), polyolefins, polyvinylchloride, polyurethane, polypropylene. ABS is often used in automotive and electrical equipment. It exhibits excellent mechanical properties, thus offering good impact strength.
ABS offers good electrical insulating properties, on account of which it finds applications in products like electrical connections, light switches, power points and more. Control housing covers are also made using ABS. Additionally, ABS resins are used in injection molding of parts for medical devices, domestic electrical appliances, and automotive casings. Rising inclination toward the product owing to its superior surface appearance and fire-retardant properties will impel ABS-based decabromodiphenyl ether market share.
Get a Sample Copy of this Report:@ https://www.gminsights.com/request-sample/detail/3414

Surging ABS demand in electrical & electronics appliances and in the construction industry will also fuel the overall acrylonitrile butadiene styrene (ABS) market, a marginal impact of which will be felt across decaBDE industry.
Decabromodiphenyl ether market has registered considerable growth from textile industry. DecaBDE is used to treat a wide range of synthetic, blended and natural fibers. It is used in products like upholstery, window blinds, curtains, mattress textiles and more. It may also be used in synthetic latex foam in protective clothing, carpets, upholstery fabric, tents, and interiors fabrics used in cars, trains and aircraft.
DecaBDE is commonly applied using back coating process in the textiles industry. Padding processes and printing processes are also used to apply this flame retardant chemical. Increasing disposable incomes along with changing lifestyles have enhanced consumer spending on household fabrics, which is anticipated to accelerate product demand in the textile industry.
APAC decabromodiphenyl ether industry is growing on account of high-production demand for flame retardant, especially across China and India. Indeed, the demand for flame retardants has increased exponentially in China, mainly as the country produces large volumes of electronic devices for global markets. According to reliable reports, China's electronics production volume grew from 10% in 2016 to 14.5% in April 2017.
Demand for improved fire retardant and durable plastics for consumer electronics should foster decaBDE demand. Moreover, rapid urbanization has led to increased demand for decaBDE in the residential and commercial building sectors, accelerating the APAC decabromodiphenyl ether market share.
Decabromodiphenyl ether is a flame retardant used to enhance the strength, durability and chemical resistance of numerous end-user products. Increasing application in the automotive, textile and construction industries has accelerated industry growth in recent times. Global Market Insights, Inc., estimates decaBDE market size to exceed USD 430 million by 2025.
Author Name : Mateen Dalal
Highlighting the rapid developments across the global flexible foam market, it would be pivotal to state the mention the Germany-based global leader in flexible foams, Armacell. Apparently, the firm has recently opened its new manufacturing facility in Bahrain. According to news reports, the facility has an annual operational capacity of 60,000-cu m of technical insulation foam, in turn providing a wide range of insulation solution for the domestic market including elastomeric insulation & high-density materials for HVAC (heating, ventilation, and air conditioning) systems. Industry analysts deem that Armacell's move to open flexible foam manufacturing facility will not only cater to the strong product demand in the Gulf region, but will also strengthen its foothold in the global flexible foam industry space.
Asia Pacific flexible foam market, By Type, 2018 & 2025, (Million Tons)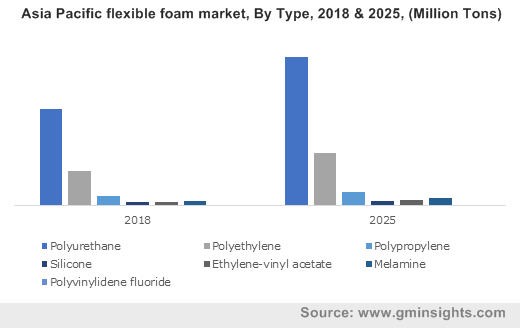 This German company, however, is not the only major flexible foam industry player that's seizing the growing product demand from myriad applications including packaging, construction, furniture & upholstery, bedding, pillows, carpet cushion, mattresses, consumer goods, and automotive interiors.  FRX Polymers Inc., recently for instance has introduced its Nofia non-halogenated polyphosphonates that will be used in UL 94 V-0 high-temp polyurethane flexible foams used in the transportation & electronic industries. For the record, Nofia phosphonate oligomers act as a flame retardant & heat stabilizer in polyurethane flexible foam products and retain mechanical performance.
A statement by FRX claims that the Nofia FR enabled the fire retardant polyurethane foam to conveniently handle higher temperatures – with respect to both, the continuous use temperature and peak temperature. FRX's launch of Nofia is an apt instance validating the significance of polyurethane as a vital type of flexible foam. The material apparently, is characterized by outstanding features such as light weight, lower installation time, enhanced resiliency, improved cushioning, lightweight, increased shelf life, and durability.
Get a Sample Copy of this Report @ https://www.gminsights.com/request-sample/detail/1735
Elaborating on the extensive deployment of polyurethane for introducing light weightiness in vehicles, it would be prudent to mention that high-density polyurethane foam components can be effectively coated to seem like the original product, and can be manufactured with a closed-cell structure that boasts of being water-tight. Ergo, the component is not susceptible to rotting, delaminating from water intrusion, or warping. PU foam is also equipped with exceptional self-skinning properties, making the product ready for painting or coating. This has consequently increased the deployment of PU foams in myriad automotive and aerospace applications, thereby driving the PU flexible foam market share.
Powered by its excellent characteristics, polyurethane foam is widely used across a spate of industry verticals. As a matter of fact, polyurethane dominated the overall flexible foam market in 2018, with a share of over 60% of the demand. Driven by its innumerable applications in lightweight automotive parts, as thermal insulation products in buildings, in automotive interior components, and as cushioning in beddings, upholstery, etc., polyurethane-based flexible foam industry is slated to traverse alongside a highly profitable growth path in the years ahead.
Speaking of the regional spectrum of flexible foam market, the APAC undeniably, has emerged as a forerunner, a feat that can be credited to the expanding automotive and consumer goods industries in the region. As a matter of fact, the continent boasts of increased expenditure on luxurious consumer goods coupled, thereby fueling the demand for memory foams in mattresses and beddings. The region's construction industry has also been undergoing a robust expansion of sorts, that has considerably increased the demand for flexible foams in the continent.
Powered by the expanding hospitality industry, specifically across the South-East Asian nations of Thailand, Singapore, Malaysia, Vietnam, and Indonesia, on account of supportive FDI policies, APAC flexible foam market share is anticipated to depict a commendable rise in the years ahead. Indeed, as per estimates, Asia Pacific led the overall flexible foam market share in 2018, accounting for more than 30% of the demand.
As the demand for flexible foams exhibit an incline across a slew of prominent industry verticals, the global flexible foam market is anticipated to gain quite some traction in the years ahead. The industry is also characterized by the launch of highly innovative products by numerous industry contenders. Say for instance, Deacom, Inc., the popular developer of a comprehensive ERP solution, recently concluded an implementation for an innovative PU foam chemical technology manufacturer, Foam Supplies, Inc., with Ecomate®, its patented blowing agent. The new system is expected to provide the technology foundation to manage Foam's production operations. Aided by a ferocious competitive spectrum and a widespread application landscape, the global flexible foam industry size is set to be pegged at USD 65 billion by 2025.
Author Name : Saipriya Iyer