Geofencing Market
With evolving emphasis on location-based marketing in retail space, geofencing market has indeed gained a widespread recognition in the mainstream tech cosmos. Over the recent years, it has been observed that the share battle between online and offline business platforms is intensifying. As a result, bricks and mortar giants have been increasingly looking for ways to implement e-commerce alternatives, the fundamental factor that has impelled geofencing industry share. Quite comprehensible from the terminology, geofencing is a service that, via an app utilizes RFID or GPS technology to increase the virtual boundary around a particular geographic location. Apparently, the technology is being extensively deployed in retail stores nowadays in an attempt to enhance in-store consumer experience.  In fact, on grounds of its far-reaching acclaim, numerous tech behemoths have been trying their hands with the technology in recent years, attempting to bring forth a slew of innovative applications in geofencing market.
Geofencing Market Size, By Application, 2016 & 2024 (USD Million)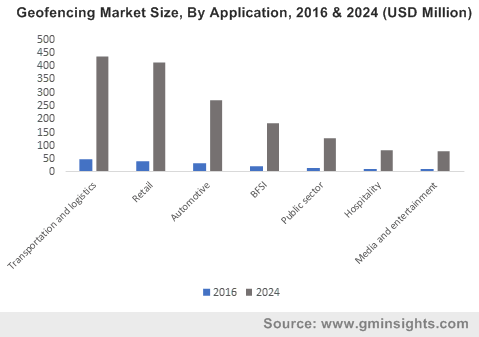 Unveiling geofencing market trends with reference to its application landscape:
American Eagle, one of the renowned clothing and accessories retailers, in the year before last, launched a groundbreaking reward scheme for its customers to encourage purchase. Reportedly, the U.S. headquartered company has utilized geofencing technology to create this app, which in a way is pushing consumers to add more items in their shopping carts to see what they can receive in return. Since the strategy compels the users to at least consider the items that might be otherwise left on the rail, the probability of more purchases undoubtedly increases. This absolutely innovative strategy applied by the American retail giant grabbed the headlines back then and has been stamped as a benchmark in geofencing market growth.
Get a Sample Copy of this Report:@ https://www.gminsights.com/request-sample/detail/222
2016 has indeed been a breakthrough year for geofencing market, with leading food giants striving hard to exploit the potentialities of this technology in their business model. McDonalds, for instance, had started incorporating geofencing service in its mobile app for optimizing the food preparation time. Sources claim, the fast food giant's decision of implementing this app comes in the wake up of long wait queues in front of McDonalds outlet and amidst the chances of receiving cold food. The geofencing based app designed by the company aptly detects when the customer gets closer to the counter and simultaneously alerts the staff to start preparing the order. Needless to mention, growing deployment of these kinds of innovative technologies have enhanced instore consumer experience, which by extension has stimulated geofencing market expansion.
The application matrix of geofencing industry is not just replete with retail domain, though it is undeniable this sector is a lucrative growth avenue for the entire business space.  Besides, retail space, geofencing market share stands to gain much from security and defense applications. Numerous companies participating in the business space have been creating a whole hog to bring about significant advancements in the capabilities of this solution with enhanced integration and accuracy functionalities. In this regard, China has recently made it to the headlines with the announcement of its decision of integrating geo-fencing based facial recognition system for security and surveillance in Xinjiang. Reportedly, these geofencing tools alert authorities when targeted people venture 300 meters beyond the designated safe area zone. These kinds of appreciable efforts undertaken by tech giants and governmental bodies toward promoting geofencing technology is certain to bring forth a plethora of opportunities for geofencing industry participants in the coming years. Validating the declaration is the estimate by Global Market Insights, Inc. that forecasts the global geofencing market to surpass a valuation of USD 1.7 billion by 2024.
Author Name : Satarupa De