Geotextiles Market
The profitability quotient of geosynthetics industry is market is forecast to escalate tremendously over the ensuing years, primarily augmented by the transformative construction industry. In response to the material being typecast as one of the well-established construction materials for environmental and geotechnical applications, geosynthetics industry, in the year 2016, pegged a valuation of USD 7 billion. It goes without saying that these synthetic materials have had played an instrumental role in resolving critical civil engineering issues since decades, where deployment of conventional construction materials are considerably restricted. However, research advancements of recent years have widened the application horizon of geosynthetics market to such an extent where construction workers are readily seeking to exploit the maximum potential of the materials using more powerful construction methods and design.
U.S. Geosynthetics Market Size, By Product, 2016 & 2024, (USD Million)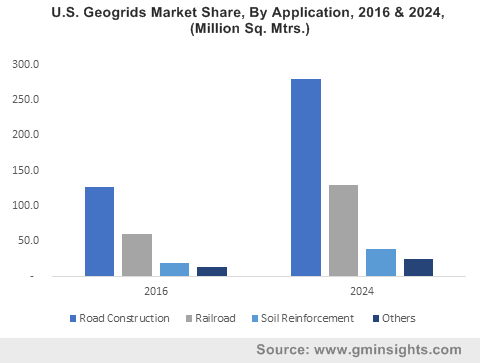 Geosynthetics market growth potential from geotextiles
Geotextiles, an integral product vertical of geosynthetics market, have been experiencing a preferential position in today's construction projects such as upkeep of roads, dams, harbors, airfields, and canals.  This is due to the fact that non-woven geotextiles provide viable solutions to projects where conventional granular construction materials are not readily available. While civil workers were initially reluctant of deploying these new filter materials, the notable difference it has brought in designing the base and stabilizing the terrain, has led to an increased geotextile consumption in repair activities. Aided by the benefits of its inherent superior properties like permeability, retention, porosity, retention, and tensile strength, experts claim that geotextile market from pavement repair applications is expected to exceed USD 480 million in 2024.
Get a Sample Copy of this Report:@  https://www.gminsights.com/request-sample/detail/2254
A precise archive of the application diversification of geotextiles in massive constructional projects:
A recent precedent aptly depicting penetration of geotextiles in critical construction projects is Canada's permanent road to Arctic coast. Reportedly, the 120km highly construction involved integrating of geotextile fabric between the road and the ground by employing a fill technique that ensures projection of the permafrost. Experts claim this to be one of the flagship projects that the regional geosynthetics marketplace has lately witnessed, given the fact it is Canada's first ever road linking the country's Artic coast with the towns of Inuvik, which until now were only accessible by airplane.
Citing another noteworthy instance in geosynthetics industry- recently the national airport in Minsk has made to the headlines with the announcement of its plan of renovating the primary runway. Amidst the various initiatives implemented by the regional government under this runway reinforcement project, it is reported that the new runway would comprise of a base layer that is reinforced with Multitex PET from Machina. Allegedly, these geotextile-geogrid materials manufactured by Machina not only deliver excellent runway reinforcement but also ensure proper drainage support and soil separation.
A glimpse into the competitive landscape of geosynthetics market
The commercial production of geosynthetics involves raw materials like PVC, polyethylene, polypropylene, EPDM, and Polyester. Thus, it is quite conspicuous that any fluctuations in the price trend of these intermediates would have a direct impact on the revenue graph of geosynthetics industry, on account of their extensive demand from other burgeoning domains.  Companies partaking in geosynthetics market, in a bid to respond to this challenge, are increasingly focusing on production capacity enhancement and strategic collaborations to expand their business beyond regions. For instance, toward the end of last year, Groupe Solmax, the Canadian based geosynthetics market giant, acquired Quebec headquartered GSE Environmental from a private equity firm named Littlejohn & Co. and funds owned by investment manager, Strategic Value Partners.
Amidst such a backdrop where smart construction, a blend of operational efficiency and environmental viability, has become the prime focus of civil engineering sector, it is undeniable that geosynthetics industry is yet to unfold a slew of opportunities. Add to it, the stringent environmental norms enforced by international regulatory bodies like EPA and REACH on constructional projects will further play their cards in complementing the overall business growth in the coming years. As per Global Market Insights, Inc., in terms of commercialization, global geosynthetics market size is slated to exceed a valuation of USD 12 billion by 2024.
Author Name : Satarupa De
Global geotextiles market trends are witnessing a positive growth momentum owing to the booming agricultural and construction sectors. Replacement of aging infrastructure along with modern pavement design and maintenance techniques in urban areas will significantly prompt the use of geotextile products.
Nowadays, geotextile has become an emerging concept for civil engineering and for many infrastructure applications like roads, drainage structures, landfills and other projects, offering a significant revenue potential worldwide.
Geotextiles have become among the extensively deployed construction materials to address increasing road traffic and environmental loads on roads and pavement rehabilitation in urban areas, two of the key issues that government agencies have to face. Utilization of geotextile and geotechnical fabrics has expanded rapidly in recent years for delivering performance enhancing and cost saving design choices for roadways.
For construction segment, geotextile has become one of the prominent choices as it:
Helps in reducing the rate of deterioration and erosion
Lowers the cost of operating vehicles by proving smooth running surface
Improves the reliability of the road
Enhances safety of road users
Enumerated below are key trends defining potential opportunities for global geotextiles market:
Increasing adoption in drainage application
Geotextiles are playing a pivotal role in reinforcing drainage, filtration, and erosion control systems worldwide. Drainage systems that incorporate geotextile products ensure excellent filtration and drainage properties, besides being widely adopted for filtration applications such as wall drains, retaining walls, among others, subsequently impacting geotextiles industry size.
Infrastructure giants are looking to incorporate latest innovations in geotextile designs which offer environmental protection and are significantly easier to use through customized and sophisticated products. Similar developments in the pipeline sector are positively influencing geotextiles industry outlook.
Get a Sample Copy of this Report@ https://www.gminsights.com/request-sample/detail/1707
According to reports, geotextiles market share from drainage application is anticipated to exceed USD 1.7 billion by 2024. Over the years, these products have helped contractors and engineers to solve myriad of geotechnical problems such as construction costs, schedule delays, change orders, and other advantages.
Expanding construction sector in Europe
Increased investments in new buildings along with higher spending on sustainable infrastructure and modernisation programmes in countries like Germany have boosted the demand for residential and commercial infrastructure.
Growing demand for non-woven and woven geotextile products in road construction helps in improving strength and provide reinforcement properties, increasing the life span of road structure and substantially reduce long-term maintenance costs. Booming infrastructure development in Europe will certainly fuel geotextiles market size.
Speaking about numbers, the construction sector had amounted to 8.6% of the EU's total GDP in 2016 and was anticipated to witness a steady growth of 3% in 2018. Europe geotextiles industry will witness profitable outlook, with a slew of construction projects in the pipeline. Favourable government initiatives and stringent regulations toward infrastructure development, water management and transportation are slated to signify high product demand in the region.
Apart from construction segment, consistent research alleviating Europe towards pioneering innovations in other segments include railroad and agriculture, besides boosting the utilization of high-performance materials for drainage application.
Growing infrastructure spending in Asia Pacific
Rising number of construction projects to develop roads, ports, airports along with thriving government proposals to promote hi-tech railway projects signify notable target base for Asia Pacific geotextiles industry. Ongoing rapid urbanisation in the region has led to the surge in the requirement of modern infrastructure and expansive highway projects.
The usage of geotextiles in rural roads has opened the gateway for proven environment friendly technology that helps in reducing maintenance costs and provides greater durability. Reports suggest that China geotextiles market size is anticipated to contribute nearly 11.0% of the global share over the estimated time period.
Prominent participants tailoring to global geotextiles demand include Royal Ten Cate, Terram Geosynthetics, Thrace plastics, and Belton Industries. Companies are focusing on strategic partnerships, collaboration, and acquisition to increase production capacity as well as to expand their global reach
Research advancements in recent years have broadened the application prospects of geotextiles industry and demonstrated the performance benefits across a variety of ground stabilization applications. According to Global Market Insights, Inc., global geotextile market size is poised to exceed a valuation of USD 10.7 billion by 2024.
Author Name : Deeksha Pant