Global Automotive Relay Industry Size
Littelfuse's yesteryear acquisition of TE Connectivity's circuit protection business is an apt instance of automotive relay marketplace depicting signs of consolidation in the competitive landscape. Elaborating further on the aforementioned deal, the Chicago based automotive electronics manufacturer has reportedly closed a deal with TE Connectivity in an all cash transaction of USD 350 million in 2016, in a bid to strengthen its position in the automotive relay business space. TE's circuit protection business witnesses a strong portfolio in polymer based resettable circuit protection devices, which in consequence of the acquisition has come under the veil of the Littelfuse. If reports are to be believed, this deal has allowed Littelfuse to reinforce its core circuit protection business both in existing as well as emerging markets.
U.S. Automotive Relay Market Size, By Application, 2016 & 2024 (USD Million)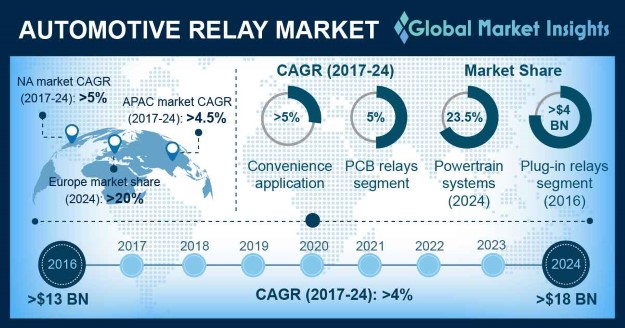 The profitability quotient of automotive relay industry is claimed to be heavily influenced by the changing trend of automotive electronics business space, the former being an integral vertical of the latter. Statistics affirming the declaration- global automotive electronics industry in the year 2016, was valued more than USD 206 billion, and is slated to exceed a commercialization of USD 395 billion by 2024. The humongous figure, itself, is proof enough to document that the growth prospect of automotive relay market in the coming years is positively high.
For the uninitiated, relays are mainly deployed in safety & security systems, convenience systems, powertrains, and body electronics and ADAS systems to enhance their efficiency. Convenience systems, in fact, are specifically expected to mark a footprint in automotive relay industry over the coming seven years. As per estimates, in 2016, convenience systems procured almost 34% of the overall automotive relay market in terms of shipments.  Driven by the surging demand for space saving, large switching capacity, electronic power steering, high level of compatibility, sunroof control, and infotainment, it has been forecast that convenience system would continue to be a major revenue pocket for automotive relay industry in the coming years.
Get a Sample Copy of this Report:@ https://www.gminsights.com/request-sample/detail/619
Speaking of the application portfolio, powertrain system is profoundly one of the prominent business spheres where automotive relay industry penetration has been incredible. Today, these systems have been increasingly deploying plug-in-relays, subject to some of its excellent beneficiary features such as susceptibility to voltage fluctuations, elevated temperatures, and to extreme vibratory conditions. Estimates claim that powertrain systems application would procure more than 23% of the overall automotive relay market by 2024.
With the emergence of smart tech, of late, it has been observed that automotive giants are increasingly concentrating on forging strong alliances to bring innovations in their vehicle model with regards to lightweight materials, power trains, active safety & assisted driving, and connectivity. Citing an instance, Magna International has recently teamed up with China based Huayu Automotive Systems, in a bid to strengthen its footprint in China market. Reportedly, the deal comes of the heels of their planning to produce electric drive powertrain systems for a renowned German automaker. Needless to say, with increasing automotive players' focus on integrating powertrain technology in the designing of the vehicle, automotive relay market from this particular vertical is sure to gain remarkable proceeds in the ensuing years.
The superfluity of prominent automotive market giants in APAC belt is expected to position the region as one of the most lucrative growth avenues for automotive relay market. This is on account of the fact, that these automakers have been increasingly focusing on bringing tailor made features in the vehicle designs that has substantially led to increased product demand. In addition, favorable initiatives undertaken by the regional government with regards to emission control and product improvement would also complement the business proliferation. Estimates claim, with China at the growth front, APAC automotive relay industry is slated to witness a CAGR 4.5% over 2017-2024.
Some of the prominent biggies involved in automotive relay industry include American Zettler Inc, Denso Corporation, ABB Ltd., Panasonic, NEC Corporation, Nippon Aleph corporation, and Eaton Corporation. Leading companies are focusing on honing their distribution channel to ensure a stronger presence in the strategic landscape. For instance, Microsemi Corporation has introduced a new distribution sales channel, Microsemi Direct, to provide highest level of sales support to North American customers. Moreover, M&A, strategic partnership, and product portfolio expansion will continue to be the focus areas of automotive relay market investors over the forthcoming years.
Author Name : Satarupa De