Global Golf Cart Market
Owing to a rise in disposable incomes and the growing demand for convenient short distance travel solution at various institutions, golf cart market is gaining significant momentum worldwide. Golf carts are reliable, compact, versatile, user-friendly and warrant extremely low maintenance, enabling them to address a number of different job requirements. Versatility has been one of the prominent factors endorsing this vehicle category over the years and is expected to bring in substantial business growth to global golf cart industry.
U.S. Golf Cart Market, By Application, 2018 & 2025, (USD Million)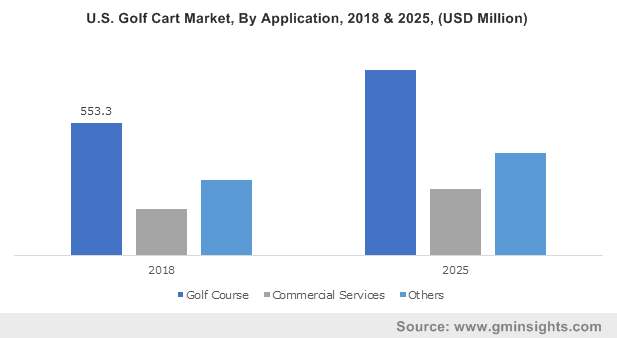 Relative affordability of a golf cart plays a key role in boosting the adoption of these vehicles, bringing in considerable remuneration from avenues that in no way are related to golfing, with applications ranging from farming and hunting to police work and community strolls. After being subject to suitable modifications, golf carts can also be deployed for off-road applications on rough roads, designed to perform like a UTV. Extensive use of these small automobiles for a slew of different purposes will drive golf cart market size substantially.
Electric golf cart adoption has seemingly been underestimated and underreported over the past few years. According to the Harvard Business Review, electric golf carts are often ignored by the mainstream media but are thriving in applications that do not require all features a conventional automobile offers. These also include areas where electric vehicles inherently perform better than their conventional fossil fuel powered counterparts. Electric golf cart market possesses a substantial amount of untapped potential, enough to effectively disrupt the overall electric vehicle (EV) segment.
Get a Sample Copy of this Report: @ https://www.gminsights.com/request-sample/detail/3285
It is estimated that golf carts would be showing notable growth in two EV categories, electric utility vehicles (EUV) and low-speed electric vehicles. The subsegment of low-speed EVs revolve around consumer vehicles that are built upon platforms derived predominantly from golf carts and ATVs. The EUV subsegment, meanwhile, encompasses a range of golf cart-derived vehicle designs ranging from light-duty platforms to heavy-duty trucks.
From a regional perspective, North America is among the world's biggest golf cart markets. The factors influencing the notable demand for golf carts in the region include its dominant golfing culture. North America, specifically the U.S., has apparently given rise to the notion of golf carts being used for a host of different applications besides the sport. In recent years, it has been observed that people across small American towns are ditching conventional automobiles in favor of golf carts, especially in areas dedicated for elderly people who need an easy means of transportation.
Reportedly, people in census-designated city called The Villages in Florida use golf carts as a central mode of transportation. There are approximately 50,000 golf carts in the city which has 90 miles of road infrastructure dedicated to golf carts. The city boasts of dedicated golf cart bridges and parking lots, while one third of the city's trips are taken through this convenient mode of transport. It is projected that this trend would grip other cities across the US over the coming years, giving substantial growth impetus to North America golf cart industry size.
Europe is slated to emerge as a promising golf cart market contender, supported immensely by the European Golf Course Owners Association's vision 2020, which aims to find answers to Europe's dwindling golfing culture and put efforts towards attract more participation to the sport. Ireland, which is home to some 400 golf courses, could stand out as a lucrative customer base. Reports suggest that consumer spending in the Republic of Ireland was approximately €379 million, while the entire island spending was around €540 million on the game back in 2017.
Asia Pacific is also expected to emerge as a prominent market player over the forecast timeframe, with growing purchasing power and popularity of the sport expected to foster industry growth. Apparently, out of over 100 new golf projects currently under several stages of design, construction and development, 30% are present in Asia. Considering the sport's rising acceptance in the region and the number of projects currently under development, APAC golf cart market share is slated to witness sizable demand.
The projected resurgence of golfing as a sport and golf cart's ability in addressing transport challenges in an array of other applications can be expected to expedite golf cart industry landscape. Competitive hierarchy of the industry is comprised of key players like Columbia Vehicles, Club Car, GDrive, Textron and Yamaha. Global Market Insights, Inc. has predicted that golf cart market size will surpass a valuation of $2 billion by 2025.
Author Name : Akshay Kedari