Global Phosphorescent Pigments Market
An exclusively discernible example of an industry famous among all and sundry, though not by its christened name, phosphorescent pigments market stands as one of most popularly reputed spheres at the grassroot level. Owing to their widespread popularity, phosphorescent pigments industry players have been continually involved in R&D programs that would enhance the application landscape of this business sphere. Say for instance, the Urban Redevelopment Authority (URA), as recent as early 2017, tested four different types of surface materials on a 1,300-foot stretch of Singapore's Rail Corridor behind a metro station in Bukit Panjang, in order to make the trial safer and more reliable for public use, without the necessity for street lighting. While the response to the luminous trail has been slightly underwhelming, it has been satisfying enough for the notion to gain weightage, prompting regional phosphorescent pigments market players to expand their R&D programs and explore the idea further with regards to practical implementation.
U.S. Phosphorescent Pigments Market Size, by End-user, 2013 – 2024 (USD Million)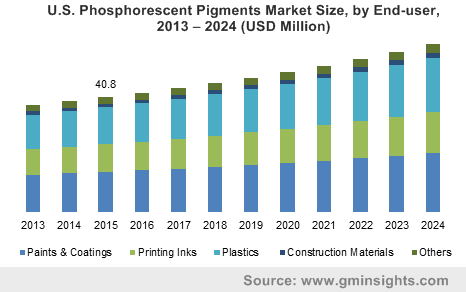 Phosphorescent pigments market may dynamically transform street lighting & energy consumption
These products, better known by their colloquial name – 'glow in the dark' paints, find tremendous applications across the paints and coatings, plastics, and construction sectors, pertaining to their exclusive property of light absorption and quick, controlled emission in a dark environment. Endowed with excellent temperature resistance and longer emission times, these pigments ensure the long-term appearance of a luminous effect, which can be aptly credited for the expansive end-use spectrum of phosphorescent pigments market that includes novelty toys, roads, military equipment, plastic sheets, automobile interiors, wheel coatings, fire exits, and emergency signboards. One of the domains however, that may extensively benefit from these pigments and prove to be a profitable avenue for phosphorescent pigments industry growth, is the energy sector. In recent years, in a bid to save energy and reduce expenditure on highway lighting, companies have been tapping the notion of using bright glow paint signs on roads that would guide the driver and eliminate the necessity of lighting, thereby providing a lucrative growth ground for phosphorescent pigments market players. The concept had been brought under the scanner by a Dutch company in 2014 – Studio Roosegaarde, that joined hands with a Dutch civil engineering firm called Heijmans, with the intention of developing a phosphorescent paint that can glow brightly in the dark, on the outside, creating sufficient luminescence for drivers to see the pathway ahead. Despite not being globally commercialized, the perception, back then, successfully debuted in phosphorescent pigments industry.
Get a Sample Copy of this Report:@  https://www.gminsights.com/request-sample/detail/2284
Phosphorescent pigments market outlook characterized by myriad R&D programs
As on today, 'glow in the dark' paint is being deployed across a plethora of applications in order to reduce energy consumption, which may substantially pave the way for phosphorescent pigments market expansion. Phosphorescent paint for instance, is being used to create luminous cement, that may transform the way the urban landscape is lit. Phosphorescent pigments industry firms have even been researching ways of developing 'glow in the dark' plants, that may direct the global populace toward a more sustainable and eco-friendly lifestyle. The pigments are specifically used for emergency exit signages, given the gravity of the situation. In fact, just recently, Councilor Mabel Acosta of Philippines stated that it would be mandatory for all the establishments to install glowing emergency exits that may help people escape during unforeseen calamities.
Traditionally manufactured from an amalgamation of copper and zinc sulfide crystals, phosphorescence pigments attribute their characteristic to the unique properties of crystalline zinc sulfide and the ability of copper to activate the crystals for absorbing light and emitting the same gradually to generate a phosphorescent sheen. However, these pigments have also been developed from alkaline earth metals such as strontium, after Nemoto & Company, a Japan phosphorescent pigments market player introduced a strontium-based product under the brand name of LumiNova. Apparently, these pigments possess a higher rate of durability and brightness than the traditional zinc sulfide based products – technically speaking, these pigments have an afterglow period that is ten times higher than ZnS-based pigments, and they are also known to be free of radioactive substances, while exhibiting excellent weather resistance. In consequence, this has generated a slew of growth avenues for phosphorescent pigments industry players to come up other unique products that can be used for highlighting the phosphorescence effect, without compromise. The overtly robust demand for the product for emergency exits, lighting, and signage boards, in addition to the rapid transformation in the lighting and construction sectors, will further provide a boost to phosphorescent pigments market trends. As per estimates, phosphorescent pigments industry size is slated to expand at a CAGR of 4.5% over 2017-2024.
Author Name : Saipriya Iyer