Global Soft Exoskeleton Market
The global soft exoskeleton market is touted to make a big difference in the wearable industry in the coming years, owing to increasing product demand from patients with musculoskeletal and neurological disorders coupled with plentiful advantages of soft suits over bulky metallic suits. Research and development are the cornerstones of this industry, leading players try and guarantee cutting-edge, practical, and quality products for solving consumer problems. Amidst stringent labor safety regulations, there has been an upward momentum in product demand in manufacturing industries, primarily driven by the need to ensure worker safety and enhance efficiency, thereby bolstering soft exoskeleton market size over the future.
U.S. Soft Exoskeleton Market, By Product, 2018 & 2025 (USD Thousand)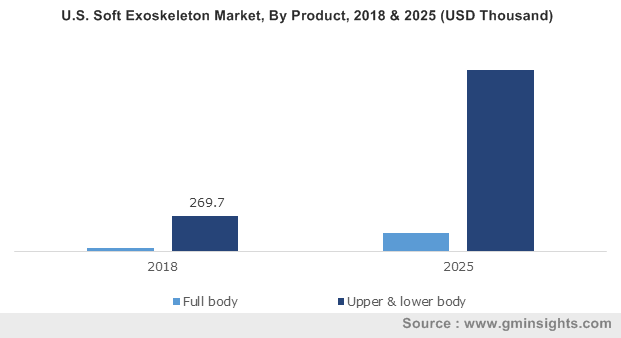 Workplace injuries are a common scenario in industries which require workers to perform tasks in extreme conditions. With that said, the rising incidences of gait disorders and bone-related injuries are set to fuel market growth in the looming future. For instance, the automotive giant Ford is reportedly introducing 75 upper-body EksoVest exoskeletons across fifteen motor making plants across the globe. The auto behemoth has entered into a collaboration with Ekso Bionics to enhance its employees' capabilities in the U.S., Mexico, Canada, Romania, Thailand, China, and Brazil. Ford claims that the physical activity of its workers is similar to an individual lifting a container full of flour or watermelons over its head 4,600 times a day. Thus, the introduction of exoskeletons vests would offer passive mechanical support to the wearers while performing overhead tasks, thereby enhancing their efficiency and reducing muscle strain.
A brief outline of the soft exoskeleton market with respect to the application gamut:
Military Applications
The military sector has always been actively looking for solutions to empower armed personnel in terms of safety and efficiency.  Although military personnel are tough and strong, the nature of their work makes them highly vulnerable to muscle sprains and spasms. A recent development by a multidisciplinary team of researchers from Harvard SEAS and Wyss Institute of Harvard in fact, has put the military sector in a tizzy. The researchers have fabricated a pioneering soft multi-joint exoskeleton ideal for soldiers and emergency labors. The soft exosuit embraces an advanced automatic tuning technique that decreases fatigue and injury during strenuous jobs and allows users to stay active longer.
Get a Sample Copy of this Report@ https://www.gminsights.com/request-sample/detail/3031
The device has been designed to boost mobility by applying mechanical forces to vital joints of the body. The mechanical forces are conducted via cables that run through the exosuit's components to hip joints and ankle to add power to leg movements. Moreover, the exosuit can help elderly or mobility impaired individuals lead more active lives. Thus, it is overt that product innovation initiatives for the betterment of defense workers will influence the commercialization graph of the soft exoskeleton market over the future.
Healthcare Applications
Soft exoskeleton industry size from healthcare applications is anticipated to grow at a rapid rate attributed to the burgeoning adoption of exosuits by patients with physical disabilities such as Parkinson's disease and multiple sclerosis. The rise in the number of hospitals, clinics, and medical centers offering rehabilitation treatment to paralytic patients is projected to impel market penetration in the coming years. In addition to this, the ability of soft exoskeleton to provide relief from spine injuries, traumatic brain injuries, and strokes would further advance market share.
Lately, ReWalk Robotics Ltd., the leading producer of exoskeleton solutions, has reportedly premiered a soft suit exoskeleton prototype, known as Restore, aimed at helping stroke survivors. The soft exoskeleton looks a lot similar to what construction workers wear for safety rather than a wearable robotic system. It contains a waist band fixed with a battery and motor, flexible cables that convey power from the motor to the ankles, shoe sensors, and leg braces. The anticipated release of a marketable Restore soft suit is scheduled for 2018. The expansion of the healthcare industry and the numerous developments it is characterized by will thus prove to expedite this business space in the coming years.
Industrial Applications
The rising implementation of full body soft exoskeletons in the industrial sector to enhance workers' productivity, decrease stress and fatigue would significantly bolster product demand in the years forward. Unlike conventional suits, full-body wearable soft exosuits provide varied flexibilities because of the absence of an exterior metal frame. Additionally, optimum service and support offered by manufacturers to businesses will extend incredible growth prospects for the soft exoskeleton market.
Reportedly, researchers at the Wyss Institute have recently developed cutting-edge soft exosuits that are aimed at mitigating injury risk and improving worker productivity during heavy lifting and reaching jobs. The soft exosuit technology is a textile-based system,  that looks and feels similar to clothing but is intended to offload pressure from the back muscles while performing physically demanding tasks.
Based on the aforementioned factors, it is rather apparent that soft exoskeleton technology looks to revolutionize the physical potential of the mobility-disabled, manufacturing workers, soldiers, and elderly by providing additional strength and stability to help appease exhaustion, pressure, and injuries. The lucrative advantages of the posture and motion support provided by these products across a vast application landscape would significantly amplify soft exoskeleton market size in the imminent future.
Author Name : Nikita Chaurasia