Glycerol Market Size By Application
Biodiesel and Oleochemical manufacturing has expanded the Glycerol market which is forecast to cross a revenue of USD 3.04 billion by 2022, as per the study by Global Market Insights, Inc. In 2015, Biodiesel accounted for approximately 68% of the total glycerol production. Biodiesel is said to be the most significant production source for glycerol and is anticipated to produce 2700 kilo tons of glycerol by 2022. Besides, the other prominent source, the oleochemicals are anticipated to exceed 20 million tons by 2022.
Global Glycerol market is estimated to grow at a CAGR of 6.6% over the period of 2015-2022, mainly driven by its applications across various industries such as Personal Care & Pharmaceuticals, Alkyd Resins, Food & Beverages, etc. Glycerol applications in personal care & pharmaceuticals accounted for 38% of the total market share in 2015 and is anticipated to register a CAGR of 6.5% over 2015-2022. The growth will mainly be driven by healing and nutritional properties offered by glycerol along with the improved lifestyle and health awareness of the consumers.
Europe glycerol market size, by application, 2012-2022 (Kilo tons)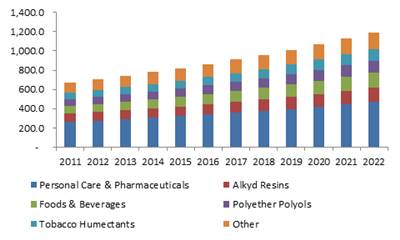 Glycerol applications in Alkyd resin will also witness significant surge over the coming timeframe due to its wide set of applications in synthetic paints industry such as enamels, varnishes, protective coatings, etc. The glycerol market in alkyd resin application segment is likely to exceed USD 400 million by 2022.
Get a Sample Copy of this Report:@ https://www.gminsights.com/request-sample/detail/327
Food and beverage industry will also witness huge adoption of glycerol in the coming years owing to its use in food preservatives, solvents, sweeteners, and humectants. Glycerol applications in this sector is anticipated to exceed a volume of 500 kilotons by 2022, registering a CAGR of 7% from 2015-2022. The application has also seen significant growth after declaration of glycerol as food additive by European Union Food Standard Agency.
The Asia Pacific is expected to dominate the global glycerol market with revenue estimations of USD 1.4 billion by 2022. Increase in construction spending, growing alkyd resin demand, and presence of large oleochemical base are key factors to drive the regional growth. The glycerol production in APAC through fatty alcohol production source is estimated to grow at a CAGR of 8% over 2015-2022.
The U.S glycerol market size is projected to exceed 700 kilotons by 2022. The growth is mainly driven by huge demand from the personal care & pharmaceutical industries which accounted for 38% of the overall market share. Europe glycerol market is anticipated to surpass 1190 kilotons by 2022, with biodiesel being the prominent production source.
The market is consolidated and integrated owing to the high priced raw materials. Key market participants include Wilmar International, Emery Oleochemicals, KL Kepong, Dow Chemical, Solvay SA, P&G, BASF, Croda International, Godrej Industries, Evonik, Archer Daniel Midland, Vitusa Products, Inc, United Coconut Chemicals, and Ecogreen Oleochemicals.
Author Name : Shikha Sinha
This entry was posted in BIOMASS, BIOENERGY AND RENEWABLE CHEMISTRY and tagged Competitive Market Share & Forecast, Downstream Potential, Glycerol Market Size By Application, Industry Analysis Report, Price Trend, Regional Outlook.