Government & defense
The global people counting system market is poised to witness remarkable growth in the years to come, owing to the robust adoption of digitized systems for supporting regular operations across a number of application domains. These systems provide installers with numerous operational enhancement benefits like tracking the busiest time slots as well as staff optimization. Further, the rising awareness of business intelligence platforms in a number of industries like hospitality, entertainment, and retail is creating huge demand as well, for enhanced customer tracking solutions.
UK people counting system market, by application, 2019 & 2025 (USD Million)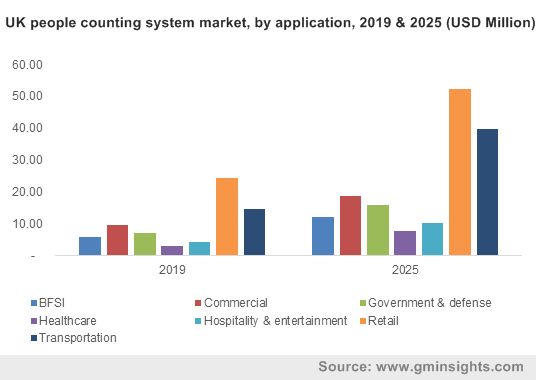 It is imperative to state that the people counting system market is also witnessing a technological evolution, like the development of behavior analysis technologies, thermal imaging counters, and 3D stereographic components. These advancements have been captivating core industry players to adopt innovative technologies that will help drive the people counting system market growth in the years to come.
A rise in the demand for effective technologies for analyzing, detecting and converting potential customers, and enhancing profitability and business is a crucial factor that will propel the people counting system market. A number of industrial sectors like clubs, pubs, restaurants and hospitals are witnessing high adoption of this technology to track the number of customers that are entering or exiting the facility. Such systems also assist companies in developing effective marketing and sales strategies to attract customers and analyze their buying behavior. Strategies like these would further assist them in competing with prominent companies in terms of sales revenue and the customer base.
Get a Sample Copy of this Report @ https://www.gminsights.com/request-sample/detail/2546
Regionally speaking, North America has been touted to emerge as a viable growth ground for people counting system industry. Powered by the presence of numerous system developers in application industries and the robust adoption of technical advancements across the economies of U.S. and Canada, the North America people counting system market size has been growing at an exceptionally rapid pace. The regional industry is touted to depict commendable gains in the years ahead, as the continent continues to witness the proliferation of technologically advanced transportation facilities incorporating automated management systems and the smart city projects.
Notable companies partaking in people counting system market share have apparently retained focus on technological advancements by developing specialized passenger counting systems with different capabilities which would offer better management capabilities in varied application segments. A gist of the contribution by some of the major companies in the people counting system market is mentioned below:
Axis Communications AB
The surveillance industry is remnant of very specific challenges and core players often seek to achieve benefits from niche applications like surveillance in psychiatric wards, interview rooms, and elevators which are commonly left unaddressed by standard products available in the market. To tackle this problem, the Sweden-based Axis Communications has recently introduced two specialty camera models for corner-mount use, with distinct design features for meeting specific use cases.
One of the camera models has a perfect design to blend into the aesthetic in elevators, while the other is ligature-resistant (anti-ligature), ideal for the healthcare sector, among many others. Such product advancements by notable industry players are anticipated to drive the commercialization landscape of the people counting system market in the years to come.
V-Count Inc.
As a part of its exponential growth tactics, V-Count in the recent years, has executed aggressive expansion plans to establish itself in major regions across the globe. In December 2017, the company had made its debut in Dubai, owing to the city's dynamic, tech-savvy market and its strategic location, which made it an ideal location for V-Count's new offices. This move was a part of continuous effort from the company to expand its presence, and respond to the increasing demand for retail analytics and advanced people counting solutions.
The company further made its entry in the UK and other European markets for supporting both new and existing customers in implementing powerful analytics technologies across their businesses. Regional expansion tactics thus, are bound to help augment the scope of the people counting system industry in the forthcoming years.
Considering the aforementioned efforts undertaken by prominent industry players, it is clear that the people counting system market would depict tremendous growth in the coming years. The competitive spectrum of this industry is quite diverse, and consists of renowned companies such as HELLA Aglaia Mobile Vision, RetailNext Inc., Iris-GmbH Infrared & Intelligent Sensors, InfraRed Integrated Systems Ltd., Infodev Electronic Designers International Inc., FLIR Systems Inc. and Eurotech, among others.
Author Name : Saurav Kumar
Over the recent years, the global data center colocation market has been witnessing remarkable pace of growth owing to the increasing complexity of managing humongous data centers and the shortcomings with regards to power and space. In addition to this, the emergence of the Internet of Things along with the rapid proliferation of big data and cloud technologies has compelled several business verticals to focus on planning the physical infrastructure of IT-based services. Moreover, large enterprises and SMEs are increasingly shifting to colocation hosting as building a new facility requires a large amount of initial investment, thereby boosting the revenue scale of data center colocation industry.
China Data Center Colocation Market, by application, 2017 & 2024 (USD Million)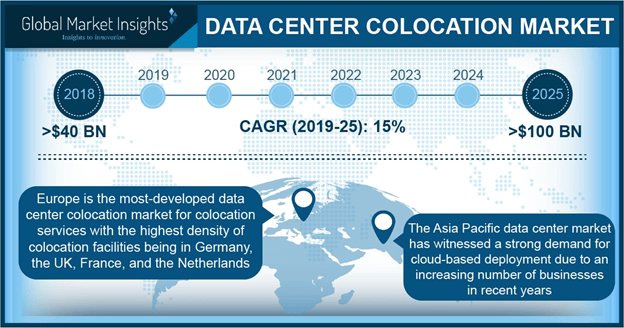 Elaborating further, the process of hosting an onsite facility needs skilled professionals to safeguard the data center from cyberattacks, which is the most pervasive threat. To tackle all these challenges, several data center colocation service providers are combining innovative solutions in their facilities to offer modern enterprises with secure infrastructure at the very initial stage of colocation.
In this context, it would be imperative to take note of Cyxtera Technologies which has recently integrated AppGate SDP, a new software-defined perimeter solution, with its high-performing data centers to apply the principle of least-privileged access to the network, which lowers the possibility of a cyberattack. Phasing out obsolete security approaches, the new solution gives fine-grained access to ensure that individuals only connect to the network resources. Needless to mention, the introduction of such unique solutions is proving to be beneficial for the overall data center colocation industry.
Get a Sample Copy of this Report:@ https://www.gminsights.com/request-sample/detail/2419
Prominent technology companies appear upbeat about the growth prospects of the data center colocation market in the APAC and Europe regions. The APAC nations especially have been mirroring the incredible growth trajectory experienced in the U.S. over the past few years. Enumerated below is a brief overview of how facility expansion activities by tech giants and the entry of colocation specialists have been transforming the contours of the APAC data center colocation industry:
Highly specialized colocation service provider Colt Data Centre Services (Colt DCS) is set to begin the construction of a hyperscale data center campus in Mumbai, the financial capital of India. With a power capacity of nearly 100MW, the facility is anticipated to become operational in the second half of 2020. In this regard, it would be prudent to mention that Colt DCS is the first major western data center operator to foray in India data center colocation market, which is presently served by small-scale local service providers.
Tech giant Facebook had recently announced that it would construct its first purpose-built data center in Asia. The new multi-story facility would be the largest single data center in Singapore and will offer 170,000 square meters of space. Owing to the ease of fiber connectivity and presence of highly-skilled professionals, numerous tech companies have been choosing Singapore as their regional hubs for data center colocation, propelling the commercialization potential of the APAC data center colocation industry.
In December 2018, the U.S.-based multinational data center company Equinix announced that it would build a new International Business Exchange data center in Helsinki, Finland. Reportedly, the new data center is slated to enable improved colocation and interconnection capabilities for businesses undertaking digital transformations. For the record, Equinix is a renowned name in the data colocation market given that it operates Platform Equinix, the name of its global data center network made up of 200 data center facilities spread across 52 nations.
Driven by a widespread application segment which includes retail, IT & telecom, manufacturing, healthcare, government & defense, energy, and BFSI, the data center colocation market is set to garner commendable proceeds from various geographies in the upcoming years. Additionally, the drastically changing technology trends and the favorable impact of big data, IoT, and AI on cloud infrastructure would further open up new opportunities for the companies partaking in the data center colocation industry, which is slated to surpass USD 90 billion by 2024.
Author Name : Saif Ali Bepari