Government & Public Sector
The rapidly growing demand for connected devices across the globe is one of the pivotal factors driving enterprise networking market, given that these devices help facilitate real-time communication. In an effort to cope with and overcome the rapidly rising bandwidth bottleneck & network traffic issues, organizations worldwide are embracing network management solutions that keep the traffic flowing while also ensuring network security. The exponential surge in the number of IoT-enabled devices has drastically increased security risks, on the grounds of which organizations are rolling out enterprise network security solutions to obtain visibility of endpoints and unsecured applications & devices.
Europe Enterprise Networking Market Size, By Product, 2017 & 2024 (USD Million)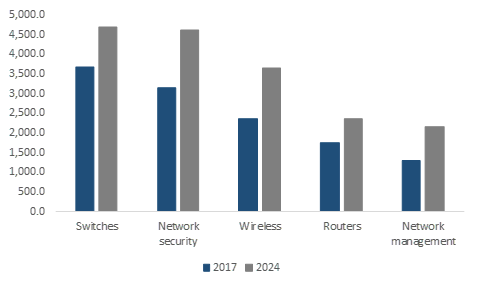 According to a 2018 Enterprise Networking Trends report by Cisco, the company in 2017 had redefined networking with the launch of the first intent-based networking system in the world. The company anticipates that going further, intent-based networking would be the future of networking and would also be responsible for fundamentally changing the way companies think about networks & empowering IT and help the firms with disruptions caused by IoT & cloud.
Enterprise networking market trends are also expected to witness a transformation on account of changing customer preferences toward converged network architecture as well as the network virtualization technology to strengthen the network functions. Shifting user inclination has further enabled organizations to enhance network efficiency at reduced operational costs, which would provide renewed growth prospects for enterprise networking market.
Get a Sample Copy of this Report:@ https://www.gminsights.com/request-sample/detail/2978
Unveiling Asia Pacific enterprise networking market trends:
APAC enterprise networking market is primarily driven by the large-scale adoption of cloud-based infrastructure in the region as the organizations are actively transferring their workloads onto the public cloud. According to a report by the not-for-profit organization, Cloud Security Alliance (CSA), in APAC, Japan, South Korea, Singapore & China are some of the primary nations that have witnessed the highest cloud adoption rate in 2017. The rising prominence of the cloud computing environment has further enabled network architectures that are disparate in nature to contribute to the increasing operational burden. These circumstances have led to a significant rise in demand for virtualization technology which makes the computing environment more agile, effectively addressing the growing network demands.
According to a research report by IT security company, Barracuda Networks, approximately a third of enterprises in the APAC region have already rolled out SD-WAN on a majority of their sites, while more than 55% organizations in the region are in the process of adopting SD-WAN. Propelled by the robust deployment of advanced networking solutions, APAC enterprise networking market is expected to depict the fastest growth rate of 8% over 2018-2024.
Analyzing enterprise networking market trends in terms of switch sales:
In an effort to keep up with the rising need for organizations to facilitate secure & real-time communications while effectively managing network traffic & bandwidth bottleneck issues, enterprises heavily rely upon high-speed ethernet switches. Switching is a crucial networking technology that is used across several organizations' premises to construct their local area networks (LANs) and also across vast distances to facilitate wide area networks (WANs) making switches one of the most widely used networking equipment across the world. According to a 2017 annual report by Cisco Systems, the company witnessed a 5% increase in revenue (approximately $452 million) from the sales of LAN fixed-configuration switches. The increase in the revenue was primarily due to the boost in sales of the company's Nexus & Catalyst series of switches.
According to a 2017 report by Forbes, in 2016 Cisco System's network switches division was responsible for approximately 40% of the product sales, representing more than 30% of the company's net revenue. Switches, having accounted for more than 25% of the enterprise networking market share in 2017, are expected to continue adding momentum to the industry growth, given the surging demand for high-speed data services that has fueled the adoption of network switching technology.
Attributing to the increasing network capacity needs across several global enterprises, the growth graph of enterprise networking market is projected to witness an exponential incline in the years ahead. According to Global Market Insights Inc., enterprise networking market size is expected to be pegged at a mammoth $90 billion by 2024.
Author Name : Akshay Kedari
The increasing importance for geospatial technologies for visualizing and analyzing geospatial data has stimulated mobile mapping industry trends. The advent of new technologies such as Lidar, AI, and IoT has also significantly transformed mobile mapping technology over the last few years. With more innovations across this technology, it has become easier and effective to carry various tedious projects like urban development, rail-road creation, and power plant construction across inaccessible areas. Thus, the increasing use of this technology to survey numerous mobile platforms is poised to propel mobile mapping industry share.
U.S. Mobile Mapping Market Revenue, By Component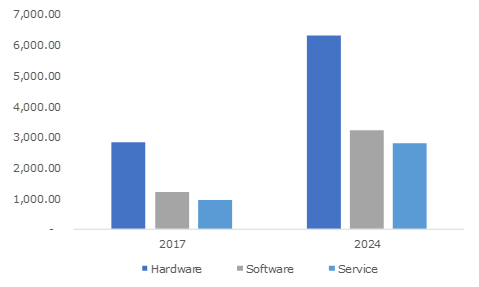 The involvement of companies in novel product development activities for high efficiency and productivity will have a notable impact on the business over the years ahead. In the last few years, companies have come up with a diverse set of products that can deliver remarkable benefits to users and asset owners. Validating the aforementioned fact, in February 2018, the California based software development company, Trimble developed a next-generation mobile mapping system, which has been designed with multi-camera imaging, mobile lidar system, and field software. This newly launched Trimble MX-9 mobile mapping technology has the capability to capture 360-degree immersive geo-referenced imagery with the help of already installed laser scanning sensors, GNSS technology, and spherical camera. The improved accessibility of such newly developed mobile mapping devices via smartphones and tablets will augment the growth of mobile mapping market.
Speaking more about the recent advancements, it is prudent to mention that 3D mobile mapping is also one of the latest developments in geospatial technologies that helps users to record, measure, visualize, and understand environments. The advent of 3D mobile mapping has overcome the limitations of conventional mobile mapping systems and helps to carry out a detailed visualization of climatic conditions. In 2018, a German company which develops software and hardware to navigate, map, and digitize the indoors, NavVis made it to the headlines for generating a fully integrated product for indoor mapping aided with six cameras. NavVis has developed this product in accordance with customers' request to have sophisticated and more versatile systems. This product is likely to prove beneficial for the end-users like construction product manufacturers, construction companies, and AEC (architecture-engineering-construction) professionals to generate high-quality data owing to its capability to capture immersive imagery.
Get a Sample Copy of this Report:@ https://www.gminsights.com/request-sample/detail/2652
The increasing importance for geospatial technologies has also been encouraging the players in the mobile mapping market to carry out vigorous research and development activities for capturing more business space. For instance, the Italy based SITECO Infomatia SRL has been proactive in developing varieties of products from road-scanners to pave-scanners. In 2018, it has launched software assisted mobile mapping devices. The integration of software and LiDAR system has helped the company to enhance the performance of mobile mapping platform. The widespread availability of multi-scanners and high-performance mobile mapping platforms is slated to propel the industry growth over the years ahead.
In addition to higher performance, cost-effectiveness is also one of the major factors promoting mobile mapping market size. As of now, Google is one of the leading contributors of navigation applications, but due to rise in subscription amounts for accessing its Google Maps, other contributors in mobile mapping market have been able to race ahead with the launch of low-cost navigation features. For instance, a few days before, a digital mapping company, TomTom has started offering free software development kits to Android and iOS users to access maps and traffic information for free. Such initiatives will help IoT companies and autonomous vehicle manufacturers to load the traffic and routing data free of cost.
The advancement in consumer electronics and shifting trends toward the deployment of autonomous vehicles for the betterment of the environment will have a positive influence on the mobile mapping industry share. As of now, most of the automotive companies have been involved in the development of highly modernized infotainment systems for improving the driving experience that is likely to enhance the product demand. In accordance with the expanding end-use sectors, the strategies adopted by the key player will help them to strengthen their business position over the years ahead. Reportedly, driven by new product launches, mobile mapping market will generate a revenue more than USD 40 billion by the end of 2024.
Author Name : Sunil Hebbalkar