GPS
The global vehicle tracking device market size has witnessed an unprecedented growth rate owing to enhanced fleet management techniques which are reducing operation cost of managing large fleet operations. These tracking systems enable monitoring of fuel consumption, engine parameters, and driver's behavior along with ensuring safety, thus making them an essential component in fleet management techniques.
Europe Vehicle Tracking Device Market Size, By Region, 2018 & 2025 (USD Million)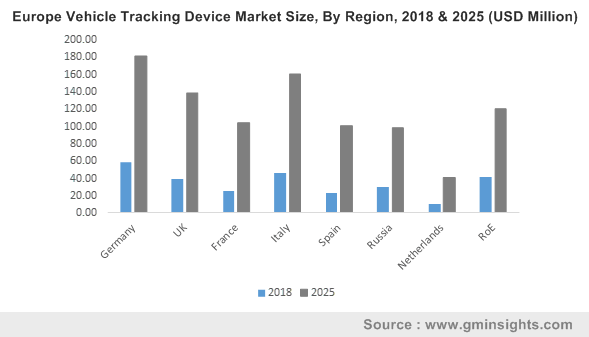 Wireless vehicle tracking devices are being increasingly used across various business verticals in the past few years owing to low power consumption and compact size. Wireless tracking devices facilitate extensive wired interface and wireless communications that easily adapt to the tracking requirements. They consist of built-in antennas and geo fencing techniques that reduce the overall size and eliminate external antennas and wires. Since wireless vehicle tracking devices are compact in size, they integrate easily into vehicles – a factor that is positively influencing vehicle tracking device industry outlook.
Several governments of developing nations are undertaking initiatives which focus on installing vehicle tracking devices to ensure safety of drivers, passengers, goods, and the vehicle as well. For instance, the Road Transport and Highway Ministry of India mandated the installation of tamper-proof GPS satellite systems in all public service vehicles – along the likes of buses and taxis – to ensure safety of women.
Get a Sample Copy of this Report @ https://www.gminsights.com/request-sample/detail/193
In this context, it is quite imperative to mention that, in 2017, over 436 cases of women molestation on public transport were recorded across India, due to which strict measures are being taken by the government to curb such incidents. Along with tracking devices, the government recently ordered the development of AIS-140 – an automotive industry standard that ensures quality and reliability of devices used in case of emergency. Needless to mention, such initiatives by developing countries are favoring vehicle tracking device industry trends.
In terms of vehicle types in the global vehicle tracking device market, the heavy commercial vehicles segment is expected to surpass over 25% of the total revenue share in the coming years. According to a report by WHO, the number of road casualties across the globe stood at 1.35 million in the year 2018. The massive increase in road accidents on highways which leads to either damage of goods or loss of life – especially due to HCVs like trucks – has resulted in rise in the demand for GPS satellite systems, thus expanding vehicle tracking device market share.
The usage of vehicle tracking systems is gaining popularity in the mining industry due to the demand for safe mining operations. Mining companies are striving towards improving the safety conditions of both the mechanical assets as well as the employees. Real time tracking of mining vehicles allows the managers to have adequate information about their asset locations along with tracking the employees, in case of any emergency. Evidently, the use of tracking techniques in the mining sector is propelling the revenue scale of vehicle tracking device industry.
In terms of geographical expansion, the growing number of innovations in the automobile sector has invariably contributed to the remuneration scale of Europe vehicle tracking device market. With innovations like self-driving cars and the introduction of C-V2X (cellular vehicle – to – everything), there is a growing demand for vehicle tracking devices to facilitate safety of passengers. Several companies are introducing autonomous vehicles in Europe. For instance, the European Commission has urged the need for research and innovations of autonomous vehicles in this region.
Speaking along similar lines, the UK government has established the Centre for Connected and Autonomous Vehicles (CAV) to allow the testing of motorways in the country. A fully automatic vehicle thus needs a high precision positioning and sensor integration to ensure accuracy and reliability that the vehicle can be self-driven. Furthermore, a tracking device will ensure that the vehicle stays in line and at a safe distance from other vehicles.
Owing to the increasing number of innovations in automobile sector and the growing need to enhance road safety along with reduction in operational costs, the global vehicle tracking device market is expanding at a decent pace. Several initiatives are being undertaken by industry players to enhance the vehicle tracking capabilities to facilitate precision and reliability. The major players driving the global vehicle tracking device market include Maestro Wireless Solutions Limited, Orbcomm Inc., Verizon Communications, Suntech International Ltd. among others. According to a report by Global Market Insights, Inc., vehicle tracking device industry is estimated to exceed USD 3 billion by 2025.
Author Name : Shreshtha Dhatrak
With evolving emphasis on location-based marketing in retail space, geofencing market has indeed gained a widespread recognition in the mainstream tech cosmos. Over the recent years, it has been observed that the share battle between online and offline business platforms is intensifying. As a result, bricks and mortar giants have been increasingly looking for ways to implement e-commerce alternatives, the fundamental factor that has impelled geofencing industry share. Quite comprehensible from the terminology, geofencing is a service that, via an app utilizes RFID or GPS technology to increase the virtual boundary around a particular geographic location. Apparently, the technology is being extensively deployed in retail stores nowadays in an attempt to enhance in-store consumer experience.  In fact, on grounds of its far-reaching acclaim, numerous tech behemoths have been trying their hands with the technology in recent years, attempting to bring forth a slew of innovative applications in geofencing market.
Geofencing Market Size, By Application, 2016 & 2024 (USD Million)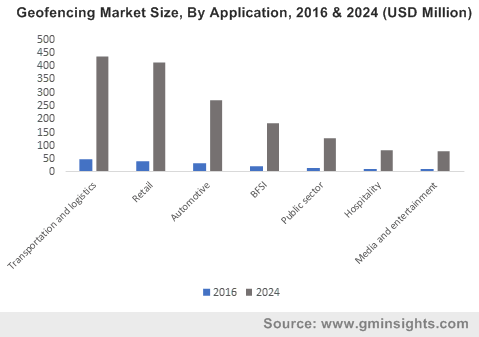 Unveiling geofencing market trends with reference to its application landscape:
American Eagle, one of the renowned clothing and accessories retailers, in the year before last, launched a groundbreaking reward scheme for its customers to encourage purchase. Reportedly, the U.S. headquartered company has utilized geofencing technology to create this app, which in a way is pushing consumers to add more items in their shopping carts to see what they can receive in return. Since the strategy compels the users to at least consider the items that might be otherwise left on the rail, the probability of more purchases undoubtedly increases. This absolutely innovative strategy applied by the American retail giant grabbed the headlines back then and has been stamped as a benchmark in geofencing market growth.
Get a Sample Copy of this Report:@ https://www.gminsights.com/request-sample/detail/222
2016 has indeed been a breakthrough year for geofencing market, with leading food giants striving hard to exploit the potentialities of this technology in their business model. McDonalds, for instance, had started incorporating geofencing service in its mobile app for optimizing the food preparation time. Sources claim, the fast food giant's decision of implementing this app comes in the wake up of long wait queues in front of McDonalds outlet and amidst the chances of receiving cold food. The geofencing based app designed by the company aptly detects when the customer gets closer to the counter and simultaneously alerts the staff to start preparing the order. Needless to mention, growing deployment of these kinds of innovative technologies have enhanced instore consumer experience, which by extension has stimulated geofencing market expansion.
The application matrix of geofencing industry is not just replete with retail domain, though it is undeniable this sector is a lucrative growth avenue for the entire business space.  Besides, retail space, geofencing market share stands to gain much from security and defense applications. Numerous companies participating in the business space have been creating a whole hog to bring about significant advancements in the capabilities of this solution with enhanced integration and accuracy functionalities. In this regard, China has recently made it to the headlines with the announcement of its decision of integrating geo-fencing based facial recognition system for security and surveillance in Xinjiang. Reportedly, these geofencing tools alert authorities when targeted people venture 300 meters beyond the designated safe area zone. These kinds of appreciable efforts undertaken by tech giants and governmental bodies toward promoting geofencing technology is certain to bring forth a plethora of opportunities for geofencing industry participants in the coming years. Validating the declaration is the estimate by Global Market Insights, Inc. that forecasts the global geofencing market to surpass a valuation of USD 1.7 billion by 2024.
Author Name : Satarupa De
The fact that smart luggage is now a buzzword for the tech-savvy traveler legitimizes the massive commercialization matrix of smart luggage market. A prime factor that has augmented the popularity of this product is the substantial rise in the number of air travelers that has led to strict security compliance at airports. Furthermore, there has been an increase in the cases of baggage theft and luggage damage during travel lately, which has pushed the demand for connected suitcases and bags, thereby stimulating smart luggage industry share. The escalating penetration of IoT in the baggage fraternity has prompted manufacturers to include smart features such as remote locking system, Wi-Fi spots, GPS, Automatic built-in weighing, Bluetooth, USB chargers, built-in batteries, and SIM cards in luggage. Say for instance, Bluesmart, a key manufacturer of smart products for travel industry, recently introduced second generation technology referred to as Series 2 in its product line. The new smartphone-controlled locking & site tracking system is expected to lessen the trouble for passengers and airport officials during baggage check-ins.
U.S. Smart Luggage Market Size, By Application, 2016 & 2024 (USD Million)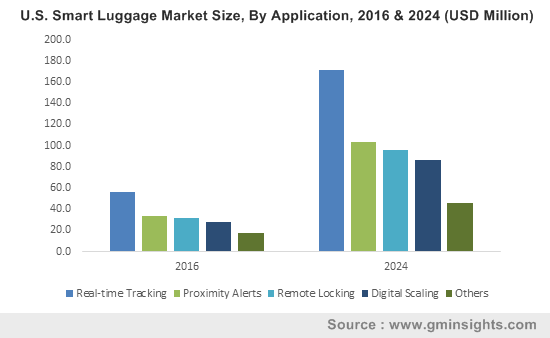 The concept of zipper-less baggage has been gaining traction in smart luggage industry. For instance, Trunkster, a U.S. based baggage startup has recently introduced smart zipper-less luggage – a self-weighing waterproof suitcase comprising sliding doors, offering secured as well as easy access to the luggage contents as compared to the zipped ones. Further on, Delsey, a France smart luggage market player is developing a unique fingerprint ID endowed with numerous features – it automatically locks and unlocks bags, is capable of checking the mobile application of the end-user to verify that the bag is actually locked, and provides a notification to the user during bag transit. The aforementioned instances testify that the launch of state-of-the-art technologies is thus likely to transform smart luggage market trends.
Smart luggage technologies are deployed to implement digital scaling, real-time tracking, remote locking systems, and proximity sensing devices. Real-time tracking technology, for instance, is heavily utilized in airports in cases of baggage loss. Luggage thefts and security violations have changed traveler preferences rapidly, enabling them to invest in smart luggage equipped with remote locking systems & proximity sensing devices. Furthermore, manufacturers have been focusing on preventing any kind of inconvenience to the traveler due to overweight baggage, which has resulted in the production of digital scaling systems. The development of unique smart technologies to be incorporated in suitcases and bags is thus certain to augment smart luggage market size.
Get a Sample Copy of this Report @ https://www.gminsights.com/request-sample/detail/2066
Speaking in the terms of geographical aspects, the product has been increasingly penetrating the APAC zone, given the growing frequency of air travel, subject to increasing consumer disposable incomes and the subsequent rise in their purchase parity of consumers. The robust surge in the demand for smart luggage foe security and comfort will thus generate a profitable growth map for Asia Pacific smart luggage industry. Countries such as Singapore, India, Thailand, China, and Malaysia being prime tourist destinations will, further contribute toward the revenue generation of this regional market.
North America, being one of the hubs of smart technology, is a profitable growth avenue for smart luggage market. The large-scale deployment of connected baggage has prompted companies to brainstorm and develop innovative products, which would considerably impel North America smart luggage industry. In fact, estimates claim North America to account for a rather huge share in smart luggage market.
With IoT firmly having established its predominance in the travel arena, smart luggage market is likely to emerge as one of most remunerative business spheres in the ensuing years. Companies partaking in smart luggage industry share have been hinting at incorporating a lot more user-friendly features in their products, which would considerably impel this business space. According to the Global Market Insights, Inc., smart luggage industry will hit a revenue of over USD 2 billion by 2024.
Author Name : Dhananjay Punekar
The extensive penetration of IoT has revolutionized almost every marketplace, pet wearable industry being no exception. Wearable technology has indeed expended its application matrix beyond humans, which is quite evident from the large sales of pet wearable across the world. Statistics validating the fact- global pet wearable shipments have been claimed to exceed 5 million units in 2016, and the overall shipments is forecast to grow more than 25% over 2017-2024. Leading animal health giants are being witnessed making smart investments in this industry in sync with the latest technological innovations. Global Market Insights Inc., forecast that pet wearable industry will record a valuation of USD 8 billion by the end of 2024.
U.S. Pet Wearable Market Size, By Product, 2016 & 2024 ($Mn)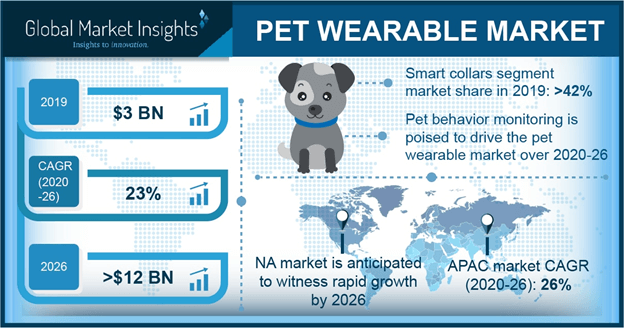 Pet wearable industry has already marked its strong presence in the smart industry space with a diversified product portfolio, ranging from remote heath monitoring to video enabled engagement. For instance, WonderWoof is a Bluetooth enabled bowtie than can monitor dog's activity by keeping a track of their movement.  Reportedly, this ground-breaking innovation is highly customized, with regards to the dogs' gender, breed, and age and can also track the dog's progress in terms of bone development. Not only as a fashionable quotient, the proliferation of IoT has also made a significant impact on diagnosis and medical treatments of pets, giving rise to a swarm of telemedicine apps targeted for veterinarians.
Get a Sample Copy of this Report@ https://www.gminsights.com/request-sample/detail/151


Speaking along the similar lines, GPS based pet wearable is gaining a huge popularity, subject to its capability of monitoring real time positioning of pets. The increasing trend of GPS providers to enter into strategic partnerships with application developers to advance the mapping portals is expected to further bring a consequential transformation in pet wearable market dynamics. With sensors becoming more affordable and high-speed broadband services becoming nearly ubiquitous, IoT is poised to change the way the animal healthcare was previously approached, leaving lucrative business opportunities for pet wearable market giants.
Regionally, U.S. experiences a strong hold in the overall pet wearable industry.  The escalating spending of the Americans on pets and companion animals have substantially driven pet wearable demand in this region. According to National Pet Owners Survey conducted by the American Pet Products Association over 2015-2016, almost 65% of the overall American households owned a pet, which itself is a testimony of the huge application scope of the regional pet wearable market. In fact, estimates depict that U.S. pet wearable industry held a billion-dollar business in 2016 and is slated to register a CAGR of 25% over 2017-2024. Furthermore, U.S. being one of the most technology affluent nations, the incorporation of wearable technology in monitoring pets' activities is sure to upscale in the coming years, in turn providing a boost to pet wearable market share.
Worldwide, the industry is fiercely competitive with the engagement of major biggies like Fitbark, Whistle Labs Inc., Dairymaster, Scollar, DeLaval, and Nedap N.V. Manufacturers are highly optimistic toward the overall pet wearable market outlook and are investing more to innovate new products to address consumer expectations. Considering the fact that pet wearable is expanding its application scope with technology playing the pivotal role, the growth potential for pet wearable industry is forecast to be humongous in the coming years.
Author Name : Satarupa De