Graphene Market
Of late, Graphene Market has been gaining remarkable traction, owing to the extensive use of graphene for power storage and composites. The scientific community has been researching on the viability of graphene for aerospace applications in a strategic collaboration with the European Space Agency (ESA), with an aim to test the potential of graphene in zero gravity conditions. The success of this research is slated to create new avenues for the players in graphene industry. As per statistics, graphene market held a revenue of USD 20 million in 2016.
U.S. Graphene Market size, by End-user, 2013 – 2024 (USD Million)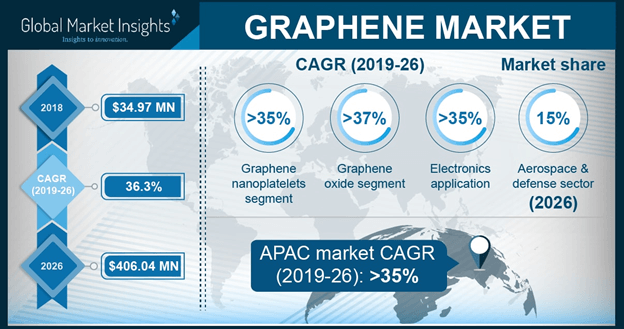 Analyzing the ongoing and future trends of graphene market, Graphenea has decided to expand their graphene oxide (GO) pilot plant with a production capacity of 1 ton per annum. They are also working on the customization of GO to integrate it into different polymer ranges. This strategy will help the company move forward toward the production of graphene based composite materials, strengthening its position in graphene market. On these grounds, it would be noteworthy to mention that graphene market from graphene oxide is slated to cover 40% of the overall share by 2024, and will grow at a CAGR of more than 35% over 2017-2024. Major participants in graphene industry are Graphenea, Grafoid Inc., Applied Graphene Material, Graphene Frontiers, LLC, XG Sciences, Inc., Advanced Graphene Products, Angstron Materials, Inc., AMO Gmbh, ACS Materials LLC, Xiamen Knano Graphene Tech. Corporation Ltd., Applied Nanotech, Inc., Thomas Swan & Company Ltd., Nanjing XFNANO Materials Tech Co., Ltd., Haydale Limited, and Graphene Laboratories, Inc.
Get a Sample Copy of this Report@ https://www.gminsights.com/request-sample/detail/233
Graphene market outlook across the healthcare sector
Apart from being utilized in composite materials, graphene finds application in healthcare sector. Graphene oxide is extensively used in various dental care products, owing to its capability to resist antimicrobial agents. Growing awareness among people about their dental health will influence graphene market share noticeably. As per a market study, graphene market from healthcare sector will exceed a revenue collection of USD 20 million by 2024, owing to the requirement of the product for tissue engineering, drug delivery systems, and cancer treatment.
Diabetes monitoring and therapy involves the utilization of wearable and handy graphene based electrochemical devices. These devices are apparently painless, non-invasive, and offer stress-free monitoring, which helps diabetic patients to avoid expensive, lengthy, and painful diabetic therapies. Increasing prevalence of diabetic patients across the globe is slated to fuel the product demand, due to cost effectiveness. In addition to this, for next generation cancer therapies, researchers are planning to undertake extensive studies on graphene based medicines to detect the effectiveness of the therapy on cancer cells.
Graphene market trends across the automotive sector
Automakers have been giving preference to graphene material for manufacturing luxurious cars, owing to the fact that the usage of graphene decreases the overall vehicle weight. Graphene itself is lightweight as compared to the other materials, and its utilization will improve the fuel efficiency and speed of the car enormously.  Recently at the Auto show held at Geneva, Pininfarina has unveiled electric car operated with graphene based battery. On that note, automotive sector covered 20% of graphene industry share in 2016 and will register a CAGR of more than 34% over the coming seven years.
Pertaining to quicker charging time and longer driving ranges, graphene battery is expected to witness huge demand for the automotive application in the future. The rapid growth of Graphene Battery Market stands as a testimony to the development of graphene industry, which, according to Global Market Insights, Inc., will record an annual growth rate of 35% over 2017-2024.
Author Name : Sunil Hebbalkar