Green Data Center Market Forecast
Green data center market is gaining immense popularity lately with the rise in concerns about the increasing energy costs impacting operational and economic efficiency. Most companies are presently implementing strategies to improve cooling and power infrastructure which is one of the vital factors influencing organizational performance, reliability, and serviceability. The shifting trends toward the deployment of green data centers for storing, managing, and distributing information have helped many software companies reduce energy consumption as well as the total energy cost. In fact, energy conscious companies are heavily investing in development of these centers for regaining cooling and power capacities, thereby providing impetus to green data center industry share.
Germany green data center market size, by solution, 2017 & 2024 (USD Million)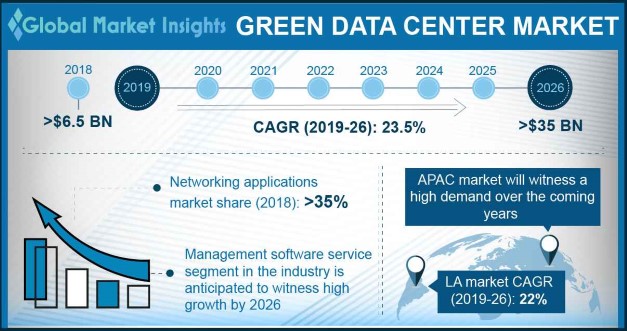 Though expensive, considering the long-term benefits of this technology, numerous companies ranging from internet giants to automotive biggies and manufacturing firms to software companies have been involved in green data center infrastructure development. The paragraphs below succinctly elaborate the contribution of myriad companies propelling efficient data center industry share.
In 2018, the leading industry behemoth, Siemens signed a deal with the Irish renewable energy contributor, CES Energy for providing on-site electrical generation services for data centers of various technology multinationals located in Ireland. This on-site energy generation is touted to be rather beneficial for data centers in terms of reducing carbon footprints and energy costs, in addition to helping them meet their data center timeframes with the supply of reliable power. The incidence validates that the availability of renewable energy facilities ensuring on-site generation assistance for achieving emission targets will prove to be a key factor reducing the carbon emissions across Ireland, strengthening green data center market trends.
Get a Sample Copy of this Report @ https://www.gminsights.com/request-sample/detail/2420
Ireland seems to be an ideal location for the establishment of data centers pertaining to climatic conditions, on the grounds of which green data center industry players have been focusing on facility expansion across the nation. Taking into account the shifting focus of technology companies, the regional government is striving to establish Ireland as the European data capital. A few months earlier, the renowned e-commerce contributor, Amazon received approval from the Ireland government to construct a new data center facility in Dublin. The government provided land of 223,000 square feet for the center and an investment of EUR 200 million, with the help of which Amazon plans to establish seven data centers. The implementation of high-profile projects such as the aforementioned is certain to propel Ireland effective data center market.
Presently, many tech giants are looking forward to investing in data center infrastructure development across well-established industrial parks. Through this business expansion strategy, these companies plan to facilitate most of the energy so generated for enhancing operational efficiency. Validating the aforementioned fact, recently, social media giant, Facebook made it to the headlines for planning to invest USD 750 million to develop a data center facility in Huntsville based in Alabama after receiving approval from the local officials. In order to supply power to this facility, Facebook plans to use 100% energy from renewables. The company's strategy is certain to help Alabama achieve economy benefits, as it is touted to receive about USD 300 million in new tax revenue from Facebook's future data center over the coming 30 years. It is thus overt that massive investments in renewable data center facilities are likely to impel green data center market size across several geographies.
In addition to already established behemoths like Google and Facebook, many start-up companies are also entering green data center market. For instance, the U.S.-Norwegian start-up company, Kolos is planning to build the world's largest data center in Northern Norway that will apparently use local hydropower and chilled air for minimizing energy costs. In order to develop this 600,000 sq/m, four-storey green data center building, Kolos has raised funds from the U.S. investment bank and several Norwegian investors. The start-up company declared that this project will be one of the world's largest green data center as this plant will receive all the required energy from wind and hydropower, which will reduce energy costs by 60% and provide cost-effective benefits to customers.
The increasing awareness regarding green energy among the regulatory bodies of various topographies is certainly a pivotal factor driving green data center market share. In fact, most of the European countries have already implemented strict regulatory norms to encourage the adoption of renewable energy facilities. In this regard, myriad technology contributors have also started deploying renewable energy powered data centers, which has considerably pushed product demand. The continuous investments in facility expansions for achieving higher working efficiency with the reduction of overall operational cost is likely to boost green data center industry share. For the record, by the end of 2024, green data center market will collect a revenue of USD 25 billion.
Author Name : Sunil Hebbalkar