Gypsum
The Europe building materials market is expected to emerge as one of the most remunerative verticals of the global construction space, given that the construction industry in the region is fast recovering from the financial crisis. It is also vital to note that the regional construction industry is slowly shifting from a traditional model to one that more suitable for the millennial generation, with consumers opting for   With strong growth projections being made for the overall European construction industry, it is rather predictable that the Europe building materials market will depict a massive upsurge in the years ahead. Indeed, estimates claim that Europe building materials industry size is expected to surpass $125 billion by 2024.
Europe Building Materials Market, By Application, 2017 & 2024 (USD Million)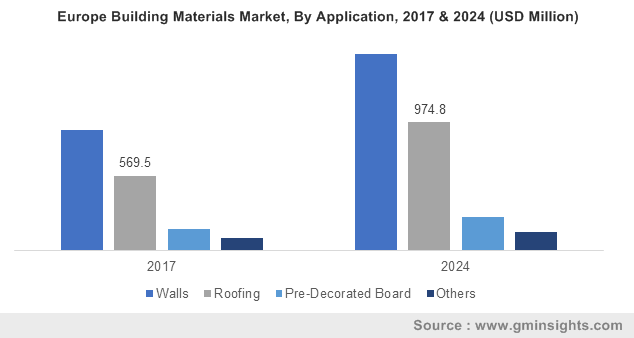 Rising proportion of construction activities in various member countries to propel Europe building materials industry trends
Hungary, Poland, Ireland and Portugal are some of the European countries where construction growth has been recorded to be the fastest in 2018 while growth of civil engineering projects has been the fastest in Nordic countries such as Sweden and Norway. Construction has also been remarkably fast paced in the eastern European countries. As prices for imported building materials have also dropped to pre-crisis levels, the construction industry in Europe has come to gain increased traction, a factor that will in turn add stimulus to the Europe building materials market.
Is should also be noted that the performance of the construction industry stands only next to pharmaceuticals, automotive, and rubber products industries in terms of revenue generation. Therefore, the European Union has put in place some of the most supportive regulations for the construction industry which has helped it to thrive, subsequently generating ample revenue for the Europe building materials industry and top European building material companies as well.
Get a Sample Copy of this Report @ https://www.gminsights.com/request-sample/detail/3026
UK is one of the countries that adds most value to the Europe construction industry. Together with Germany and France, UK contributed to approximately 50% of the total valuation of the construction industry in the continent in 2016. In 2017, UK generated over $8 billion revenue with the UK Office of National Statistics having reported that the construction index in the country had been the highest in the past 15 years in 2017. Also, with major upcoming infrastructure projects such as Brent Cross Shopping Center, Aykon London One, Angel Meadows and other, it is projected that the Europe building materials industry will accrue significant profits solely on account of UK's contribution toward the regional business.
Surging tourism prospects to contribute to Europe building materials market growth
The thriving tourism industry in Europe is yet another factor which contributes remarkably to the growth of the Europe building materials market. Estimates show that millions of tourists frequent the continent on a regular basis, making it inevitable to develop hotels, resorts and other commercial buildings that can accommodate the increasing influx of tourists. While southern and Mediterranean regions of Europe rank highly in terms of international arrivals, visitors to central and Eastern European nations are also projected to increase in the upcoming years which will add to the need of increasing tourist accommodations in these countries.
Remarkably, France and Spain are the two top tourist destinations in Europe among the many that exist, which has prompted the governments in these countries to undertake tourist friendly policies and develop sustainable means for remaining competitive in the tourism industry. Such developments are ultimately positive growth indicators for the Europe building material industry as nearly 1,449 projects are in the construction pipeline as of 2018.
Escalating green building trends to substantially stimulate Europe building materials market
Since building construction in Europe has been estimated to be expanding exponentially, the European Union has been revising its approach to regulations over building materials to improve sustainability of buildings and environmental performance of buildings. EU introduced Level(s) which is essentially a voluntary reporting framework that looks into the sustainability of buildings and accesses their impact on sustainability at the European level. The European Union wants the regional construction industry to move away from the linear economic model where a substantial amount of waste is created and embrace a more resource efficient model.
Considering that the buildings sector consumes a large portion of the resources, accounting for approximately half of all extracted materials, one third of water consumption, half of total energy consumption and one third of waste generation, green building materials in Europe is increasing in demand to adhere to the emission and wastage arrest goals in the continent. The green construction trend would thus add a highly progressive acceleration to the Europe building materials market.
Renovations and remodeling besides the construction of new buildings is expanding rapidly across Europe and regulations are making sure that these new buildings and even older ones are made more energy efficient whether through the use of more sustainable building materials or through the use of updated technologies. As Europe witnesses the rise of newer trends in tourism and construction, the growth graph of the Europe building materials market is anticipated to take on an inclined slope in the years ahead.
Author Name : Paroma Bhattacharya
The two essential factors that are likely to positively leverage fire door market include the rising concerns over safety and a major requirement to reduce property damage due to fire outbreaks. The thriving construction sector along with hefty government funding for infrastructural growth is projected to create lucrative avenues for this business. The distinct types of fire doors manufactured by business players facilitate a reduction in the spread of smoke between two sections of a building. In addition, companies have been trying to manufacture products equipped with eco-friendly protection technology, which is expected to elevate the popularity of fire door market in the oncoming years.
China Fire Door Market, By Application, 2017 & 2024 (USD Million)

Unveiling fire door market trends from commercial applications:
The commercial construction sector, one of the most vastly developing growth grounds, will be primarily responsible for the expansion of the fire door market. Of late, consumer preferences have undergone a vast change, teetering toward extreme safety and security in commercial spaces, augmenting the demand for fire doors. Not to mention, technological developments are now at the forefront with respect to the design and development of safety arrangements, that would further augment the commercialization potential of fire door market from commercial applications.
Commercial establishments such as malls, hospitals, multiplexes, and the like have been experiencing widespread demand for fire protection products in order to reduce the loss of human lives and property. In recent times, fire doors even come with improved security systems and are considerably lightweight, thus enhancing their demand.
Get a Sample Copy of this Report@ https://www.gminsights.com/request-sample/detail/1715
As per estimates, commercial application is the dominant application segment in the global fire door market and is anticipated to observe a commendable growth rate over 2018-2024. With new commercial construction projects on the radar in tandem with a stringent regulatory landscape, fire door market from commercial applications is set to traverse alongside a highly lucrative path in the years ahead, specially across continents such as APAC and MEA that have been investment hubs for travel and tourism companies lately.
A gist of the fire door market across the Asia Pacific:
Undeniably, APAC is one of the most profitable growth avenues for the global fire door market. One of the principal reasons for the same is the expanding construction industry in the region – specifically commercial construction, owing to the region's economic growth. Not to mention, the continent has also been experiencing a popularity rise as far as tourism prospects are concerned. This factor, in tandem with the changing consumer lifestyles that has led to the construction of numerous commercial spaces demanding safety features, are certain to impel APAC fire door market.
As per estimates by Global Market Insights, Inc., APAC fire door market size is slated to depict a CAGR of 7.5% over 2018-2024. The region is also characterized by a strict regulatory landscape that mandates the installation of security features to reduce property damage, that would further help escalate APAC fire door market share in the years ahead.
Market players are focusing on extensive business expansion by executing major growth strategies. One of the key tactics is that of product value addition, which plays a great role in augmenting fire door market revenue, since consumers primarily look out for innovations in the already available products. In addition, forming strategic alliances with other companies is also undertaken by fire door market players, which include The ASSA ABLOY Group, Mesker Door Incorporation, Chase Doors, Howden Joinery Group plc, U.K fire doors Limited, Nihon Funen Company Limited, and Republic Doors and Frames, and Essexford Joinery (Fire Doors) Limited.
Author Name : Saipriya Iyer