Hair Care
The rapid transformation in consumer buying habits and surge in disposable income will drive personal care appliances market size in the forecast years. In recent times, rise in online shopping and social media trends have changed the way consumers discover and buy personal care products. Rise in the usage of the Internet and massive growth rate of smartphones have led to an increase in the number of distribution channels for manufacturers, which in turn, is augmenting personal care appliances industry outlook.
India personal care appliances market, by product, 2018 & 2025 (USD Million)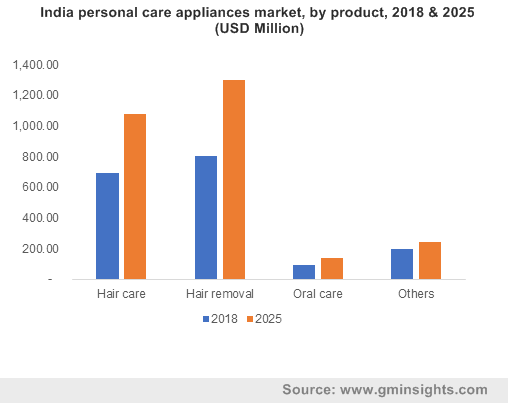 The major beauty brands nowadays are massively investing in high-tech overhauls – right from product development to innovative marketing and merchandising for providing great customer experience.  Leading manufacturers are leveraging the expertise of technologies such as augmented reality and the cloud which has led to the evolution of technology-backed cosmetics brands.
Get a Sample Copy of this Report:@ https://www.gminsights.com/request-sample/detail/4159
In recent years, personal care and pharmaceutical companies have also majorly focused on bringing forth pivotal tech-based innovations in male personal care products such as electronic trimmers, shavers, and many other electric male grooming products. In essence, manufacturers are targeting the male populace as a pivotal consumer base which has been helping personal care appliances market forge new growth avenues.
Customers are lately shifting their preferences toward personalized beauty products on a more frequent basis which will further stimulate personal care appliances industry size over the ensuing years. Players in personal care appliances market are making concerted efforts towards developing, upgrading, and refining their product portfolio in order to launch innovative styling products that are battery-powered and can be used in the portable or plugged in modes.
Recently in July 2019, Dyson, a British technology company that engages in the development of vacuum cleaners has now moved towards beauty products. The company has launched Dyson Supersonic Hair Dryer and Dyson Airwrap Styler and seeking to develop more innovative brands to capture modern day shoppers.
The global personal care appliances market thus, in the years to come, will be characterized by strategic collaborations, mergers and acquisitions that would improve the profitability of the companies and expand their customer base.
The advent of social media has had a major impact on personal care appliances market trends. Leading personal care appliance manufacturers are increasingly shifting to promoting their products on social media platforms like Facebook and Instagram, given their expansive consumer reach. Quite often, influencers are found collaborating with leading appliance makers in order to expand the product popularity across a wider consumer base.
In terms of geographical landscape, in 2018, Asia Pacific personal care electrical appliances market had registered around USD 7 billion and is registering substantial growth owing to the increasing popularity of efficient grooming and hair care products. Emerging economies like India, China are becoming the major revenue grounds for international cosmetic companies due to implementation of powerful technologies like AI and chatbots that not only transform the process of consumer engagement but also aid in analyzing the consumers' skin type and their preferences. These innovative developments will considerably contribute to augmenting personal care appliances market trends and are expected to favor regional growth.
The latest trend emerging in the personal care appliances industry is of imminent players keenly engaging in novel developments, customized products, and creating more options in beauty and grooming products. The technical advancements in hair care and hair removal products are providing long-term results to consumers, thereby, augmenting the demand for these appliances.
Some of the key players in personal care appliances industry include Panasonic Corporation, Procter & Gamble Company, Dyson, Koninklijke Philips N.V., Conair Corporation, Havells India Limited, and Spectrum Brands. Reports from Global Market Insights, Inc., state that personal care appliances market size would surpass USD 30 billion by 2025.
Author Name : Deeksha Pant
The rising demand for cosmetics pertaining to the ongoing trend of image consciousness has brought a major change in cosmetics preservative market dynamics. Being a mixture of various peptides, oils, carbohydrates and water, cosmetics can prove to be a convenient breeding ground for bacteria and fungi which if left unabetted can necessarily alter the formulation of the product, generating the need for preservatives. Skincare, hair care, make-up, perfumes, toiletries, deodorants, and oral cosmetics are infused with preservatives to not only maintain the original quality but also to extend their shelf lives, thereby propelling cosmetics preservative industry.
U.S. Synthetic Cosmetics Preservative Market Size, By Product, 2017 & 2024, (Kilo Tons)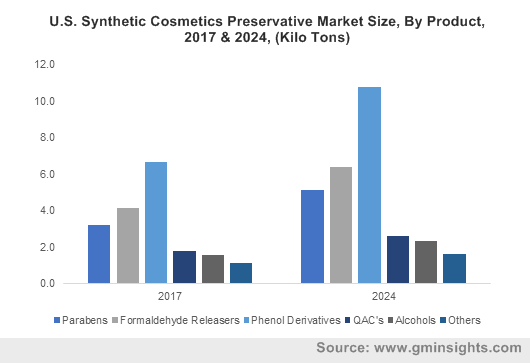 The United States is estimated to have the world's largest cosmetics industry, though numerous other geographies, especially the economies in developed countries are now catching up with the likes of the U.S. One of the principal reasons for emerging economies to attain a substantial share of cosmetics preservative market is the rising disposable incomes of consumers across these regions.
Changing trends in the beauty industry are also boosting cosmetic sales which in turn is adding momentum to the cosmetics preservative market. The cosmetics industry has greatly benefitted from social media channels such as Instagram and YouTube that have been highly influential in closing the gap between cosmetic brands and consumers and creating demand for beauty products. The effect of social media on cosmetics preservative industry trends is possibly the most evident in the success of reality TV personality Kylie Jenner who built a $900 million cosmetics empire by leveraging her 112 million followership on Instagram.
Beauty tutorials on YouTube that make beauty with the use of cosmetics easy to achieve for everyone have lent a significant to cosmetics sales as particular beauty products can be now highlighted for the specific merits that they can add to one's beauty regime. Independent content creators and beauty vloggers have been estimated to generate 97.4% of conversations regarding beauty products and have been much more effective in selling products than conventional advertising and promotions. With the rising expansion of the cosmetics industry, cosmetics preservative market is gaining major traction as well.
Get a Sample Copy of this Report:@ https://www.gminsights.com/request-sample/detail/1279
Another factor driving the cosmetics preservative industry growth is the millennial generation who are attuned to rediscovering products that have been around for quite sometime but have somewhat lost their demand. One example is the Double Wear foundation by Estée Lauder that had been launched three decades ago but has recently witnessed a double-digit growth rate as the younger generation has rediscovered its usability. The generation is also driven by the trend of presenting oneself to be as appealing as possible on social media, aiding the sales of skin care products like masks.
SMBs with lesser capital have been attempting to make it big in cosmetics preservative industry through tie ups with vloggers and other influencers who can boost sales for their products. The independent brand Becca Cosmetics proved such a point in 2015 when it partnered with YouTube beauty personality Jaclyn Hill to create Champagne Pop, a $38 highlighter. All 25,000 units of the shimmery powder were sold within 20 minutes on Sephora.com. In 2016, Estée Lauder acquired Becca in a deal reportedly worth US$200 million. With social media and millennial trends diversifying the scope for the beauty industry, the cosmetics preservative industry is certain to accrue commendable returns ahead.
With the use of cosmetics becoming more widespread, awareness about the negative effects of continual use of synthetic products and preservatives used in cosmetics is also becoming more apparent. A growing trend in the cosmetics industry therefore, is the use of more natural preservatives. Regulatory bodies like the Food and Drug Administration of the U.S. are looking closer at the ingredients used in cosmetics in a bid to monitor cosmetic ingredients that are claimed to have drug like properties. The enforcement of stringent regulations are expected to aid manufacturers to come up with natural preservatives that are would augment the revenue graph of cosmetics preservative market in the years to come.
Author Name : Paroma Bhattacharya
Essentially driven by the ever-changing consumer preferences, Personal Care Ingredients Market is on its way to become one of many highly regulated industries occupying the billion-dollar fraternity. The latest trend in this business sphere is that of using bio-based ingredients as opposed to chemical ones, to combat the ill-effects of chemical-based products. This has undeniably driven manufacturers to develop products with natural ingredients, thereby creating a fierce competitive ground for personal care ingredients industry players. Azelis, a renowned specialty chemicals giant, for instance, has recently won an award for product innovation in the personal cleaning category, and the product is apparently an anti-microbial liquid possessing superior antifungal and anti-bacterial properties. The ingredient in question is extracted from the paeonia root, and is used in the production of face masks, scrubs, and other skin care applications. With other companies competing in the race to follow suit, personal care ingredients market is certain to demonstrate a CAGR of 5.4% over 2017-2024, with a revenue estimation of more than USD 12 billion by 2024.
U.S. Personal Care Ingredients Market Size, By Application, 2013 – 2024 (USD Billion)

The Asia Pacific belt has registered itself as a fairly lucrative personal care ingredients industry, owing to the escalating demand for personal care products and cosmetics. This demand can be attributed to the changing consumer lifestyles across this region, especially in India and China. India in fact, has been projected to be one of the most opportunistic personal care ingredients market growth grounds, given a slew of drivers, including the rapid economic growth, increasing disposable incomes, and the subsequent change in living standards. Considering the population demographics, i.e., more than 60% of India's population is under 35 years of age, cites the World Bank, India personal care ingredients industry is sure to attain a profitable business revenue. In addition, the GDP of the country is slated to depict a y-o-y growth of more than 7%, which will impact the regional sales drastically. A leading research report has forecast India personal care ingredients market to become a billion-dollar industry by 2026. APAC personal care ingredients industry alone, has been predicted to cross USD 4.4 billion by 2024, subject to the heavy demand for skin care and hair care products.
Personal care ingredients market trends from skin care applications
The skin care sector may emerge as one of most profitable revenue generating segments of personal care ingredients industry, having held a valuation of USD 2.7 billion in 2016. The product range for skin care has been expanding by the day, and includes lotions, moisturizers, cleansers, toners, creams, sprays, etc. Personal care ingredient market giants, of late, have been utilizing probiotic bacteria such as bifidobacterium and lactobacillus in skin care products, thereby augmenting sales. Extensive innovation in products is thus, likely to emerge as one of the latest trends of personal care ingredients industry over 2017-2024.
A massive range of contemporary ingredients have been pushing their way in personal care ingredients market. Natural face masks made of charcoal, tea, dry sheets, clay, and caffeine, are the rage, and beauty companies have been pulling every string they can, to launch numerous products in the face mask category and beauty products containing herbal ingredients such as kale and the like. The period between 2017 to 2024 is likely to witness a plethora of such trends, which will drive personal care ingredients industry.
Get a Sample Copy of this Report@ https://www.gminsights.com/request-sample/detail/1753

Personal care ingredients market trends from hair care applications
Hair care is another extremely lucrative segment of personal care ingredients industry, given the increasing consumer inclination toward multifunctional and water-based products. Global Market Insights, Inc., estimates personal care ingredients market share from hair care applications to grow at a rather healthy rate, having accounted for a valuation of USD 1.9 billion in 2016. Unique products in the category of emollients and conditioning polymers are being utilized in the manufacturing process of shampoos, conditioners, hair moisturizers, hair creams, hair serums, etc., to strengthen the hair and provide a smooth texture. Personal care ingredients industry size from conditioning polymers is anticipated to grow at a rate of 6% over 2017-2024, which will have a direct impact on the growth curve of personal care ingredients market.
Of late, it has been surveyed that water-based products have been gaining preference due to minimal hair damage, which has instigated manufacturers to concentrate on the production of milder, water-based ingredients. The extensive application scope of these ingredients in hair masks, hair serum, hair oils, shampoos, conditioners, hair sprays, hair straighteners, etc., will augment personal care ingredients market share over the coming years.
Major companies have been experimenting extensively with product innovation. Germany-based Henkel, for instance, has developed a combo of 9 amino acids with keratins for one of its famous hair therapy line called BC Bonacure Hairtherapy. Apparently, these active ingredients provide the necessary elasticity and strength to the hair and lend an aura of shine. Similarly, L'Oréal launched the Intra-Cyclane in 2010, that has been designed to penetrate to the hair roots for creating a molecular network for strengthening the fiber in the core of hair. The product is mostly used in serums. The aforementioned instances stand testimony to the ever-expanding product portfolio of personal care ingredients industry.
Personal care ingredients market is excessively fueled by consumers. The industry is focused on the rapidly changing trends in terms of ingredient usage and regulatory norms. Ever since sustainability has become the 'go-get-it' mantra, consumers have constantly been quizzical regarding organic, bio-based products. Cosmetic companies have also been exhibiting a soaring level of consumer-friendliness, which may, in future, lead to the curbing of skin-related ailments caused due to harmful cosmetics. In this regard, it would be fair to state that the changing outlook of personal care ingredients market will have a positive effect on consumer health, and ultimately lead to an enlarged consumer base.
Author Name : Saipriya Iyer