Handheld Terminals
The increasing importance imparted to network stability & wireless communication to speed up network capability has been stimulating private LTE market share. Nowadays, private LTE is used extensively for numerous beneficial purposes such as real-time monitoring, geo positioning activities, in the mobile devices, energy utilities, telecommunication applications, and automotive equipment. The rapid acceptance of long-term evolution (LTE) for high-speed wireless communication across numerous industrial sectors has been encouraging companies in private LTE market to adopt LTE network connectivity.
Europe Private LTE Market Revenue, By Infrastructure, 2017 & 2024 (USD Million)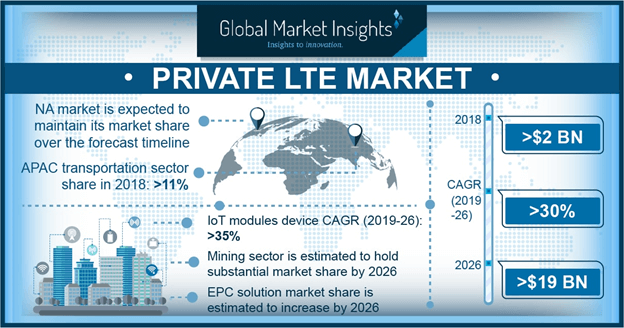 Over the last few years, most of the mobile network providers have shifted to LTE services from 2G and 3G coverage to improve existing communications. The surging digitalization and modernized mobile services have also substantially enhanced data services. Recently in India, the nation's largest telecom company, Airtel has decided to switch to LTE network services to boost data speed. This move will turn out to be rather beneficial for Airtel as it already has a widespread, far-reaching network coverage. The shifting focus of telecom service providers to LTE to phase out older networks is slated to fuel private LTE industry share.
Taking into account the network benefits of high-speed data services, most of the energy companies have been signing deals with wireless network providers that will have a positive influence on the product demand. For instance, a month before, the Brazilian power distributor, Elektro collaborated with Nokia for deploying a private LTE network in its City of Atibaia based electric grid. The deployment of LTE services is slated to help improve the efficiency and reliability of the electric grid that has been serving approximately more than 75,000 business and homes. Through this network, it is also possible to operate smart meters, grid equipment, substation and distributed energy generation sources.
Get a Sample Copy of this Report:@ https://www.gminsights.com/request-sample/detail/2757
Such strategic deals will help players in the private LTE market strengthen their customer base and diversify the traditional telecommunication practices. The surging adoption of digital technologies such as IoT and machine learning will thus further propel the use of private LTE service in the energy sector. For the record, as per estimates of Global Market Insights, Inc., private LTE market from energy applications is slated to depict a commendable CAGR over 2018-2024.
In order to achieve a dominant stance in the market, telecom firm Nokia has also lately been adopting myriad business tactics. Recently, it has collaborated with China Unicom to deploy a private LTE network at BMW Brilliance Automotive Ltd plant based in the Liaoning province. With the use of private LTE connectivity, BMW can carry out smart manufacturing activities and ensure communication for critical applications including video surveillance, object tracking, and analytics at the plant.
The integration of private LTE network in the enterprises to secure data and voice communication, wireless video communication, ensure indoor investigation, and inspect the production line maintenance is slated to fuel the product demand over the years ahead. Heavy investments to develop digitalized, modern factories with a secured and transparent work culture will further propel private LTE market share considerably.
The emergence of LTE connectivity has also turned out to be rather useful for maintaining peace across the globe. That is to say, the UN (United Nations) has been working continuously to resolve the several global issues for which it has been using LTE network for providing critical communication capabilities. Peacekeeping troops are able to effectively use this LTE network for secure, stable, and future-proof broadband services while operating through the tough geographic terrain. Currently, UN is working on fourteen peacekeeping operations across the globe and it is planning to establish high-speed LTE networks by 2019 to accelerate the communication throughout the missions.
Substantive use of LTE connectivity for ensuring digital and standardized work output in the industrial as well as the defense sectors is likely to propel the product demand over the years ahead. On-going changes in the telecommunication technologies to enhance the network connectivity will further stimulate the industry trends. As per estimates, with the surging acceptance for network connectivity across various application sectors, private LTE market is poised to surpass a revenue collection of USD 11 billion by the end of 2024.
Author Name : Sunil Hebbalkar