HCV
Electronic stability control system market trends are poised to gain immense momentum over the forecast years, owing to rise in fatal car crashes and serious vehicle accidents causing large-scale damage to the masses. Since the last few decades, the automotive industry has shifted its focus towards implementation of more active safety features like traction control system and antilock braking system which reduce the chances of crashes to a large extent during acceleration and in harsh driving conditions. This increasing demand to improve transport efficiency has undeniably impelled the expansion of the electronic stability control system market size.
India electronic stability control system market size, by vehicle type, 2018 & 2025 (USD Million)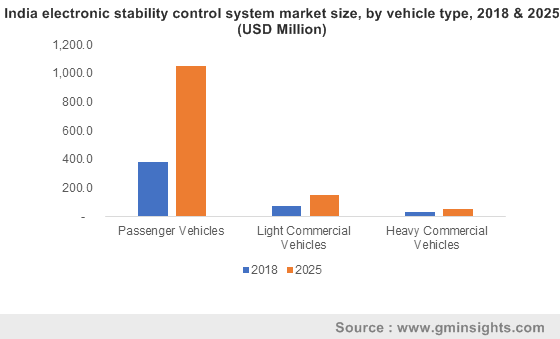 Commercial vehicles are consistently becoming the leading mode of road transportation in the Asia Pacific region. As compared with other transportation vehicles, commercial vehicles exhibit greater safety risks and several performance limitations because of their features including unstable roll motion at higher speeds and poor maneuverability at low speeds. With the advent of the electronic stability control in cars, next-gen driver assistance concepts have taken root, and have played a significant role in contributing towards increasing safety on the roads.
A 2018 report by the U.S. National Highway Traffic Safety Administration (NHTSA) suggests that with the introduction of electronic stability control (ESC) systems, there has been a considerable reduction in passenger vehicle crashes by 34% and SUV crashes by 59%. ESC systems also substantially reduce rollover accidents. Nowadays, commercial vehicles are already incorporated with ESC systems and these vehicles are specifically designed to mitigate understeer and oversteer conditions as well as reduce untripped crashes.
The Asia Pacific market is likely to emerge as a strong contender due to increasing implementation of road safety gears and the design and development of vehicles equipped with safety features. According to International Organization of Motor Vehicle Manufacturers, in 2018, India had witnessed 8% growth in automobile production. China is also a prominent automotive market, the expansion of which will augment APAC ESC market outlook in the forecast years.
Get a Sample Copy of this Report:@ https://www.gminsights.com/request-sample/detail/3410
Of late, India-based multinational automotive manufacturing companies have been working to launch medium and heavy commercial vehicles with electronic stability control with an aim to make Indian roads safer and more secure. The growing adoption of ESC systems and increasing number of safety innovations in several vehicles will further strengthen the regional ESC industry size.
The robust implementation of the intelligent vehicle systems in the automotive sector has enhanced safety protocols while driving and has created an efficient transportation system for vehicle users. From high-tech sensors to vehicle roll rate sensors – everything is being implemented by the manufacturers in the latest vehicles to maintain the stability of the vehicles and reduce any kind of mishap in the future.
In order to fortify their stance in ESC industry, several companies are adopting different growth strategies to move ahead of their rivals. In June 2019, ZF Friedrichshafen, a German car parts manufacturer and partner 2GetThere had launched autonomous shuttles in the Middle East and Europe. The main aim of the company is to improve vehicle handling, reduce motion sickness and deliver safe, clean transportation options that are competitive and comfortable as well. Innovative launches such as the aforementioned will create a positive influence on the product demand and augment the Europe industry share.
The massive deployment of technological advancements across the automotive industry will have a favorable influence on the ESC market. Moreover, the involvement of prominent companies in designing vehicles with advanced safety features are likely to fuel the industry growth in the ensuing years.
The enforcement of favorable government policies are likely to impact the industry outlook. In 2018, the Ministry of Road Transport & Highways of India had announced that by 2023 all Indian vehicles should be compulsorily equipped with safety breaking features like autonomous braking and ESC.  This will further generate lucrative opportunities for automotive players in the ESC industry.
Major companies that have captured a prominent proportion of electronic stability control system market share include ZF Friedrichshafen, General Motors (StabiliTrak), Johnson Electric, Robert Bosch GmbH, Autoliv, IAV Engineering, Denso Corporation and Johnson Electric. Global Market Insights, Inc., estimates electronic stability control system market size to reach US $ 45 billion by 2025.
Author Name : Deeksha Pant
The global automotive EVAP systems market is estimated to register a commendable growth rate over the ensuing years, on account of the growing air pollution levels worldwide. Air quality is deteriorating day by day posing a huge risk to the environment, human health, and food security. Fuel evaporative emissions undeniably, are a significant contributor to global air pollution levels. The gasoline in the fuel tank gradually evaporates over time, contaminating the air with VOCs (Volatile Organic Compounds).
U.S. Automotive Evaporative Emission Control System Market, By Vehicle, 2018 & 2025, (USD Million)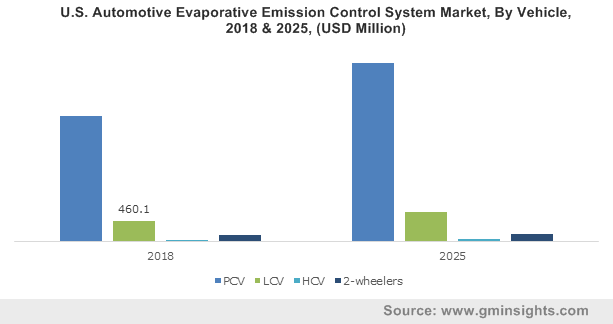 According to the Environmental Protection Agency, there are enough cases of such emissions to contribute to air pollution and pose a risk to environmental and human life. The fuel injected in a car consists of over 150 chemicals including toluene, benzenes and even lead, which can cause headaches, breathing issues, and in worst cases result in death. Hence, it is vital for carmakers to install EVAP systems in their models to control fuel evaporation, which would help expand the global automotive EVAP systems market size.
The need for manufacturers to equip their cars with EVAP systems is further encouraged by the imposition of stringent emission control mandates by governments throughout the world. For instance, Euro 5/6 regulations continue the Euro 4 limit of two grams of evaporative emissions each day. Regulation in the United States limits evaporative emissions to 0.5 grams each day over a three-day diurnal temperature profile.
Even though state regulations don't usually exceed federal regulations, the California Air Resources Board (CARB) permits the imposition of more stringent emission standards. Meanwhile, Japan has jointly developed emission standard by two ministries – The Ministry of Environment and The Ministry of Land, Infrastructure, and Transport. Emission limits in the country are almost similar to Euro 4 standards of two grams of emissions daily.
Get a Sample Copy of this Report @ https://www.gminsights.com/request-sample/detail/3222
It comes as no surprise therefore, that the global automotive EVAP systems industry is heavily governed by regulations. Indeed, according to Global Market Insights, Inc., OEMs presently dominate the global automotive EVAP systems market due to the rising product installations in an effort to conform to government regulations like CARB and Test Procedures to monitor vehicle performance.
One of the most significant reasons for driving the demand for EVAP systems around the world is the increasing rate of passenger vehicle production. In the year 2017, over 80 million passenger cars were produced worldwide, out of which Europe accounted for an appreciable share. Developing nations like India witnessed a significant rise in production from over 3.95 million units in 2017 to nearly 4 million units in 2018.
Recently, Mercedes-Benz Cars announced an investment of over $250 million euros in a passenger car plant in the Moscow region. Through the new plant, Daimler aims to meet the high demand for Mercedes-Benz E-Class SUVs and Sedans in the region. Owing to rising production, automotive EVAP systems market size is expected to witness an upsurge from passenger cars. Rising installation of EVAP systems in passenger cars to enhance fuel economy and reduce fuel losses will drive product demand.
In terms of regional growth, the Latin America market held considerable revenue share owing to rising concerns pertaining to fuel evaporation paired with the imposition of supportive international policies to control air pollution. According to an assessment released by UN Environment and the Climate and Clean Air Coalition, poor air quality and climate change are taking a toll on vulnerable population and environment within the Americas, leading to premature deaths, ecosystem damage, and crop yield losses.
Brazil, which is the fourth largest vehicle market in the world differs from larger economies in terms of policies to promote vehicle-efficiencies. However, the government in these nations and other key vehicle markets in Latin America are working to adopt international best practices regarding emission control to the local economic and policy context. Successful implementation of regulatory practices would further augment the Latin America automotive EVAP systems market share in the coming years.
Key factors such as increasing vehicular emissions, rising awareness regarding poor air quality along with a rise in vehicle manufacturing and supportive government regulations will continue to induce considerable possibilities for industry expansion in the coming years. For the record, the global market is also estimated to surpass a valuation of $65 billion by 2025, according to a research report by Global Market Insights, Inc.
Author Name : Krithika Krishnan
Airless tires market has indeed gained a commendable acclaim over the recent years, especially amidst the backdrop where disruptive tech driven trends are aptly reshaping the mobility sector.  Given that forces like diverse mobility, connectivity, autonomous driving, and electrification are already on the horizon, it is expected that airless tires industry would soon conveniently establish itself as the next lucrative investment avenue. This is apparently vivid from the estimates that claim the global airless tires market to have garnered a revenue of USD 120 million in 2016. The growth is chiefly driven by the increasing demand for these next generation tires in heavy off-load vehicles, widely used across the military sector. In fact, military vehicles procured a prominent chunk of the airless tires industry landscape in 2016 and is anticipated to record a CAGR of 9% over 2017-2024.
U.S. Airless Tires Market, By Product, 2016 & 2024, (Units)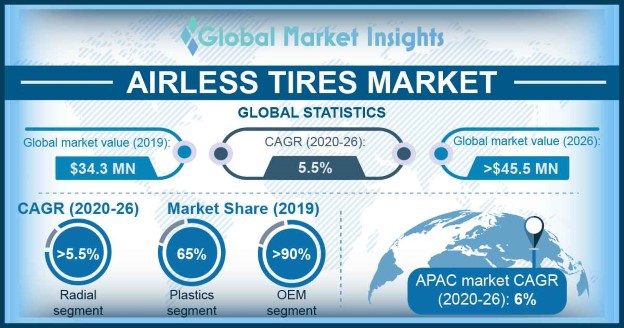 The concept of 3D printing is deemed to bring a disruption of sorts in the airless tires industry. Having recognized the immense potential of this technology, market players have been increasingly experimenting with 3D printing to unlock its credibility to the fullest. Quoting a recent case, Michelin, one of the leading airless tires market firms has recently made its way to the front page with the launch of its airless 3D printed tire. This breakthrough model is reportedly based on alveolar structure, similar to that of air sacs found on human lungs. That is to say that the interior of the tires are structurally solid while the outer layer is flexible, which prevent blowouts. What adds an extra feather to its hat is the product's environmental viability – it is printed from biodegradable, organic, and recyclable materials.
Elaborating further on the competitive landscape, product innovations and development are the two prominent parameters underlining the sustainability quotient for the market players. Below are two of the latest developments in the product landscape of airless tires market.
Get a Sample Copy of this Report@ https://www.gminsights.com/request-sample/detail/1390
Goodyear Tire & Rubber Company, one of predominant players in airless tires market, has recently released an airless or non-pneumatic turf tire solution for commercial mower applications. Reported to be exclusively available on Bad Boy Mowers' Outlaw XP model, this groundbreaking airless tire technology is particularly designed to eliminate air pressure checks, and flat tires. The move is claimed to be a revolution with regard to the launch of non-pneumatic technologies in the automotive sector and is deemed to remarkably strengthen Goodyear's position in the competitive landscape of airless tires industry.
World's first 3D printed airless bicycle tires have been recently tested on the streets of Berlin- the latest scoop that is grabbing the headlines in airless tires market. Reportedly, BigRep, the Berlin based tech giant has tested this new Pro Flex filament tire, which is claimed to be superior than other 3D printing filaments in terms of its unique flexibility, high resistance, and unmatched durability. With airless tires becoming a renowned trend in the transportation space, the move is certain to provide a remarkable competitive edge to BigRep.
It is vividly coherent that technological upgradations in product design and deployment are the top-notch parameters underlining the strategic landscape of this fraternity. The business space is set to garner an appreciable popularity across APAC belt, especially by the extensive growth of military and commercial vehicle sectors in China and India. APAC airless tires market is slated to hold more than 30% of the global landscape by 2024. All in all, with automotive OEMs increasingly exploiting the potential of these cutting-edge tires for overall weight reduction and performance enhancement of the vehicles, airless tires industry is likely to witness a slew of opportunities over the ensuing years. The global revenue share is projected to surpass USD 200 million by 2024.
Author Name : Satarupa De
The global vehicle tracking device market size has witnessed an unprecedented growth rate owing to enhanced fleet management techniques which are reducing operation cost of managing large fleet operations. These tracking systems enable monitoring of fuel consumption, engine parameters, and driver's behavior along with ensuring safety, thus making them an essential component in fleet management techniques.
Europe Vehicle Tracking Device Market Size, By Region, 2018 & 2025 (USD Million)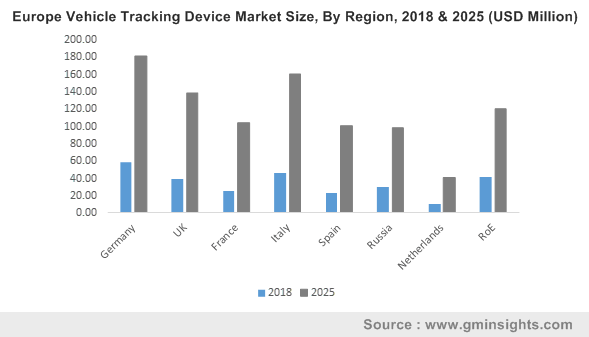 Wireless vehicle tracking devices are being increasingly used across various business verticals in the past few years owing to low power consumption and compact size. Wireless tracking devices facilitate extensive wired interface and wireless communications that easily adapt to the tracking requirements. They consist of built-in antennas and geo fencing techniques that reduce the overall size and eliminate external antennas and wires. Since wireless vehicle tracking devices are compact in size, they integrate easily into vehicles – a factor that is positively influencing vehicle tracking device industry outlook.
Several governments of developing nations are undertaking initiatives which focus on installing vehicle tracking devices to ensure safety of drivers, passengers, goods, and the vehicle as well. For instance, the Road Transport and Highway Ministry of India mandated the installation of tamper-proof GPS satellite systems in all public service vehicles – along the likes of buses and taxis – to ensure safety of women.
Get a Sample Copy of this Report @ https://www.gminsights.com/request-sample/detail/193
In this context, it is quite imperative to mention that, in 2017, over 436 cases of women molestation on public transport were recorded across India, due to which strict measures are being taken by the government to curb such incidents. Along with tracking devices, the government recently ordered the development of AIS-140 – an automotive industry standard that ensures quality and reliability of devices used in case of emergency. Needless to mention, such initiatives by developing countries are favoring vehicle tracking device industry trends.
In terms of vehicle types in the global vehicle tracking device market, the heavy commercial vehicles segment is expected to surpass over 25% of the total revenue share in the coming years. According to a report by WHO, the number of road casualties across the globe stood at 1.35 million in the year 2018. The massive increase in road accidents on highways which leads to either damage of goods or loss of life – especially due to HCVs like trucks – has resulted in rise in the demand for GPS satellite systems, thus expanding vehicle tracking device market share.
The usage of vehicle tracking systems is gaining popularity in the mining industry due to the demand for safe mining operations. Mining companies are striving towards improving the safety conditions of both the mechanical assets as well as the employees. Real time tracking of mining vehicles allows the managers to have adequate information about their asset locations along with tracking the employees, in case of any emergency. Evidently, the use of tracking techniques in the mining sector is propelling the revenue scale of vehicle tracking device industry.
In terms of geographical expansion, the growing number of innovations in the automobile sector has invariably contributed to the remuneration scale of Europe vehicle tracking device market. With innovations like self-driving cars and the introduction of C-V2X (cellular vehicle – to – everything), there is a growing demand for vehicle tracking devices to facilitate safety of passengers. Several companies are introducing autonomous vehicles in Europe. For instance, the European Commission has urged the need for research and innovations of autonomous vehicles in this region.
Speaking along similar lines, the UK government has established the Centre for Connected and Autonomous Vehicles (CAV) to allow the testing of motorways in the country. A fully automatic vehicle thus needs a high precision positioning and sensor integration to ensure accuracy and reliability that the vehicle can be self-driven. Furthermore, a tracking device will ensure that the vehicle stays in line and at a safe distance from other vehicles.
Owing to the increasing number of innovations in automobile sector and the growing need to enhance road safety along with reduction in operational costs, the global vehicle tracking device market is expanding at a decent pace. Several initiatives are being undertaken by industry players to enhance the vehicle tracking capabilities to facilitate precision and reliability. The major players driving the global vehicle tracking device market include Maestro Wireless Solutions Limited, Orbcomm Inc., Verizon Communications, Suntech International Ltd. among others. According to a report by Global Market Insights, Inc., vehicle tracking device industry is estimated to exceed USD 3 billion by 2025.
Author Name : Shreshtha Dhatrak
The robust demand for safer vehicles on account of increasing road accidents have led to a massive spurt in advanced driver assistance system (ADAS) market size in recent years. Having recognized the extensive benefits of ADAS systems, numerous automakers have been working toward deploying this feature in their latest automobile brands. This paradigm shift toward implementing safety systems in vehicles on account of the increasing number of road accidents is certain to stimulate ADAS market trends.
U.S. Advanced Driver Assistance System (ADAS) Market, By Vehicle, 2018 & 2025, (USD Million)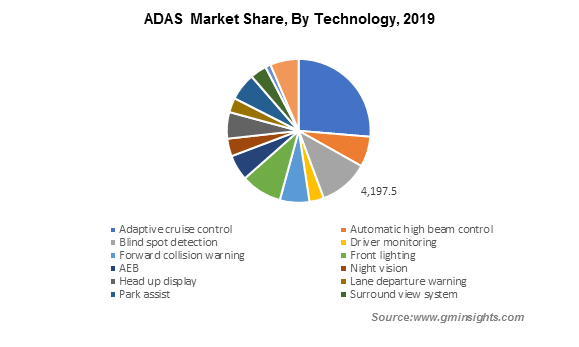 In the face of potentially hazardous driving scenarios, autonomous systems have been taking increasing precedence in recent times. Consequently, major players in advanced driver assistance system industry are focusing on the development of advanced automated ADAS systems. In order to retain a control over driving, these systems are embedded with features like emergency braking, lane keeping, automatic parking, and adaptive cruise control.
The incorporation of additional features such as machine learning and ADAS vision have even enabled vehicles to adapt themselves to adverse climatic conditions. Numerous ADAS market firms have been striving to launch diverse live-saving technologies, which have been instrumental in augmenting the industry trends.
Although ADAS is one of the benchmark features introduced in automotive industry, it has been found that the system is massively prone to cyber-attacks. Therefore, numerous ADAS market giants have been continuously working on LIDAR and Radar sensors to control cybersecurity threats. Tech companies are playing their part in eliminating security issues as well and have been found developing advanced solutions to improve security measures in ADAS systems.
Get a Sample Copy of this Report:@ https://www.gminsights.com/request-sample/detail/2461
In this regard, recently, Groupe PSA collaborated with Harman International to design a cyber security strategy for protecting connected and next-generation autonomous vehicles. The collaboration is a vivid indicator of the fact that the growing concerns regarding cyberattacks and protection capabilities of ADAS integrated vehicles will play a pivotal role in augmenting advanced driver assistance system market outlook.
The Indian OEM Tata Motors has scarcely extended its partnership with the pioneering technology provider, Wabco, having already deployed the latter's ADAS facility in its vehicles. Tata has also conveniently implemented a collision mitigation system (CMS) and a lane departure warning system (LDWS) for its Signa and Prima trucks. The move apparently, is targeted toward the minimization of road accidents and the provision of occupant safety. Having already been a strong player in the India automotive industry, Tata, through this partnership, will further strengthen its position in the regional ADAS market as well.
In 2018, one of the prominent China-based heavy-duty truck manufacturers, Sinotruk Limited, extended its cooperation agreement with WABCO Holdings Inc., that supplies advanced technology for enhancing efficiency, connectivity, and safety of commercial vehicles. The deal is anticipated to substantially improve WABCO's capability in innovative technologies such as ADAS, AMT, EBS, and ECAS. Incidentally, this agreement has so far, spanned almost three decades, and stands as a classic evidence to the fact that long-term business deals across the automotive sector are certain to propel advanced driver assistance system market size over the forecast period.
The robust developments across the automotive cosmos in the economies of India and China vividly portray that APAC will tur out to be a prominent revenue contributor for ADAS market. The rising sales pf passenger vehicles in the continent combined with the increasing demand for road safety and emission control will augment APAC ADAS market trends over the forecast duration.
The rapidly shifting trends toward the adoption of technologically advanced vehicles are thus likely to fuel ADAS industry share in the ensuing years. As the demand for such vehicles continues to increase along with changing consumer preferences, companies in ADAS market will be looking forward to launching advanced safety solutions. In accordance with the same, strategic collaborations, joint ventures, and R&D program are expected to become highly commonplace in ADAS industry soon enough. Driven by a supportive regulatory spectrum and the robust requirement of technically developed automotive parts, advanced driver assistance system market size is forecast to exceed USD 67 billion by 2024.
Author Name : Sunil Hebbalkar
The progressive shift toward a greener, environment-friendly future has been a major driving force for automotive turbocharger market. In an era riddled with the fear of carbon emissions destroying the planet, automakers have been facing several challenges to optimize vehicle efficacy in the best means possible. Consequently, most of the automakers have now been working on bringing about suitable design and operational changes in turbochargers – the highly efficient components that play a major role in downsizing engine emissions. Including the likes of Honeywell and Mitsubishi, renowned companies have thus basically been targeting 2 essential factors – fuel efficiency and emission reduction to bring about a change in turbocharger production, contributing toward automotive turbocharger industry growth.
U.S. Automotive Turbocharger Market, By Technology, 2017 & 2024 (USD Million)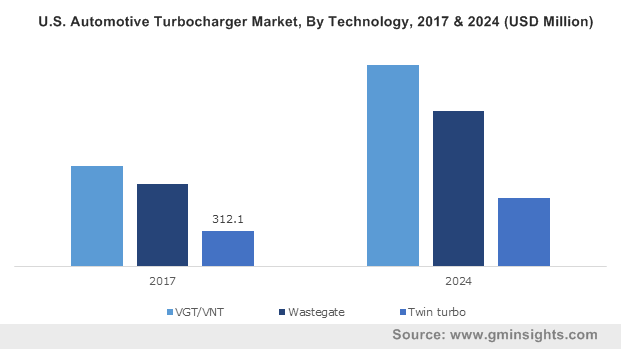 A quick insight into the developments brought about by automotive turbocharger market companies
The incredible advantages of these induction devices have ensured an escalating demand for renewed turbocharging technologies. In consequence, pivotal automotive turbocharger market players have been working toward extending their regional reach by constructing new production facilities across various geographies. An instance validating the same is that of BorgWarner having opened its new turbocharger technology production plant in Thailand recently. Through this initiative, BorgWarner aims to provide clean and efficient turbocharging solutions for hybrid vehicles and EVs across the Asian turf. BorgWarner's plan is also expected to encourage numerous other automakers to expand their already established production facilities in Thailand, that would further help consolidate Asia automotive turbocharger industry.
Incidentally, this hasn't been BorgWarner's first brush with turbocharger technology. In 2017, the company had successfully installed its advanced turbocharging technology into Jaguar Land Rover. The turbocharging system was expected to help Jaguar Land Rover achieve its engine performance target and fuel efficiency from its new SUV models. Of late, numerous light and passenger commercial vehicle manufacturers are also deploying advanced turbocharging technologies for improved fuel efficiency, suitably impelling PCV sales across major geographies. As per the estimates, PCVs are expected to stand as a dominant vehicle segment in automotive turbocharger market landscape over 2018-2024.
Get a Sample Copy of this Report @ https://www.gminsights.com/request-sample/detail/2463
Honeywell has been another lucrative player in automotive turbocharger market that has helped strengthen the competitive spectrum of this business space. The company, a couple of years ago, displayed some of its turbocharger technologies for commercial vehicles at the IAA Hannover 2016. Since then, the company has worked consistently to bring forth advanced turbo technologies for on and off-highway powertrains. The firm has also developed a supremely high-efficiency serial two-stage system to ensure optimum performance in heavy-duty long haul trucks that require to be characterized by increased fuel efficiency and lowered CO2 emissions.
Bringing about innovative product developments is expected to remain one of the prime growth strategies of automotive turbocharger market contenders. The principal aim here is to develop highly advanced products, the design of which would contribute toward maximum engine downsizing. Electric turbochargers for instance, one of the latest trends in automotive turbocharger market, has been found to eliminate turbo lag, which leads to an increase in fuel efficiency. That said, there is no dearth of R&D programs in this business space, that would help alter conventional turbocharger designs as required and further contribute toward transforming automotive turbocharger industry trends.
In the years to come, turbochargers are expected to gain extensive traction in the global automotive space, owing to their substantially high efficiency and their contribution toward environmental safety. Of late, products such as variable geometry turbochargers (VGT) have also gained mass momentum, exceeding their counterparts, due to their cost-effectiveness and technical benefits. Driven by their massive demand on account of the increasing need for a greener environment, automotive turbocharger industry, supported by a strict regulatory framework, will surpass a revenue collection of USD 24 billion by 2024.
Author Name : Saipriya Iyer
Powered by the rapidly expanding automotive industry across myriad geographies, automotive brake caliper market has indeed gained tremendous popularity in recent times. The automotive sector is also rife with a plethora of highly unique innovations that have undeniably had an impact on this business sphere. Indeed, given the pivotal significance of braking systems, technological advancements form the crux of automotive brake caliper industry. Recently for example, Brembo unveiled an aesthetically revolutionary brake caliper at the 2018 NY Auto Show. Apparently, this product helped achieve substantial weight savings – around 400 g per wheel. Brembo's product launch is indicative of the fact that automotive brake caliper market will continue to be characterized by highly innovative solutions that would optimize performance and improve aesthetics.
U.S. Automotive Brake Caliper Market, By Vehicle, 2016 & 2024, (Million Units)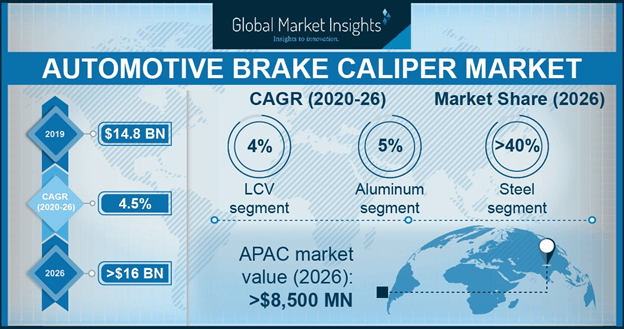 The automotive industry has registered an extremely appreciable CAGR in the Asia Pacific region since the last decade or so. This growth can be essentially credited to the rise of the middle-class populace with increasing disposable incomes and a growing inclination toward leading a more comfortable lifestyle. Due to the presence of affordable and efficient production facilities and increased rate of automobile production, Asia Pacific automotive brake caliper market is poised to grow by 3% over 2017-2024. China, India, Japan, and South Korea are projected to be the major contributors toward this regional market, powered by the enhanced automotive manufacturing technologies now prevalent across these economies.
Speaking along similar lines, the increasing demand for automobiles among the middle-class consumers has led to a significant requirement of passenger carrying vehicles. For instance, in 2017 alone, 73.46 million units of PCVs were sold – a marked increase of 1.08 million units. Driven by the increased consumer spending and the subsequent rise in vehicle production, automotive brake caliper market size from PCVs is expected to increase by 3% over 2017-2024.
Get a Sample Copy of this Report @ https://www.gminsights.com/request-sample/detail/2336
While PCVs take the cake in terms of popularity, it is prudent to mention that two-wheelers are also being increasingly preferred lately, especially in the emerging economies. Two wheelers offer a means of cost effective transportation and are the preferred choice not only in congested cities but also in remote locations. This would perpetually augment automotive brake caliper industry outlook in the ensuing years.
Stringent safety and environmental policies have encouraged technological advancements in the automotive brake caliper market of late. For instance, the French auto manufacturer Bugatti has brought forth a unique innovation in automotive brake caliper industry with the use of 3D printing to print titanium brake calipers. Incidentally, 3D printing of brake calipers helps in reducing the overall weight of the vehicle while maintaining torsional stiffness – a highly sought-after parameter in the automotive industry today. Traditional aluminum alloy brake calipers on Bugatti vehicles weigh 4.9 kg each, however, 3D printing of brake calipers makes each caliper weigh just 2.9 kg, which goes a long way in reducing overall vehicle weight and meeting environmental regulations.
Though 3D printing of brake calipers has not yet become a mainstream procedure owing to the time-consuming nature of the process, the concept has gained sufficient traction. Other methodologies for the reduction of caliper mass, improved styling and performance maintenance are also being researched currently to reduce particulates and carbon emission in the atmosphere.
The emergence of electric vehicles and hybrids is expected to add a new vertical to automotive brake caliper industry, as these vehicles will invariably use a whole new braking system that has little resemblance with the conventional braking system. With the introduction of the Tesla Model 3, electric passenger cars are poised to become the dominant trend for the future. It is rather overt that such cars are being designed to have only one paddle for moving or stopping the vehicle. While the brake system will not be made entirely obsolete, it is certain to undergo some highly innovative changes, that would certainly have an influence on automotive brake caliper market outlook.
Research & development programs are rampant across the automotive industry of late and are likely to majorly transform automotive brake caliper market trends. With the robust growth of automated technologies and the increasing requirement for better mobility, automakers are leaving no stone unturned to bring forth newer and enhanced brake systems. In consequence, this would have a commendable impact on automotive brake caliper market size, anticipated to cross $25 billion by 2024.
Author Name : Paroma Bhattacharya