HDPE
Owing to a varied range of domestic, industrial and healthcare applications, the cross-linked polyethylene market has grown considerably over the past few years with products that provide improved performance and durability. Properties like better temperature strength, chemical resistance and the ability to resist slow development of cracks make cross-linked polyethylene materials ideal for public and portable water service lines, commercial plumbing distribution, auto components and light packaging. Need for highly reliable and corrosion resistant quality pipes for fire sprinkler systems has further given an up thrust to the cross-linked polyethylene industry. Making these products suitable for large scale residential or commercial projects have benefits such as low cost, flexibility, lightweight and ease of transport, all of which have influenced the shifting consumer trend towards the cross-linked polyethylene market.
North America Cross-Linked Polyethylene Market, By Application, 2013-2024, (Kilo Tons)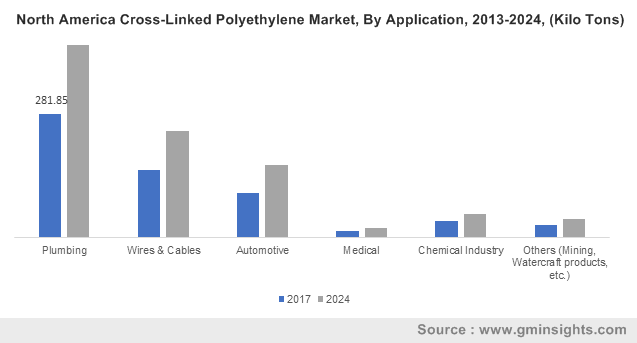 The UN estimates that by 2050, the total world population could reach 9.8 billion, with countries like China, India, Japan and Indonesia being the dominant contributors within the Asia-Pacific (APAC) region. Due to rapid urban and industrial development resulting from massive government spending in several emerging economies of the region, the cross-linked polyethylene market is slated to witness remarkable consumption rates. According to data released by Indonesia's Public Works and Housing Ministry, a total of 805,169 housing units were constructed in 2016 and further 499,702 by June 2017, as part of an ongoing scheme to provide sufficient residential facilities in the country. In 2017, the Indonesian government apparently targeted construction of 700,000 houses for low-income groups and 300,000 for those with a higher income. Reports indicate that Indonesia is looking to gather more funds to complete the ambitious five-year national development plan, which is half way through.
Generally, projects of such magnitude require huge investments in the construction sector, to build gas and sewer pipelines in order to facilitate proper utility and waste systems for communities. Electric wires and cables to support the electricity and communication needs of future residents also contribute towards strengthening the cross-linked polyethylene industry, which supplies reliable flame resistant insulation. The Indonesia project represents a huge requirement of pipes for water and gas supply, water heating, as well as insulated electrical wires that ensure a safe electricity grid, directly boosting the APAC cross-linked polyethylene market which garnered a remuneration of over USD 2 billion in 2017. Other Asian countries like India and China have also pledged to ensure adequate utility supply to citizens, creating the necessity for quality, long lasting pipes.
Get a Sample Copy of this Report:@ https://www.gminsights.com/request-sample/detail/1738
Citing another instance to demonstrate the growth potential of the cross-linked polyethylene industry, in 2017 the Indian government had launched a nation-wide initiative to build efficient water networks and other infrastructural facilities in urban areas. As of now, more than 2.4 million new residential water connections have been provided across India since the initiative started, providing water for drinking and sanitary uses to millions of people. With pipes that allow for easy installation and consistent resistance to moisture, salts and acids, the cross-linked polyethylene market will experience tremendous demand from plumbing and other utility needs. In addition, Asia-Pacific is constituted of highly-populated countries that have been observing a rise in geriatric population, along with increasing prevalence of diseases related to obesity and lack of proper nutrition in younger people.
An upcoming growth avenue for the cross-linked polyethylene market, medical surgeries for joint replacements have garnered momentum to offer a healthier and pain free living for osteoarthritis patients. Knee and hip replacement arthroplasty involves replacing a dysfunctional joint with a prosthesis, which can now be made from cross-linked polyethylene. Recently, a broad study conducted on over 240,000 hip osteoarthritis patients revealed that hip implants containing cross-linked polyethylene lower the need for a revision surgery significantly. The reduced long-term wear of implants with cross-linked polyethylene bearing surface are making them more suitable for younger patients as compared to conventional polyethylene implants, since they have a longer life and tend to be more active.
Subsequently, the APAC cross-linked polyethylene industry is expected to be promulgated extensively from medical applications, besides the prominent demand from infrastructure development activities. The DOW Chemical company, ExxonMobil, Arkema Group, Silon S.R.O, Hanwha Chemical, Vinacom Co Ltd and Borealis AG are some key global market contenders. With incredible predictions regarding population growth and utility requirements, the global cross-linked polyethylene market is anticipated to achieve a CAGR of 6% from 2018 to 2024.
Author Name : Pankaj Singh
Forming an essential fragment of the global plastics sector, Injection Molded Plastic Market has established itself as one of the most dynamically evolving businesses of recent times. The injection molding process is one of the most commonly-used plastic formation technique across myriad industrial sectors, subject to the absolute ease and convenience provided by this methodology. With a widespread spectrum of applications across the automotive, packaging, construction, and consumables & electronics sectors, injection molded plastic industry has indeed embarked on a highly profitable growth path since its inception. Statistics bear testimony to the aforementioned fact – global injection molded plastic market size stood at 100 million tons, and has been forecast to record a CAGR of 5% over the forthcoming years.
The process of injection molding has penetrated most of the plastics manufacturing sectors, and is used to develop a range of plastic products, right from wheelie bins and car bumpers to micro parts for packaging. Manufactured from materials such as ABS (acrylonitrile-butadiene-styrene), nylon PA, polycarbonate, HDPE, and polypropylene, injection molded plastic products are liberally used across a plethora of manufacturing sectors. It is therefore, evident that the changing trends of the manufacturing sector will have a profound effect on the growth path of injection molded plastic industry.
MEA Injection molded plastics market size, by application, 2012 – 2023 (USD Million)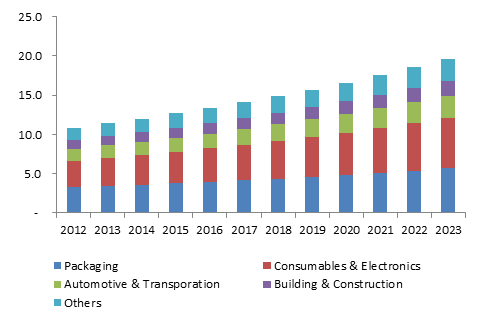 The automotive sector will stand as one of strongest growth drivers of injection molded plastic market. As per estimates, automotive & transportation applications are slated to witness gains of more than 5.7% over 2016-2023. The Corporate Average Fuel Economy (CAFE) has implemented regulations to produce low-fuel consumption cars, which will spur the business expansion. The production of lightweight automobiles will also boost injection molded plastics industry – estimates claim that even a mere 10% reduction in car weight will lead to saving around 5% to 7% of fuel.
In the recent years, injection molded plastic market has been influenced by a plethora of trends. It is noteworthy to mention that some of these trends mentioned below will not have a prominent impact on solely injection molded plastic industry, but on the entire plastic manufacturing sector.
The impact of automation on injection molded plastic market
The onset of automation has created a path-breaking influence on practically all the industries worldwide. Robotics has long since been a disrupting trend in the manufacturing sector, and if surveys are to be believed, its impact across injection molded plastic industry is slated to be immense. Heavily deployed in myriad manufacturing processes, automated tools and robots have transformed the dynamics of manufacturing sector. Automated robots are quick, accurate, agile, and adaptable, which ultimately translates into efficient production.
Injection molded plastic market giants such as BASF, SABIC, Eastman, Dow, ExxonMobil, INEOS, and Huntsman have been deploying these robots to streamline the process of injection molding and develop highly efficient plastic products within a lesser amount of time. Robots apparently provide more leeway and lend flexibility to the manufacturing process, thereby leading to the expansion of injection molded plastic industry. In fact, highly sophisticated robots can also be used to manufacture customized products, especially across the automotive sector.
Get a Sample Copy of this Report@ https://www.gminsights.com/request-sample/detail/416
The impact of renewability on injection molded plastic market
In accordance with the latest trends of eco-friendliness and sustainability, injection molded plastic industry players have been striving to develop bio-based, recyclable products. Creating bio-based plastics that are reclaimable and recyclable is likely to pose a major challenge for manufacturers, nonetheless, the trend has penetrated most sectors, which has made it inevitable for injection molded plastic market players to generate plastics without the usage of fossil fuels. Many companies have already implemented a prototype of such products, from soybeans, corn, flax, etc., which seem to be garnering acclaim. In response, many other entrants in the industry are also striving to achieve a balance between conventional plastic production and alternative, bio-based plastic production, which will eventually stimulate injection molded plastic industry size.
The impact of on-shoring on injection molded plastic market
On-shoring has begun to gain renewed traction lately, despite the mixed reviews regarding its execution. The trend of shifting the manufacturing facilities back to the home ground will prove to be beneficial for most sectors, injection molded plastic industry being no exception. Some of the statistics supporting the resurgence of on-shoring across the U.S. are outlined below:
As per a 2014 survey, manufacturers predicted that the United States will be responsible for more than 455 of their production by 2019.
The year 2014 also depicted that 20% of the top executives working companies that are a part of the billion-dollar fraternity intended to come back to the U.S. from China.
More than 22% of other such executives have declared that they would do the same in a few years.
A humongous figure exceeding 50% have declared interest in on-shoring.
The impact of technology on injection molded plastic market
Connected technologies will have a profound impact on injection molded plastic industry in the coming years, as depicted by surveys. Over the last few years, manufacturers have realized that customer needs need to fulfilled immediately, so that production issues can be resolved sooner and managers are able to troubleshoot issues the moment they arise. On these grounds, the advent of IoT has helped streamline the manufacturing process across major sectors, including injection molded plastic market. Technology will also help factories utilize sensors, digitization, and networked devices, that will help in effective cost-control and enhanced productivity.
The contribution of the United States toward the overall injection molded plastic industry
The plastics sector is the third-largest manufacturing business in the U.S., which is a strong factor impelling the growth of injection molded plastic market. Some of the vital facts that make the U.S. one of the most lucrative revenue pockets of injection molding industry are as follows:
The U.S. plastics sector accounts for the employment of almost 900,000 employees in the region, which will be a key factor impelling the regional injection molded plastic market. In fact, the country houses around 16,000 plastic manufacturing facilities.
North America injection molded plastic industry, dominated by the U.S., is slated to depict a CAGR of 4.8% over 2016-2023 demand, supported by the expansion of the F&B packaging and construction sectors.
In 2012, plastic shipments accounted for more than USD 370 billion in sales. The same year had actually recorded a valuation of more than USD 12 billion.
Experts have rightly stated that injection molding can be qualified as one of the greatest technologies ever conceptualized, that has transformed the outlook of the global plastic sector. The advent of 3D printing has cast a momentary gloom on the growth spectrum of injection molded plastic market, especially since the former is reputed for the production of finished prototypes, however, industry players have been concentrating on bringing forth newer techniques to develop a range of plastic models that may be more flexible and affordable. Keeping abreast of the latest trends, companies operating in injection molded plastic industry have also begun to concentrate on the development of bio-based plastics. Also, they ultimately intend to reduce the dependency factor on crude oil subject to strict environmental legislations enforced by regulatory bodies, which may lead to the generation of lucrative investment opportunities, thereby creating a favorable growth path for injection molded plastic market.
Author Name : Saipriya Iyer
The rapid development of the electronics, construction, and packaging sectors will lead to a substantial surge in global high density polyethylene market size. Growing inclination of pharmaceutical companies and hospitals toward using high density polyethylene for medicine bottles and other forms of medicinal packaging will lead increased product demand.
Europe High Density Polyethylene (HDPE) Market size, by end-user, 2013-2024 (USD Billion)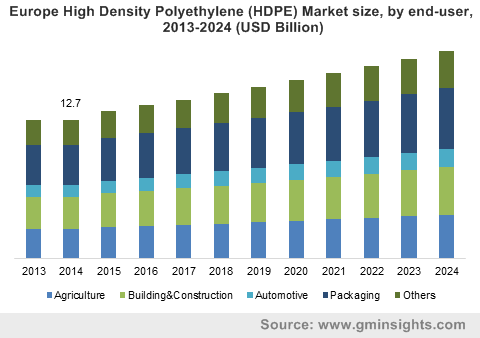 HDPE is used extensively across the F&B sector to pack edible foodstuff, owing to its improved mechanical properties and temperature toughness. The urban trend of preferring packaged (ready-to-mix and ready-to-eat) meals will thus provide ample growth prospects for high density polyethylene industry to progress from the food & beverage sector.
Rising demand for sheet & film form in the packaging sector to drive market trends over the forecast period
Experimentally manufactured using thermoplastic processing methods somewhere around the mid-1930s, high density polyethylene found its first commercial application in high frequency radar cables to be used in wars, thus setting the wheels in motion for ample growth of high density polyethylene market. In the decades that followed, the product found immense potential and is now available in a host of grades.
With a multitude of benefits such as low cost, temperature resistance, chemical sustenance, moisture protection, and opacity to its credit, this polymer finds widespread utilization in major professional domains, thereby mobilizing the global industry trends. Of the various forms commonly available, the demand for sheets and films is exceptionally high.
Film & sheet form possesses properties such as flexibility, rigidity, clarity, affordability, and chemical inertness. They are heavily demanded across the packaging industry for packing food items and fragile consumer products. Consequently, on account of their favorable properties, they find heavy deployment in the expanding F&B industry.
Driven by their excellent mechanical properties, sheets & films form segment accounted for 20% of HDPE market share in 2015. As the global F&B sector expands and the demand for durable food packaging surges, sheets & films based HDPE industry size is expected to depict the highest growth rate over the forecast duration.
Get a Sample Copy of this Report @ https://www.gminsights.com/request-sample/detail/1156
Escalating demand for pipe & fittings form across APAC to boost the global HDPE industry outlook
The demand for HDPE in the form of pipes & fittings is exceptionally high across the water industry. This can be credited to the fact that HDPE pipes are highly dependable for water conservation and management issues, and even rather cheap when compared to glass and metal.
The deployment of HDPE pipes helps conserve water via eliminating leaks, increasing life-expectancy, and lowering maintenance costs. Consequently, the rising number initiatives undertaken in developing nations for water management as well as infrastructural developments will have a major impact on HDPE industry share.
The enforcement of the 'Smart City Mission' and 'Housing for All' policies in India will have a massive influence on the demand for HDPE pipes & forms. The requirement of this product is specifically vivid in India, which is still largely an agro-based economy. Driven by the expansive deployment of the product for water supplies, flow line irrigation, pesticide spraying system, drip irrigation, and suction/delivery pumps, India accounted 15% of the Asia Pacific HDPE market share in 2015. Estimates claim that India HDPE industry size will register a CAGR of 7% over 2016-2024.
Leading manufacturers are striving to produce a wide range of product grades to meet the growing demand. Efforts are being undertaken to specially design HDPE grades for customized applications such as telecom ducts, bags, sacks, and high pressure pipes. Notable companies involved in the manufacture of various grades in HDPE market include (Borouge) Abu Dhabi Polymers Company Ltd., PetroChina Company Limited., The Dow Chemical Company, Borealis AG, Braskem S.A., Honam Petrochemical Corporation, Formosa Plastics Corp., Chevron Phillips Chemical Co., and Exxon Mobil Corp.
High density polyethylene industry is slated to observe remarkable gains from numerous sectors, given the widespread scope of these products. For instance, HDPE pipes are highly affordable in terms of material and installation, owing to which they are used for water supply and irrigation in agriculture. HDPE is also used to produce electrical boxes and telephone ducts. The rapid expansion of the construction, transportation, automotive, and packaging sectors will stimulate the industry trends in the years to come.
Author Name :Saipriya Iyer