Head Up Display
Automotive human-machine interface (HMI) market has lately emerged as one of the massive revenue generating spheres in the automotive sector with the shifting trends toward the adoption of smart vehicles. Traditionally, pertaining to the lack of advanced infotainment and digitalized internal car design, drivers had been unable to operate the vehicle efficiently. However, with the advent of new technology trends, the overall design structure of automobiles has changed considerably, paving the way for integrated human-machine interface in vehicles. The development of connected cars for decreasing the chances of accidents and enhancing the operability of vehicles has also helped propel automotive human machine interface industry share.
Europe Automotive HMI Market Size, By Product, 2017 & 2024 (USD Million)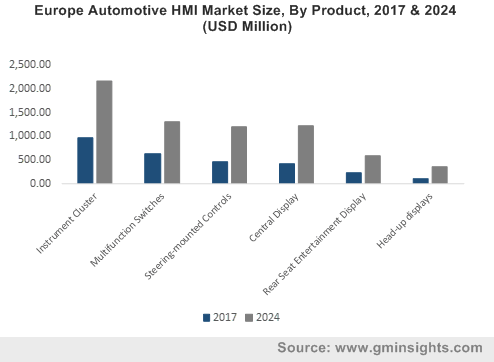 One of the most pivotal driving forces of automotive human-machine interface market is the emergence of smartphones, artificial intelligence, IoT (Internet of Things), and machine learning technologies that have substantially encouraged automakers to carry out product development activities for transforming the existing infotainment system of the vehicle. Validating the aforementioned fact, recently, the American automotive electronics supplier Visteon Corporation developed a next-generation cockpit controller, SmartCore that has been deployed in Daimler's upcoming Mercedes-Benz A-Class vehicles. These will be the world's first vehicles integrated with intelligent cockpit controllers with multiple central processing units. The deployment of such features in the interior design enhances a vehicle's infotainment display and instrument cluster. Moreover, it also helps drivers personalize their experience by simply operating touchscreen and touchpad on the steering wheel.
Get a Sample Copy of this Report:@ https://www.gminsights.com/request-sample/detail/2918
Increasing awareness among the regulators and regional governments about the surging need for vehicle security and safety has been driving the requirement of the instrument clusters and digital infotainment systems. The policymakers claim that the implementation of a human-machine interface will help the driver collect accurate information about the surrounding environment. In order to comply with the stringent regulatory compliances, most of the automakers, technology companies, manufacturers, and designers have been striving to innovate advanced solutions for passenger vehicles and connected cars. Indeed, passenger vehicles are expected to account for nearly 80% share of automotive human machine interface market by the end of 2024.
Speaking beyond the conventional vehicular systems, the increasing popularity of autonomous vehicles will have a notable influence on the automotive HMI market trends over the years ahead. Focusing on the shifting trends toward the growing adoption of autonomous vehicles across the globe, companies involved in the development of human-machine interfaces have been developing innovative software packages. For instance, a few days before, leading supplier of advanced semiconductor solutions, Renesas Electronics Corporation has introduced a new microprocessor unit to accelerate and simplify the development of modernized HMI and camera-based applications. The newly developed software interface can be used for operating video surveillance systems, fingerprint access control, information communication technology applications that have been deployed in automobiles. The growing popularity of HMI for managing vehicular systems in a highly sophisticated way is poised to stimulate the future product demand.
As of now, motorcycle manufacturers have also been integrating HMI technology in the vehicle for improving performance, driving experience, and safety. Few weeks before, the British electric motorbike manufacturer had launched a fully electric motorcycle with human-machine interface. The evolution of e-bikes for promoting high performance and energy security is poised to have a considerable impact on the demand for HMI. In addition, considering the future energy benefits and depleting fossil fuel resources, most of the regional governments have been implementing a supportive regulatory framework to enhance the deployment of e-vehicles that also will fuel the product demand.
The surging use of digital technology in vehicles for achieving better performance and sustainability will transform the future of the automotive industry. The extensive utilization of software for enabling numerous operational packages comprising functional safety, cybersecurity, and infotainment system will also stimulate industry trends. For the record, by the of 2024, automotive human machine interface (HMI) market will surpass a revenue collection of USD 27 billion.
Author Name : Sunil Hebbalkar
The latest scoop making headlines in the Europe ADAS market is that of Italian super sports automaker, Maserati launching an upgraded version of its Ghibli sedan incorporated with new advanced driver assistance systems. Maserati's initiative is clearly remnant of the developments underlining advanced driver assistance system (ADAS) market, that is currently moving ahead at a significant pace. Having recognized the extensive benefits of ADAS systems, numerous automakers have been working toward deploying this feature in their latest automobile brands. This paradigm shift toward implementing safety systems in vehicles on account of the increasing number of road accidents is certain to stimulate ADAS market trends.
U.S. Advanced Driver Assistance System Market, By Sensor, 2017 & 2024 (USD Million)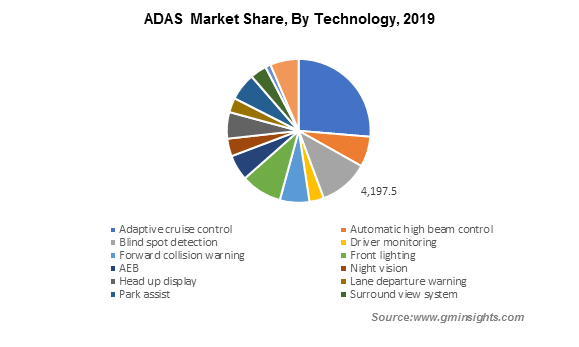 In the face of potentially hazardous driving scenarios, autonomous systems have been taking increasing precedence in recent times. Consequently, major players in advanced driver assistance system industry are focusing on the development of advanced automated ADAS systems. In order to retain a control over driving, these systems are embedded with features like emergency braking, lane keeping, automatic parking, and adaptive cruise control. The incorporation of additional features such as machine learning and ADAS vision have even enabled vehicles to adapt themselves to adverse climatic conditions. In this respect, a brief outline of the contribution made by ADAS market firms in launching diverse live-saving technologies is enumerated in the paragraphs below.
Get a Sample Copy of this Report:@ https://www.gminsights.com/request-sample/detail/2461
Jaguar Land Rover + Waymo
In order to expand the scope of smart transportation globally and consolidate their stance across myriad geographies, ADAS market players have been establishing partnerships with reputed technology providers. Recently, Jaguar Land Rover collaborated with Waymo to develop the first premium self-driving EV in the world for Waymo's driverless transportation service. Waymo is also expected to work with Jaguar for designing the firm's self-driving Jaguar I-Pace vehicles. This integrated partnership is a pivotal instance demonstrating the impact of lucrative liaisons in ADAS market.
Tata Motors + Wabco
The Indian OEM Tata Motors has scarcely extended its partnership with the pioneering technology provider, Wabco, having already deployed the latter's ADAS facility in its vehicles. Tata has also conveniently implemented a collision mitigation system (CMS) and a lane departure warning system (LDWS) for its Signa and Prima trucks. The move apparently, is targeted toward the minimization of road accidents and the provision of occupant safety. Having already been a strong player in the India automotive industry, Tata, through this partnership, will further strengthen its position in the regional ADAS market as well.
Sinotruk + Wabco
In 2018, one of the prominent China-based heavy-duty truck manufacturers, Sinotruk Limited, extended its cooperation agreement with WABCO Holdings Inc., that supplies advanced technology for enhancing efficiency, connectivity, and safety of commercial vehicles. The deal is anticipated to substantially improve WABCO's capability in innovative technologies such as ADAS, AMT, EBS, and ECAS. Incidentally, this agreement has so far, spanned almost three decades, and stands as a classic evidence to the fact that long-term business deals across the automotive sector are certain to propel advanced driver assistance system market size over the years ahead.
Groupe PSA + Harman
Although ADAS is one of the benchmark features introduced in automotive industry, it has been found that the system is massively prone to cyber-attacks. Therefore, numerous ADAS market giants have been continuously working on LIDAR and Radar sensors to control cybersecurity threats. Tech companies are playing their part in eliminating security issues as well and have been found developing advanced solutions to improve security measures in ADAS systems.
In this regard, recently, Groupe PSA collaborated with Harman International to design a cyber security strategy for protecting connected and next-generation autonomous vehicles. The collaboration is a vivid indicator of the fact that the growing concerns regarding cyberattacks and protection capabilities of ADAS integrated vehicles will play a pivotal role in augmenting advanced driver assistance system market outlook.
The rapidly shifting trends toward the adoption of technologically advanced vehicles are thus likely to fuel ADAS industry share in the ensuing years. As the demand for such vehicles continues to increase along with changing consumer preferences, companies in ADAS market will be looking forward to launching advanced safety solutions. In accordance with the same, strategic collaborations, joint ventures, and R&D program are expected to become highly commonplace in ADAS industry soon enough. Driven by a supportive regulatory spectrum and the robust requirement of technically developed automotive parts, advanced driver assistance system market size is forecast to exceed USD 67 billion by 2024.
Author Name : Sunil Hebbalkar
Having established itself as a rather prominent vertical of the technology sector, augmented reality market has witnessed phenomenal gains, in terms of remuneration over the recent years. In the field of software, this technology is already approaching mainstream awareness, primarily on account of the profound contribution of renowned tech giants like Blippar, PTC, Daqri, Upskill, Samsung Electronics Co. ltd., Magic Leap, Facebook Inc., and Apple. While the increasing popularity of Apple's flagship augmented reality technology, ARkit has already created a huge buzz in the augmented reality industry, the American conglomerate's latest breakthrough, iPhone X is an exemplar precedent depicting the signs of penetration of the business space in the territory of smartphone hardware as well. Reportedly, the advanced TrueDepth camera of the product not only include Portrait Mode and FaceID feature, but can also detect users' 3D data and dynamic expression via a unique facial recognition function, Animoji. Though the competitive terrain of augmented reality market is all inclusive of breakthrough innovations from other rivals as well, Apple, undeniably, has turned out to be one of the most active promoters of AR technology lately.
U.S. AR market size, by application, 2016 & 2024 ($Mn)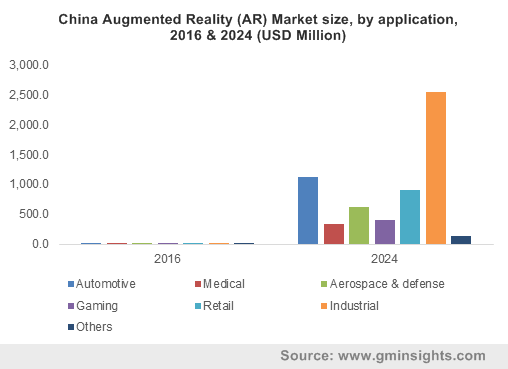 Primarily backed by the fact that AR technology has already made profound inroads in the automotive domain since the inception of 21st century, experts claim, augmented reality industry from this particular business sphere is set to gain exceptional proceeds over the coming years. Big shot automakers across the globe have been increasingly deploying this technology in a bid to bring next version vehicle manuals. Volkswagen's MARTA (Mobile Augmented Reality Technical Assistance) app that provide a thorough repair assistance to amateur mechanics can be placed as a testament to the aforementioned fact. Add to it, the race to develop self -driving vehicles that is presently heating up the automotive space, is also expected to open up new growth opportunities for augmented reality market. Though automotive giants are highly excited with the changing trend, there is a still a wave of inhibition among the consumers due to dearth of proper know-how. Experts believe, increasing integration of AR technology in automobiles would bridge the gap, gradually encouraging consumers to get accustomed with the new technology. From navigation to improving automobile control, automotive sector, as per experts' opinion, is reportedly one the most remunerative growth avenues for augmented reality industry.
Get a Sample Copy of this Report:@ https://www.gminsights.com/request-sample/detail/695
Recently, Mapbox, a reputed custom online maps provider, has made to the headlines with the announcement of its acquisition of a Minsk-based artificial intelligence unicorn, Mapdata. Among the various future projects that are claimed to get onboarded through the deal, Mapdata, reportedly, would help Mapbox develop advanced augmented reality based maps that work in sync with the front cameras of the users' devices. With increasing number of companies seeking to leverage the maximum potential of the technology across mainstream as well as off beat applications, it is certain that augmented reality market is on its way to gain substantial momentum in the years ahead.
While the underlying technology and the application expanse of augmented reality market is rapidly advancing, one of the major constraints that is somewhat acting as a deterrent in the business penetration is the privacy vulnerability concerns associated with the technology. The integration of AR technology into any platform requires disclosure of personal info, which when mishandled often lead to privacy risks. However, renowned companies partaking in augmented reality market are readily investing in research activities to come up with innovative solutions that would address the rising privacy concerns.
Considering the robust initiatives being undertaken worldwide to harness the fullest potential of this technology, augmented reality industry, though still at a nascent stage, is certain to achieve phenomenal gains over the coming seven years. Estimates by Global Market Insights, Inc. claims the overall augmented reality market size to exceed a valuation of USD 50 billion by 2024.
Author Name : Satarupa De