Healthcare
Rising demand for real-time rendering has created an expansive growth scope for 3D rendering market which has witnessed increasing investment in recent times. As technology advances and companies become increasingly digitalized, the complexity of the business process will also increase. To address these challenges, organizations are looking for more efficient, faster, and real-time rendering solutions, adding impetus to 3D rendering market trends.
Canada 3D Rendering Market Revenue, By Component, 2018 & 2025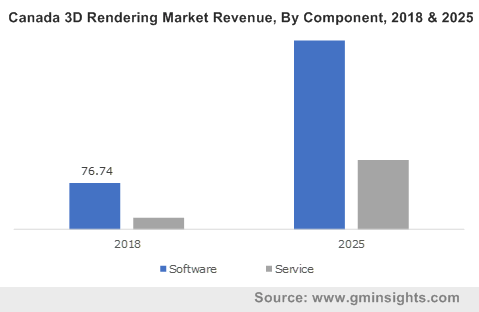 3D rendering is the process of fabricating an image based on 3D data stored within a computer. As the construction and real estate industries are witnessing exponential growth, real-time visualization and use of 3D rendering software have become integral part of the designing process, offering huge efficiencies to architects and engineers.
Architects, engineers and designers use architectural rendering software to transform their ideas into real-time design by exploring multiple options. In architecture, three dimensional images offer architects to review interiors and construction decisions before starting the project. This results in dramatically lowering costs, as expensive changes do not have to be made during the construction stage. Customers also get to view what the building may look like, including its interiors, before investing in it.
The healthcare sector is increasingly adopting advanced technologies, such as 3D medical animation and virtual reality, to create patient-specific surgical replication and personalized 3D printed medical devices. 3D medical modeling helps to understand the functions of body parts, the support of veins to muscles, internal organs and their functions, and its consistent adoption is also likely to fuel 3D rendering industry outlook.
Get a Sample Copy of this Report:@ https://www.gminsights.com/request-sample/detail/3953
3D biomedical image rendering provides a clear view of the complex process of the human body. By gathering data via 3D imaging from patients and integrating it with virtual rendering technologies, doctors are enabled to pre-plan the best approach for surgical intervention. 3D modeling platforms will allow medical scientists to generate high-quality models from complex data sets and integrate scan data with CAD product designs for research purposes and teaching. Deploying 3D rendering services in healthcare will positively impact the 3D rendering market share. As per Global Market Insights, 3D rendering market size from healthcare will grow at a CAGR of 25% over 2019-2025.
The gaming industry is expanding rapidly due to high internet connectivity and growing popularity of virtual reality games to bring immersive experiences to users. A trend has been witnessed where major gaming companies are investing both time and capital to provide their customers with the most absorbing gaming experience. Mounting developments in interactive graphics software, especially in the gaming industry will augment 3D rendering market share.
3D rendering industry is also gaining significant momentum from the growth of automotive industry and rapid growth of emerging economies of Asia Pacific region. In Asia Pacific automotive industry, 3D product modeling has gained momentum, as it helps to minimize the time associated with end-product development and allows designers to visualize the product and test it thoroughly before it is built. The mounting growth of the automotive industry has resulted in the adoption of 3D visualization and rendering services to save both time and cost associated with the manufacturing of a vehicle parts.
Asia Pacific 3D rendering market is estimated to grow at a CAGR of over 24% over 2019-2025. Rapidly expanding urbanization and industrialization will play crucial roles in the growth of 3D rendering industry.
Product marketing has been revolutionized by the advent of 3D rendering services. Marketers of hardware products have always been placed in a challenging position when it came to communicating functions, value and differentiators of their product. The challenge has been almost insurmountable for startups due to their tight marketing budgets. However, 3D rendering of products has helped in greater engagement of consumers on limited marketing expenditure. 3D rendering industry is expected to record 23% CAGR over 2019-2025 from product design & modeling segment.
As 3D visualization is becoming a crucial part in various industries including architecture, IT, healthcare, gaming, etc., 3D rendering market is projected to witness exponential growth over the forecast timeline.
Author Name : Aakriti Kakkar
Rising demand for affordable and reliable communication services worldwide will be one of the key trends driving voice over internet protocol (VoIP) market growth over the forecast period. VoIP is a rapidly advancing technology that uses internet to make phone calls rather than conventional telephone systems. The cost of using a VoIP service is relatively low, especially for long-distance communication. Companies are increasingly leveraging VoIP solutions to improve their productivity and enhance mobility.
APAC VoIP Market Size, By Country, 2018 & 2025 (USD Billion)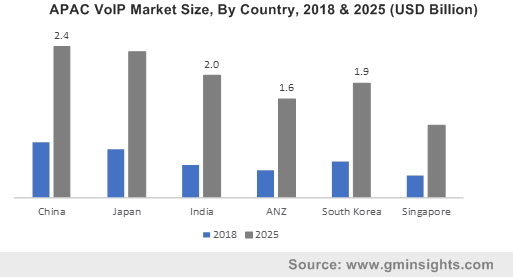 The voice over internet protocol (VoIP) market has garnered major share in developed nations owing to presence of high-speed broadband infrastructures which eliminate the need for maintaining a separate telecommunications network. In addition to making voice calls, VoIP can also conduct video conferencing calls, eventually allowing businesses to visually communicate with co-workers and clients to discuss deals, files, documents and agendas more effectively.
VoIP makes recording calls more efficient and easier, further enabling companies to integrate different communication services into a single device or software. With rapid technological advancements and recent innovations, VoIP market outlook has witnessed an immense transformation lately. For instance, in 2019, caller ID app Truecaller announced the beta-testing of its new app feature that allows users to make voice calls over IP. With such advancements, VoIP market trends are likely to expand and the industry players may garner a huge customer base, thereby augmenting business growth over the forecast period.
Voice over Internet Protocol (VoIP) market share is slated to record significant gains from the international VoIP call segment. Demand for international VoIP calling services is estimated to increase exponentially over coming years, on account of its low-cost service offering. Several affordable international calling plans are being offered by VoIP service providers that allow organizations to conduct business across borders at low calling rates. Credible reports also estimate international VoIP calls market to hold major share of over 50% by 2025.
Get a Sample Copy of this Report:@ https://www.gminsights.com/request-sample/detail/2989
VoIP providers also allow users to make calls to landline and mobile phone numbers without any restrictions. Being internet-based, the technology can effectively handle media types such as images, videos and texts along with voice. Rising technological advancements will propel VoIP industry growth. For example, VoIP service plans come with advanced features like caller ID with name, call waiting, conference calls and call forwarding among other.
An instance of initiatives that will effectively generate new growth opportunities in VoIP market include the one made by North Dakota Department of Human Services which recently awarded a $3.3 million worth call center contract to Noridian Healthcare Solutions. The grant will support North Dakota's Medicaid providers and customers by answering queries associated with Medicaid claims payment, submission of claims, and prior authorization.
Europe voice over internet protocol (VoIP) market will witness commendable growth over the coming years. Especially across Germany, the VoIP industry is recording lucrative growth on account of the region's strong telecommunication infrastructure. Consumer demand and adoption of broadband high-speed Internet services is also considerable within the nation. With rising demand for cheaper communications service and increasing use of VoIP solution, the region is forecast to be a major ground for VoIP market growth over the coming years.
Supportive government initiatives are also likely to expand Europe VoIP market size over coming years. For instance, as per Europe 2020 strategy, all Europeans are expected to own fast broadband services (over 30 Mbps) by 2020, a mission for which EU has implemented a series of regulatory measures and policies and has made around €15 billion available to Member States in the period 2014-2020.
Voice over Internet Protocol (VoIP) is an advanced communication technology that enables organizations to cost-effectively streamline different communication platforms to improve business productivity. International call centers are increasingly using VoIP to reduce cost expenditure and facilitate voice calls at affordable prices.
With growing traction in European countries and extensive use of internet-based voice communication apps worldwide, demand for VoIP solutions will increase significantly over coming years. Report from Global Market Insights, Inc., estimates voice over internet protocol (VoIP) market size to exceed USD 55 billion by 2025.
Author Name : Mateen Dalal
Increasing demand among patients for nonsurgical cosmetic treatments has proliferated global botulinum toxin market, along with the prevalence of numerous medical conditions like migraine headaches and excessive sweating. In recent times, the awareness about botulinum toxin and its various benefits have increased due to the extensive adoption of botulinum toxin therapies by dermatologists for reducing signs of aging as well as eliminating facial lines and wrinkles in people.
U.S. botulinum toxin market, by product, 2018 & 2025 (USD Million)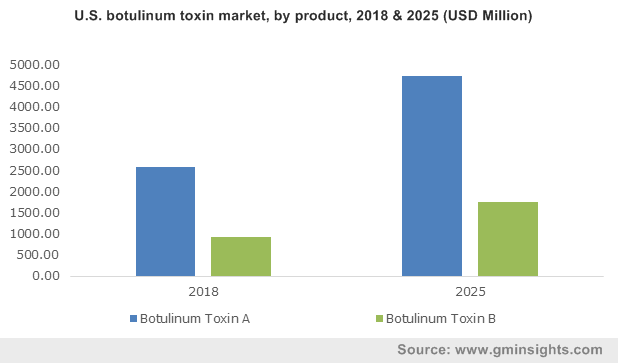 Out of the two key subtypes, botulinum toxin A is the considered as one of the most potent and has gained rapid and enthusiastic acceptance amid customers. It is now being used clinically with most frequently performed procedures, helping millions to rejuvenate their physical appearance. Botox A will undoubtedly represent a prominent growth segment for botulinum toxin industry players, with beauty salons and spas also providing injectable Botox treatments. Growing trend among middle-aged women to stay young and attractive will subsequently boost botulinum toxin market expansion.
According to the America Society of Plastic Surgeons, Botox treatment is the most prevalent cosmetic medical procedure in the US, with around 7.23 million procedures reportedly performed in 2017. Botulinum toxin A was initially approved by the U.S. FDA for treating crossed eyes and in the year 2002, it was approved for cosmetic treatment. Botulinum toxin market has gained traction in US specifically on the account of treating dermatologic conditions including crow's feet near the eyes, thick jaw muscles and gummy smiles, achieving optimal results globally and advancing the industry scope.
Get a Sample Copy of this Report:@ https://www.gminsights.com/request-sample/detail/3408
Besides cosmetic therapies, botulinum toxin has become a safe and effective therapeutic tool for a wide range of medical conditions including chronic migraines, muscle spasticity, and dysphonia. Apparently, in 2010 it was approved by the U.S. Food and Drug Administration (FDA) for the prevention of chronic migraines. Migraines are the third most common disorder globally, with an estimated worldwide prevalence of 14.7%. Botox injections provide one of the most effective and positive treatments and a prominent study reveals that most people experience reduction in migraine frequency. This will create substantial product demand for botulinum toxin industry, as chronic diseases are leading causes of fatality in people of all ages.
Allergan plc had announced the results of higher doses of its Botox Cosmetic product in 2018 for the treatment of moderate to severe glabellar lines. This trial was significantly helpful in evaluating the duration of effect and safety of the treatment. Such trials indicate the application scope of botulinum toxin market. Allergan had also unveiled 29 presentations including 24 migraine presentations highlighting the company's innovations for addressing migraine problems. Undoubtedly, innovations and product-driven approaches would pave the way for botulinum toxin industry towards depicting an upward revenue graph in the next few years.
Rising geriatric population around the globe has created opportunities for the application of botulinum toxin in the treatment of spasticity, which causes specific body muscles to be continuously contracted. The disease affects nearly 12 million people worldwide, while 80% of multiple sclerosis patients suffer from varying levels of spasticity. Common occurrence of disorders that cause spasticity, such as strokes, traumatic brain injuries and meningitis will warrant a considerable demand for effective therapies. Oral as well as injected botulinum toxin are considered to be helpful in dealing with cerebral palsy spasticity, reinforcing the market penetration.
With the healthcare sector experiencing significantly higher consumption than before and the surge in preference for nonsurgical cosmetic treatments, botulinum toxin industry is projected to amass tremendous revenues worldwide. Escalating competition among major industry players by executing mergers & acquisitions and innovating transformative therapies will underscore the industry dynamics imminently. Reports suggest that global botulinum toxin market size is anticipated to exceed USD 8.5 billion by 2025.
Author Name : Deeksha Pant
Global light therapy market is slated to witness substantial growth in the ensuing years, primarily due to the high prevalence of dermatological disorders and psychological conditions. The skin utilizes light as a source of energy to rejuvenate damaged cells, which makes dermatological disorders like psoriasis, eczema, vitiligo, and acne primary applications for light therapy market. Shifting preference toward unique and effective skin treatment methods will proliferate product demand in the coming years.
U.S. Light Therapy Market, By Product, 2018 & 2025 (USD Million)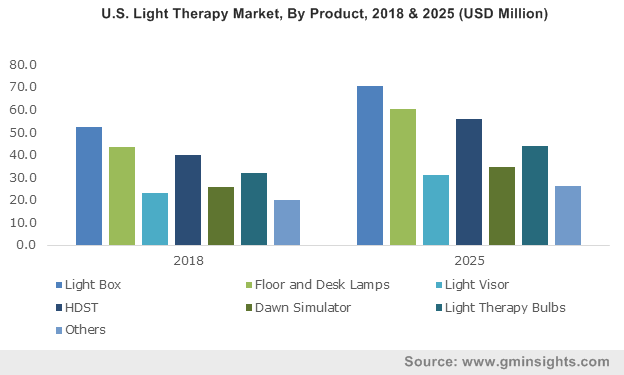 Acne is a common skin condition involving blockage or inflammation of hair follicles that can lead to inflammatory or non-inflammatory lesions. Numbers by the Global Burden of Disease suggests that the condition affects 85% of youngsters between 12 to 25 years of age globally. Growing use of blue light phototherapy and LED light therapy for treating acne will drive light therapy market growth.
The psoriasis segment accounted for significant revenue share in the past and is likely to continue growing in the coming years. According to the National Psoriasis Foundation, the condition affects 125 million people or 2% to 3% of the entire population. In such cases of moderate and severe psoriasis, UV therapy is often considered together with externally applied medication or tablets. Increasing cases of psoriasis throughout the world will boost the demand for UV phototherapy, thus augmenting light therapy industry share.
Get a Sample Copy of this Report:@ https://www.gminsights.com/request-sample/detail/740
Phototherapy is also an effective treatment for psychological conditions, such as depression and anxiety disorder, and can be used together with antidepressant drugs. Depression is a major concern worldwide, primarily attributable to the increasing stress levels from hectic work life. According to WHO, over 300 million individuals of all ages suffer from depression, which is a leading cause of disability and is also known to affect cardiovascular health. Products like SAD lamps are widely used by people suffering from psychological ailments, as they positively influence the circadian system. Increasing penetration of such products will augment light therapy market size.
Growing geriatric population worldwide has increased the demand for home care settings. Phototherapy products such as light therapy mask, lightbox, dawn simulators, floor, and desk lamps help patients receive cost-effective treatments at the convenience of their home. Introduction of favorable health insurance programs or subsidies for home health care will further support the demand for such products, thereby amplifying revenues for light therapy market from the homecare setting end-use segment.
North America light therapy market is poised to garner immense momentum, attributable to the high prevalence of mental and dermatology disorders in the region. Numbers by ADAA reveal that major depressive disorder affects more than 16 million people over the age of 18 in the U.S. Reportedly, over 8 million people are affected with psoriasis in the U.S. Together with growing geriatric population, pervasiveness of mental and dermatology disorders offers numerous growth prospects to North America light therapy market, that accounted for 34% of the industry share in 2018.
The market is bound to witness considerable demand from emerging economies in the Asia Pacific like India and China. High prevalence of depression and anxiety in the region can be attributed to hectic work schedules and inactive lifestyle. This is estimated to boost the demand for SAD lamps and other phototherapy products in the region.
Increasing cases of winter blues across cold regions in Europe and North America will foster regional growth. Furthermore, the increasing buzz around light therapies across social media has contributed to the increasing public awareness concerning the benefits of light therapy for skin, mental, and neurological disorders, thus boosting the demand for light therapy products.
A research report by Global Market Insights, Inc., anticipates light therapy market to be worth more than US $1 billion by 2025.
Author Name : Krithika Krishnan
Profound application in the commercial and healthcare sectors will drive human centric lighting market size. Human centric lightings (HCL) are designed to offer illumination solutions that physiologically and psychologically benefit human-beings. They are intended to promote improved concentration, efficiency and enhanced safety at offices and other work environments. HCL also supports healing processes and prevention of chronic diseases among people with irregular work routines.
Germany human centric lighting market, by application, 2018 & 2025 (USD Million)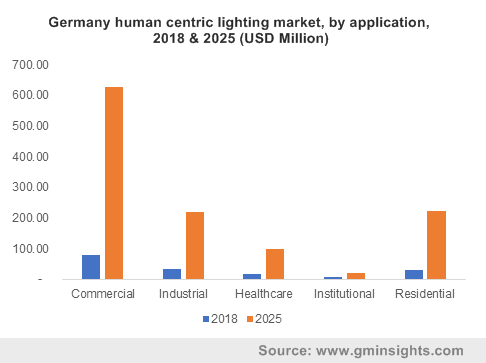 Increasing advancements in lighting technologies along with rapid adoption of Internet of Things (IoT) will support human centric lighting market growth globally. Using IoT, lighting systems can effectively be controlled and customized in real-time. IoT sensors can detect changes in environmental parameters, further directing and improving HCL capabilities.
With emergence of smart LED bulbs that offer a wide spectrum of colors and intensities along with advanced controller hardware, human centric lighting market will witness new growth opportunities over the coming years.
Human centric lighting market is anticipated to garner significant proceeds in the commercial sector. Renovation of enterprise infrastructure and installation of smart building and lighting products to develop comfortable workspaces will foster business growth. HCL solutions allow improved productivity and boost concentration in commercial work areas. In fact, research results suggest that the systems can increase work performance, reduce fatigue and significantly increase concentration and work satisfaction.
According to Lighting Society Europe, human centric lighting can significantly enhance employee performance to the point of improving productivity by 4.5%, reducing errors by 2% and further slashing rate of work absenteeism. HCL can also significantly improve visibility, thereby reducing the risk of tripping, falling and potential injuries. With employees spending more time in offices and other workplaces, HCL systems will become an essential lighting solution in the commercial sector, fostering HCL industry size.
Get a Sample Copy of this Report @ https://www.gminsights.com/request-sample/detail/3637
Increasing traction in the healthcare sector will augment human centric lighting market share. In hospitals and old age homes, HCL is well suited to implement lighting cycles comprising sunrise, sunset and daylight simulations. The system offers patients with enhanced benefits like higher activity levels during day, better sleep during night, reduced recovery time and lowered intake of anti-depressants.
In fact artificial lighting can compensate for biologically active effects of insufficient daylight exposure, thereby stabilizing the sleep-wake rhythm. It can also lead to more restorative sleep, thus ultimately improving the mental and physical wellbeing of hospitalized patients.
In old-age homes, HCL systems can offer high color temperatures, higher illuminance, and dynamically adjusted light distribution levels, further improving the quality of life of the elderly people. Additionally, in the healthcare sector, the systems can significantly reduce surplus cost of electricity bills.
For instance, according to a A.T. Kearney study, the annual efficiency gains achieved from human centric lighting in a hospital with 1,000 beds and 1,500 employees amounted to over €300,000. Instances such as these implicate growth opportunities in the healthcare sector, furthering human centric lighting industry outlook.
Europe human centric lighting market is expected to witness increased traction in commercial, residential and healthcare sectors. Infrastructure refurbishment in Europe currently focus on developing well-illuminated building environments.
The region naturally observes less exposure to sunlight which eventually creates an impact on human health, thereby creating the need for human centric lighting market solutions. With presence of leading market players along with rising investments, Europe human centric lighting market will witness rapid technological growth in the upcoming years.
Global human centric lighting market is being propelled on account of increasing application in healthcare and commercial sector. The industry is witnessing rising investments in R&D from leading players, government organizations, and lighting associations. Increasing consumer awareness and focus on the implementing energy-efficient work environments are anticipated to expand human centric lighting industry size in the future.
Author Name : Mateen Dalal
Rising digitalization and use of e-payment platforms are driving cloud POS market growth. Cloud-based POS is an adaptable, easy to implement and cost-effective solution compared to traditional POS systems. It is integrated with features like inventory management, customer relationship management, loyalty programs and more. For small-to-medium sized businesses (SMBs), a cloud POS system can ensure enhanced customer experience whilst coping up with rapidly upgrading technology.
U.S. SMEs cloud POS market, by application, 2018 & 2025 (USD Million)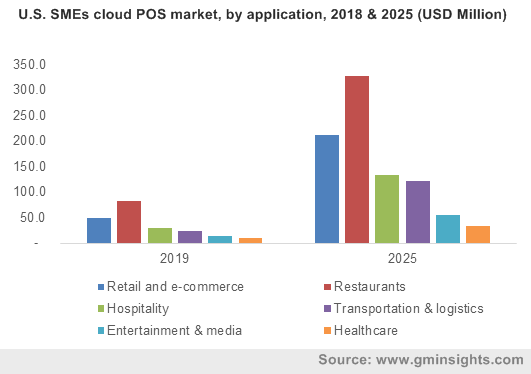 With cloud POS, SMBs can quickly, safely and securely access information using their mobile device. Using tools like data monitoring, inventory tracking, transaction history and more, cloud-based systems can offer enhanced profitability and become an invaluable resource for SMBs.
Notably, cloud POS can be integrated into existing system, increasing security and visibility of restaurant or retail store information. Additionally, it can easily be upgraded, and can track application growth and essential business needs. Product lines, features or stores can also be added to its software. Aided by such profound features, product demand has increased significantly over recent years, expanding cloud POS market size.
Cloud POS market is gaining massive proceeds from the restaurant and hospitality sector. A restaurant cloud POS system is an integral part of daily operations as it helps conduct tasks like billing, ticketing, tax management, invoicing and more. The system aims on delivering superior customer experience and cost control while further growing store revenues and overall profitability.
It enables restaurants to manage orders, make payment, and conduct promotions, and even supports the latest cashless and e-payment platforms that consumers use. The robust use of the system is rather overt from the extensive growth of restaurant POS terminals market as well. Indeed, with growing technological advancements, cloud POS has become a complete restaurant management system providing features like stock and inventory management, detailed reporting and analytics customer relationship management, marketing and more.
Get a Sample Copy of this Report:@ https://www.gminsights.com/request-sample/detail/3418
Growing demand and use of e-payment transactions will augment the cloud POS industry share in the restaurant sector. Furthermore, according to a recent study, the number of credit card payments have reportedly grown by 10.2% in the year 2016 to 37.3 billion with a total value of $3.27 trillion, while digital wallets such as Apple Pay and Android Pay are expected represent $503 billion in transactions by 2020. These instances aptly prove that cloud POS market is here to stay.
APAC cloud POS market is growing robustly on account of rapid digitalization and increased use of cashless payments. India's foodservice sector in particular, continues to grow rapidly on account of rising number of restaurant dining and foreign tourists. Increasing consumer income has made restaurant dining more accessible. International hotel brands have also been expanding their presence in the continent, that has further fostered the regional cloud POS industry size.
With cloud POS, restaurant outlets can acknowledge orders directly to these aggregators. Moreover, with growing technological advancements, the APAC cloud POS is poised to register increased demand in the forthcoming years. Indeed, it has been speculated that the Asia Pacific region will observe a commendably high adoption of restaurant POS solutions, on account of the increase in the usage of POS systems for food delivery. As per estimates, APAC cloud POS market size will register a CAGR of 27% over 2019-2025.
Cloud POS systems are web-hosted solutions that store information on remote servers which can be accessed online. The system is increasingly used in restaurants and retail stores for recording data, taking orders, making bills, managing inventory and more. Reports from Global Market Insights, Inc. estimate cloud POS market to surpass USD 6 billion by 2025.
Author Name : Mateen Dalal