Healthcare
Owing to the rising deployment of LPWA technologies, including LTE-M, NB-IoT, and LoRa, low power wide area network (LPWAN) market share is witnessing an increased traction in the recent years. Interestingly, LPWAN networks have emerged as popular choice among enterprises to support various IoT use cases and solutions for business sectors such as agriculture, manufacturing, logistics, and healthcare, among others. Enumerated below are three major factors that are shaping the growth prospects of LPWAN market.
Europe Low Power Wide Area Network (LPWAN) Market Share, By Platform, 2018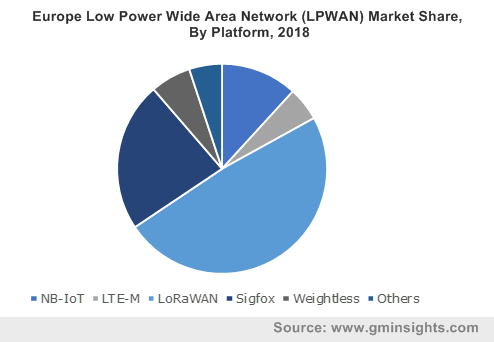 Increasing investment by telecom operators in laying NB-IoT and LoRaWAN networks across various cities is benefiting the overall LPWAN industry size
In 2018, the British telecom operator Vodafone announced NB-IoT network expansions in Spain and Germany, with ambitious plans to double the size of its NB-IoT footprint in Europe by the end of this year.
The NB-IoT network of Vodafone was deployed across Madrid and Valencia in 2017 in a number of verticals such as retail, electricity, agriculture, waste management, and smart city services. This technology has now been expanded to all localities in the cities of Seville, Malaga, Bilbao, and Barcelona, covering a population of about 25,000.
In 2016, South Korea's national telecommunications operator SK Telecom joined hands with semiconductors manufacturer Semtech Corporation to roll out LPWAN network across the nation. Additionally, the operator had also declared that it plans to provide 100,000 LoRa devices free of cost to its customers as part of its 'Partner Hub Program'.
This program has apparently played a vital role in scaling the development and deployment of LoRa devices (based on IoT solutions) and has been of immense significance for expanding the South Korea LPWAN industry size.
Digital Catapult, the UK's foremost agency for adoption of digital technologies, announced in 2016 that it is working closely with British telecom firm BT and a few educational institutes to boost the IoT network in London. To that effect, the company launched Digital Catapult Things Connected which will provide about 50 LoRaWAN base stations situated across London – an effort to establish the UK's largest IoT LoRaWAN network.
Needless to mention, this network and support program will provide an opportunity to digital start-ups and small and medium-scale enterprises to use IoT and drive innovation across London.
Apart from massive expansion programs and large-scale investment, the use of licensed spectrum enables the telecom operators to provide customers with the same levels of security as its LTE network. This makes it immune to disruptive and alternative technologies, essentially opening up numerous business opportunities for LPWAN market players.
Get a Sample Copy of this Report:@ https://www.gminsights.com/request-sample/detail/674
The rise in industrial IoT connections is favoring the growth prospects of LPWAN industry
Besides the rising volume of investment by telecom operators, the increasing prominence of industrial IoT market in various business verticals – especially the manufacturing sector – has invariably led to an escalation in the demand for LPWA technologies. This momentum is expected to remain consistent in the upcoming years as the industrial IoT connections are slated to increase by about five times by 2025.
In fact, the German wing of PwC released its findings last year of what the firm expects of the impact to be created by industrial IoT in the German manufacturing sector. Apparently, these findings note that about 90 percent of the respondents are investing in digital factories and a lot of these companies expect a 12 percent efficiency gains over the next five years owing to industrial IoT. Unsurprisingly, these statistics present an optimistic picture of the adoption of industrial IoT solutions, which will consequentially assist the regional LPWAN industry in reaching out to a new base of customers in the times to come.
The advent of 5G technology and its impact on LPWAN market share
One of the major factors fueling the commercialization prospects of LPWAN industry is the steady increase in the volume of investment pertaining to 5G technology. In this context, it is important to take note of the fact that the mobile IoT technologies, such as LTE-M and NB-IoT, offer a cost-effective wide area coverage while ensuring the success of 5G network deployment.
The 5G technology would enable major telecom firms across the globe to provide high connectivity to support numerous IoT use cases. Taking this factor into account, various telecom firms including Orange, Vodafone, and Airtel are deploying licensed cellular LPWAN as a prominent component of their 5G development strategies.
In a nutshell, the increasing volume of investment by telecom firms in expanding the NB-IoT and LoRaWAN networks, the advent of 5G technology and its development, and the rise in industrial IoT connections has been fueling LPWAN market share. As per a research report by Global Market Insights, Inc., LPWAN industry size is slated to exceed USD 65 billion by 2025.
Author Name : Saif Ali Bepari
As organizations embark on their digital transformation journey, the global digital twin market size is showing a consistent increase in consort with advancements in the Internet of Things, cloud, machine learning, artificial intelligence, and Industry 4.0 technologies. Digital twin market trends are primarily driven by the technology's ability to dramatically enhance product performance while mitigating the risk and cost of new product introduction. Additionally, this newfangled technology can boost product realization time by eliminating some of the most time-consuming aspects of real-world product development.
Germany Digital Twin Market Revenue, By Application, 2018 & 2025 (USD Million)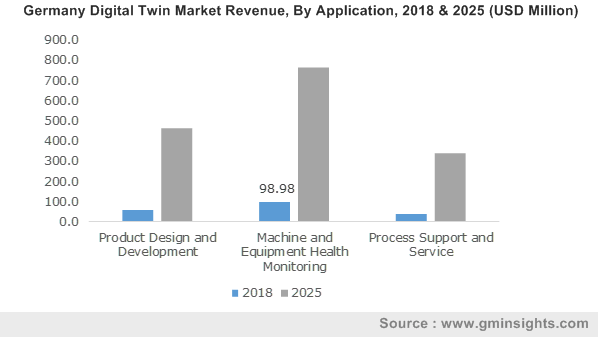 With the rapid proliferation of the Internet of things, a slew of opportunities are knocking the doors of leading players operating in the digital twin market space. Moreover, with digital twins, it is possible that the data which is transferred between blocks can be highly protected and made universally transparent through the blockchain paradigm, thus inspiring global digital transformation. Speaking of the future outlook of this industry, digital twin market statistics by Global Market Insights, Inc.. indicate that the industry valuation is projected to exceed USD 20 billion by 2025.
The fields of application for digital twins are diverse and not confined to a specific domain or industry. Having said that, digital twin market analysis reports claim that automotive, manufacturing, energy & utility, healthcare, aerospace and defense, infrastructure, retail, and consumer goods are the leading end-users of this unconventional technology.
A brief overview of the latest digital twin market trends:
In a bid to create solutions for a better future, the healthcare market has lately become a leading contributor to the digital twin industry revenue. The increasing use of machine learning in medicine and augmented and virtual reality in healthcare market for streamlining hospital processes & operations, augmenting customer experience, and generating real-time analytics, has fueled the demand for digital twins in the healthcare domain. For instance, efficient data entry and location of assets can speed up the patient admittance procedure and save significant waiting time.
With the advent of Internet of things, there has been a rapid increase in smart construction and connected spaces. Digital twins are these days deployed in connected buildings to stimulate building settings based on historical data to detect changes in the design of the building, as well as locate rooms that are wasting power or are rarely used. As smart construction becomes more popular across global economies with growing disposable incomes, the digital twin industry size is slated to rise significantly.
Get a Sample Copy of this Report:@ https://www.gminsights.com/request-sample/detail/2196
3 Biggest business challenges digital twin can overcome:
Accurate inventory to avoid overstocking:
The global inventory management software market space has lately been brainstorming the possibilities of digital twin to reduce cost and revenue leakages, for gargantuan warehouses and supermarkets, where managing optimum inventory level is the biggest challenge. Digital twin market analysis suggests that the availability of real-time consumption data can lead to a quicker replenishment of supplies and avert over-inventorying, which can cause product spoilage. Hence, the fast-paced adoption of digital twin in the inventory market offers lucrative growth opportunities for the digital twin industry.
Addressing the shortcomings of aerospace fleet management:
Some of the biggest challenges in fleet management in the aerospace industry are poor data integrity, slow turnaround time, aging systems, high maintenance costs, and antiquated manual processes. The utilization of digital twin is poised to bring about a paradigm shift in the traditional approaches, by filling the gap amid the physical and the digital worlds. This innovative technology can offer predictive and prescriptive analytics which can reduce unplanned downtime for engines and cut maintenance, repair & overhaul costs, thereby enhancing fleet performance.
Amplifying testing & product development capabilities:
Digital twins can potentially help industries in reducing product development and testing expenses. Companies depending heavily on destructive testing for developing products can use the virtual replica of the real-world scenario for significant portion of the product testing. Say for example, automotive industry can employ digital twin for crash testing prototype vehicles. Likewise, enterprises creating giant models and prototypes for feasibility analysis can save money with digital twins during product development. Digital twin market is slated to advance at a rapid pace in the coming years, given the above backdrop.
Currently, the term digital twin looks like a future concept surrounded by a lot of marketing hype from some top-notch technology companies like Amazon, Microsoft, IBM, and the like. But, considering the unparalleled growth of the digital twin market share in recent years, it can be alleged that this disruptive technology will ensue a broad and deep impact on a plethora of industries in 2019 and beyond.
Author Name : Nikita Chaurasia
The revenue graph of operator training simulator market is projected to foresee exponential growth owing to the continuous improvement in these products and rising emphasis on recruiting skilled workforce. Skill development helps to enhance productivity, safety, profitability, controllability, and stability of the enterprise operations. The increasing focus to reduce injuries and fatalities to maintain safe operations across various business verticals is expected to aid the market growth.
Brazil operator training simulator market, by application, 2018 & 2025 (USD Million)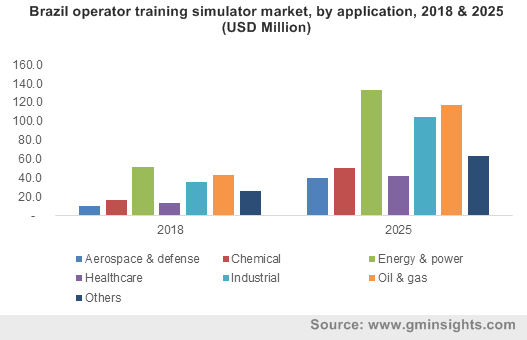 Industry professionals are training their operators to tackle life-threatening situations which has led to increased emphasis on safety of workers, optimization and efficiency of simulators – a factor that is likely to impel the operator training simulator market share in the times to come.
Operator training simulators improve decision making of the operators at critical times while increasing familiarity with the operations. Pilots are required to develop skills like decisiveness, quick thinking, confidence and situational awareness which can be enhanced by simulator trainings. Operator training simulators strengthen confidence to tackle the unfavorable situations. To underscore the significance of simulators, the recent instance of fatal aircraft crash of Ethiopian Airlines can be considered. The crash killed all 157 on board just five months after a similar crash on a Lion Air flight which killed all 189 passengers and crew.
After the accident, the Allied Pilot Association has demanded training on simulators which includes scenarios like those experienced by the pilots of Ethiopian Airlines and Lion Air and additional computer training for 737 MAX to cement the lessons of failure modes in the minds of pilots. Apparently, the deployment of advanced simulators would be crucial in building confidence among pilots, essentially boosting the growth of operator training simulator market.
Get a Sample Copy of this Report:@ https://www.gminsights.com/request-sample/detail/1285
Apart from aviation industry, the railway sector has also emerged as a major end-user to deploy operator training simulator for realistic and robust training to avoid fatalities. For instance, in the year 2018, Indian railways had announced to invest INR 350 crore in operator training simulators to train 1.5 lakh loco pilots and assistant loco pilots to bridge the gap between theoretical and practical learning. The investment is meant to make drivers learn how to navigate rail tracks, curves, signals, bridges and any other situation as if they are driving a real train.
Over 12,000 diesel and electric locomotives daily run on a 66,000-km network across the country. There are about 86,000 train drivers and the simulator training with real feel experiences will assist these drivers to run locomotives efficiently. Apparently, the Indian government's program is a testimony to the increasing prominence of governmental support to high-end simulator training across various geographies – a vital factor that will enhance the growth prospects of the operator training simulator industry.
Notably, defense academies have also been proactive in adopting operator training simulators for public safety and enhancing the overall skill-set of cops. As the police department is responsible for the safety of citizens and maintenance of peace across any country, cops face highly stressful situations on a regular basis which requires high level of patience and panic control. In this regard, simulator training has proved to be of immense help and numerous police academies are deploying these simulators on their premises.
For instance, the New Britain Police Academy has recently adopted simulator trainings to train police to manage stressful responses and make decisions under pressure. The Milo Simulator – chosen by the academy – is an advanced simulator in the state which combines driving an emergency vehicle in highly unfavorable situations such as armed encounters. The human reaction under pressure is unpredictable but this training simulator can help police officers to calmly handle stressful situations.
Operator training simulators have found usage in aviation, railways, police trainings and have applications in several other industries, including healthcare, energy, and chemicals. Operator training simulators play a vital role in training operators in manufacturing and industrial plants. The simulators enhance familiarity with the operations by creating a visual and real-time experience to cement the learnings by experiencing high-risk situations.
Retiring experienced workforce and the increasing demand for quality training of young staff will also contribute in proliferating the operator training simulator industry trends. According to a research report by Global Market Insights, Inc., the operator training simulator market is expected to surpass a remuneration portfolio of USD 20 billion by 2025.
Author Name : Anchal Solanki
The global modular data center market is poised to gain massive impetus in the ensuing years, primarily driven by the increasing adoption of prefabricated IT technologies, the emergence of small & medium enterprises and the rising demand for edge computing.
The demand for edge computing is rising owing to the massive shifts in the way internet is consumed via organizations and individuals. Edge computing is an architecture that enables data processing and computing as close to the end user as possible. The key drivers of the edge computing model include the growing number of consumer mobile devices and the increasing consumption of video and virtual reality content. Eminent players active in the modular data center industry are seeking innovative ways of deploying edge capacity to support end-users including businesses and consumers. Therefore, as the popularity of edge computing grows across several applications, the global modular data center market size is certain to escalate as far as the number of installations is concerned.
U.S. modular data center market, by application, 2018 & 2024 (USD Million)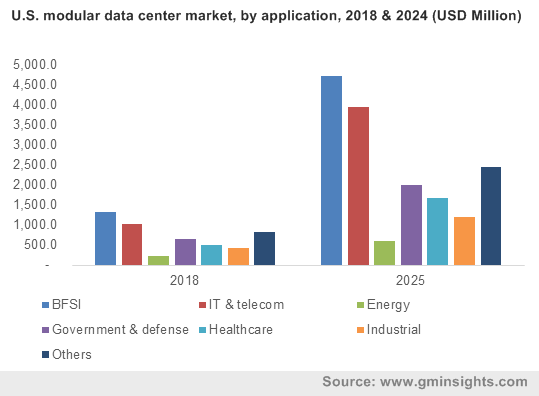 The modular data center market from IT & Telecom application segment is primarily driven by the rising need for the rapid deployment of data centers. IT & telecom business vertical is witnessing a massive adoption of the facility to augment the flexibility and scalability of the business operations. Another factor that is driving the modular data center market is the rapid evolution of IoT technology. With the adoption of IoT sensors, the technology is being used in a wide spectrum of applications, for procuring data from the surrounding environment.
The increasing need for data storage would require more robust load distribution strategies. The burgeoning IoT trend will spur the need for edge computing, which will positively impact the demand for IT infrastructure that is easily deployable in remote locations and cost-effective. Hence, the increasing the need for data storage and processing from IT & Telecom application segment will require more data centers to handle diverse and huge data flows, thereby driving the global modular data center market expansion in the future.
Get a Sample Copy of this Report:@ https://www.gminsights.com/request-sample/detail/1730
SMEs are significant to economies, particularly the developing ones, but they seldom have access to sufficient credit. According to the World Bank Group, around 70% of all micro, small, and medium scale businesses in emerging markets lack access to credit. As modular data centers can do everything, right from computing, storing, processing, cooling, securing, and detecting fire, hence they can help organizations in saving significant infrastructure and setup costs. Which makes small and medium-sized enterprises a major customer base for this technology, thus allowing SMEs to deploy and maintain their IT operations with low capital expenditure but without compromising on quality. Having said that, the burgeoning number of SMEs in emerging economies will thus be a major factor responsible for propelling the global modular data center industry.
The competitive landscape of the global modular data center industry hosts numerous well-known players such as Cisco Systems, Inc., Huawei Technologies, Cannon Technologies, and Dell, Inc. among others. In order to enhance and expand business operations, major players often engage in partnerships and develop innovative technologies, thereby increasing the revenue inflow of the global market. An ideal example involves Huawei's recent partnership with Etisalat to plan and distribute pre-fabricated and next-gen modular data centers in UAE in an effort to suffice the requirements of the cloud and digital services of the future. Such partnerships will fulfill the product demand across diverse geographies and hence contribute to the expansion of the global modular data center market.
Additionally, growing applications fueled by innovations in the fields of retail, telecom, and finance along with the emergence of 5G technology will further advance the modular data center market growth. All in all, consumer reliance on the digital world is growing every minute and with increasing adoption of digitized platforms and technologies, data traffic will continue to grow, boosting the requirement for modular data centers globally. A research report by Global Market Insights, Inc. projects the overall modular data center market to be worth more than $50 billion by 2025. 
Author Name : Krithika Krishnan
The increasing threat of data breaches and rising proliferation of digitalization have been responsible for driving intrusion detection system market share in the recent years. The last couple of decades have witnessed the technology landscape across various end-use domains to have undergone a massive transformation. Alongside, there has been a vast upsurge in the number of computer networks as well, leading to a major surge in the demand for efficient systems and solutions to counter data threats. The implementation of IDS or IPS in the network system undeniably makes it feasible for the network administrators to assess the accurate location of the threats and then address the same. These systems also help avert further threats from those locations, thereby helping to accelerate the growth graph of IDS/IPS industry.
UK Intrusion Detection System / Intrusion Prevention System Market Revenue, By Type, 2018 & 2025 (USD Million)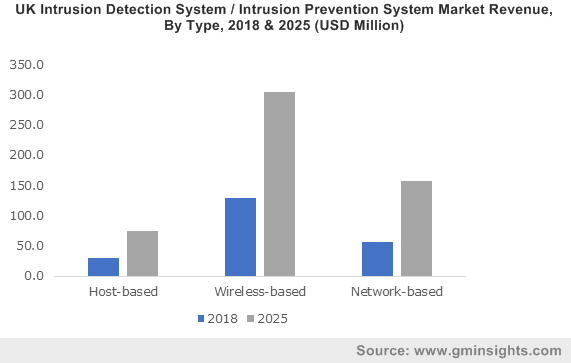 Intrusion detection system solutions are known to be rather competent in protecting the integrity of computer networks, maintaining confidentiality, and shielding against malicious attacks prevailing in an organization. IPSs are so designed that they alert administrators about attack attempts, thereby delivering valuable information to businesses about network threats, malicious attacks, devices being targeted and much more. As more and more and more number of companies integrate these systems in their infrastructure to monitor logs and effortlessly extract information to provide further security to their networks, the global IDS industry share is bound to depict an upsurge in the years to come.
For most parts, a score of businesses already boast of having incorporated intrusion prevention systems in their infrastructure. Prominent conglomerates however, thriving in an era defined by consistent digitization and network integration, have been consistently seeking novel solutions by the day to tackle advanced threats and high-level frauds, thereby providing numerous growth opportunities for IPS industry contenders.
Get a Sample Copy of this Report @ https://www.gminsights.com/request-sample/detail/3178
For instance, IBM, a significant IPS market player, boasts of an intrusion detection and prevention system that provides real time security monitoring, a robust network, and efficient analysis of network and services. IBM's Trusteer pinpoint malware detection system competently detects malware-impaired devices and also governs the type of threat and the potential risks associated with the same. A while ago, by the end of 2018, IBM had also announced its new Pinpoint Verify technology that would provide businesses with an innovative model to combat online frauds with a digital identity trust approach.
Citing an instance of yet another vital IDS market contender, Imperva, it is imperative to state that this company boasts of a suite of cloud web application firewall intrusion prevention solutions that are characterized by features such as two-factor authentication and web application firewall. While the WAF supports the existing IPS through behavioral and reputational heuristics that eradicate malicious incoming requests and other application attacks, the implementation of 2FA gateways for any URL helps choose a verification method and feasibly manage a database of approved users. With the demand for security solutions on a consistent rise, it would not be incorrect to state that IDS industry contenders can look forward to myriad growth opportunities in the years ahead.
The transportation and logistics sector has emerged as one of the most prominent application avenues for the global intrusion detection system market, fueled by the requirement of RFID tags in order to track the location of cargoes from the starting point to the destination. Not to mention, these systems have been gaining traction in this sector on account of the demand for door intrusion and tampering sensors that detect attempts of any type of intrusion in any of the boxes or containers and provide real time monitoring of vehicles and cargoes.
It has been speculated that in the years to come, next-gen IDS solutions will be designed to focus less on recognizing intruders and more toward sensing potentially apprehensive attacks or events. With the help of advanced AI algorithms, IDS market players are expected to brainstorm solutions that will be able to predict attacks beforehand and then provide an effective line of defense as opposed to the traditional approach.
Author Name : Deeksha Pant
The exponential growth graph depicted by the global threat intelligence market in the recent years can undoubtedly be credited to the massive surge in the number of connected endpoints. Presently, there are more than 3 billion end-users across the world that are connected to the Internet, while connected-devices are anticipated to surpass the 50 billion mark by year 2020. Having understood the dependency of these endpoints on the Internet to be able to interact with each other, cybercriminals have been exploiting the reliance to obtain an unauthorized access to the connected endpoint devices to undertake numerous malicious activities.
U.S. Threat Intelligence Market Revenue, By Component, 2018 & 2025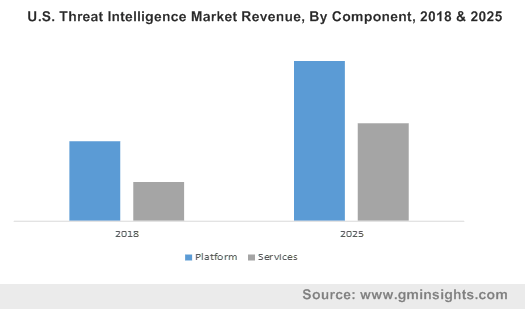 Threat intelligence market | Impact of rising mobile cyberattacks
The global threat intelligence market is expected to amass substantial returns from mobile-based solutions, due to the exponential rate at which cases of mobile cyberattacks & mobile frauds are growing. According to a 2018 report by ThreatMetrix, the first two quarters of 2018 witnessed the cases of mobile attacks across the globe reach the 150 million mark with attack rates growing 24% year-over-year. While the growing penetration of mobile devices has undoubtedly been a crucial factor in the rise of digital commerce, the trend has also proved to be extremely conducive for numerous malicious entities to carry out fraudulent activities.
Moreover, other growing trends such as Choose Your Own Device (CYOD) & Bring Your Own Device (BYOD) being adopted across a number of enterprises, while facilitating greater convenience, are creating more vulnerabilities in the organization networks. Fueled by these trends the global threat intelligence market share from mobile-based solutions will grow at a CAGR of more than 18% over 2019-2025.
Get a Sample Copy of this Report @ https://www.gminsights.com/request-sample/detail/3151
Threat intelligence market | Impact of the growing healthcare cyberattacks
As the global healthcare sector goes through a digital transformation, wherein it is adopting new technologies to enhance the level of patient care & medical treatments while continuing to facilitate patients with life-critical services, the vulnerabilities that are being created or exposed by this transformation phase are being treated as opportunities by criminal & malicious entities for their own personal gain. According to the Center for Internet Security, these threats range anywhere between malwares, that are designed to compromise the privacy of the patients & the integrity of the systems, to Distributed Denial of Service (DDoS) attacks, that are designed to hamper a facility's ability of providing proper patient care. While these issues plague other industrial & infrastructural sectors as well, the ramifications of a cyberattack on a healthcare facility go far beyond financial losses & privacy breaches.
According to the Southern Medical Association, as cyberattacks continue to proliferate, the global healthcare industry remains a primary target. In fact, 2017 witnessed the most successful data breaches in history, bringing legal consequences & detrimental financial losses to the victims and costing organizations more than $5 billion in accumulated financial losses & estimated total payouts. As healthcare organizations store a copious amount of information associated with their patients, cyberattacks, aiming to gain access to these data reserves, would be continuing to occur in the sector, generating significant opportunities for the threat intelligence market contenders. Indeed, the global threat intelligence market is projected to witness a CAGR of 13% over 2019-2025 from the healthcare industry.
Threat intelligence market | Impact of increasing cyberattacks on Government Institutions
As with other sectors, the world's government institutions are also making their transition to the digital world, leaving their conventional pen & paper practices behind for higher operating efficiencies. This trend has provided cyber-criminals an ideal opportunity, wherein they target specific government institutions for their own financial or idealistic gains. One recent instance of this is the cyberattack that targeted the local government of Atlanta, USA. According to the American Bar Association, the entire city of Atlanta was trapped in a hostage situation, wherein the city's digital infrastructure was taken over by a powerful ransomware.
The criminals disabled internet access, encrypted the files stored on the system and demanded an upfront Bitcoin payment in exchange for the decryption key that restored access to these files. According to federal authorities, the ransomware attack caused losses of more than $30 million and could cost taxpayers & the city more than $17 million to completely recover from the damages caused.
Attributing to these three determinants, it is unmistakably clear, that the global threat intelligence market would be witnessing tremendous growth in the years to come. In fact, according to a report by Global Market Insights, Inc., the overall threat intelligence market size is slated to surpass the $13 billion renumeration mark by 2025.
Author Name : Akshay Kedari