Healthcare
Increasing adoption of technology in the security vertical and the confluence of organizations to meet authentication standards has added a renewed dynamism to biometrics market. With the biometrics technology having marked its presence across the security landscape, it is now rapidly penetrating its way into consumer, government, and industrial systems. Based on the concept of statistical analysis of biological data, the biometrics technology is proclaimed to be less prone to cybercrimes and hacking. Recently, Mexico's National Banking and Security Commission has announced a new regulation in the country that would require all the banks to deploy fingerprint scanners for the clients by 2018. Another instance is of FacePhi Biometria, where the company is seen signing deals to bring its selfie-based authentication system especially in the financial sector. Similar moves are likely to materialize in the coming years, in turn, propelling biometrics industry size.
U.S. Biometrics Market Size, By Product, 2013 – 2024 (USD Billion)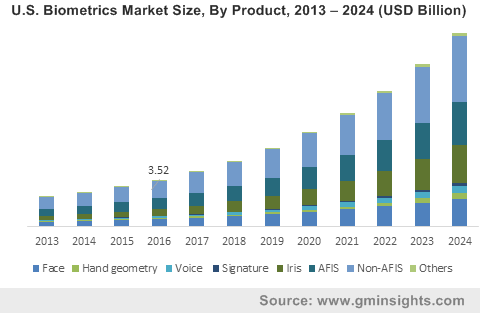 Global Market Insights, Inc., claims that biometrics market will exceed USD 50 billion by 2024, having been pegged at USD 12 billion in 2016. High acceptance of biometrics in various verticals such as mobile banking and other financial services has further favored the growth of biometrics market. As the cybercrimes and identification errors are captivating the industry verticals, there has been a significant upsurge in the adoption of biometrics to ensure data security and privacy. Lately, there has been a plethora of fraudulent cases and data breaches in the financial sector. JP Morgan Chase for instance was one of the major victim, where the hackers accessed the critical data of approximately 83 million customers. Such potential threats of data breach have led to greater demand for biometrics technologies in the banking & finance sectors. As per the report, biometrics industry share is set to gain lucrative avenues from banking and finance sector, projected to register a healthy growth rate of 22% from 2017-2024. Apart from this, biometrics industry is also likely to demonstrate noticeable growth in healthcare, transportation, consumer electronics, and defense services. In fact, the transportation application within biometrics market is estimated to be the highest revenue contributor in the coming seven years.
Get a Sample Copy of this Report@ https://www.gminsights.com/request-sample/detail/493
With the significant expansion of its vast application arena, it is quite evident that biometrics technology is gaining lot of popularity as it works on identification of individuals' biological information. This technology uses physiological and/or behavioral characteristics of people to authenticate their identity. As every individual is unique, this technology uses separate identifiers such as face recognition, fingerprint, palm veins, hand geometry, DNA, iris recognition, voice and retina. Many companies have adopted these techniques to improve the security features. For instance, Samsung and LG have incorporated iris scanners into their smartphones on a wider scale. The voice recognition technology is also seen gaining considerable traction in the mobile banking and commercial sector. The voice recognition segment of biometrics market is expected to register a CAGR of 22% over 2017-2024, claim estimates.
Over the coming years, biometrics industry is expected to witness several technological advancements that will make authentication more secure and convenient. Below mentioned are the three trends that will strongly influence the industry growth.
Smartphones
Mobile payment is touted as the future of financial transaction and is thus getting incorporated with biometrics to provide a strong security interface. Governments and businesses are vigorously looking for reliable authentication devices such as mobile biometrics to speed up human identification processing, in turn, providing a commendable impetus to biometrics market demand. Such technologies running on personal smartphones are sure to offer biometrics market the opportunity of clocking excellent growth rates in the ensuing years.
E-commerce
With the rapid growth of online shopping, online payment methods are slated to be subject to a lot of threats. The biometrics technology is expected to do wonders in this segment as accessing of user accounts through iris, facial recognition and fingerprints could go long way in ensuring a secure login than regular pins and credentials, validating the contribution of e-commerce in the growth of biometrics industry.
Internet of Things
One of the biggest biometrics market trends to watch for will be the adoption of this technology parallel to the massive expansion of IoT. IoT being the biggest emerging concept for both businesses and consumers undeniably requires a robust security spectrum to protect critical data. In response to this, in the coming years, the global biometrics market will witness a remarkable upsurge with the technology being integrated in a wide variety of IoT applications ranging from smart homes, banking, healthcare, and automotive.
With the advancements and evolution in the tech space, identity management and security are certain to be the top-notch priorities of the businesses. Taking into account this trend, it is unarguable that biometrics industry is set to witness a profound profitability quotient in the ensuing years.
Author Name :Ojaswita Kutepatil
Of late, Graphene Market has been gaining remarkable traction, owing to the extensive use of graphene for power storage and composites. The scientific community has been researching on the viability of graphene for aerospace applications in a strategic collaboration with the European Space Agency (ESA), with an aim to test the potential of graphene in zero gravity conditions. The success of this research is slated to create new avenues for the players in graphene industry. As per statistics, graphene market held a revenue of USD 20 million in 2016.
U.S. Graphene Market size, by End-user, 2013 – 2024 (USD Million)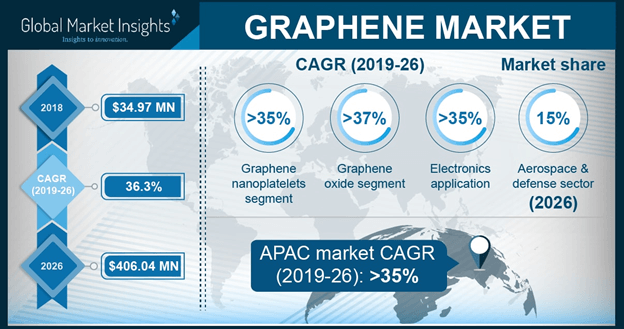 Analyzing the ongoing and future trends of graphene market, Graphenea has decided to expand their graphene oxide (GO) pilot plant with a production capacity of 1 ton per annum. They are also working on the customization of GO to integrate it into different polymer ranges. This strategy will help the company move forward toward the production of graphene based composite materials, strengthening its position in graphene market. On these grounds, it would be noteworthy to mention that graphene market from graphene oxide is slated to cover 40% of the overall share by 2024, and will grow at a CAGR of more than 35% over 2017-2024. Major participants in graphene industry are Graphenea, Grafoid Inc., Applied Graphene Material, Graphene Frontiers, LLC, XG Sciences, Inc., Advanced Graphene Products, Angstron Materials, Inc., AMO Gmbh, ACS Materials LLC, Xiamen Knano Graphene Tech. Corporation Ltd., Applied Nanotech, Inc., Thomas Swan & Company Ltd., Nanjing XFNANO Materials Tech Co., Ltd., Haydale Limited, and Graphene Laboratories, Inc.
Get a Sample Copy of this Report@ https://www.gminsights.com/request-sample/detail/233
Graphene market outlook across the healthcare sector
Apart from being utilized in composite materials, graphene finds application in healthcare sector. Graphene oxide is extensively used in various dental care products, owing to its capability to resist antimicrobial agents. Growing awareness among people about their dental health will influence graphene market share noticeably. As per a market study, graphene market from healthcare sector will exceed a revenue collection of USD 20 million by 2024, owing to the requirement of the product for tissue engineering, drug delivery systems, and cancer treatment.
Diabetes monitoring and therapy involves the utilization of wearable and handy graphene based electrochemical devices. These devices are apparently painless, non-invasive, and offer stress-free monitoring, which helps diabetic patients to avoid expensive, lengthy, and painful diabetic therapies. Increasing prevalence of diabetic patients across the globe is slated to fuel the product demand, due to cost effectiveness. In addition to this, for next generation cancer therapies, researchers are planning to undertake extensive studies on graphene based medicines to detect the effectiveness of the therapy on cancer cells.
Graphene market trends across the automotive sector
Automakers have been giving preference to graphene material for manufacturing luxurious cars, owing to the fact that the usage of graphene decreases the overall vehicle weight. Graphene itself is lightweight as compared to the other materials, and its utilization will improve the fuel efficiency and speed of the car enormously.  Recently at the Auto show held at Geneva, Pininfarina has unveiled electric car operated with graphene based battery. On that note, automotive sector covered 20% of graphene industry share in 2016 and will register a CAGR of more than 34% over the coming seven years.
Pertaining to quicker charging time and longer driving ranges, graphene battery is expected to witness huge demand for the automotive application in the future. The rapid growth of Graphene Battery Market stands as a testimony to the development of graphene industry, which, according to Global Market Insights, Inc., will record an annual growth rate of 35% over 2017-2024.
Author Name : Sunil Hebbalkar
Candidly driven by two key factors including rising per capita income and high demand for processed food, Polypropylene Random Copolymer Market will register a commendable valuation over the years ahead. Consumer lifestyles are becoming consistently hectic, and this is leading to a high demand for packaged meals. Subsequently, the requirement for high-grade food containers is on a rise, thereby propelling polypropylene random copolymer industry. In addition, food containers are also used in household applications subject to the transparency factor and ease of labeling, which will further spur the industry trends.
U.S. Polypropylene Random Copolymer Market size, by end-use, 2013-2024 (USD Million)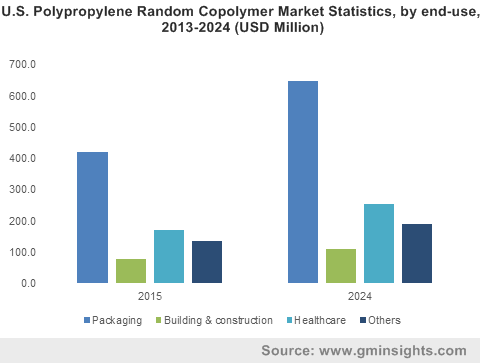 Polypropylene random copolymers are basically thermoplastic resins that are manufactured during the polymerization process of propylene. These resins have a wide range of seal initiation temperature, excellent gloss and transparency, high heat resistance, and aesthetic properties. On these grounds, PRC products are light weight, they possess high radiation resistance, and have the capacity of retaining the organoleptic properties of food. Consequently, these products are heavily used for manufacturing food containers made of plastic, glass, paperboard, and metal. As per estimates, global food container market was valued around USD 110 billion in 2015 and is forecast to cross a valuation of USD 175 billion by 2024, which is another factor driving polypropylene random copolymer industry.
The rising F&B sector across Asia Pacific is one of key drivers of the regional polypropylene random copolymer market. With India, Japan, and China at the helm, APAC led the overall polypropylene random copolymer industry in the year 2015. Changing consumer lifestyles, increased middle class population, and rising disposable incomes of consumers will primarily drive APAC polypropylene random copolymer market, which is slated to experience the maximum gains of 5.5% over 2016-2024.
Get a Sample Copy of this Report @ https://www.gminsights.com/request-sample/detail/1102
Polypropylene random copolymers find applications in blow molding, thermoforming, BOPP & blown films, pipes, injection molding, and transparency packaging. On these grounds, polypropylene random copolymer products are used principally across the healthcare, construction, and packaging sectors. Global polypropylene random copolymer market from packaging applications is slated to observe the maximum growth over the coming seven years, subject to the ever-growing packaging sector and the superior product properties. In addition, shifting consumer trends toward packaged meals will augment the packaging sector, which held more than 50% of the overall polypropylene random copolymer industry in 2015.
PP random copolymers find heavy utilization in the medical sphere, especially for the manufacture of equipment such as syringes, owing to the product's transparency and heat resistance. Polypropylene random copolymer market from the healthcare sector was worth USD 1 billion in 2015 and is forecast to rise significantly over the coming timeframe.
The highly developed healthcare industry in North America will be a major factor propelling the regional polypropylene random copolymer market. Led by the United States, this market stood at a valuation of more than USD 950 million in 2015. The U.S. and Canada are also major shareholders of the global F&B packaging industry, which will further impel the regional trends.
Global polypropylene random copolymer market is rather fragmented. As per estimates, in 2015, the top six manufacturers held more than 25% of the overall share. This business encompasses the participation of Pinnacle Polymers LLC, Total Petrochemicals & Refining USA Inc., LyondellBasell, Flint Hills Resources, Formosa Plastics, Reliance Industries Limited, INEOS Olefins & Polymers USA, Braskem, Sasol, and Entec Polymers. Polypropylene random copolymer industry, to an extent, is integrated, as far as downstream and upstream operations are concerned. Companies often engage in novel product enhancements to consolidate their position in the global business.
Petrochemical feedstock such as naphtha and ethylene are basic raw materials that are used for product manufacturing. Thus, crude oil and petrochemical price fluctuations are likely to hinder the progress of polypropylene random copolymer market. However, the product usage across the F&B industry has been exponentially rising owing to its superior qualities. In addition, companies have been making efforts to manufacture high grade and innovative products as alternatives to conventional beverage packaging, which is likely to propel polypropylene random copolymer industry trends over the coming seven years.
Author Name : Saipriya Iyer
In a world consumed with the concern of reducing waste and bring down greenhouse gases emission, chitosan market has gained major prominence in the last couple of decades since the compound has proven to be one of the most ecofriendly biopolymers. Recently a group of bioengineers from University of Nottingham in UK have joined a counterpart team in Nile University, Egypt to develop a substitute for conventional plastic carry bags using chitosan. The biodegradable alternative will be designed to be greener than more conventional polythene derived from fossil fuels and can also be used to extend the shelf life of foodstuffs.
U.S. chitosan market size, by end-user, 2013 – 2024 (USD Million)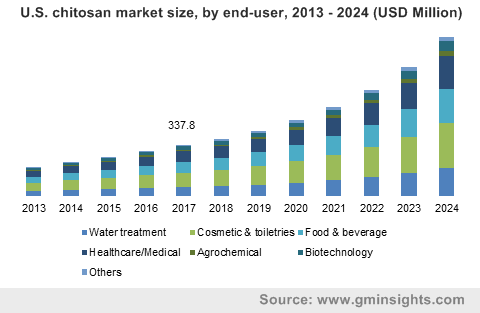 Apparently, developing nations like Egypt have a major problem when it comes to disposal of plastic bags and reduction of water contamination. The use of bioplastics is not feasible in the African nation where most plants are grown for food and cotton. Chitosan, the man-made polymer derived shrimp shell, has emerged as viable solution for the production of a biopolymer nanocomposite material that can replace polyethene. The success of chitosan in Egypt can lead to British manufacturers opting for it as well which is eventually expected to lend a major boost to the chitosan market over 2018-2024.
Chitosan is already a very recognized material in waste water treatment industry as well as food packaging industry. Research has demonstrated that the biopolymer chitosan can be used as a coagulating agent for organic compounds, toxic heavy metals and for adsorption of dyes and minor concentrations of phenols in various industrial wastewaters. Absorption in waste water treatment has been attracting scientific focus as it is a high efficiency, low cost method and absorbents are easily available. Driven by industrialization and urbanization, water pollution has become a major threat on Planet Earth. Chitosan industry has forged a remarkable growth avenue for itself as it has proved to be one of the most effective compounds for the removal of heavy metals or metalloids through adsorption.
Get a Sample Copy of this Report @ https://www.gminsights.com/request-sample/detail/760
Chitosan market has also etched out a growth path through the development of edible alternatives in food packaging. Researchers are therefore developing packaging alternatives made of chitosan as an option that has the potential to replace plastic in the food and animal feed industries. As per the Australian Marine Debris Initiative Database, plastics constitute one of the biggest pollutants in the Australian waterways, with up to 130,000 tones winding up in the ocean each year. Researchers at the National University of Singapore have succeeded in developing an ecofriendly food packaging material that is chemical additives free by fortifying natural chitosan composite film with seed extract from grapefruit. This innovative food packaging material can impede fungal growth resulting in doubling the shelf life of perishable food. As such packaging options come to achieve mainstream acceptance, chitosan market is bound to register a growth influx over the ensuing years.
The production procedure for chitin and chitosan involves use of hydrogen peroxide and high temperatures besides the use of aggressive agents, concentrated solutions of acids and sodium hydroxide. Large volumes of industrial wastewater containing acid and alkali are produced during the chemical treatment of chitin and chitosan. However, the compounds are used across a wide array of industries that include medicine, agriculture, cosmetics and food processing. Considering such applications and the relative eco friendliness of chitosan, extensive research and development is being conducted in the chitosan market to create a product that is not as harmful to the environment.
Recently a research endeavor has succeeded in obtaining low-molecular-weight, water-soluble chitin and chitosan that relies on electron-beam plasma degradation of chitosan in a specialized plasma chemical reactor. The new technique not only has the advantage of being environmentally friendly but also reduces the time needed to produce water-soluble chitosan from several days to minutes. As more investments related to chitosan find their niche in R&D programs, it is imperative that the chitosan market will register a massive growth rate over 2018-2024.
Author Name :Paroma Bhattacharya
The escalating demand for rapid query resolutions & online customer self-service are expected to propel intelligent virtual assistant (IVA) market alongside the path of progress. IVA has undoubtedly, in recent times, improved the users' online service experience as well as offered increased sales to e-commerce firms. Indeed, the product is becoming the preferred medium to gain information, make purchase decisions, and resolve issues. Companies like Microsoft and Google are adopting the technology to improve ease of access and streamline activities, and increasingly implementing the technology as well to enhance operational efficiency. For instance, ABIe, a virtual assistant developed by EIS for Allstate Insurance, efficiently helps agents to answer questions regarding business insurance policies.
Germany IVA market size, by application, 2017 & 2024 (USD Million)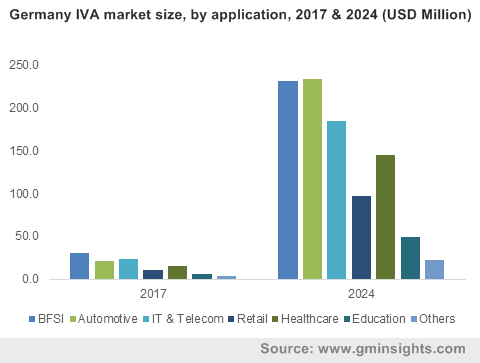 IVA is reportedly becoming more and more commonplace as consumer appetite for the product has been depicting an upsurge. According to an independent survey conducted with 1,500 consumers across Europe, 81% of the respondents said they would prefer interacting with a virtual assistant as it offers enhanced online customer experience. Close to 72% welcomed the product as a key part of every website while a similar proportion claimed that they would spend longer on a website that had one. This response can undeniably be credited to the fact that IVA can take on multiple roles on a website, such as performing various helpful tasks, answering customer queries and connecting to enterprise systems when needed. These features respond according to the marketing requirements of the customers, efficiently improving the site loyalty and experience.
In order to cater to the best plausible global clientele, companies are increasingly investing in IVA to reduce costs from fields such as email response, technical telephonic support, and assistance on call. The implementation of the technology will enable the reduction in the resolution time, call wait times and allowing call transfers when an issue escalates, thereby augmenting IVA market share. The growing deployment of IoT is also expected to supplement the IVA market growth. In fact, IoT is known to have increased the quality and quantity of data being collected by the product. IVAs responding to text or speech queries through apps and smartphones has further enhanced customer engagement, a fact that has further helped impel the IVA industry trends.
Get a Sample Copy of this Report:@ https://www.gminsights.com/request-sample/detail/1094
Speech recognition is one of the most vital technologies proliferating IVA market, as the system efficiently improves productivity, eliminating typing time, giving users additional time to focus on other work. Voice recognition software, in addition to being faster in task completion, are increasingly accurate when it comes to vocabulary. Speech recognition technology also makes invaluable contributions to businesses that offer customer services eventually reducing organizational costs. Furthermore, these systems improve interoperability owing to the adoption of IoT, further driving the IVA market size from speech recognition technology.
The Germany IVA market is expected to depict considerable growth in the years ahead, owing to the product's new-found usage in the region's thriving automotive market. Technological advancements in IVA have resulted in increased adoption of voice control and gesture control features in next-gen vehicles. IVA can now be integrated within vehicle systems such as automatic parking, lane change assist, adaptive cruise control, and other ADAS controls.
Regional automakers are constantly seeking ways to integrate the product in upcoming car segments to revolutionize driving experience. For instance, the German automotive giant, BMW has recently announced that its upcoming car segment would come with Intelligent Personal Assistant. Like Apple's Siri or Amazon Alexa, the new AI-based virtual assistant would reply to voice commands and could adjust the temperature, lighting mood and music, among other things in the car efficiently, claims the company.
North America, apart from Germany, is another region that is forecast to accumulate commendable gains by 2024, driven by the expansive technological advancements in the region. Major software companies, like, Microsoft & IBM, have also been investing in IVA, thereby enhancing the growth prospects for North America IVA market.
The competitive spectrum of intelligent virtual assistant market also comprises other players like Amazon, Google, Microsoft, Apple, Inc., Artificial Solutions, eGain Communications, IBM Corporation, Nuance Communications, and Speaktoit, Inc. These companies are known to increasingly invest in product development and innovation to bring in intelligent assistance into the mainstream. Meanwhile, several tech giant firms are adding the product to their portfolio to gain added sales. For instance, on January 7th, 2019, the world's leading television manufacturers Samsung, LG and Hisense announced that they would open their devices to Google Assistant and Amazon Alexa. As advancements in the fields of automation, machine & deep learning, conversation interfaces, and natural language processing continue to surge, IVA market share is certain to soar in the years to come.
Author Name : Mateen Dalal
Molded Interconnect Devices (MID) market is poised to witness an accelerated growth over the ensuing years, amidst the backdrop of the frequent technological advancements in telecommunication sector. The ability of the device to facilitate miniaturization has largely added to the expansion of its application portfolio in a range of consumer products.
U.S. molded interconnect devices (MID) market size, by end-use, 2017 & 2024 (USD Million)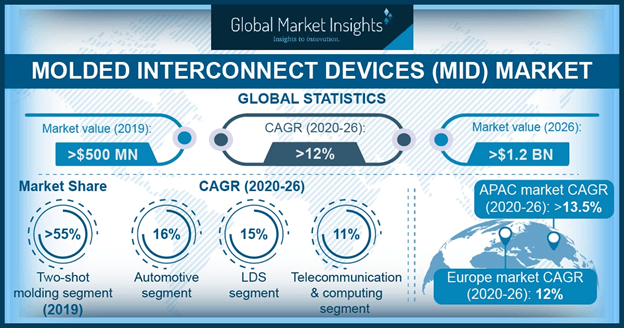 MIDs have gradually become the prime circuitry solution choice in the automotive and electronics industry, owing to its easy assembling, smaller circuitry. and light weight when compared to conventional PCB circuits. It is prudent to mention that the eco-friendly tag that these devices carry is one of the major factors fueling the MID market growth worldwide. These devices reportedly incorporate thermoplastic materials that are recyclable and do not involve hazardous manufacturing processes.
The growth of MID market has been greatly boosted by economies that rely on their manufacturing industry for growth, with the Asian economy – majorly China, South Korea, Japan and Taiwan in the lead.
Below is an outline of molded interconnect devices market trends with regional frame of reference:
Asia-Pacific MID Market Outlook:
Touted as one of the major growth avenues in the MID market, China is estimated to contribute over $155 million to the MID industry by 2024, aided by the increasing demand for MIDs in the consumer electronics sector. China has achieved a rapid growth rate because of its ability to provide cheap labor for manufacturing industries, which has prompted many multinational companies to shift their manufacturing units in the country. The nation has now turned into a global manufacturing hub, with Apple setting one of the most prominent examples of this trend.
The technology company with an expansive product portfolio comprising portable electronic devices that are more compact and reliable is an ideal target consumer for the MID market. China also boasts of other domestic tech companies who have recently began dominating the smartphone market owing to their competitive sleek devices, the One Plus flagship line being an example of this phenomenon. Not to mention, the region being a key automotive manufacturing hub hosting the presence of many international and domestic brands also adds to its strong contendership in the global MID industry fraternity.
Get a Sample Copy of this Report:@ https://www.gminsights.com/request-sample/detail/424
Japan is another prominent nation fueling APAC molded interconnect devices market growth. The region's thriving automobile manufacturing industry is slated to be one of the top-notch regional drivers. With circuitry designed using MID facilitating the incorporation of these cutting-edge technological features, it is overt that APAC will be one of the most lucrative hubs for the MID market expansion. As per reliable estimates, overall APAC MID market is projected to surpass a valuation of USD 400 million by 2024.
Europe MID Market Outlook:
European nations have been renowned for their active participation toward ensuring environmental sustainability trends, making the continent one of the leading players in the MID market expansion. The MID Laser Direct Structuring (LDS) manufacturing process allows MID to be made via a single-shot molding process which is relatively less harsh on the environment than conventional methods.
The continent's expanding vehicle manufacturing sector in tandem with the presence some of the world's major automotive OEMs is expected to boost the Europe MID market share in the coming years. The rapid technological advancements with regard to automotive safety such as seatbelt safety systems and sensor positioning will further provide massive growth opportunities to the MID industry players. The regional demand is slated to record a CAGR of about 10.5% from 2018 to 2024.
Besides the consumer electronics and automotive sectors, one of the most anticipated trends in the MID market remains the contribution of healthcare fraternity to this space. With rapid R&D investments toward healthcare prototyping gaining prominence, the sector is certain to be a profitable end-user for the molded interconnected devices manufacturers. Global Market Insights, Inc. forecasts the healthcare MID industry to record an appreciable double-digit CAGR of 15% over 2018-2024.
Author Name : Akshay Kedari