Hearing Aids
Rising geriatric population and their susceptibility towards hearing loss and deafness disorders will stimulate hearing amplifiers market significantly over the coming years. According to WHO, the population of people with age of 65 and more will increase gradually from 7% in 2000 to 16% in 2050, which will influence notably the industry growth. According to Global Market Insights, Inc., "Worldwide hearing amplifiers market is predicted to grow progressively at a CAGR of 4.8% over the coming years of 2016 to 2023."
Moreover, development of miniature technologically sound devices with less power consumption capability, clear voice, and behind-the-ear hearing will impel the hearing amplifiers industry trends considerably over the coming timeline. Additionally, changing lifestyle and rise in disposable income will surge the demand for audiology devices market size. The high severity level of the deafness will result in huge demand for these devices globally.
U.S. Hearing Amplifiers Market Size, by Product, 2012 – 2023 (USD Million)
On the basis of products, hearing amplifiers industry share is primarily composed of in-the-ear and on-the-ear. On-the-ear hearing amplifiers market dominated the product segment by contributing approximately 70% of the total market share in 2015. On-the-ear hearing amplifiers market is anticipated to register a CAGR of 6.6% over the period of 2016 to 2023, predominantly driven by its growing popularity amongst the patients along with supportive regulatory activities. In addition, latest on-the-ear devices are complemented with novel technological features such as wireless devices, music, and call answering facilities which will further boost the on-the-ear hearing amplifiers industry trends over the coming years.
Get a Sample Copy of this Report:@ https://www.gminsights.com/request-sample/detail/672
In-the-ear hearing amplifiers industry share will exhibit an annual growth rate of 5.2% over the coming six years, owing to the growing technological developments across the non-removable permanent hearing devices. In-ear hearing device generates damaged parts by utilizing stem cells using induction charging instead of batteries.
Geographically, Asia Pacific hearing amplifiers market size will exhibit a dynamic growth rate of 8.7% over the coming years of 2016 to 2023, owing to the rise in patient awareness as well as growing healthcare spending. India and China will be the major revenue pockets for APAC
Europe hearing amplifiers industry share contributed majorly towards the global revenue in 2015 and accounted for USD 24.4 million in the same year. The high occurrence of hearing loss disorders and deafness will influence the Europe market size significantly. Germany and UK will be the major revenue contributor.
The market is oligopolistic with price being the major competitive and product differentiating parameter. Sonova, GN Resound, Widex, William Demant are the major four industry participants accounting for 80% of the total market revenue in 2015. Other prominent players include Soundhawk Corporation, Starkey Hearing Technologies, Focus Ear, and Siemens.
Author Name : Sunil Hebbalkar
Audiology devices market, thriving on the cusp of digital interventions, has witnessed remarkable proceeds over the past decade. Introduction of DSP (Digital Signal Processing) in hearing systems has been heralded with great expectations and acclaim. With better fidelity and improved performance, modern day's digital hearing aids claim to offer greater restoration for a wide range of perplexing auditory deficits. Needless to mention, companies partaking in audiology devices industry are leaving no stone unturned to exploit the maximum potential of this technology. Starkey's recent launch of Muse iQ Rechargeable 900sync™ is an apt evidence of the same.
Germany Audiology Devices Market, By Product, 2013 – 2024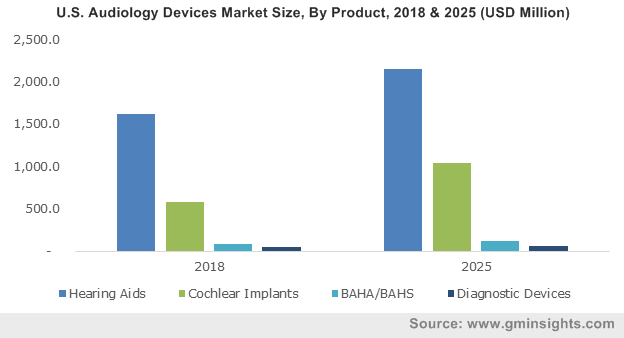 Elaborating further, Muse iQ Rechargeable that has been unveiled by Starkey Hearing Technologies in the beginning of this year is claimed to be world's smartest and smallest hearing aid. Based on the company's flagship Acuity™ OS operating system and award-winning Synergy® platform, this breakthrough hearing aid offers high-definition clarity, sound, and presence. While Starkey's deep-rooted stance in audiology devices industry in not unheard of, bringing market's smallest technology enabled hearing solution is certainly a breakthrough of sorts. As claimed by sources, this groundbreaking technology was launched at Starkey's Hearing Innovation Expo based in Las Vegas.
Get a Sample Copy of this Report:@https://www.gminsights.com/request-sample/detail/426
It is undeniable that hearing aids are the most convenient clinical intervention for hearing deficiencies, subject to which it has procured maximum of the audiology devices industry share in 2016. However, it has been observed that recent technological advancements have led to an increasing deployment of alternative hearing devices. Growing awareness and utilization of cochlear implantation (CI) can be majorly attributed to this fundamental aspect, driven by its cost-effective outcome-based solutions.
It is imperative to mention here that the utilization rate of cochlear implantation in major part of the world is higher for children than geriatric populace. The trend is synonymous for the U.S. audiology devices market where the utilization rate among children having appropriate audiological profile is nearly 50%. Whereas it is less than 5% for the adult profile. When being surveyed on a much larger base of adults than children who suffer from profound hearing loss, it has been observed that cochlear implantation surgeries in the country cover 60% adults and 40% children. Despite the fact that this technology has received FDA approval long back, experts believe dearth of proper awareness campaigns is somewhat hindering its full-fledged optimization in audiology devices market.
Nonetheless, the ongoing research activities is certain to open new doors of opportunities for audiology devices market, through which unconventional hearing device manufacturers seem to garner profits. Add to it, growing geriatric populace vulnerable to hearing deficits is bound to create massive demand for product innovation in the marketplace. In this regard, experts claim, implementation of stringent regulatory norms related to hearing devices will have a significant impact on the product development. In terms of profitability potential, Global Market Insights, Inc. forecasts audiology devices industry size to surpass USD 10 billion by 2024.
Author Name : Satarupa De