Heat Exchanger Market Report
The global heat exchanger market has depicted commendable expansion over the past few years with profound applications in residential and industrial heating and cooling systems. The device can effectively transfer heat between two or more fluids and is widely used in diverse applications like in refrigerators, solar water heaters, space heating systems, in petroleum & chemical plants and more. Thanks to rapid technological advancements in heat exchanger systems, the product's size has scaled down considerably in recent years, allowing its use in critical medical equipment like artificial heart-lung machine and other design specific tools.
U.S. Heat Exchangers Market Size, By Technology, 2018 & 2025 (USD Million)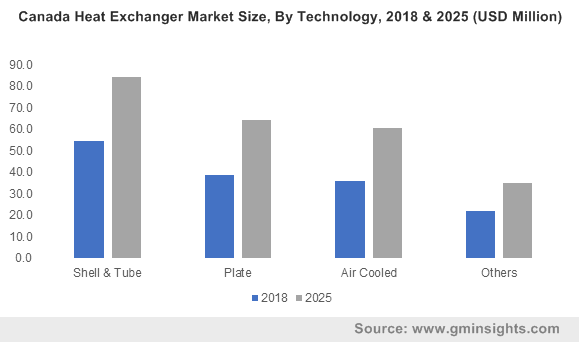 For instance, in March 2019, BPHE (brazed plate heat exchanger) provider, SWEP International unveiled its AsyMatrix BPHE design technology which improves heat transfer while reducing pressure drop and refrigerant charge. The company also attained a breakthrough in compactness with its air dryer incorporated with an integrated separator (ADWIS), one of the smallest air dryers available in the market integrated with a refrigerant heat exchanger. Advancements such as the aforementioned are certain to augment the product adoption over the coming years.
Rising solar water heating system adoption to boost the market growth
The expanding focus on reducing global CO2 emissions whilst cutting cost on electricity bills has led the residential and commercial sectors to adopt solar water heating systems. This zero-emission solution utilizes heat exchangers, usually made of copper due to its great thermal conductivity and higher resistance to corrosion, to transfer absorbed heat in solar collectors to the liquid or air to heat water or a space.
In an urbanized setting, the product adoption is primarily driven by a stringent regulatory landscape that focuses on reducing greenhouse gas emissions and increasing the proportion of renewable energy usage for all energy sources – including solar thermal applications. Reports from the International Energy Agency's Solar Heating & Cooling Programme cite that the Chinese government expects to reach the target of 15% renewable energy consumption of total energy consumption by the end of 2020 – a feat that would entail solar energy applications to be a vital component.
Get a Sample Copy of this Report @ https://www.gminsights.com/request-sample/detail/3169
The proliferating adoption of electric vehicles to curb emissions across the globe has also been a driving factor for the growth of heat exchanger industry in recent years. Nowadays electric vehicles are equipped with liquid cooled plate heat exchangers to improve the battery life of an EV which suffers from premature degradation or aging due to heat generation during charging and discharging periods. The device is also used in cabin cooling systems and for cooling drive motors and electronic components in the electric vehicle.
The rising adoption of electric vehicles owing to their cost-efficient, zero-emission offering has led to upsurge in heat exchanger sales in recent years. Moreover, according to Edison Electric Institute (EEI) reports, renowned automotive giant BMW, Daimler, and Volkswagen have announced plans for EV sales targets in the range of 15%-25% by 2025. The increasing spectrum of commitments from pivotal automakers are certain to augment EV manufacturing, the consequence of which will be felt across the global heat exchanger market.
Speaking of EVs it is pivotal to mention that China is bound to emerge as one of the most lucrative heat exchangers markets worldwide. This can primarily be attributed to the increasing adoption of renewable energy sources and the expansive electric vehicle market in the region. The country is rapidly advancing in terms of EV production, with sales speculated to cross over 2 million in 2019, from 1.1 million in 2018. With rising technological developments incorporated in EVs and myriad government incentives, it is anticipated that EVs will take up a substantial proportion of the market share in China by 2025. With rising urbanization and increasing investments in solar water heater systems, China heat exchanger market is likely to experience a positive growth graph in the coming years.
A pivotal device that transfers heat from one medium to another, heat exchangers have found long-term applications across several industry sectors like automotive, chemical, oil & gas, HVAC and more. The product's widespread application spectrum, especially in the EV sector will certainly push the market growth in the future. Reports from Global Market Insights, Inc., claim that the heat exchangers market size will exceed $13 billion by 2025.
Author Name : Mateen Dalal