Helicopters
The aircraft refueling hose market is registering significant growth in recent times owing to exponential rise in deployment of aircraft fleets worldwide. Increased tourism and spending on business travel has also propelled the aviation sector in the past couple of years.
U.S. Aircraft Refueling Hose Market, By Application, 2018 & 2025, (USD Million)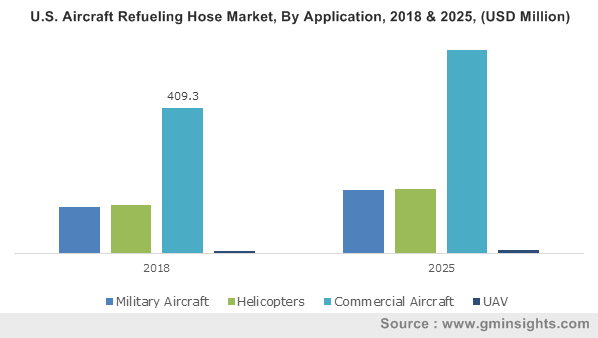 The International Air Transport Association (IATA) claims that the number of trips per person is forecast to increase by 4% – 8% annually for many emerging countries, and is projected to be as high as 10% – 11% per year in India and China. These growing trends necessitate radical infrastructural developments and the need for efficient refueling equipment like aircraft hose.
Aircraft hoses are made with utmost precision whilst keeping in mind the critical nature of their application. They can easily conduct refueling operations on land as well as in air – features that have considerably enhanced its significance in recent years.
Investment in defense infrastructure has offered immense impetus to aircraft refueling hose market. For instance, the U.S. Air Force 2020 budget anticipates an approximate US$165.6 billion investment, a 6% increase from the FY 2019 request, which involves continuing the procurement of F-35As and KC-46As, and initiating the refresh of the F-15 fleet with a new variant. These investments will most likely drive the global aircraft refueling hose industry share.
Get a Sample Copy of this Report:@ https://www.gminsights.com/request-sample/detail/3344
Expansion in commercial airline fleets along with a high-rise demand for lighter airplanes will boost aircraft refueling hose market share. Exponential increase air passenger traffic will positively influence product demand. For instance, IATA claims that, with present trends in air transport, it is likely that passenger numbers will double to 8.2 billion by 2037.
Aircraft major Boeing recently projected that the worldwide need for new airplanes will grow rapidly between 2018 and 2037, during which about 42,730 new airplanes deliveries are expected with a market value of $6.3 trillion. This growth will be increasingly witnessed across Asian countries like China and India and will drive the regional industry. In fact, Boeing claims that China alone is expected to order 6,810 new airplanes worth over $1.025 trillion over the aforementioned period.
Rising efforts by domestic airlines to increase their flight network by adding new, advanced aircrafts will drive the industry share. Expanding aircraft fleets helps to increase the size of the airline's network and will eventually help to boost aircraft refueling hose market trends.
North America aircraft refueling hose market will generate substantial proceeds by 2025 on account of rising demand for military aircrafts along with a considerable increase in defense budget. In a bid to attain improved system performance and efficiency, eminent industry players are developing lightweight and technologically advanced refueling hoses. Global Market Insights, Inc., claims that North America aircraft fueling hose industry size will depict a CAGR of 3% over 2019-2025.
In recent times, new highly advanced aerial refueling tankers are being deployed to conduct refueling operations in air, further contributing toward enhancing operational efficiency and reducing flight downtime. For instance, in 2019, the U.S. Air Force started accepting the first few production copies of Boeing's military aerial refueling aircraft, KC-46. Official reports claim that the Air Force will accept 19 additional KC-46s by the end of August 2019 that would help drive the regional industry share.
The U.S. Navy plans to finalize its MQ-25 drone program by 2019 with an aim to craft drones that could fly off an aircraft carrier and refuel other aircraft mid-flight. Proliferating trends pertaining to drone development and deployment will propel North America aircraft refueling hose market size.
Helicopters are gaining traction in aircraft refueling hose market owing to increasing use of helicopter in-flight refueling (HIFR) systems. In the past decade, the worldwide fleet of civil helicopters has grown by 37.38% to reach 30,895 aircraft, claims the General Aviation Manufacturers Association (GAMA). Increased helicopter usage in O&G industry for getting to offshore oil rigs and conducting rescue operations in remote locations will drive aircraft fueling hose industry size from helicopters .
The global aircraft refueling hose market is driven by rapid deployment of commercial and military aircraft fleets in the aviation sector. Increasing number of air passengers and rising defense budget will augment business growth. Reports from Global Market Insights, Inc., estimate aircraft refueling hose market size to reach USD 2.5 billion by 2025.
Author Name : Mateen Dalal
The commendable expansion of the aviation space can be aptly credited for the significant proceeds that aircraft communication system market has been accumulating in the recent years. According to a study conducted by IATA, the average global citizen now undertakes air travel once every 21 months – a significant increase from the 43-month duration in 2000. Not to mention, military expenditure has also observed a rise lately, with governments setting aside a major portion of the national budget for the defense sector. Driven by surging military spending and the rising number of defense aircraft, aircraft communication system market will inevitably propel over the coming years. In order to remain aligned with the exponential demands of the current consumer base, innovative products are also being introduced in aircraft communication system market.
China Aircraft Communication System Market, By Component, 2018 & 2025, (USD Million)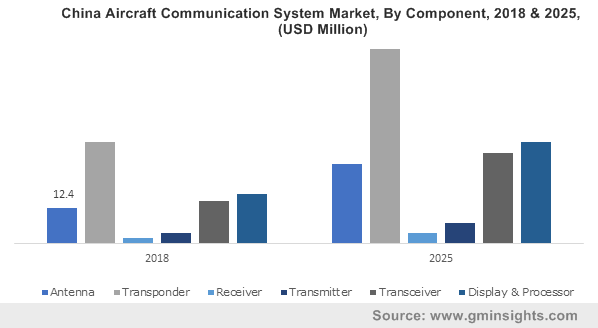 With air travel becoming more affordable, a new generation of jetsetters have come into being, leading to increased air traffic. In consequence, pilots are under tremendous greater pressure to navigate in the congested air space. As the demand for real-time satellite access and air traffic data to undertake rapid decisions increases, aircraft communication system market is likely to receive commendable momentum. For instance, the EU has adopted the SANDRA project that integrates different plane communication systems in a single system. This unit facilitates faster data connectivity and replaces banks of radio hardware with state-of-the-art software systems. Thus, data like weather conditions and air traffic situation that used to be verbally communicated earlier, can now be accessed by pilots in real time through flight computers.
A single system based on IP technology, SANDRA is capable of transmitting data through multiple data links. It can also transmit data to the ground via digital and high-speed satellite, providing communication to the aircrafts in a seamless manner. Indeed, the system has increased aircraft safety owing to the reliable and quick communication between the aircraft and control tower. In consequence, this seems to have encouraged aircraft communication system industry players to advance their capabilities and bring about highly innovative products.
Get a Sample Copy of this Report @ https://www.gminsights.com/request-sample/detail/2329
Speaking of which, SATCOM, one of the pivotal products in aircraft communication system market, has proved itself to be rather crucial in air traffic management. Its increased deployment in military aircrafts is likely to upscale its demand, thereby stimulating aircraft communication system market size from SATCOM.
One of chief drivers for the aircraft communication system market is the exponential growth of the commercial aircraft industry. Considering an instance of Airbus, one of the pioneers of the aerospace industry, the firm has set its goal of tripling its revenues within the next seven years to enable its commercial aircraft business reach $10 billion. It also plans to target measures worth $555 million in 2018 to improve productivity. Furthermore, in the year 2018, Airbus commercial aircraft deliveries rose to 800 – an 11% surge compared to 2017.
Powered by substantially large investments in place, in conjunction with the escalating adoption of low-cost carriers and enhanced regional connectivity, global aircraft communication system industry is likely to accrue massive ROI from the commercial air carrier segment.
With cutting edge innovations being brought forth rapidly in aircraft communication system market, it is rather overt that this business space would thrive commendably in the ensuing years. NASA has recently developed The Aircraft Access to System Wide Information Management that is capable of replacing the underground cables airport communication system with wireless communication. This is one of the instances of high-grade technological advancements prevalent in aircraft communication system industry. As per reliable estimates, aircraft communication system market size is anticipated to cross USD 2.9 billion by 2025.
Author Name : Paroma Bhattacharya
In the recent years, global aerospace insulation market has been witnessing an exponential growth owing to the surging demand for light weight aircrafts equipped with lower thermal conductivity and enhanced safety. As per the recently published estimates of the International Air Transport Association (IATA), the worldwide demand for air travel incremented by 7.2 percent in October 2017 and the airline capacity increased by 6.2 per cent. To add to it, the foremost trade organization, representing some 275 airlines of the world, has predicted that the global airlines industry is set to garner a record profit in the year 2018, courtesy the recent upswing in developed economies and the burgeoning tourism sector, which would eventually contribute immensely to aerospace insulation market.
U.S. Aerospace Insulation Market, By Product, 2017 & 2024, (Tons)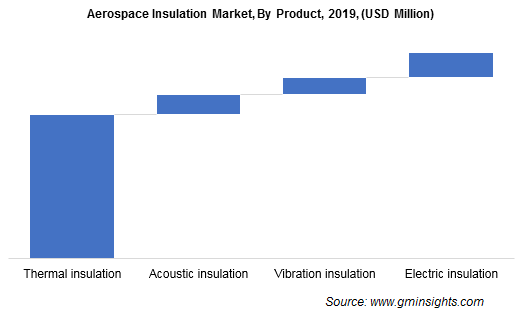 Apparently, the rapid escalation in air passenger traffic has compelled the aerospace regulating authorities across various nations to prescribe stringent laws regarding the utilization of insulating materials by aircraft manufacturers to enhance the operational safety of the aircrafts. Consequentially, it goes without saying that the aforementioned factors are bound to impel the overall aerospace insulation industry over the forthcoming years.
Ceramics to emerge as a robust investment hub for aerospace insulation market contenders:
Concurrently, while contemplating upon the growth trajectory of aerospace insulation industry, which held a total remuneration in excess of 3 billion in the year 2017, it is rather imperative to cite the significance of insulating materials utilized in this business space. The insulating products utilized across various types of aircrafts include mineral wool, foamed plastics, fiber glass, and ceramic materials. Out of these, ceramics are anticipated to emerge as the most popularly used material, courtesy their high tensile strength, steep melting temperature, and impressive chemical inertness.
Get a Sample Copy of this Report:@ https://www.gminsights.com/request-sample/detail/2084
According to estimates, ceramics are expected to account for more than 50% of the overall aerospace insulation market share by 2024. Elaborating further, this material has been witnessing remarkable research activities of late. With humongous resources being poured in the research and development of advanced ceramics, there's no denying the impact ceramics would have on the aviation, space exploration, commercial, and defense sectors, which would further accentuate the growth prospects of global aerospace insulation industry. Following are a few instances that underline the prominence of ceramics in the overall aerospace insulation industry space:
As per recent news reports, researchers from Harbin Institute of Technology, Lanzhou University and Purdue University in collaboration with the U.S. Air Force Research Laboratory, have cited the development of a new flame resistant, light weight, and ultra-elastic ceramic material which blends the nanolayers of aluminum oxide (a ceramic) with graphene. The latest ceramic, being called as "metamaterial", is said to consist of an innovative honeycomb microstructure that equips the material to combine high tensile strength with enhanced thermal insulation and electrical conductivity, remnant of extensive applications that would impel the aerospace insulation industry share over the forthcoming years.
Citing another instance, scientists of Tsinghua University, China and Brown University, Rhode Island have jointly developed a new ceramic material which is said to possess an exceptional capability to rebound back to its original form after compressing up to 50 percent. Furthermore, the latest ceramic can endure a high amount of temperature which makes it an ideal alternative to be utilized as a heat-resistant and flexible insulating material in aerospace insulation industry.
Speaking of the regional growth potential of aerospace insulation market size, Asia Pacific region is set to emerge as one of the most lucrative spaces owing to the rising demand for commercial aircrafts in countries like India, China, and Thailand. In addition, various governments of the region are strengthening R&D efforts by investing heavily in defense aviation sector. To cite an instance, the Indian government is estimated to invest approximately USD 35 billion in the upcoming few decades, as it attempts to fortify its military aviation might.
All in all, these global trends coupled with the exponential increase in the number of commercial aircrafts are certain to provide a slew of commercialization opportunities to the global aerospace insulation industry. According to a research report collated by Global Market Insights, Inc., aerospace insulation market is forecast to exceed USD 5 billion by 2024.
Author Name : Saif Ali Bepari
The robust expansion across global aviation sector can be aptly credited for the growth of aerospace maintenance chemical market. Given the extensive requirement of rigorous maintenance in commercial, military, and business aircrafts, companies have been going the whole hog to brainstorm unique chemicals that would ease the aircraft maintenance process. As the aviation sector witnesses extensive growth and the demand for maintenance, repair and overhauling of aircrafts increases with the rising volume of airline traffic, aerospace maintenance chemical industry outlook is likely to observe a dynamic transformation in the years ahead.
U.S. Aerospace Maintenance Chemicals Market, By Aircraft, 2016 & 2024, (USD Million)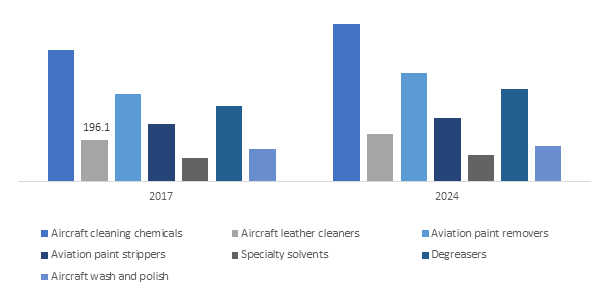 As per estimates, aerospace maintenance chemical market size stood at a modest USD 7 billion in 2017. However, increased global connectivity through airlines has raised the frequency of air travel – a trend has provided an impetus to the travel and tourism sector. Thus, with the growth of the aerospace domain, aircraft maintenance has emerged as a niche vertical, essentially propelling aerospace maintenance chemicals market.
This business space encompasses numerous products along the likes of aircraft leather cleaners, specialty solvents, aircraft cleaning chemicals, degreasers, aviation paint strippers, etc. Aircraft cleaning chemicals among these is estimated to be a major contributor toward aerospace maintenance chemical market share, given their massive demand for thoroughly disinfecting and cleaning aircrafts. Aircraft cleaning service providers are required to deal with problems like limited service time due to enhanced flight frequencies, strictly abiding by ground time schedules and errant weather conditions. In consequence, these cleaning service providers prefer aerospace maintenance chemicals that are highly efficient and can perform better in lesser amount of time, which would undeniably propel aerospace maintenance chemicals industry outlook.
Aviation paint removers also have a considerable role to play in the growth of the aerospace maintenance chemical market. It is prudent to mention that aircraft paint is removed and repainted every 5 to 6 years for elongating the shelf life of aircrafts as well as to make them more appealing. Indeed, this is certain to massively propel aerospace maintenance chemical industry size from aviation paint removers, slated to register a 3.7% CAGR over 2018-2024. The advancement of laser coating remover technology, in which an essentially gigantic robot is used to remove paint from aircrafts, will also contribute substantially to the progress of the aerospace maintenance chemicals industry.
Theoretically, aerospace maintenance chemicals can either be organic or inorganic in nature. The former is slated to account for 60% of the overall aerospace maintenance chemical market share by 2024, given that they are rather labor friendly and suitably viscous in nature. However, price competitiveness of inorganic aerospace maintenance chemical along with their easy product compatibility and availability as per customization will also make consumers lean toward these products propelling inorganic aerospace maintenance chemical industry outlook.
Get a Sample Copy of this Report:@ https://www.gminsights.com/request-sample/detail/2105
The more an aircraft is used, the more maintenance it requires. Commercial flights, the most commonly deployed flights, would thus demand the maximum utilization of maintenance products, thereby, directly stimulating the growth of the aerospace maintenance chemical market. Statistics in fact, claim that commercial flights account for 45% of the overall aerospace maintenance chemicals market share and would grow rapidly over 2018-2024. This growth can be credited to the fact that these flights make the highest number of trips and are faced with not only the largest amount of wear and tear but also necessitate robust interior cleaning and maintenance, degreasing, paint removal and application.
Commercial aviation is also one of those industries that has been depicting an irregular demand-supply graph. Commercial aircraft manufacturers such as Boeing and Airbus have also been working to enhance their manufacturing capacity, fueling the need for highly efficient commercial planes. Boeing in fact, recently in 2018, planned to increase the production of Boeing-747 by 52 aircrafts per month to cover up for the recorded backlog of 4,656 aircrafts.
The vast expanse of the aerospace industry in North America, especially in the U.S. and the formidable fleet of aircrafts that the U.S. military and defense sector encompasses, will provide a major push to North America aerospace maintenance chemical market. In fact, as per estimates, North America industry size stood at USD 2 billion in 2017, and is expected to register a CAGR of 2.5% over 2018-2024.
Reduced air travel costs, better air connectivity, greater affordability among the populace of the emerging economies and the rising popularity of the tourism sector have been the driving forces behind the growth of aerospace maintenance chemical industry in the last few decades. With greater demand for air travel, stringent governmental regulations have been placed on the importance of aircraft maintenance. For instance, the Federal Aviation Administration (FAA) and European Aviation Safety Agency (EASA) are now making extensive modifications in maintenance procedures. Driven by government-led initiatives and increasing air travel popularity, the revenue graph of aerospace maintenance chemical market would traverse a highly profitable growth path over 2018-2024.
Author Name : Paroma Bhattacharya
One of most profound factors driving the growth of India aerospace & defense market is the extensive number of initiatives undertaken by the Indian government. The government's decision taken a few years before, for instance, to increase the FDI limit from 26% to 49% in the defense sector, is remnant of the fact that India aerospace & defense market represents a vital sector in the national landscape. The raise in the FDI limit had apparently permitted foreign institutional investors, venture capital organizations, and foreign portfolio investors to make maximum capital investments up to 24% in defense firms thereon. With the ample availability of a highly-skilled workforce and the 'Make in India' initiative gaining greater prominence across the country, Indian firms are expected to play a vital role in the aerospace & defense value chain comprising research & development, training, production, quality control, and maintenance, which would further transform India aerospace & defense industry outlook.
India aerospace & defense market size, by air solution, 2016 & 2024 (USD Million)

India procures nearly 70% of its defense supplies via imports, through which the country has earned the tag of being one of the largest importers of aerospace & defense equipment across the globe. The remainder of the 30% of defense equipment is supplied by the private sector, the Ordnance Factory Board (OFB), and the Defense Public Sector Undertakings (DPSU). A substantial number of components for the defense materials are also procured from the overseas. The Indian government has been undertaking tremendous efforts to overcome this drawback through its 'Make in India' Program, which may certainly have a remarkable impact on India aerospace & defense market trends in the ensuing years.
Get a Sample Copy of this Report@ https://www.gminsights.com/request-sample/detail/2113
In a recent move that has been anticipated to spur India aerospace & defense industry share, Sika Interplant Systems Limited, a Bangalore-based engineering firm providing services to marine, aerospace, and automotive sectors, has formed a joint venture with a UK-based aviation & aerospace giant, Aerotek Aviation Engineering Limited, in India. The strategic partnership is a part of 'Make in India' initiative and will offer services such as production and MRO (maintenance, repair, and overhaul) of landing gears for airplanes and helicopters.  A recent unveiling of new aerospace & defense component manufacturing facility by Nucon Aerospace, a key participant across marine, ground & aerospace sector, in Hyderabad is also expected to provide a boost to the 'Make in India' program, which would ultimately stimulate India aerospace & defense market size.
Aerospace & defense equipment are extensively used by the Indian military, navy, and the air force.  Thus, the large -scale production of aircrafts, communication equipment, helicopters, and missiles in the country have contributed significantly toward augmenting India aerospace & defense market revenue. In addition, the escalating need for increasing the aircraft fleet size with the inclusion of supporting aircrafts such as rescue, emergency & repair, and medic aircrafts have been forecast to impel the business landscape.
Major firms such as Bharat Dynamics Limited, Tata Advanced Systems Limited, Hindustan Aeronautics Limited, Lockheed Martin, BAE Systems AB, and Tata Power Strategic Engineering Division have been attempting to innovate numerous equipment, in a bid to substantially augment India aerospace & defense market share. Aided by substantial government support, India aerospace & defense industry size has been forecast to surpass USD 23 billion by 2024.
Author Name : Dhananjay Punekar