HEPA
Owing to the deteriorating air quality and the need to maintain constant indoor temperatures, the HVAC filters market has recorded a steady growth over the past decade, a trend that is expected to continue over 2018-2024. According to data provided by the Air-Conditioning, Heating, and Refrigeration Institute (AHRI) of the U.S., in 2018 air conditioning and heat pump unit shipments got closest to number of unit shipments in 2005 which was a record setting year for the HVAC industry. In 2018, combined shipment of heat pumps and air conditioning units surpasses 5.5 million which is a 6.5% rise when compared to the same period of time in 2017. Considering that the sale of HVAC systems is attaining levels recorded in the pre-recession period as employment rate as well as consumer confidence rise, it is anticipated that the HVAC filters market will also record profitable returns by 2025.
Germany HVAC Filters Market Size, By Product, 2017 & 2024, (Million Units)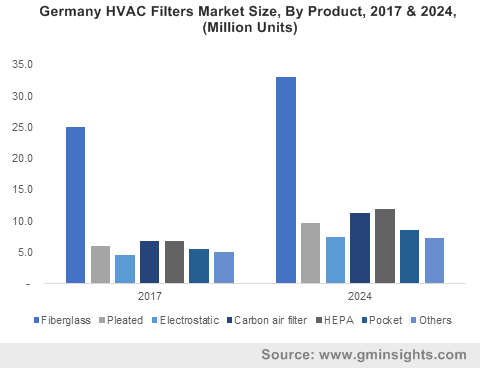 Advancement in the HVAC technology has contributed to the increase of HVAC system installation and the subsequent growth of the HVAC filters market. With legislation being put into place that will make the replacement of older and less energy efficient HVAC models possible, it is rather overt that HVAC filters market will register a significant boost.
For instance, HVAC energy intensive systems in any building are typically responsible for 30% to 40% of energy usage in college campuses and healthcare facilities. In commercial buildings on an average 48% of the water consumption can be attributed to HVAC systems which use water for cooling purposes. In such cases, if the HVAC system is not energy efficient then massive losses of energy not to mention higher energy bills will be rather commonplace.
Get a Sample Copy of this Report:@ https://www.gminsights.com/request-sample/detail/2525
Therefore, most organizations as well as energy intensive manufacturing units need HVAC system optimization to reach their targeted energy savings. To maximize HVAC system performance, not only are new systems being installed but HVAC filters in older systems are regularly upgraded and changed, adding impetus to the HVAC filters market.
The current burgeoning economic growth is also playing its part in the growth of the HVAC filters market. Not only countries with established economies but consumers in countries with emerging economies are becoming increasingly aware of the ill effects of airborne microorganisms, pollens, dust and fumes. With increasing disposable incomes, consumers are now able to afford residential HVAC systems not only for air filtration but also for maintaining comfortable indoor temperature and moisture. As the economy is recovering many consumers are opting to replace their older HVAC systems with completely new ones than going for repairs. The HVAC filters market is thus witnessing increased traction across numerous geographies.
Experts also advice periodical cleaning and replacement of filters in the current HVAC system whether in commercial or residential buildings as clogged filters can make the whole HVAC system energy inefficient not to mention defeats the purpose of having HVAC systems meant for air filtration. Dirty filters can have negative effect on health as they not only fail to filter the air but also circulate dust, dander and mold through the space which can increase symptoms of allergies and asthma. Moreover, dirty filters can raise the cost of HVAC system maintenance and eventually shorten the lifespan of the entire system. Propagation about HVAC filter maintenance had led to increased changing of filters which has again added a notable boost to the HVAC filters market.
Technological developments in the field of HVAC systems will set the precedent for the growth of the HVAC filters market. As more HVAC systems are becoming smarter with building managers being able to operate HVAC systems with smartphone apps and single control point, it is becoming easier to keep track of HVAC filter maintenance, which for the best performance are supposed to be replaced every two to three months. Thus, with the greater installation and better maintenance of HVAC systems to receive optimum results, the HVAC filters market size will soar high by 2025.
Author Name : Paroma Bhattacharya
Therapeutic respiratory devices market is on the rise due to the growing prevalence of respiratory diseases such as asthma and chronic obtrusive pulmonary diseases (COPD). COPD is one of the leading causes of demises globally. Rising geriatric population, growing adoption of advanced therapeutic devices, and continuous surge in COPD patients due to increasing pollution level and cigarette smoking are the key factors propelling the therapeutic respiratory devices industry share. According to Global Market Insights, Inc., "Therapeutic Respiratory Devices Market size worth USD 8.5 billion in 2015, is estimated to grow at a CAGR of 11.7% over the period of 2016-2024."  These devices are used in the treatment of range of diseases including obstructive sleep apnea, asthma, cystic fibrosis, respiratory distress syndrome, chronic obstructive pulmonary disease, and pneumonia.
Spain therapeutic respiratory devices market size, by product 2012—2024 (USD Million)
Japan has the largest geriatric population, owing to which Japan therapeutic respiratory devices industry is projected to exceed USD 2 billion by 2024, having had a revenue of USD 750 million in 2015. Moreover, growing health awareness and expansion in healthcare industry will drive the regional growth. Brazil therapeutic respiratory devices market is anticipated to register a CAGR of 13% over the period of 2016-2024.
Get a Sample Copy of this Report:@ https://www.gminsights.com/request-sample/detail/696
The global therapeutic respiratory devices market is segmented on the basis of products, filters and technology. Growing adoption of therapeutic products and filters such as Nebulizers, Gas Analyzers, Capnographs, Humidifiers, Oxygen Concentrators and PAP devices will spur therapeutic respiratory devices market growth. Oxygen concentrators is anticipated to grow at a rate of 12.4% CAGR over the period of 2016-2024, owing to improved healthcare services and growing awareness in low-income regions. Pneumatic Nebulizers Market size was worth over USD 1 billion and accounted for 13% therapeutic respiratory devices industry share. Moreover, positive airway pressure (PAP) devices accounted for over 55% of overall industry share in 2015. The humidifier filters are widely used in hospitals, home, schools, and healthcare entities and is anticipated to grow at a rate of 12.5% over the period of 2016-2024.
The introduction of technological innovations such as Electrostatic Filtration, Microsphere Separation, Hollow Fiber Filtration, and HEPA filter technology are expected to serve as future growth opportunities for therapeutic respiratory devices market. Electrostatic filtration revenue is projected to witness over 11.5% CAGR over the period of 2016-2024, owing to its wide acceptance and easy maintenance. Moreover, HEPA filter technology accounted for 35% of therapeutic respiratory devices market share in 2015 due to its effective air filtration technique and wide span of applications.
Geographically, North America accounted for the largest industry share, and was pegged at USD 3 billion in 2015. US therapeutic respiratory devices market share is anticipated to witness a CAGR of 10.8% over the period of 2016-2024, owing to large pool of COPD patients and promising regulatory scenario.
Over the coming years, therapeutic respiratory devices industry players will adopt business strategies such as mergers, collaborations & strategic alliances, and R&D investments, focused on expanding their product portfolio. Key companies include GE Healthcare, CareFusion, Covidien, Invacare, Smiths Medical, Philips Healthcare, etc.
Author Name : Ojaswita Kutepatil
Global pleated filters market is anticipated to witness a remunerative growth trend owing to the rising urbanization and industrialization, which are accelerating the demand for filtration products.Moreover, increasing awareness to reduce air pollution and minimize air borne diseases and for retaining good air quality will further encourage product demand. Occupational safety conditions, which are increasingly becoming more stringent, are growing the need for an environment in the industrial sector that is free from contamination.
The product helps in eliminating and filtering fine contaminants and particles. Stringent health and safety guidelines to ensure employee safety would further promote the market demand of pleated filters.
According to research report by Global Market Insights, Inc., global Pleated Filters Market is estimated to surpass $19 billion by 2026.
Oil based filters are mostly used to protect engine from contaminants such as sand, metal bits, and carbon, by suspending them. It plays a key role in preventing early wear in the engine. The oil filter cleanses the oil since it passes through the filtering media or filter element.
Get a Free Sample Copy of this Report @ https://www.gminsights.com/request-sample/detail/161
Furthermore, the product also protects oils from dirt and solid particles which includes carbon deposits, dust, soot particles, and abraded metal. Rising product demand for maintaining the efficiency of engine will further have a positive influence on market growth.
The market from commercial application segment is anticipated to witness growth of over 6% by 2026 owing to increasing number of supermarkets and retail stores. The product is installed in office buildings and commercial spaces to reduce indoor pollutants.
Moreover, it helps filter possible allergens that may affect human immune system. Increasing construction of office buildings and commercial spaces owing to growing consumer demand as well as employment opportunities would further stimulate the market growth of pleated filters.
As per market analysis, manufacturers are involved in strategic expansion initiatives which includes partnerships, research and development activities, and acquisitions so as to improve their market share as well as compete with other prominent players.
Citing an example, Camfil and Salvador Escoda, back in June 2018, signed a deal to offer quality Camfil products from industrial air cleaners, filter segment, and segment of air pollution control through supply stores. Salvador Escoda is a Spanish based distribution company. This will in turn help the firm to grow its regional presence. The above factors would thereby have a positive influence on market growth.
From a regional frame of reference, the market of pleated filters in North America is projected to foresee growth of nearly 4.0% by 2026. Strict norms and regulations issued by numerous organizations which includes EPA concerning the emission of pollutants as well as hazardous substances will increase the demand for pollution controlling equipment thereby fueling the market growth.
The competitive landscape of pleated filters market includes companies like Denso Corporation, Spectrum Filtration Pvt. Ltd, Absolent Group, Filtration Group, Donaldson Company, Camfil, Koch Filter, Honeywell, and Clarcor, Inc among others.
Author Name : Nandita Bhardwaj