HFC
Global fluorochemicals market is one of the most opportunistic yet debatable business spheres of recent times. The trend is driven by the product being a subject of questions by regulatory authorities on grounds of its environmental viability.  The United States EPA is taking significant measures to limit four PFASs (poly and perfluorinated alkyl compounds) that are responsible for contaminating drinking water in at least twenty states across the nation. The move marks a remarkable influence of the regulatory framework in swaying the fluorochemicals industry trends.
U.S. Fluorochemicals Market Size, By Product, 2017 & 2024, (Kilo Tons)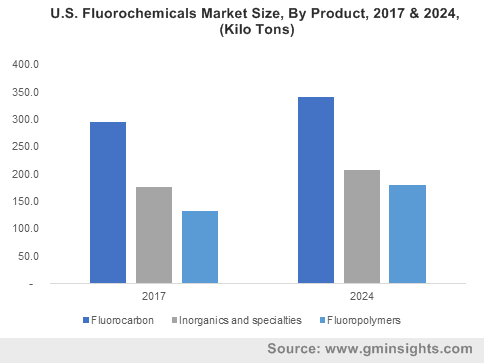 A major shift in the competitive landscape of fluorochemicals market is underway with  renowned biggies joining forces to come up with solutions that are in sync with the sustainability trends. Chemours' strategic tie up with Arkema bears a testimony to the aforementioned declaration. Reportedly, the American fluorochemical industry giant has signed an agreement with Arkema for distributing XP40 in the European Union to address the growing GWP (global warming potential) refrigerants demand under the F-gas regulation. Not to mention, refrigerant applications contribute a chunk to the global fluorochemicals market share and is anticipated to exceed USD 30 billion by 2024.
For the record, Opteon™ XP40 by the Chemours Company is presently the most preferred choice among retailers, contractors, supermarkets, and distributors across the European belt, on account of its improved performance and sustainable environmental footprint. In fact, statistics depict that XP40 features nearly 65% reduction in GWP as compared to its contemporaries. With this agreement, the company is planning to expand the access of this breakthrough product across Europe fluorochemicals industry, which is expected to register 3% CAGR over 2018-2024.
Get a Sample Copy of this Report@ https://www.gminsights.com/request-sample/detail/153
The growth spectrum of fluorochemicals market can also be credited to a rich product landscape comprising fluoropolymers, fluorocarbons, and inorganics & specialties. Grounding on estimation put forth by Global Market Insights, Inc., that claims fluoropolymers market size to reach USD 9 billion by 2024, it would not be incorrect to state that fluorochemicals market is set to gain tremendous remuneration opportunities from this vertical. Endowed with a barrage of unique features like high base resistance, non-adhesiveness, and superior electric properties, fluoropolymer applications span across semiconductor, aircraft, automotive, and domestic sectors.
It is imperative to mention that global fluorochemicals market has been experiencing a flux since a while now. High price trends of fluorocarbons subject to its phase out polices in parallel to its increased demand is somewhat creating a disproportion in the supply demand curve. In tandem, the dominance of stringent regulatory structure and the subsequent high compliance cost is also influencing the competitive terrain. In the face of this relentless regulatory pressure, established fluorochemicals industry giants, it has been observed, have been striving hard to bring technological advancements in the manufacturing processes with mergers & acquisitions as one of the most prevalent growth tactics.
The global fraternity is anticipated to record lucrative proceeds in emerging economies in the ensuing years, backed by the massive expansion of automotive and construction sectors. In fact, APAC, driven by India and China is projected to exceed a demand of 2.5 million tons by 2024. India alone is expected to surpass a revenue of USD 3 billion by 2024, with proliferating automotive and aluminum production bagging the growth credits.  All in all, with a rich product and application spectrum, the worldwide fluorochemicals market size is expected to register phenomenal growth in the coming years, surpassing a revenue of USD 70 billion by 2024.
Author Name : Satarupa De