High-Barrier Pouches Market Update
Bemis winning an FPA Award for its Lidocare pouch is one of the precedents highlighting the significance of innovation in high-barrier pouches market. Elaborating further, Bemis Company, Inc., one of the prominent players of high-barrier pouches market, had recently come up with a unique pouch manufactured with the help of the PerfecPharm™ P616, incorporated with the Bemis® CXB™ sealant. The product, endowed with high-barrier properties, has been deployed for the packaging of the Lidocare Pain Relief Patches, which requires highly efficient packaging for protection. Amidst the backdrop of a scenario where companies have been striving to innovate packaging products for various verticals such as pharmaceuticals, F&B, and home care, Bemis's product comes forth as a breath of fresh air. The fact that the product has proved itself to be liable enough for an award, is likely to further encourage companies partaking in high-barrier pouches industry share to come up with a unique range of packaging pouches. By extension, any further prospective moves are expected to have an impact on the profitability landscape of high-barrier pouches market, the revenue of which was pegged at USD 1.5 billion in 2016.
U.S. High-Barrier Pouches Market, By Product, 2013-2024, (Kilo Tons)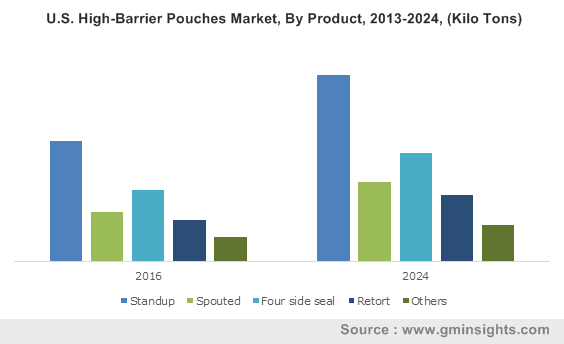 The latest trend proliferating high-barrier pouches industry is that of recyclability. Berry Plastics for instance, recently launched the Entour™ – a all-new product line of standup packaging solutions that are endowed with all the performance and operational capabilities of conventional laminated pouches and can be easily recycled. The pouches are apparently inclusive of three very diverse performance-related functionalities – moisture barrier, non-barrier, and moisture/oxygen barrier. In addition to being endowed with outstanding barrier properties, these pouches can be used for the packaging of a myriad range of food products such as granola bars, snacks, pasta, confectionary, pasta, baking mixes, and numerous other baked goodies. Manufactured from blown-film coextruded substrates and boasting of nine-layered protection, Entour is likely to have a dynamic impact on the product landscape of high-barrier pouches market share.
Berry Plastics' brainchild is also remnant of the fact that stand-up pouches are massively penetrating the packaging sector, driven by their light weight, aesthetic shelf look, and excellent flexibility. Speaking along similar lines, it is prudent to mention that high-barrier pouches industry size from standup products was worth more than USD 650 million in 2016, driven by the fact that these pouches are rather easy to handle, can stand upright, and require reduced sterilization time. These properties make it rather convenient for these products to be used across the snack food and pet food packaging sectors. Augmented by its characteristics of enhanced shelf appearance, energy efficiency, and high graded taste and nutrition preservation value, high-barrier pouches market share from standup products is expected to cross the billion-dollar mark by 2024.
Get a Sample Copy of this Report:@ https://www.gminsights.com/request-sample/detail/1877
Standup pouches also boast of a couple of other advantages such as excellent strength and durability and superior carbon footprint, owing to which it is likely to replace conventional packaging solutions, especially for juice and beverage packaging. Juice drinks in fact, are forecast to emerge as one of fastest-growing segments in the ensuing years, subject to changing consumer dietary preferences for a healthy lifestyle. By extension, this would prove to be rather beneficial for high-barrier pouches market, as the demand for standup pouches and other products with value-added characteristics such as handles and sliders would observe an exponential rise, subsequently impelling high-barrier pouches industry trends.
One of pivotal factors responsible for the robust growth of high-barrier pouches market size is the widespread application landscape. Practically every business sphere ranging from F&B and pet care to pharmaceuticals and personal grooming depict the requirement of highly efficient packaging. The noteworthy growth rate of the aforementioned verticals will open up lucrative avenues for the deployment of packaging pouches, thereby fueling high-barrier pouches industry trends. It is prudent to mention that this business will also be influenced by numerous M&As and JVs undertaken by the players of high-barrier pouches market. Driven by the rising inclination toward packaged food products and the mammoth product demand across myriad spheres, high-barrier pouches market size is estimated to cross 650 kilo tons by 2024, in terms of volume.
Author Name : Saipriya Iyer