high density polyethylene
Owing to a rising demand for numerous plastic products during construction activities, Asia Pacific rotomoulding powder market has gained immense traction in recent years. Products made from rotational moulding process, also known as rotomoulding, encompass a wide range of applications including storage tanks in residential, agricultural and commercial sectors as well as industrial equipment.
Asia Pacific Rotomoulding Powder Market, By Material, 2017 & 2024 (USD Million)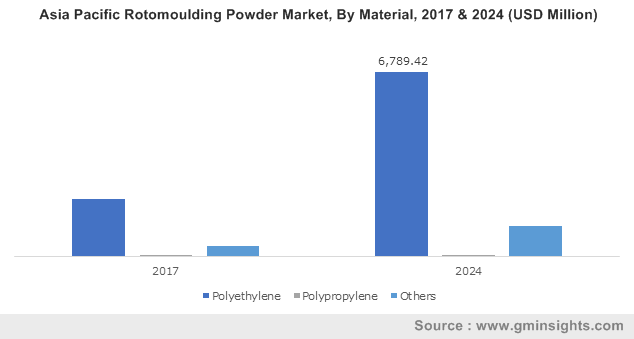 Foreseeing an increased demand for rotomoulded products, rotomoulding powder manufacturers are offering a variety of polyethylene and polypropylene materials to meet the demand for high-quality plastic parts and equipment.
With a slew of material suppliers and molders present across Asia Pacific, the region continues to drive the development of cutting-edge technology for producing various aesthetic and industrial products. Realization among manufacturers that novel eco-friendly materials can now be produced has created new opportunities for APAC rotomoulding power industry.
A prominent study reveals that currently, major industries in APAC are heavily dependent on Polyethylene (PE) composites and most of the rotomoulded products are made from this material, as it is an easily mouldable, versatile, and readily available polymer which can help deliver a variety of styles, colors, and surface finishes.
Growing infrastructure spending in emerging economies of Asia is expected to boost the consumption of rotomoulded products. Nowadays, many developers are broadly using components made from PE that are designed to minimize the environmental impact of plastics on the planet by deploying them in wall coverings, window & door frames, water proofing, and flooring, enhancing the scope of APAC rotomoulding powder market.
Get a Sample Copy of this Report:@ https://www.gminsights.com/request-sample/detail/3341
Modern flooring has already become the latest trend among infrastructure players, with stylish homes and workplace décor representing an image of high living standards. For high quality flooring, protection from moisture is vital because floors inside the buildings are usually covered with tiles and carpet, where penetration of water vapor through concrete slabs could lead to the failure of adhesive in tiling, staining of flooring products and fungal growth. Due to its durability, chemical resistance and load rating properties, PE is widely being accepted among rotomoulding powder manufacturers to meet different flooring needs.
Plastic industry is one of the fastest growing segments in India and PE is the most largely used plastic material by Indian companies, which accounts 43% of total consumption and indicates considerable potential for APAC rotomoulding powder market in the future. PE floorings are also being offered for outdoor tile applications to improve the aesthetic appeal of commercial and residential surroundings. APAC rotomoulding powder market is poised to register remarkable proceeds from augmented construction of housing complexes and industrial or IT parks in developing nations.
Waterproofing of the concrete structures has always been a challenging task and for simplifying the job, they are focusing more on quality of concrete and subsequent proofing solutions that play a vital role in the durability of a structure. Waterproofing a structure may account for only 2% to 3% of the overall building expenditure, but defects arising out of waterproofing failures could lead to nearly 80% of a structure's  defects. Growing need for PE waterproof membranes across emerging economies will reinforce APAC rotomoulding powder industry, with players coming up with a variety of options that not only improve aesthetics but are also environment-friendly in nature.
A large number of chemical companies have extensive operations throughout Asia-Pacific, endorsing the necessity of chemical-resistant plastic frames for industrial structures. Increasing demand for these materials will undoubtedly expand APAC rotomoulding powder market share in developing countries.
Plastic is considered as one of the best suited materials for window and door frames since it is extremely impact resistant as well as impervious to water and corrosion. It is largely deployed in the food industry for professional kitchens and other humid environments. APAC is home to several countries which experience harsh weather conditions and heavy rains are witnessed across the region, which escalate the demand for corrosion resistant door and window frames. Need for suitable plastic materials like uPVC for these products will fuel APAC rotomoulding powder market growth.
APAC rotomoulding powder industry has recently witnessed a rapid adoption in low and medium-income nations in the continent, generating considerable revenues from a host of vital applications. In fact, reports estimate that Asia Pacific rotomoulding powder market will exceed annual valuation of USD 7 billion by 2024.
Author Name : Deeksha Pant
Rising demand for strong and durable plastic products across a slew of industry verticals has helped augment rotomoulding powder market, given that the rotomoulding process enables the production of efficient and high stress-bearing products. Rotationally, molded parts can be manufactured from different materials, can be multilayered and the process facilitates the production of standard or even custom designed parts. As compared to other plastic molding techniques, rotomoulding is less labor-intensive and the equipment can be configured for complex shapes, offering design flexibility, enhancing the rotomoulding powder industry scope.
North America Rotomoulding Powder Market, By Product, 2017 & 2024 (Kilo Tons)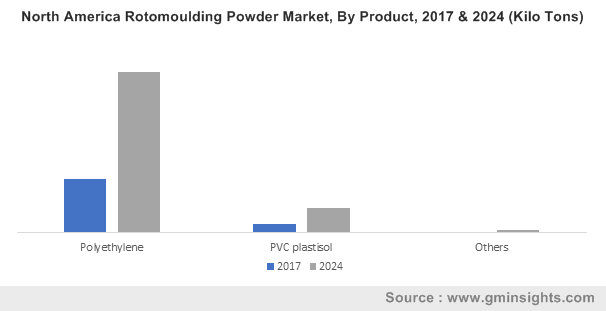 Manufacturing light, strong, corrosion resistant and durable components, whether big or small, is achievable through rotomoulding. Thus, the need for weight reduction in automobile, construction and material handling applications will boost the rotomoulding powder market consumption in the years ahead.
A wide variety or containers are available in the market for shipping and material handling, such as shipment containers, barrels and drums, refrigerated boxes and bulk containers, combined bins and military containers. The rotomoulding powder industry has gained massive remuneration owing to a large demand for small and heavy industry material handling containers worldwide. Rotomoulded crates and eskies are considered ideal for transporting vegetables, fruits, liquids and chemicals since most of such products are made from food-grade plastic. As they are long-lasting and do not deteriorate like wood or get corroded like metals, these containers can prove to be a good investment due to their utility in fulfilling innumerable material handling needs, promulgating the rotomoulding powder market. Many businesses opt for rotomoulded containers for transporting goods because their one-piece design offers a higher capacity for load-bearing and guarantees durability.
It is a well-known fact that global economic growth and the purchasing power of citizens immensely affect the material handling activities, as material handling orders are dependent on the demand for goods. The International Monetary Fund (IMF) in January 2018 had forecast that the global growth rate from 2018 to 2019 would be a strong 3.9%, indicating a positive industrial environment and the augmented need for material handling. The rotomoulding powder industry has additionally capitalized on a large number of small scale enterprises preferring rotomoulded containers and tanks for their low maintenance properties. Another promising source of revenue for the rotomoulding powder market could be the increasing number of recycling activities which require appropriate containers for sorting and handling waste materials.
Get a Sample Copy of this Report:@ https://www.gminsights.com/request-sample/detail/1337
To elaborate, environmental concerns and government initiatives have emphasized the need for waste management and have led to the establishment of numerous waste recycling and metal scrapping facilities across the globe. For catering to these requirements, manufacturers have been providing customized rotomoulded containers and bins to the waste management services or recycling plants, where different kinds of materials are handled every day, even chemically reactive ones. The Asia-Pacific (APAC) region comprises of several emerging economies where recycling initiatives are intensifying and thus presents a great opportunity for the rotomoulding powder market. Recently, it was revealed that just 8 countries in APAC are responsible for 63% of the total plastic waste flowing into the oceans. Add to it, the mounting surplus of electronic and metal scrap has escalated the waste recycling industry in the region, in turn highlighting the material handling requirements.
The APAC region subsequently contributed nearly 25% to the overall rotomoulding powder market in 2017, with the increased demand for containers as well as other rotomoulded plastic products like tanks, porta-loos, components used in construction and automobile parts. Lightweight parts help to reduce the gross vehicle weight and improve fuel efficiency, leading to the deployment of rotomoulded automobile components such as fuel tanks, dashboards, instrument panels and wheel arches. Reportedly, in 2017 more than 37.1 million passenger cars were produced by just three countries combined, namely China, India and Japan. With surging population, pollution concerns and the economic uplift across most of the APAC countries, the rising investments made to expand manufacturing capacities by automakers will propel the rotomoulding powder market.
All in all, the low cost, eco-friendly production of rotomoulded containers or parts with minimum material wastage and least design constraints have prompted the material handling and automobile manufacturing segments to adopt these products. The industry growth is further aided by the efforts of rotomoulding powder market players such as BASF, Reliance Industries, ExxonMobil, Dow Chemical Company, GreenAge Industries, Pacific Poly Plast and Eco-polymers.
Author Name : Pankaj Singh
The rapid development of the electronics, construction, and packaging sectors will lead to an upward curve in Global High Density Polyethylene Market. Growing inclination of pharmaceutical companies and hospitals toward using high density polyethylene for medicine bottles and other forms of medicinal packaging will lead increased product demand. In addition, this polymer is used extensively across the F&B sector to pack edible foodstuff, owing to its improved mechanical properties and temperature toughness. The urban trend of preferring packaged (ready-to-mix and ready-to-eat) meals will provide ample growth prospects for high density polyethylene industry to progress in the food & beverage sector.
Europe High Density Polyethylene Market size, by end-user, 2013-2024 (USD Million)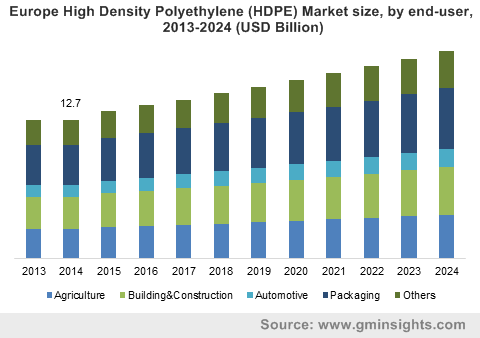 Experimentally manufactured using thermoplastic processing methods somewhere around the mid-1930s, high density polyethylene found its first commercial application in high frequency radar cables to be used in wars, thus setting the wheels in motion for ample growth of high density polyethylene market. In the decades that followed, the product found immense potential and is now available in a host of grades. With a multitude of benefits such as low cost, temperature resistance, chemical sustenance, moisture protection, and opacity to its credit, this polymer finds widespread utilization in major professional domains, thereby mobilizing the global industry trends. According to Global Market Insights, Inc., "High Density Polyethylene Market size, worth USD 60 billion in 2015, is poised to cross a revenue of USD 88 billion by 2024."
Get a Sample Copy of this Report @ https://www.gminsights.com/request-sample/detail/1156

Leading manufacturers strive to produce a wide range of product grades to meet the growing demand. Efforts are being undertaken to specially design HDPE grades for customized applications such as telecom ducts, bags, sacks, and high pressure pipes. Notable companies involved in the manufacture of various grades in HDPE market include (Borouge) Abu Dhabi Polymers Company Ltd., PetroChina Company Limited., The Dow Chemical Company, Borealis AG, Braskem S.A., Honam Petrochemical Corporation, Formosa Plastics Corp., Chevron Phillips Chemical Co., and Exxon Mobil Corp.
Film & sheet form possesses properties such as flexibility, rigidity, clarity, affordability, and chemical inertness. Film & sheet contributed to more than 20% of the overall high density polyethylene industry share in 2015, and is projected to grow at a rate of 4.5% over 2016-2024.
Blow molded form of HDPE is endowed with favorable properties such as stiffness resistance, impact strength, cracking resistance, and temperature tolerance. It is principally used to manufacture water tanks, dustbins, fuel tanks, ducts, and plastic bottles. Blow molded form accounted for more than 25% of the total high density polyethylene market in 2015, and will grow significantly over the coming years.
In the process of injection molding, plastic is first melted and then injected into a mold under high pressure. This form of HDPE is used to produce electronic components such as cell phones and contributed to more than 15% of the overall market share. HDPE is a key raw material of injection molded plastic market due to its high resistance properties.
Europe high density polyethylene industry covered more than 20% of the global revenue in 2015 and will record a CAGR of 3% over 2016-2024, driven by the huge expansion of the infrastructural sector in countries such as Spain Germany, and Italy.
Rapid growth in the cosmetic and construction sectors and the huge demand from packaged F&B market will drive APAC HDPE industry, which accounted for more than 40% of the global share in 2015. The escalating infrastructural developments and rising construction spending in China and India will also fuel APAC HDPE market.
High density polyethylene market from packaging applications was worth more than USD 16 billion in 2015. With prominent utilization in the cosmetics, pharmaceutical, and F&B sectors, this application segment is set to accrue substantial profits over 2016-2024, especially across Latin America and the U.S.
High density polyethylene industry is slated to observe remarkable gains from numerous sectors, given the widespread scope of these products. For instance, HDPE pipes are highly affordable in terms of material and installation, owing to which they are used for water supply and irrigation in agriculture. HDPE is also used to produce electrical boxes and telephone ducts. The rapid expansion of the construction, transportation, automotive, and packaging sectors will stimulate the industry trends in the years to come.
Author Name :Saipriya Iyer