High Pressure
With the growing number of air passengers and increasing aircraft demand, aerospace and defense ducting market size has been estimated to grow significantly over 2019-2025. Maintaining aircraft cabin temperature and pressure are very important as the passenger aircrafts cruise at high altitudes. Due to lower pressure and temperature at higher altitudes, air-conditioning system installation in aircrafts play an important role in both human health and comfort. Companies toiling to enhance customer experience and airlines lowering their fares to serve a wider consumer base will add impetus to aerospace and defense ducting market trends in the forecast years.
U.S. Aerospace & Defense Ducting Market, By Application, 2018 & 2025, (USD Million)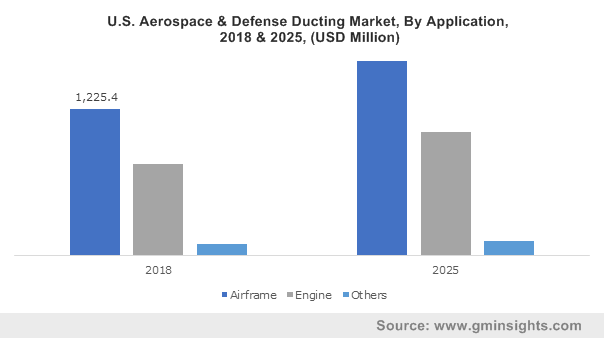 Dropping air fares have been playing a crucial role in positive growth of aerospace and defense ducting market size. Low air fares will increase the number of passengers and consequently demand for improved customer experience. Recently it has been reported that air fares in Australia have fallen by 10 per cent since July 2018. The index of business class fares fell by 0.2 per cent in July and by 11.6 per cent from the peak recorded in June 2011. More affordable rates will predictably raise number of air travelers. As comfort and convenience of customers become paramount, efforts by airlines in these areas are helping to expand aerospace and defense ducting market share.
Lowering air fares has been raising the number of passengers wanting to travel by air which in turn will augment aerospace and defense ducting industry outlook. The International Air Transport Association (IATA) has disclosed that current trends in air transport predict passenger numbers can double to 8.2 billion in the year 2037. China will displace the United States as the world's largest aviation market in the mid of the year 2020. China rebalancing its economy towards consumption will reinforce strong passenger demand over the long term. The number of air passengers have been predicted to increase with rapidly expanding aviation sector which will push the growth graph of aerospace and defense ducting industry forward.
Get a Sample Copy of this Report:@ https://www.gminsights.com/request-sample/detail/3080
Increased air travel has naturally created a demand for aircrafts which has encouraged aircraft manufacturers to increase production. To address the huge demand, Boeing has reportedly delivered 69 737 airplanes in December 2018 and set a new annual record of 806 deliveries in 2018. The company has surpassed its previous record of 763 deliveries in 2017.  Rapidly growing demand and production of aircrafts equipped with various features has been improving customer experience. Aerospace and defense ducting market size will also expand considerably over the forecast duration owing to augmented aircraft production.
Besides commercial aircrafts, demand of military aircrafts is also on the rise to enhance national security. According to the prominent sources, the U.S. air force must inflate its operational squadrons by nearly 25% in the years to come. The requirement has been recommended to deal with the growing military might of Russia and China and to protect the U.S. against violent extremist forces. Sources also cited that the number of squadrons, bombers and tankers, a mix of fighters and drones, should be raised from 312 at present to 386 by the year 2030. The Air Force needs light weight aircrafts with greater efficiency and competence to deal with high pressure and temperature. Intensifying demand of such aircrafts in the Air Force is one of the crucial factors that will augment revenue share of aerospace and defense ducting market.
In order to strengthen their stance in aerospace and defense ducting industry, several companies are following different growth strategies. For instance, Meggitt PLC, a leading international company specializing in high performance components and sub-systems for aerospace, defense and selected energy markets, has been awarded a fixed price contract by General Dynamics Land Systems (GDLS) to develop an Advanced Cooling System for the next generation ground combat platforms. Meggitt has manufactured more than 2,480 hydraulically powered Thermal Management Systems (TMS) for GDLS with additional 450 in process.
Businesses are also working on their current joint ventures as a part of the plan to increase their aerospace and defense ducting market share. Recently, the joint venture of Eaton with Shanghai Aircraft Manufacturing Co. (SAMC) secured approval by the authorities to offer maintenance, repair and overhaul (MRO) services on tubes and ducting to clients in the APAC region. With the approval, the current facility of Eaton-SAMC joint venture in Shanghai will immediately start serving as a ducting, tube and hose repair station. Such expansions and joint ventures will help to enhance the aerospace and defense ducting industry landscape in APAC region.
Growth of aerospace and defense ducting market will be helped by the companies toiling to expand their footprint globally with big contracts and regional expansions. The need for strengthening national security is also gaining paramount importance which will supplement aerospace and defense ducting industry growth significantly. According to a latest research report compiled by Global Market Insights, aerospace and defense ducting market size is forecast to surpass $7 billion by 2025.
Author Name : Anchal Solanki
Steam autoclaves market is likely to traverse alongside a lucrative path in the forthcoming years, pertaining to the increasing awareness among the regulatory bodies about the importance of sterilization and decontamination for healthcare and food applications. Since a while now, influenced by the lure of profits, a substantial number of F&B companies have been adopting unhygienic alternatives in the food manufacturing process. In consequence, to maintain health and hygiene, the Food and Drug Administration (FDA) has deployed strict norms to control food safety exploitations by food manufacturers. Taking into account the immense demand for hygiene maintenance, local food manufacturers, restaurants, and hospitals are increasingly giving preference to steam autoclaves for sterilization, which will significantly impel the overall steam autoclaves industry share.
Germany Steam Autoclaves Market, By Product, 2013 – 2024 (USD Million)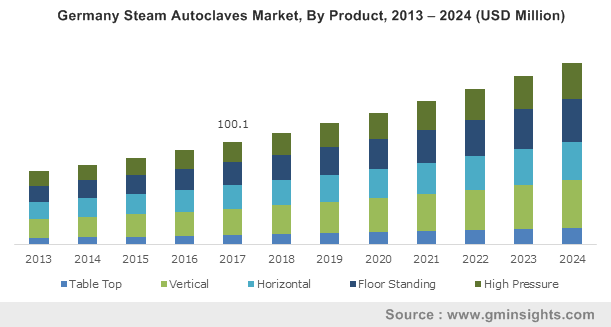 Regulatory bodies such as the World Health Organization (WHO) are also taking initiatives to enable hospitals and other healthcare service providers to use decontaminated devices for enhancing the effectiveness and life span of the product. Considering the future scope of sterilization for medical applications, many researchers have been continuously involved in the development of several sterilization products for medical device packaging. In 2016 alone, medical applications accounted for a major share of steam autoclaves industry. It is prudent to mention that many non-governmental organizations and regional governments have also been supplying funds and equipment to hospitals, in a bid to adhere to hygiene standards. Recently, the government of San Luis invested USD 4,61,198 in the procurement of medical devices encompassing two autoclaves – one for sterilization and another for laboratory services. The aforementioned incidence testifies the contribution that regional governments have been making for encouraging the medical sector to adopt sterilization devices, that would considerably influence steam autoclaves market size.
Get a Sample Copy of this Report:@ https://www.gminsights.com/request-sample/detail/500
Apart from the regulatory bodies, renowned manufacturers in steam autoclaves market are heavily investing in new product developments to improve the functionality of devices. For instance, recently, Astell Scientific, a renowned player in UK steam autoclaves market, launched a touchscreen assisted autoclave, focusing on the requirement of the product for pharmaceutical labs, research organizations, and universities. Speaking of which, other well-known participants in steam autoclaves market are Medisafe International, Tuttnauer, Getinge Infection Control, Priorclave, and Matachana.
Lately, it has been observed that steam autoclaves industry giants have shifted their focus toward the development of customer friendly products to strengthen their presence across the business space. Many of the manufactures have been collecting feedback from consumers to design customized products. Furthermore, industry giants are investing heavily in research and development activities as well, in a bid to reduce the water consumption in laboratory autoclaves. Consolidated Sterilizer Systems in fact, recently launched two innovative vertical sliding door autoclaves along with the implementation of a power door feature for simplified maintenance and ease of application. The currently prevalent competitive scenario across this vertical is likely to bring forth the launch of innovative products, which would eventually impel the commercialization potential of steam autoclaves market.
Significant government strategies pertaining to the growth of the healthcare sector will continue to remain one of the most prominent drivers of steam autoclaves market. For instance, under the scheme of Make in India, the Indian government has encouraged medical equipment manufacturers across the country to develop exclusive products that would be commercialized under the Indian brand name. Driven by the escalating development of large capacity and cost-effective products, it has been predicted that steam autoclaves industry will surpass a revenue collection of USD 3 billion by the end of 2024.
Author Name : Sunil Hebbalkar