High Voltage Cables Market Report
Increasing inclination towards renewable energy and growing necessity to attain better energy efficiency will drive high voltage cables market share in the forthcoming years. Rising need to curb carbon emissions will also foster industry growth.
High Voltage Cables Market Size, By Voltage, 2018 & 2025 (USD Million)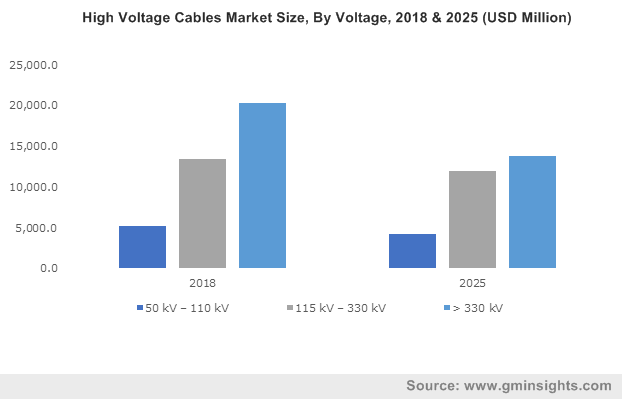 Open Access Government estimates that the world consumes 93,000 m3 of natural gas, 1066 barrels of oil and 221 tons of coal every second. The carbon emitted through these consumption practices has a detrimental effect on the environment. This will increase the demand for renewables and impel high voltage cables market expansion.
The Paris Agreement has played an important role in urging several nations to accelerate the pace of transition toward renewables. Renewable energy is now regarded as the second largest source of electricity in the United Kingdom. The rising inclination toward renewables will propel the regional high voltage cables market size.
The rising need to achieve energy efficiency is propelling the widescale adoption of smart grid technology. Smart grids bring forth energy reliability, cost saving and energy consumption management and will also open up growth prospects for high voltage cables market in the upcoming years.
Many countries are facing the challenge of maintaining and upgrading their respective energy distribution network. Rapidly ageing energy distribution infrastructure will fuel North America high voltage cables industry share. The U.S. power distribution infrastructure is estimated to be worth approximately $876 billion. The U.S. Department of Energy claims that 75% of the nation's high voltage transmission lines and transformers are well over 25 years old.
The rising need for modernization of the power infrastructure in the U.S. will drive North America high voltage cables market outlook. Global Market Insights, Inc., anticipates high voltage cables market size to grow at a CAGR of 8.8% over 2019-2025
Asia Pacific will be a major regional growth avenue for high voltage cables market in the years to come driven by rising product demand from Southeast Asia. According to the International Energy Agency, the 10 nations that make up the Association of Southeast Asian Nations (ASEAN) currently represent one of the world's most dynamic energy market. This can be credited to the region's energy demand that has increased by approximately 60% over the last one and a half decades.
Get a Sample Copy of this Report:@ https://www.gminsights.com/request-sample/detail/3376
ASEAN nations are undertaking several initiatives to ensure uninterrupted power supply. With a population of nearly 640 million, around 65 million still live without electricity. The rising need to enable consistent electricity supply will drive APAC high voltage cables market share.
The solar energy industry expansion in Australia will fuel Asia Pacific high voltage cables industry size. Australia is known to have the world's highest level of average solar radiation per square meter. According to the Australian Renewable Energy Agency, large-scale solar power based electricity is expanding at an unprecedented rate across the region.
Close to two million homes across Australia have solar energy systems installed on their rooftops. Today, electricity generation across the country is increasing rapidly in response to favorable Australian government's policies, especially the Renewable Energy Target. The Australian Government aims to establish a solar power generation capacity of approximately 1000 megawatts (MW). This trend will help to drive the regional high voltage cables industry share.
The increasing number of government initiatives directed toward promoting renewable energy and the need to revamp grid infrastructure will propel high voltage cables market size. Prominent companies in high voltage cables market include Alfanar, Sumitomo, Riyadh Cables, Taihan Electric, Nexans, ABB, and Sterlite Power. These companies adopt organic as well as inorganic tactics such as business collaborations and mergers and acquisitions to increase market share.
Global Market Insights, Inc., estimates that the worldwide high voltage cables market share will exceed $29 billion by 2025.
Author Name : Akshay Kedari