Highways
Rise in smart city projects and innovations in home automation are driving smart lighting market forecast significantly. The growing urban population has triggered initiatives by the government to provide access to efficient LED lights, along with deploying AI and IoT in building automation systems for commercial, residential and industrial spaces. The Ministry of Housing and Urban Affairs in India had set up a smart cities mission with a view of developing over 100 cities in the country over a span of five years.
Regional authorities are increasingly partnering with technology companies to implement their vision of a smart and connected city. Intel and the City of San Jose, California have collaborated on a public-private project to deploy the company's smart city demonstration platform to boost the Green Vision initiative of the city. Smart city infrastructure facilitates efficiency, cost reduction and provides an improved livelihood for city occupants. Rise in smart city initiatives worldwide has led to increased impetus for smart lighting market size.
Over the years, there has been a considerable rise in the infrastructural development of residential, commercial and industrial spaces owing to the rise in disposable incomes in both developed and emerging nations. Technological advancements and growing innovations aiming to simplify the condition of living is steering home automation. Energy savings, home security, enhanced comfort, home control monitoring and user convenience are some the vital factors resulting in the rising adoption of home automation globally.
With increasing implementation of home automation around the globe, smart lighting industry will witness a robust growth rate in the years to come, further driven by key factors listed below:
LED bulbs replacing traditional lighting systems
Owing to high energy efficiency along with development in lighting technologies, LED (light-emitting diode) has gained worldwide popularity for substituting the traditional incandescent lighting systems. Reportedly, residential LEDs use 75% less energy as opposed to its substitutes. LED has a wide application base in residential, industrial and commercial sectors.
Get a Sample Copy of this Report@ https://www.gminsights.com/request-sample/detail/413
According to data, in United States the widespread usage of LED lights may save up to 348 TWh of electricity by 2027, resulting in cumulative savings of over USD 30 billion according to current electricity prices. In developing regions such as India, government is realizing the benefits of LED and is substantially promoting the usage of the same.
Ministry of Power in India had launched a which focuses on promoting efficient energy usage in residential sector, spreading awareness among consumers regarding energy efficient appliances and stimulating the use of LED lights. Till date, with the distribution of LED light by the government the country has saved over INR 18,623 crores. The vital features of LED and its assistance in energy cost efficiency is positively influencing smart lighting market share.
Increased deployment of light control sensors
According to the U.S. Energy Information Administration (EIA), the total electricity used for lighting residential and commercial sector in the United States was estimated at 232 billion kWh in the year 2018. Flourishing infrastructural development in different sectors is pushing the demand for lighting and innovations in lighting systems is extremely important for sustainable usage of electricity and reducing cost of operation.
Light controls sensors allow remote operations of lighting systems via mobile phones, that help in controlling the usage of lighting and eliminate wastage of the energy. Motion sensors for outdoor lighting, network lighting control systems and occupancy sensors for indoor lighting are some types of light control sensors that are witnessing rising demand in the market. Reduction in energy consumption, electricity cost savings, and simplified lighting solutions are some of the vital features of sensors which will complement smart lighting industry outlook.
Growing number of smart initiatives in Europe
Europe is expected to evolve as one of the most significant revenue pockets for smart lighting market, owing to the significant number of smart city projects and increased adoption of smart LED lighting systems. The European Union innovation partnership on smart cities and communities is a program established by the European Commission that brings together small businesses, industries and cities together. The aim of the program is to enhance the urban lifestyle through sustainable solutions and addresses specific challenges across varied policy areas such as mobility, energy and transport.
Additionally, Europe is witnessing a rise in usage of LED owing to widespread awareness of sustainable sources of energy.  Reports estimate that global smart lighting market size will surpass USD 23 billion valuation by 2025, with Europe accounting for a notable portion of the overall share.
Author Name : Shreshtha Dhatrak
Rising end-user preference for lightweight, anti-corrosive, non-abrasive, and robust reinforcements will upswing FRP Rebars Market development. Regional governments have been spending huge capital on construction & renovation activities. In addition, swift infrastructural developments to enhance the urban landscape and promote regional tourism will majorly boost FRP rebars industry trends. For instance, Japan invested more than USD 738 billion in construction projects in 2015, while China allotted funds of over 1.7 trillion for infrastructural growth during that year. According to Global Market Insights, Inc., "Fiber reinforced polymer (FRP) rebars industry, worth USD 590 million in 2015, is expected to hit a targeted revenue of over USD 1.25 billion by 2024."
U.S. FRP Rebar Market Size, By Application, (USD Million), 2013-2024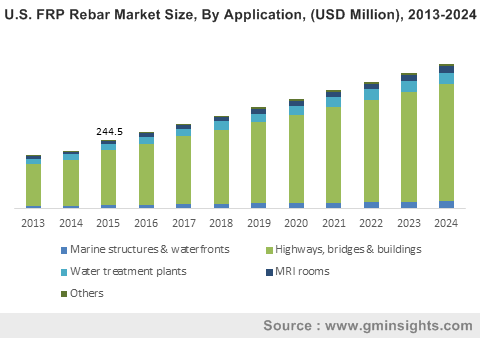 FRP rebars find extensive applications in MRI rooms, bridges & buildings, marine structures & waterfronts, water treatment plants, and highways. FRP rebars market size in the marine structures & waterfronts sector is predicted to grow at a cumulative rate of more than 7% over the coming timeline. An increase in the number of projects for constructing waterfronts and ports near seas and rivers along with the development of waterways as an effective mode of goods transport facility will contribute toward the business expansion.
FRP rebars industry revenue across water treatment plants sector, which was estimated at more than USD 50 million in 2015, is expected to witness a high surge over the coming years. Rise in the number of desalination plant projects and surge in the waste & water treatment plant constructions will impel the segment growth.
Get a Sample Copy of this Report @ https://www.gminsights.com/request-sample/detail/698
FRP rebars market share in MRI rooms sector is projected to record significant gains of more than 6.5% over the period from 2016 to 2024. Favorable features such as heat resistance, magnetic transparency, and electric resistance will boost the product demand.
Considering the geographical landscape, North America FRP rebars industry is anticipated to record a CAGR of more than 7% over the coming seven years. Escalated spending on building new structures along with beneficial legislations supporting infrastructure growth will enlarge the business scope across the region. U.S. FRP rebars industry, which contributed USD 270 million toward North America FRP rebars industry revenue in 2015, is expected to make notable contributions toward the regional share in the future. The country had spent more than USD 1 trillion on construction ventures during 2015.
Asia Pacific FRP rebars market is slated to grow at a rate of 8% over the years to come, owing to high product usage in the resistant edifice constructions along with the renovations of old structures. China, Japan, and India are likely to drive the regional revenue. MEA FRP rebars industry is projected to register an annual growth of 8.5% over 2016-2024, owing to strict regulatory compliances over the construction of new roads, railways, and airports as a result of growing safety concerns. Saudi Arabi and UAE are anticipated to be the major regional revenue pockets.
Europe FRP rebars industry is projected to record a CAGR of more than 6.5% over the coming seven years. Growing renovation activities across the commercial and residential sectors along with high product applications in MRI rooms, cable ducts, radio frequency field, and high-voltage substations are expected to boost the industry size. UK and Germany are predicted to push the regional development.
Glass fiber composites, carbon fiber composites, basalt fiber composites, and aramid fiber composites are the main FRP rebar products. Basalt fiber composites FRP rebars industry is expected to record a CAGR of 9% during the duration from 2016 to 2024, subject to exceptional product features such as magnetic transparency and rust resistance along with abundant product availability. Carbon fiber composites FRP rebars market is projected to grow at a rate of more than 8% over 2016-2024, driven by high product demand in floor slabs, bridge constructions, parapets, parking, ad decks & railings. Glass fiber composites FRP rebars market, which dominated the product landscape in 2015, is foreseen to witness notable gains over the years ahead. The growth can be ascribed to the product's prolific use by the consumers as a perfect substitute for stainless steel & galvanized reinforcements.
FRP rebars are also used in various kinds of resins such as vinyl ester and polyester resins. Vinyl ester FRP rebars market is forecast to grow at a CAGR of more than 9% over the period of 2016-2024, due to the outstanding corrosion resisting and thermal insulating features of the product.  Polyester resin FRP rebars industry, which collected a revenue of USD 460 million in 2015, is projected to witness a considerable development over the coming years. The business expansion can be attributed to the elevated product use as an adhesive in tarnished heritage structures along with its unique dimensional features and cost-effective nature.
Of late, industry players are employing key business growth strategies such as product development, pricing, and strategic partnerships to increase their market share. Fibrolux GmbH, Hughes Brothers Inc., Sireg Geotech Srl, Technobasalt Invest LLC, Marshall Composites Technologies, BP Composites Limited, Neuvokas Corporation, Pultrall Inc., and Composite Rebar Technologies Incorporation are the major participants of FRP rebars market.
Author Name : Dhananjay Punekar