Home Care
With organic cosmetics scoring an edge over chemical products of late, phenoxyethanol preservatives market has been witnessing a renewed prominence globally. In the last couple of years, personal care industry giants have faced a series of challenges concerning the integrity of beauty products, a factor that has sourced the trend of natural preservatives. Phenoxyethanol has been identified as the most globally approved preservative in beauty product formulations, owing to its high compatibility with beauty products, pertaining to its excellent toxicology, faint aroma, low water solubility and evaporation rate.
U.S. Phenoxyethanol Preservatives Market Size, by Product, 2013 – 2024 (USD Million)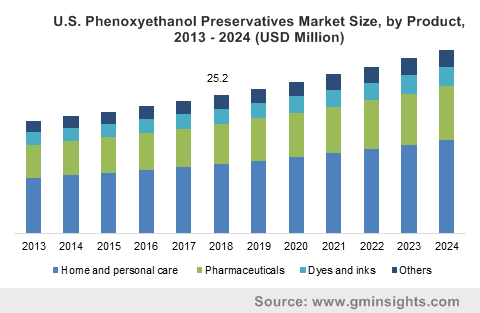 On the research front as well, several scientific evaluations of preservatives have made their presence felt, which are likely to contribute toward industry development. The need to protect personal care products from microbial growth is also a crucial factor that is making phenoxyethanol preservatives industry an attractive commercial proposition.
The remarkable expansion of phenoxyethanol preservatives market is quite evident from its extensive deployment across a diversified range of domains that includes the pharmaceutical and domestic sectors as well. The growing trend of using active ingredients and the much-awaited ban on paraben based products in some of the regions have stimulated phenoxyethanol preservatives market demand.  Home and personal care sector procured a commendable portion of the industry in 2018. With increased consumer spending on personal hygiene, manufacturers are readily focusing on liquid detergents that deploy phenoxyethanol on a large scale. In addition, renowned organizations such as the Cosmetic Toiletry Fragrance Association, British Pharmacopoeia, U.S. Pharmacopoeia, and European Economic Community have also certified phenoxyethanol as a safe preservative to be used in personal care commodities.
Cosmetics applications have indeed been cited as one of the chief application arenas for phenoxyethanol preservatives industry size over 2019-2024. One of the premium products of phenoxyethanols, i.e., P5 is mainly deployed in cosmetic applications due to its comparatively lesser phenol content, estimated to be less than 5 ppm.  Phenoxyethanol P5 preservatives demand, as per reports, is estimated to grow at a CAGR of 5% over 2019-2024.
Get a Sample Copy of this Report@ https://www.gminsights.com/request-sample/detail/1601
Speaking along the similar lines, P25, having a higher phenol composition is widely utilized for industrial purposes. In this regard, it is important to note that both phenoxyethanol P25 and P5 exhibit 99.5% purity, which is undoubtedly one of the profound grounds enhancing the overall phenoxyethanol preservatives market expansion. Another contributing factor worth mentioning is the increasing demand for green ingredients in the cosmetic formulations by the health-oriented consumer base.
Speaking of geographical landscape, U.S. is one region where P5 phenoxyethanol preservatives industry demand is quite high. Being one of the most lucrative growth grounds for the cosmetic and pharmaceutical markets, the United States has been observing an escalated commercialization of P5 grade preservatives lately.
Europe is also likely to carve a profitable roadmap in the phenoxyethanol preservatives market over the forecast span. Driven by the fierce competitiveness in Europe pharmaceutical industry, the demand for the product is anticipated to rise, thereby sourcing lucrative business opportunities. Globally, phenoxyethanol preservatives industry from pharmaceutical applications is forecast to record a CAGR of  5.5% over 2019-2024.
A major disruptive issue that is somewhat hampering phenoxyethanol preservatives market growth is the growing number of regulatory initiatives projecting the health hazards associated with its deployment. The FDA, for instance, has recently issued a warning regarding the toxicity of these preservatives and their detrimental effects on infants. However, industry giants are rigorously putting in their efforts to successfully overcome these challenges by engaging in numerous research and development activities.
Some of the prominent players operating in global phenoxyethanol preservatives industry include Akema Fine Chemicals, Dow Chemical Company, Symrise AG, Chemicals, Santa Cruz Biotechnology, Lonza Group, and Schülke & Mayr GmbH. With global economy treading on a positive path, resulting in an upgradation of consumer living standards, phenoxyethanol preservatives market is projected to exceed a remuneration portfolio of USD 150 million by 2024.
Author Name : Shikha Sinha
Geriatric care, having endorsed itself as a prominent sector in the healthcare space lately, has led to geriatric care services market registering substantial prominence. The industry, having depicted immense potential, is anticipated to emerge as a highly viable vertical in the years ahead. This does not come as a surprise however, considering that the global geriatric populace has been exhibiting a steady rise since the last half a decade, leading to a major upsurge in the prevalence of chronic diseases and a substantial rise in the demand for care services.
U.S. geriatric services market, by service , 2017 & 2024 (USD Million)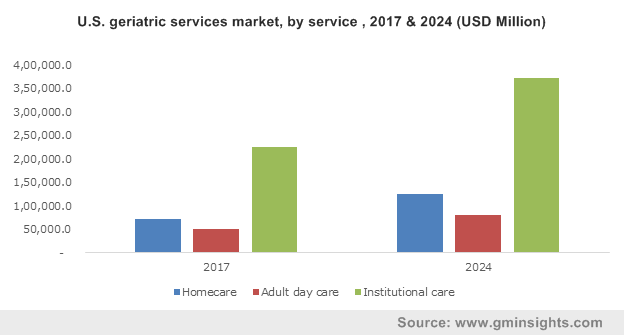 Taking into account the United Nation Statistics, the global geriatric care population which accounted for 809.4 million in 2012, is likely to rise by more than double by the end of 2050, to an approximate population of 2000 million. This increasing old age population will positively favor the geriatric care services industry landscape over the coming years.
Geriatric care service is a specialized segment of healthcare looking after the old age population in terms of their health, needs, living, and their overall quality of life. Owing to increasing old age population and growing number of care facilities like home care, day care, and institutional care services across the globe, the geriatric care services market size is quite overtly expected to increase in the coming years.
According to United Nation statistics, people aged 80 years and above, also referred to as the "oldest old" population is likely to reach 190.44 million by 2022. This age group is more prone towards respiratory, orthopedic, cardiovascular, and neurological disorders, which will further boost the demand for care services for this demography, in turn driving the geriatric care services market share. Technological advancements assisting the geriatric population who live independently is another factor boosting the industry size. Robotic technology and nurse call equipment are examples of such technological developments.
Get a Sample Copy of this Report: @ https://www.gminsights.com/request-sample/detail/433
As far as the geographical landscape is concerned, the United States is one such region that is expected to come as one of the lucrative grounds for the development of the geriatric care services market. As per a report by Global Market Insights, Inc., the U.S. geriatric care services market is anticipated to record a modest CAGR of 7.6% over 2018-2024. This growth is primarily driven by the rise in the elderly populace vulnerable to chronic diseases, in tandem with the upsurge in technological advancements that are now prevalent in geriatric care services. Not to mention, the U.S. is remnant of high healthcare spending, that would lead to the country resulting accumulating the largest market share across the globe.
Another factor that is likely to fuel the U.S. geriatric care services market is that the regional government is borderline fanatic about ensuring that its citizens are able to have access to excellent healthcare services at reasonable costs.
Speaking of the regional spectrum, it is prudent to mention another major participant of the global geriatric care services market. Germany, a crucial player of the Europe geriatric care services industry, has been pivotal in upholding its stance in the global business space. In 2017, Germany apparently emerged as the dominant player in the Europe geriatric care services market, with a valuation of around USD 73,809.2 million. The region is projected to accrue substantial returns by the end of 2024, driven by the rising demand for cost-saving insurance plans charted out for the elderly populace in the nation. That said, the country also boasts of extensive healthcare expenditure that has led to an upsurge in reimbursement policies for the elderly, further propelling the Germany care service market.
The geriatric care services industry is highly fragmented and fairly competitive. The business space is shared by the biggies as well as the new entrants. Price and quality of service provided by these players will be the major factor to sustain competition. The coming years will witness interesting developments like strategic collaborations and mergers & acquisitions in this industry that would help catapult the geriatric care services market share higher. Incidentally, the competitive spectrum of this industry comprises Senior Care Centers of America, Brookdale Senior Living, Kindred Healthcare and Genesis Healthcare Corp.
Author Name : Saipriya Iyer