Home Infusion Therapy Market
Over the recent years, home infusion therapy market has witnessed an expeditious growth trend, courtesy –  the exemplary advancements in medical technology space. The rise of innovative technological solutions has been facilitated seamlessly by a robust regulatory framework, which has further positively impacted the competitive prospects among the prominent industry players. Furthermore, the technological progress being observed in infusion pumps, which are increasingly being utilized in medical setups such as hospitals, nursing homes, and homecare, shall propel the home infusion therapy industry in the upcoming years.
To cite the most recent development in this industry, one of the prominent medical device manufacturers, Smiths Medical, has recently unveiled an upgraded version of ambulatory infusion pump, which has now been equipped with wireless communication linked to PharmGuard Server software that allows clinicians to securely employ software updates, track the pump locations, manage the performance of pumps remotely and download data reports. Such dynamic and smart product innovations with high-degree of accuracy and precision are set to assist the swift expansion of home infusion therapy market. As per a report published by Global Market Insights Inc., home infusion therapy market size witnessed a valuation of over $14 Billion in 2016.
U.S. Home Infusion Therapy Market size, By Product, 2013-2024 (USD Million)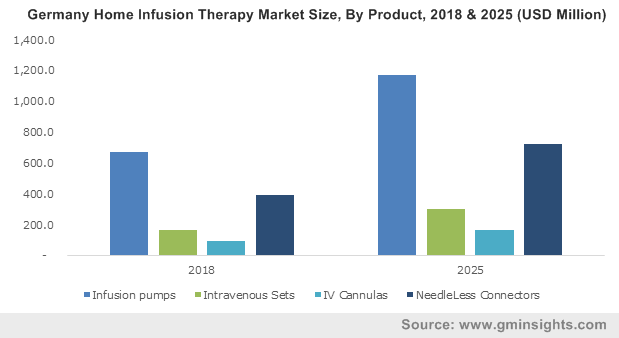 Home infusion therapy, in the recent past, has gained renowned traction across the globe, as it has continuously been contemplated as the most appropriate alternative for people suffering from chronic diseases. Concurrently, the significant rise in the geriatric population around the globe, who are vulnerable to chronic diseases such as cancer, diabetes, cardiovascular ailments, and respiratory disorders have contributed to the growth of home infusion therapy market in an unprecedented way.
Speaking of the application landscape of home infusion therapy industry, the predominant ones include hydration therapy, chemotherapy, anti-infectives, enteral nutrition, specialty pharmaceuticals, among others. Out of these, anti-infectives contributed to a sizeable revenue share in 2016. The investment in anti-infectives has been stagnant in the last few years, as no new anti-infective has been formed for community-acquired bacterial pneumonia (CABP) in the last 15 years. This trend is set to change in the near future, as a leading Irish biopharma Nabriva Therapeutics plc has succeeded in the initial phases of evaluating a new anti-infective to treat CABP. Such encouraging initiatives undertaken by industry players in anti-biotics and other applications are bound to aid the home infusion therapy market expansion.
Get a Sample Copy of this Report:@ https://www.gminsights.com/request-sample/detail/435

Meanwhile, it would be well advised to take note of the anticipated challenges that might affect the home infusion therapy industry in the upcoming time period. The industry has been marred by the haphazard, inadequate and complex reimbursement system that has negatively impacted business growth. Add to it, the inappropriate use of infusion therapy devices and improper dose administration might severely hamper the growth potential of home infusion therapy industry.
Regionally, the U.S. home infusion therapy market is expected to gain commendable momentum over the forecast period, owing to the presence of prominent industry players complemented with increasing demand for homecare facilities, simplified access to healthcare, and suitable reimbursement policies. Speaking along similar lines, the UK home infusion therapy industry, especially Germany, stands to gain noteworthy benefits as the advancing infusion devices and their increased usage in pain management has been encouraging.
The home infusion therapy market is spanned by highly aggressive companies such as Smiths Medical, Carefusion, Baxter, ICU Medical, JMS, Terumo, Caesarea Medical Electronics, Fresenius Kabi, B.Braun Melsungen, to name a few. The predominant industry players have coupled their product innovations and technological advancements with robust mergers and alliances to form a strong framework to accentuate sustained growth and expand the customer base. Citing an instance, the world's preeminent pure-play infusion firm, ICU Medical Inc., has recently wrapped up its acquisition of Hospira Infusion Systems business from Pfizer Inc., a pharmaceutical behemoth. This alliance strengthens the resolve of ICU Medical Inc. to form a company with a complete intravenous therapy product range from non-dedicated infusion sets to smart infusion pumps.
The home infusion therapy industry anticipates further collaborations and acquisitions of leading players with upcoming firm, in turn, boosting the product and profitability portfolio of this domain. According to a report published by Global Market Insights, Inc., home infusion therapy market is forecast to expand at over 9% CAGR from 2017-2024.
Author Name : Ojaswita Kutepatil