home security
Internet of things has brought a revolution of sorts in the security & surveillance landscape globally. IP camera industry, in this context, stands as a major beneficiary of this change. As per reliable estimates, in the year 2016, the global shipments for IP cameras surpassed 15 million units. Add to it, reliable sources affirm that in the year 2014, IP camera shipments in smart home exceeded 1.3 million units – data strongly attesting the role of IOT and connected infrastructure in the lucrative growth chart of IP camera industry.
UK IP camera market, by public/government application, 2019 & 2025 (USD Million)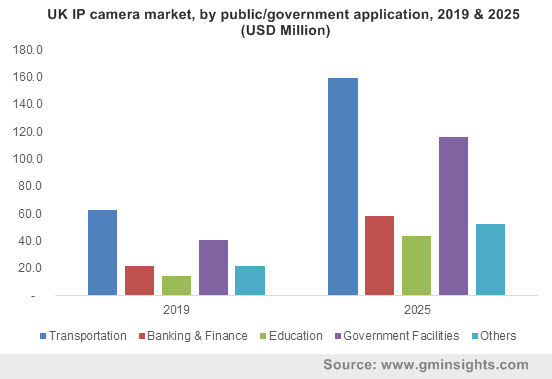 Reportedly, the smart home segment is anticipated to depict synonymous demand for networked cameras in the ensuing years with an estimated shipment of more than 20 million units by the end of 2019. Having said this, the growth prospects of IP camera market from residential applications is quite vividly huge. In fact, as per a report compiled by Global Market Insights, Inc. IP camera industry size from residential applications is estimated to register an appreciable CAGR over 2019-2025, driven by applications including the likes of home surveillance systems, access control, remote monitoring, intelligent building control, and HVAC management.
Elaborating further on the application portfolio of IP camera market, the domains spanning healthcare, retail, industrial, and real estate, transport, BFSI, and education have contributed immensely to the IP camera market proliferation. Backed by the falling price of these HD network cameras coupled the growing adoption of open standards, these high-resolution HD network cameras have phenomenally penetrated the commercial and governmental sectors.
In response to the opportunistic waves across principal application avenues, the competitive landscape of IP camera market is thriving with product innovations and developments, having pricing and technology upgradations as the center focus parameters. Not to mention, M&As and collaborative deals between security and technology players is emerging as a top-notch growth strategy, to sustain in this ferociously dynamic landscape.
Get a Sample Copy of this Report:@https://www.gminsights.com/request-sample/detail/2410
It is imperative to mention that Infrared cameras have stood as one of the major product segments of IP camera market and is expected to show significant growth trends in the forecast years. In fact, all the major product developments canopied under IP camera industry are hinged on technology interventions.
As per reliable estimates, the worldwide security technology and services market generated a revenue of more than USD 75 billion in 2016. Being on the forefront when it comes to technology appetite, the U.S. stood tall in the IP camera industry share battle in 2018, with North America accounting for 35% of the global IP camera market share.
Pelco, a subsidiary of Schneider Electric, is one such name which has created a buzz in the IP camera industry and has undeniably contributed immensely to the U.S. IP camera market landscape. The global surveillance solution leader recently announced its partnership with Ipsotek, UK headquartered video analytics leader, in a bid to bring strong solutions on board to combat security risks. For the record, Pelco plans to leverage Ipsotek's specialization in detecting behaviors in the real-time videos, thereby delivering alerts to operators and reducing false alarms.
In 2017, Pelco, with its collaboration with V5 Systems, expanded its Sarix Professional IP surveillance cameras reach to outdoor security markets, particularly in areas with no or low fixed power and communication facilities. The company is predominantly active in exploring the untapped opportunities in IP camera market space, on a global scale. The firm also made it to the headlines with its announcement of showcasing its innovative solutions at Intersec 2018. The solutions are deemed to address the Middle East and Africa regions particularly and will elaborate on Pelco's partnership with three reported industry magnates – Ipsotek, Gallagher Command Center, Ruckus Wireless.
Reportedly, Pelco, in January 2018 collaborated with Ruckus Wireless to integrate the latter's ICX switches and ZoneFlex access points (APs) with Pelco's IP Cameras and VMS in a bid to offer an upgraded version of IP video systems. Overtly, the firm will continue to be a major vendor for the U.S. and the global IP camera industry in the forecast years.
The regional battle in IP camera market is anticipated to take a turn in the ensuing years with Asia Pacific showing signs of being the next major investment hotbed for IP camera industry players. Smart city initiatives in the region is projected to be a major driver for the APAC IP camera market size, driven by huge demand for deployment of these networked cameras in the connected infrastructure.
From the recent product launches witnessed across this APAC, it is quite certain that the region is ready to give a major competition to the United States, with regard to the procurement of the revenue share. As per recent trends, India, China, Taiwan, South Korea, Australia are slated to be the chief revenue pockets likely to transform Asia Pacific IP camera market outlook.
In a recent turn of events encompassing IP camera market landscape, Digisol Systems, an India headquartered active networking market player announced the launch of its new Dome IP CCTV Camera dubbed as DG-SC6502SA. Reportedly, the camera is featured with a CMOS sensor and real time image processing hardware and is designed for office/home security and monitoring purposes.
Hanwha Group, one of the largest conglomerates in South Korea, under its subsidiary Hanwha Techwin America, the renowned supplier of analog and IP video surveillance solutions, recently declared the integration of VMS into the existing Hanwha IP Cameras. Reportedly, the WAVE VMS will enable the present Hanwha IP camera user base across a wide range of sectors like education and retail to utilize the utmost out of the advanced analytics features.
Gorilla Technology, the Taiwan based IoT and video intelligence provider recently announced its partnership with Airship, a renowned VMS service supplier, in a bid to create an integrated video intelligence management solution. The deal is anticipated to be an opportunistic one for the players operating in security industry verticals, particularly IP Camera, VMS, NVR, and SI. The deal, as speculated by the industry experts, is an apt blend of security and IoT merger.
With the increasing deployment of big data and IoT and the consequent large pool of data, the quest for deriving actionable insights is expected to proliferate massively. Undoubtedly with 'smart' trends penetrating both the government and private sectors, the advancements and security risks go hand in hand, in terms of growth. Amidst this scenario, analysts quote the IP camera market trends to be substantially profitable in the coming years, with a pool of demand from a varied range of sectors.
Backed by this drive toward real-time IP/network solutions, the global IP camera industry is slated to register a double-digit CAGR over 2019-2025. For the records, the market size will surpass USD 20 billion in 2025.
Author Name : Shikha Sinha
Plastic fencing market has been exhibiting a remarkable growth since the last few years pertaining to the increasing product popularity among the masses, subject to its capability to provide protection and security. Currently, these fences are being massively deployed across major building structures instead of metal fences, primarily on account of the product's weight, high strength, ease of handling, transportation, and installation. These fences also provide the benefits of meshing stability, UV stability, and good visibility, owing to which they are being installed majorly across tennis courts, football fields, and golf courses, thereby fueling plastic fencing industry share. It is also imperative to mention that the adoption of business strategies such as new product development, plant expansion, and collaborations implemented by the players in plastic fencing market will indeed have a positive impact on the product demand.
U.S. Plastic Fencing Market, By End-Use, 2016 & 2024, (Million Linear Feet)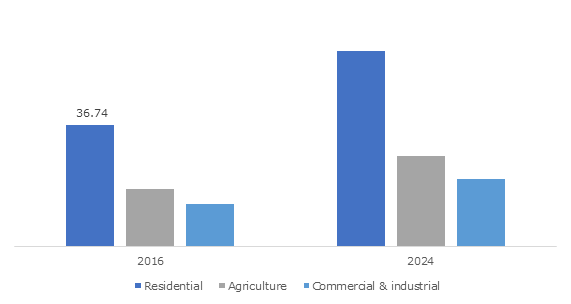 Plastic fencing has emerged as the go-to option in many amusement parks and animal reservoirs, on the grounds of increased protection. In fact, regional governments and amusement park organizers have been extending offers of fencing projects to plastic fencing market players, in order to install different types of mesh fencing and railings that would ensure visitors' safety. On these grounds, many companies in plastic fencing industry have been enhancing their research capabilities and design portfolios to improve the product quality. Some of the companies have even purchased enterprise software facilities to carry out in-depth stress testing for ensuring product strength. In addition, industry participants are also implementing several manufacturing processes such as powder coating and galvanizing to obtain an aesthetically pleasant look and a smooth surface, expanding the number of opportunities for plastic fencing market firms.
Get a Sample Copy of this Report:@  https://www.gminsights.com/request-sample/detail/385
Speaking about the initiatives taken by renowned biggies, it is prudent to mention the contribution of the Germany based specialist for doors, windows, decks, fences, and rails – Veka Inc. This firm has been making extensive investments in facility expansions in order to strengthen its stance in the regional plastic fencing industry. In fact, recently in 2017, it has built its fourth consecutive plant North America with 30 new extrusion lines that will be completed in second half of 2018. With this business expansion, Veka is looking forward to tapping most of the business opportunities across North America and Latin America. Citing yet another instance, in 2015, another well-known manufacturer of plastic fencing and barriers, Tenax Corp has invested USD 4.5 million to increase production at Baltimore plant, with an intention to enhance its fencing production facility for garden and pet lines. Indeed, it is also imperative to state that the increasing refurbishment of livestock infrastructure to stimulate the agricultural community will boost plastic fencing industry outlook over the years ahead.
The escalating renovation and replacement of old railings and other security fences is slated to impel plastic fencing industry share. For instance, in 2016, the UK government called upon IAE to replace old concrete posts and weld meshes with new high strength plastic fences in order to secure RAF bases. IAE is also continuously expanding its product range encompassing plastic protection to combat the existing metal options. Currently, many of the companies have found the alternatives for metal parts with the development of composite materials like carbon fiber and plastic composites, which provides high durability and superior performance at a comparatively lower cost. In essence, this would prove to be highly lucrative for plastic fencing market share from plastic composites, that would register a CAGR of 6% over 2017-2024.
The rapidly changing trends in the sports industry would certainly have a commendable impact on the dynamics of plastic fencing market size. Regional governments have been making extensive investments in sports infrastructure developments including Lawn Tennis clubs, car racing clubs, and golf clubs, where protective fencing is being mandated by the concerned authorities. Indeed, aided by the humongous application spectrum and the appreciable efforts of industry players to innovate sophisticated products, plastic fencing market size is likely to cross USD 6 billion by 2024.
Author Name : Sunil Hebbalkar