Hoses
The global automotive EVAP systems market is estimated to register a commendable growth rate over the ensuing years, on account of the growing air pollution levels worldwide. Air quality is deteriorating day by day posing a huge risk to the environment, human health, and food security. Fuel evaporative emissions undeniably, are a significant contributor to global air pollution levels. The gasoline in the fuel tank gradually evaporates over time, contaminating the air with VOCs (Volatile Organic Compounds).
U.S. Automotive Evaporative Emission Control System Market, By Vehicle, 2018 & 2025, (USD Million)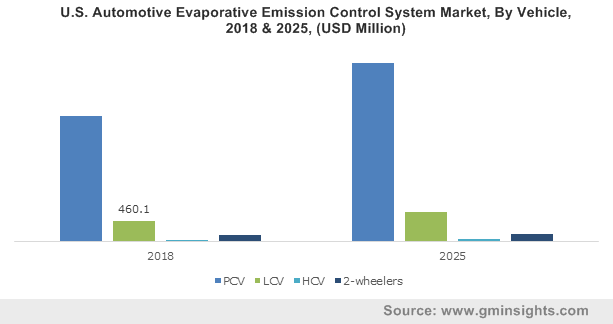 According to the Environmental Protection Agency, there are enough cases of such emissions to contribute to air pollution and pose a risk to environmental and human life. The fuel injected in a car consists of over 150 chemicals including toluene, benzenes and even lead, which can cause headaches, breathing issues, and in worst cases result in death. Hence, it is vital for carmakers to install EVAP systems in their models to control fuel evaporation, which would help expand the global automotive EVAP systems market size.
The need for manufacturers to equip their cars with EVAP systems is further encouraged by the imposition of stringent emission control mandates by governments throughout the world. For instance, Euro 5/6 regulations continue the Euro 4 limit of two grams of evaporative emissions each day. Regulation in the United States limits evaporative emissions to 0.5 grams each day over a three-day diurnal temperature profile.
Even though state regulations don't usually exceed federal regulations, the California Air Resources Board (CARB) permits the imposition of more stringent emission standards. Meanwhile, Japan has jointly developed emission standard by two ministries – The Ministry of Environment and The Ministry of Land, Infrastructure, and Transport. Emission limits in the country are almost similar to Euro 4 standards of two grams of emissions daily.
Get a Sample Copy of this Report @ https://www.gminsights.com/request-sample/detail/3222
It comes as no surprise therefore, that the global automotive EVAP systems industry is heavily governed by regulations. Indeed, according to Global Market Insights, Inc., OEMs presently dominate the global automotive EVAP systems market due to the rising product installations in an effort to conform to government regulations like CARB and Test Procedures to monitor vehicle performance.
One of the most significant reasons for driving the demand for EVAP systems around the world is the increasing rate of passenger vehicle production. In the year 2017, over 80 million passenger cars were produced worldwide, out of which Europe accounted for an appreciable share. Developing nations like India witnessed a significant rise in production from over 3.95 million units in 2017 to nearly 4 million units in 2018.
Recently, Mercedes-Benz Cars announced an investment of over $250 million euros in a passenger car plant in the Moscow region. Through the new plant, Daimler aims to meet the high demand for Mercedes-Benz E-Class SUVs and Sedans in the region. Owing to rising production, automotive EVAP systems market size is expected to witness an upsurge from passenger cars. Rising installation of EVAP systems in passenger cars to enhance fuel economy and reduce fuel losses will drive product demand.
In terms of regional growth, the Latin America market held considerable revenue share owing to rising concerns pertaining to fuel evaporation paired with the imposition of supportive international policies to control air pollution. According to an assessment released by UN Environment and the Climate and Clean Air Coalition, poor air quality and climate change are taking a toll on vulnerable population and environment within the Americas, leading to premature deaths, ecosystem damage, and crop yield losses.
Brazil, which is the fourth largest vehicle market in the world differs from larger economies in terms of policies to promote vehicle-efficiencies. However, the government in these nations and other key vehicle markets in Latin America are working to adopt international best practices regarding emission control to the local economic and policy context. Successful implementation of regulatory practices would further augment the Latin America automotive EVAP systems market share in the coming years.
Key factors such as increasing vehicular emissions, rising awareness regarding poor air quality along with a rise in vehicle manufacturing and supportive government regulations will continue to induce considerable possibilities for industry expansion in the coming years. For the record, the global market is also estimated to surpass a valuation of $65 billion by 2025, according to a research report by Global Market Insights, Inc.
Author Name : Krithika Krishnan
The rising deployment of fleet services for transportation & military operations has been driving aerospace & defense fluid conveyance systems market considerably since the last few years. With increasing disposable incomes and subsequently changing lifestyles, air transportation has lately gained substantial momentum, fueling the need for commercial aircraft. In addition, in order to eliminate terrorist activities, which have been increasing rapidly since the last few decades, many countries have been deploying unmanned aerial vehicles and high-speed jets. Aided by changing military strategies and heavy investments in the defense sector, aerospace & defense fluid conveyance systems industry size is anticipated to witness a massive upsurge over 2018-2024.
U.S. Aerospace & Defense Fluid Conveyance Systems Market, By Fluid, 2017 & 2024, (USD Million)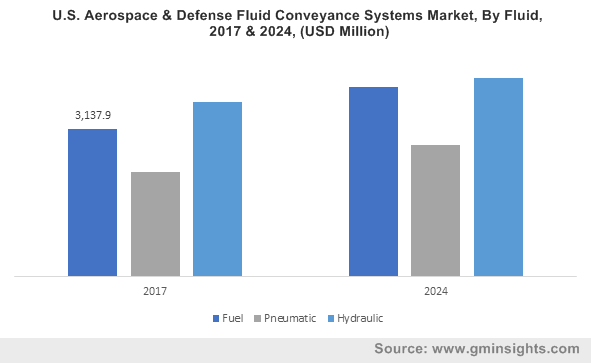 Taking into account the primary need of fluid conveyance systems in aircraft production, leading aircraft manufacturers have been establishing partnerships with fuel system manufacturers. An instance of the aforementioned is GKN Aerospace's contract signed with General Atomics Aeronautical Systems Inc., in 2017, for developing, designing, and manufacturing fuel conveyance systems. GKN Aerospace, through this development agreement, apparently looked forward to developing fuel systems for UAV (unmanned aerial vehicle) applications. The firm planned to manufacture fuel bladders through a vacuum forming process in conjunction with the latest polyurethane (PU) material that is durable and lightweight. Given that UAVs are prominently used in the defense sector for performing various surveillance and other military tasks, GKN is likely to strengthen its stance in aerospace & defense fluid conveyance systems market through this deal, in addition to encouraging its fellow adversaries to increase their investments in the development of military UAVs.
The surging deployment of aircraft for defense as well as commercial purposes has been creating lucrative opportunities not only for original equipment manufacturers but also for aftermarket product developers. In fact, in order to rake in maximum capital, aircraft companies are signing long-term deals with aftermarket product suppliers. The collaboration of airline companies with aftermarket product distributors is proving rather beneficial for this vertical, in terms of reduced maintenance cost and improved fleet reliability.
Get a Sample Copy of this Report@ https://www.gminsights.com/request-sample/detail/2518
Citing a recent instance justifying the aforementioned statement, in 2016, Emirates signed a 10-year aftermarket agreement with Unison Industries to upgrade the GE90 and GP7200 engine fleets. Emirates back then, could leverage Unison's expertise in the areas of upgrades, exchange programs, and repairs with mutual goals of the highest quality support. The deal testified that requirement of the aftermarket is vitally important for maintaining fleet services. Indeed, as per estimates, aerospace & defense fluid conveyance systems market size from the aftermarket distribution channel is slated to register a CAGR of 3.5% over 2018-2024.
Elaborating further on the growth strategy scenario in aerospace & defense fluid conveyance systems market, it is noteworthy to mention in 2015, Parker Aerospace signed a long-term deal with Emirates to provide a maintenance package to its Airbus A330/A340 and Boeing 777 engines and aircraft. As per the agreement, Parker will establish its repair facilities and network outstations across the globe to support Emirates, which will emerge to be advantageous for regional companies and local support teams to generate a sufficient inventory pool for fleet maintenance. This in consequence would have a remunerative impact on the overall aerospace & defense fluid conveyance systems industry outlook over the years ahead.
The mutual cooperation between aircraft companies and product suppliers is likely to be one of the major driving forces of aerospace & defense fluid conveyance systems industry. The surging deployment of UAVs for performing military operations will also have a remarkable impact on product demand over the years ahead. Driven by the escalating demand for fleet components and the robust competitive hierarchy, aerospace & defense fluid conveyance systems market share will increase at a CAGR of 3% over 2018-2024.
Author Name : Sunil Hebbalkar