Hospitality
Rising demand for affordable and reliable communication services worldwide will be one of the key trends driving voice over internet protocol (VoIP) market growth over the forecast period. VoIP is a rapidly advancing technology that uses internet to make phone calls rather than conventional telephone systems. The cost of using a VoIP service is relatively low, especially for long-distance communication. Companies are increasingly leveraging VoIP solutions to improve their productivity and enhance mobility.
APAC VoIP Market Size, By Country, 2018 & 2025 (USD Billion)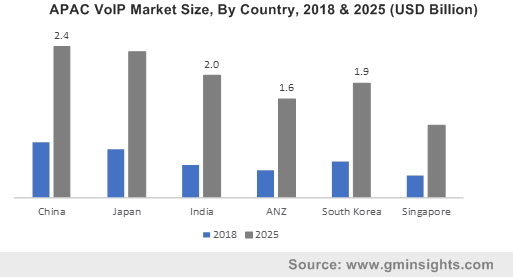 The voice over internet protocol (VoIP) market has garnered major share in developed nations owing to presence of high-speed broadband infrastructures which eliminate the need for maintaining a separate telecommunications network. In addition to making voice calls, VoIP can also conduct video conferencing calls, eventually allowing businesses to visually communicate with co-workers and clients to discuss deals, files, documents and agendas more effectively.
VoIP makes recording calls more efficient and easier, further enabling companies to integrate different communication services into a single device or software. With rapid technological advancements and recent innovations, VoIP market outlook has witnessed an immense transformation lately. For instance, in 2019, caller ID app Truecaller announced the beta-testing of its new app feature that allows users to make voice calls over IP. With such advancements, VoIP market trends are likely to expand and the industry players may garner a huge customer base, thereby augmenting business growth over the forecast period.
Voice over Internet Protocol (VoIP) market share is slated to record significant gains from the international VoIP call segment. Demand for international VoIP calling services is estimated to increase exponentially over coming years, on account of its low-cost service offering. Several affordable international calling plans are being offered by VoIP service providers that allow organizations to conduct business across borders at low calling rates. Credible reports also estimate international VoIP calls market to hold major share of over 50% by 2025.
Get a Sample Copy of this Report:@ https://www.gminsights.com/request-sample/detail/2989
VoIP providers also allow users to make calls to landline and mobile phone numbers without any restrictions. Being internet-based, the technology can effectively handle media types such as images, videos and texts along with voice. Rising technological advancements will propel VoIP industry growth. For example, VoIP service plans come with advanced features like caller ID with name, call waiting, conference calls and call forwarding among other.
An instance of initiatives that will effectively generate new growth opportunities in VoIP market include the one made by North Dakota Department of Human Services which recently awarded a $3.3 million worth call center contract to Noridian Healthcare Solutions. The grant will support North Dakota's Medicaid providers and customers by answering queries associated with Medicaid claims payment, submission of claims, and prior authorization.
Europe voice over internet protocol (VoIP) market will witness commendable growth over the coming years. Especially across Germany, the VoIP industry is recording lucrative growth on account of the region's strong telecommunication infrastructure. Consumer demand and adoption of broadband high-speed Internet services is also considerable within the nation. With rising demand for cheaper communications service and increasing use of VoIP solution, the region is forecast to be a major ground for VoIP market growth over the coming years.
Supportive government initiatives are also likely to expand Europe VoIP market size over coming years. For instance, as per Europe 2020 strategy, all Europeans are expected to own fast broadband services (over 30 Mbps) by 2020, a mission for which EU has implemented a series of regulatory measures and policies and has made around €15 billion available to Member States in the period 2014-2020.
Voice over Internet Protocol (VoIP) is an advanced communication technology that enables organizations to cost-effectively streamline different communication platforms to improve business productivity. International call centers are increasingly using VoIP to reduce cost expenditure and facilitate voice calls at affordable prices.
With growing traction in European countries and extensive use of internet-based voice communication apps worldwide, demand for VoIP solutions will increase significantly over coming years. Report from Global Market Insights, Inc., estimates voice over internet protocol (VoIP) market size to exceed USD 55 billion by 2025.
Author Name : Mateen Dalal
Rising digitalization and use of e-payment platforms are driving cloud POS market growth. Cloud-based POS is an adaptable, easy to implement and cost-effective solution compared to traditional POS systems. It is integrated with features like inventory management, customer relationship management, loyalty programs and more. For small-to-medium sized businesses (SMBs), a cloud POS system can ensure enhanced customer experience whilst coping up with rapidly upgrading technology.
U.S. SMEs cloud POS market, by application, 2018 & 2025 (USD Million)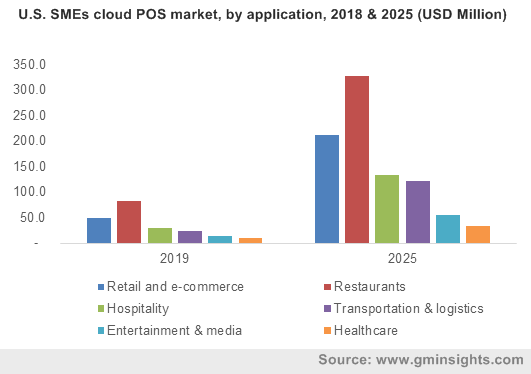 With cloud POS, SMBs can quickly, safely and securely access information using their mobile device. Using tools like data monitoring, inventory tracking, transaction history and more, cloud-based systems can offer enhanced profitability and become an invaluable resource for SMBs.
Notably, cloud POS can be integrated into existing system, increasing security and visibility of restaurant or retail store information. Additionally, it can easily be upgraded, and can track application growth and essential business needs. Product lines, features or stores can also be added to its software. Aided by such profound features, product demand has increased significantly over recent years, expanding cloud POS market size.
Cloud POS market is gaining massive proceeds from the restaurant and hospitality sector. A restaurant cloud POS system is an integral part of daily operations as it helps conduct tasks like billing, ticketing, tax management, invoicing and more. The system aims on delivering superior customer experience and cost control while further growing store revenues and overall profitability.
It enables restaurants to manage orders, make payment, and conduct promotions, and even supports the latest cashless and e-payment platforms that consumers use. The robust use of the system is rather overt from the extensive growth of restaurant POS terminals market as well. Indeed, with growing technological advancements, cloud POS has become a complete restaurant management system providing features like stock and inventory management, detailed reporting and analytics customer relationship management, marketing and more.
Get a Sample Copy of this Report:@ https://www.gminsights.com/request-sample/detail/3418
Growing demand and use of e-payment transactions will augment the cloud POS industry share in the restaurant sector. Furthermore, according to a recent study, the number of credit card payments have reportedly grown by 10.2% in the year 2016 to 37.3 billion with a total value of $3.27 trillion, while digital wallets such as Apple Pay and Android Pay are expected represent $503 billion in transactions by 2020. These instances aptly prove that cloud POS market is here to stay.
APAC cloud POS market is growing robustly on account of rapid digitalization and increased use of cashless payments. India's foodservice sector in particular, continues to grow rapidly on account of rising number of restaurant dining and foreign tourists. Increasing consumer income has made restaurant dining more accessible. International hotel brands have also been expanding their presence in the continent, that has further fostered the regional cloud POS industry size.
With cloud POS, restaurant outlets can acknowledge orders directly to these aggregators. Moreover, with growing technological advancements, the APAC cloud POS is poised to register increased demand in the forthcoming years. Indeed, it has been speculated that the Asia Pacific region will observe a commendably high adoption of restaurant POS solutions, on account of the increase in the usage of POS systems for food delivery. As per estimates, APAC cloud POS market size will register a CAGR of 27% over 2019-2025.
Cloud POS systems are web-hosted solutions that store information on remote servers which can be accessed online. The system is increasingly used in restaurants and retail stores for recording data, taking orders, making bills, managing inventory and more. Reports from Global Market Insights, Inc. estimate cloud POS market to surpass USD 6 billion by 2025.
Author Name : Mateen Dalal
Ezetap's recent acquisition of FortunePay is a vital indicator of the growth in (Point of Sale) POS Terminals market. Similar to the growth strategies adopted by most markets, mergers & acquisitions and novel product launches primarily form the strategy landscape of POS terminals industry as well. In June 2017, Bangalore based POS firm Ezetap had acquired FortunePay, an online payment & physical payment service provider to banks in India. This deal is anticipated to help Ezetap avail the latter's infrastructure and become a sole payment service provider for the traders in India. Earlier in June 2014, Ezetap had also collaborated with SBI (State Bank of India) to install 500,000 point of sale terminals across India over the coming five years. With more and more companies undertaking strategic tactics, POS terminals market is sure to carve out an appreciable growth map over 2018-2024.
UK POS terminals market, by application, 2017 & 2024 (USD Billion)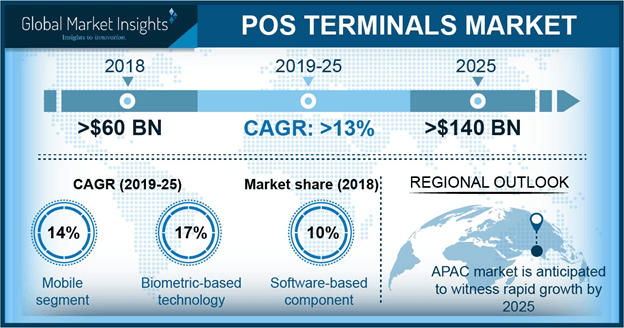 An outline of the POS terminals market trends in terms of contributions by the industry veterans:
In January 2017, Fujitsu, a Japanese multinational IT equipment & service firm, launched Fujitsu TP8TM, a family of retail POS terminals, which was developed to optimize and improve the online payment performance across supermarkets, department stores, drug stores, and mass merchant stores. The new product also enhances the shopping experience of the customers across retail stores through its exceptional modularity. These new product innovations are expected to result in the robust expansion of POS terminals market.
In February 2017, OMA Emirates Group, a UAE based payment service provider, purchased MobiSwipe, one of the leading mPOS service providers. The acquisition will help OMA to expand its service portfolio across APAC, Middle East, and East Europe. MobiSwipe permits traders to make use of smartphones and tablets as POS terminal devices to accept payments via debit or credit cards. In a vital breakthrough, MobiSwipe, now a part of the OMA Emirates Group, in April 2017, announced the setup of more than 50,000 mPOS terminals in India within nine months. This is an instance of how major firms have been taking key initiatives to promote cashless deals in the country and explore new business growth avenues across India (Point of Sale) POS terminals industry.
Get a Sample Copy of this Report@ https://www.gminsights.com/request-sample/detail/390
In May 2017, Mswipe, a startup firm in the  mPOS terminals industry,  formed a joint venture with PayU India, a digital payment service provider, to expand its online payment business through the purchase of the latter's offline merchant acquiring business. As per the reports from reliable sources, PayU had acquired more than 9000 offline traders across India, who, along with their point of sale business will be moved to Mswipe. Dealers transacting with Mswipe can now use PayU India's online payment options. According to expert opinions, the strategic alliance between the online payment service providers will benefit both in terms of revenue generation as well the consolidation of their positions in POS terminals market.
In July 2017, ScanSource Incorporation, a leading service provider of point-of-sale, barcode, networking, and data solutions, acquired POS Portal Incorporation, distributor & renter of POS devices, for USD 144.9 million to extend and improve its POS payment services across the globe. This is ScanSource's sixth acquisition since last three years, with its recent purchase being Intelisys, a technology service distributor and master agent of carrier, telecom, & cloud solutions, for USD 83.6 million in June 2017.
The same year also witnessed NEXTEP SYSTEMS, a provider of self-order POS services, form a strategic alliance with LevelUp, the largest mobile payment platform developed by Massachusetts-based startup firm SCVNGR. The alliance will enhance the service efficiency of both the firms by offering more effective and user-friendly online payment options. Speedy   self and mobile ordering operations, ensuring a seamless and personalized experience for the users are expected to spur the business expansion and ROI of both these firms, thereby providing a boost to POS terminals industry. Global Market Insights, Inc., claim POS terminals market share to surpass USD 125 billion by 2024.
POS terminals industry is an evolving business sector with big players investing heavily in R&D activities to develop new technologies and products for gaining competitive edge. It is more likely that rapid expansion of POS terminals market will encourage new service providers and manufacturers to enter the business further encouraging the existence of fierce competition in the industry.  VeriFone Systems Inc., Panasonic Corporation, Ingenico Group, PAX Technology Inc., and Toshiba Corporation are some of the major brands of POS terminals industry.
Author Name : Saipriya Iyer