Hybrid Electric Vehicle
The growth of the autonomous cars market can be aptly credited to the exponentially growing automotive sector across the globe. Having sold around 24 million units in 2017, autonomous cars industry has been consolidating its stance significantly in the automotive space, the future of which has been touted to be transformed owing to the rising popularity of connected cars that have lately been revolutionizing the mobility sector.
Europe Autonomous Cars Market, By Type, 2017 & 2024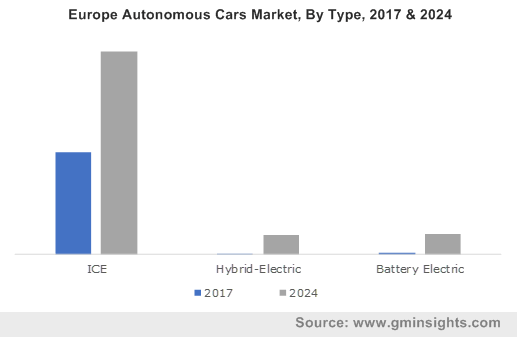 Autonomous cars, which can be operated with minimal or no driving input in any capacity from a human, indeed, are rapidly becoming a reality because of the rising number of research & development (R&D) programs carried out by renowned automobile manufacturers and technology companies. The R&D efforts are mainly fueled by the lucrative opportunities offered by the sector, which has been largely unevolved – in the way the automobiles are operated – since its inception.
The intensive R&D efforts by industry leaders along with the support received from regional governments due to the added road-safety feature of the technology, would be responsible for the expansion of the global automotive market. Moreover, the environment-friendly feature of these vehicles would also contribute toward increased sales numbers in coming years.
Get a Sample Copy of this Report:@ https://www.gminsights.com/request-sample/detail/1224
Unveiling autonomous car market trends in terms of the vehicle landscape:
Level-1 autonomous cars:
Known as the first generation of autonomous vehicles – level-1 autonomous cars are the ones that incorporate an advanced driving assistance system (ADAS). The system acts as an extension of the driver and helps the vehicle operator operate the car safely. According to a 2018 report by the Victoria Transport Policy Institute (VTPI), many of the level-1 autonomous vehicles incorporate technologies like hazard warning, cruise control, collision avoidance as well as automated parallel parking that take over some of the driver's responsibilities.
The level-1 based autonomous cars market is primarily driven by the rising road-safety concerns around the world as more and more vehicles are added to the roads each year. The increasing road-safety concerns have prompted governments across the world to introduce programs that mandate the incorporation of ADAS inside vehicles to ensure passenger safety. Programs such as the National Highway Traffic Safety Administration (NHTSA) in the U.S and the New Car Assessment Program (NCAP) in the European Union have impelled vehicle manufacturers to deploy vehicles that include a built-in level-1 semi-autonomous system. Amidst this scenario, it comes as no surprise that level-1 autonomous vehicles account for over 90% of the autonomous cars market share.
Level-4 autonomous cars:
The level-4 autonomous vehicles – currently under the research phase – are expected to be commercially made available in the market by 2022. The rapidly increasing number of research & development efforts by industry leaders in the automated driving domain would be responsible for the growth of level-4 based autonomous cars market in the years to come. According to a 2018 report by Bloomberg, Waymo – an autonomous car initiative by Google's parent company – Alphabet Inc., is a leading contender that is much ahead of its nearest competitor in the race to deploy an autonomous level-4 vehicle to the market. To bring this accomplishment to fruition, the firm has entered into an agreement with Chrysler to acquire thousands of Chrysler Pacifica minivans that the company intends to modify by retrofitting autonomous driving systems that use LiDAR sensors to drive the cars.
However, other industry players are rapidly closing the gap by making significant inroads in this vertical. For instance, automobile manufacturer General Motors Co. has made considerable investments in the sector with the intention of rolling-out a fully-autonomous ride-hailing service that uses a modified version of the company's Chevrolet Bolt – a car that does not incorporate a steering wheel or control pedals – by the final quarter of 2019. To attain this goal, GM has received a significant investment worth $2.25 billion from the SoftBank Vision Fund. Moreover, companies are also working towards acquiring licenses from concerned authorities to carry out road-tests to test their respective self-driving vehicles.
Attributing to such advancements, the autonomous cars market is projected to continue garnering exponential growth in the forthcoming years. According to a report by Global Market Insights, Inc., driven by the massively growing demand for these vehicles, autonomous cars market size is expected to surpass 60 million units by 2024.
Author Name : Akshay Kedari
Tesla's latest Class 8 marvel is indeed a classic phenomenon that has posed several challenges for heavy-duty trucks market players. The automotive giant has unveiled the 'Tesla Semi' – its all-electric semi-truck that boasts of superior charging capacity and has been designed to travel from 0 to 60 mph in merely a 5-second span. In fact, towing a load of close to 80,000 lbs alongside, this truck can travel from 0 to 60 mph in just 20 seconds, setting quite a remarkable precedence for companies partaking in heavy-duty trucks industry share.
U.S. Heavy-Duty Trucks Market, By Class, 2018 & 2025, (USD Million)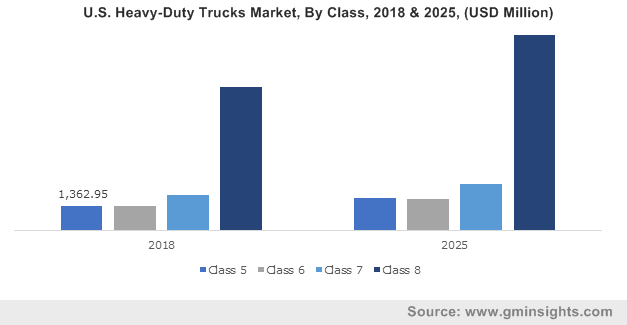 What's precisely noteworthy though, is not the Semi's speed range or its aesthetic appearance, but the fact that it offers a transmission which requires no gear shifting with regenerative braking – essentially, a provision that delivers infinitesimal brake life for the vehicle. Endowed with such an amazing intrinsic design such as this, the Tesla Semi is certain to cause a stir in heavy-duty trucks market.
It is prudent to state that the Tesla Semi being a Class 8 wonder is an indicator of the fact that class 8 vehicles are indeed being pursued with renewed gusto by heavy-duty trucks industry players. In fact, a report by Global Market Insights, Inc., claims class 8 vehicles to accumulate a considerable portion of the global revenue in heavy-duty trucks market over 2019-2025, pertaining to their enviable ability to sustain heavy loads. Generally deployed for high-power applications such as construction and mining, class 8 vehicles are diesel-powered and have a gross weight vehicle rating of more than 33,000 lbs. Subject to the extensive demand for these beauties, companies have been sparing no expense in R&D activities, to bring forth newer class 8 vehicles endowed with superior features, that would ultimately help augment the sales graph of the overall heavy-duty trucks industry.
Get a Sample Copy of this Report:@ https://www.gminsights.com/request-sample/detail/2015
Not so long ago, Daimler, one of the most prominent players of heavy-duty trucks market, had unveiled a prototype of its much-awaited vehicle at the Tokyo Motor Show. Daimler's truck unit, Mitsubishi FUSO, claimed that its heavy-duty truck, called the E-FUSO Vision One, weighs more than 51,000 lbs and is capable of driving up to 220 miles on a single charge. The product was viewed as a cutthroat competition to Tesla's Semi, leading to some level of consolidation in heavy-duty trucks industry. In consequence, it is undeniable that products endowed with superior properties and high-caliber innovations would prevail in this business space, thereby increasing the sales figures and the overall revenue of heavy-duty trucks market, which is anticipated to surpass USD 160 billion by 2025.
Unquestionably, renowned biggies have not been programmed to remain the underdog in heavy-duty trucks industry. In this regard, Volvo Trucks, the Sweden-based truck manufacturer, recently launched LNG and biogas powered, Euro 6-compliant heavy duty trucks, that apparently possess the same driving ability, fuel consumption, and performance level as that of Volvo's diesel-powered vehicles. However, the proportion of carbon emissions from the all-new Volvo FM LNG and Volvo FH LNG is 20% to 100% lower than the diesel vehicles, based on which fuel is specifically chosen. Furthermore, these trucks are also available for heavy long-haul operations, with 420 hp to 460 hp, that may make them one of most sought-after vehicles in heavy-duty trucks market.
Most companies spanning across the competitive spectrum of heavy-duty trucks industry have lately been concentrating on cost-reduction methodologies. This paradigm shift, it has been observed, is being carried out through the introduction of novel remanufacturing business models that ultimately help to reduce the production expense. One of the pivotal factors responsible for the expansion of heavy-duty trucks market is the robust growth of the automotive domain, especially across the emerging economies.
In fact, heavy-duty trucks market players such as Toyota, Daimler, Ford Motor Company, Tata Motors, Volvo, and General Motors have strongly established bases across the developing geographies, owing to the convenient availability of resources coupled with a supportive regulatory frame of reference, which has proved to be rather lucrative for the overall business sphere.
It is imperative to mention that in the last half a decade or so, the prevalence of high-grade technological advancements, say for instance, such as telematics services and self-driving has increased to a rather commendable extent. As on today, these technologies are considered to be some of the key drivers that help expand the consumer pool for heavy-duty trucks industry players.
With tech-savvy clients willing to wield the convenience and flexibility of contemporary technologies, companies have been rapidly exploiting the latest tech-oriented mechanisms in product manufacturing, leading to increased vehicle sales and by extension, an escalated revenue collection for heavy-duty trucks market. With state-of-the-art technologies in action, in conjunction with the widespread penetration of truck fleets in several end-use domains, heavy-duty trucks market size is likely to depict a massive surge by the year 2025.
Author Name : Saipriya Iyer