Hydrogen Peroxide Market – Global Hydrogen Peroxide Industry Size
Hydrogen Peroxide Market will exhibit an upward trend over the coming years, with the urge to maintain the environment sustainability and the rising pressure to minimize plastic wastes globally. Increasing awareness for eco-friendly packing process and recycled paper will stimulate the hydrogen peroxide market outlook notably. The packaging industry is focusing towards flexible packaging material than plastics to cater to the growing demand. Moreover, consumption of paper across the globe influencing the global paper & pulp industry has been a strong driving factor for the growth of the hydrogen peroxide market. According to Global Market Insights, Inc. "Hydrogen Peroxide Market size is estimated to witness a CAGR of 5% over the period of 2016-2024."
Increasing adoption of (HPPO) hydrogen peroxide propylene oxide process will further fuel the demand for its key raw material i.e. hydrogen peroxide in the coming years. Companies such as Dow Chemicals, BASF SE, and Solvay have collaborated to use the HPPO technology. Furthermore, the use of electronic grade hydrogen peroxide in etching of semiconductors boards will have a dynamic impact on the hydrogen peroxide industry revenue trends. Companies such as Evonik and Solvay have commercialized the electronics grade variants and are investing intensively in the research and development.
U.S Hydrogen Peroxide Market size, by end-user, 2015 & 2024 (USD Million)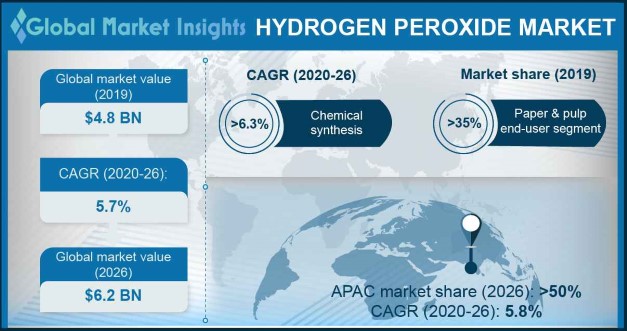 Asia Pacific dominated with 50% of the global hydrogen market in 2015 with a revenue of over USD 2,000 million and is predicted to substantially acquire the market share in the coming timeframe. APAC hydrogen peroxide market growth, lead by China will exhibit a 6% CAGR over 2016-2024, driven by indulgent government norms and cheap workforce.
Get a Sample Copy of this Report:@ https://www.gminsights.com/request-sample/detail/851
Based on end-use, hydrogen peroxide industry finds extensive application across Paper & Pulp, Waste Water Treatment, Chemical, and Mining. Hydrogen peroxide market size in chemical sector is projected to surpass a revenue of USD 2,000 million by 2024. This sector will observe escalating gains over the coming years, owing to HPPO process and increase in usage of propylene oxide in commercial products like synthetic emollients, flame retardants, drilling chemicals for oil fields etc.
Paper and pulp industry, dominating the global market share by 40% in 2015, is expected to record a CAGR of 5% over the period of 2016-2024, owing to its increasing demand for stationery and recycled paper. This lucrative sector may consume hydrogen peroxide worth USD 2500 million in the coming seven years.
Another sector witnessing heavy gains in the hydrogen peroxide industry is the waste water treatment industry. This industry will observe escalating growth at a rate of 5.5% over the period of 2016-2024. Government regulations for waste water treatments in industry and environmental protection are the attributing factors for the industry growth.
North America and Europe hydrogen peroxide market report are expected to cross USD 1,000 million by 2024. However, strict regulations by REACH, EPA, FDA and OSHA will shift the focus of the manufacturers to Asia Pacific regions.
Notable hydrogen peroxide industry participants are AkzoNobel, Arkema, Gujarat Alkalies, Solvay S.A., Kemira Oyj, Mitsubishi Chemical Corporation, Gujarat Alkalies & Chemicals, and Evonik Industries.
Author Name : Ojaswita Kutepatil