Industrial Air Filtration Market Outlook
Driven by rapid industrialization and the consistent threats plaguing the environment, industrial air filtration market has turned out to be one of the most productive verticals over the recent years. With industries such as automotive, transportation, power generation, and oil & gas having earned the tag of emitting GHGs on a large scale and negatively impacting biodiversity, regulatory bodies have worked to implement norms to mandate the deployment of air treatment facilities at every industry. This has, in consequence, led to increased industrial air filtration market demand in the recent years.
U.S. Industrial Air Filtration Market Size, By Product, 2017 & 2024, (USD Million)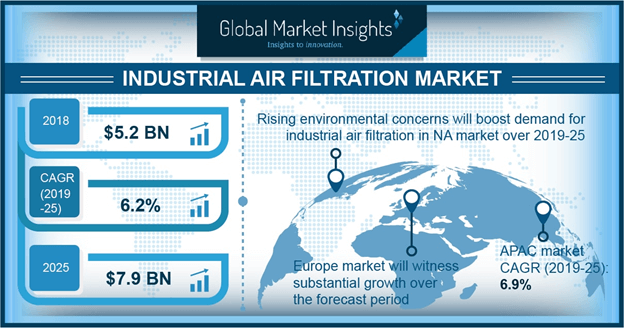 As per the survey carried out by U.S. Environmental Protection Agency (EPA), ever since 1990, the power generation sector alone has been accounting for nearly 31% greenhouse gas emission, followed by transportation industry responsible for almost 27% emission. Quite overly, most of the companies contributing to the aforementioned industry sectors have been continuously conducting research and development activities to improve the quality of gases emitted from their facilities.
Air filters debuting in the global industrial space may have been quite a disruptive force back then, however, as of today, the product has extensively widened its scope of application. Prior to the inception of this domain, finding optimized energy utilization and a higher degree of air filtration on a single platform was unheard of, as traditional filters required higher pressure drops to carry out the filtration process more efficiently. However, since then, air filtration has come a long way and through extensive research and development, and since the last half a decade, manufacturers have finally been able to develop efficient air filters that exhibit minimum intrinsic pressure drop at the end level of separation. This paradigm shift in the conventional filter design has provided a significant impetus to industrial air filtration market outlook.
Get a Sample Copy of this Report:@ https://www.gminsights.com/request-sample/detail/182
Having recognized the impact of smart technology, established giants as well as new entrants in industrial air filtration market have been going the whole hog to bring innovation in the product design. A recent precedent depicting how startups are breaking the molds of traditional air filters is that of AirOK Technologies' launch of India's first locally developed smart air purifier. Dubbed as Vistar, this breakthrough air purifier is allegedly featured with a touch interface and Wi-Fi that allows the filter to work more efficiently with enhanced durability. The innovative approach of this startup to develop new products has set a new benchmark for the other contributors in industrial air filtration market. The consistency in novel product launches and the emergence of new players in industrial air filtration market is expected to strengthen the competitive spectrum of this business space over the years ahead.
Speaking about the initiatives taken by the regulatory bodies to encourage the various industries to deploy efficient and high-quality air filters, it would be prudent to mention the Occupational Safety and Health Organization (OSHA) in the U.S., that has released recommendations to employers regarding the improvement of air quality at the workplace. In fact, it has also mandated the use of air filtration systems for maintaining the quality of indoor as well as outdoor air. Growing concerns about the health hazards to the employees working in an air contaminated environment is poised to propel U.S. industrial air filtration industry trends over the years ahead.
Incidentally, the United States stands as a major growth ground for North America industrial air filtration market. Driven by the strict regulatory spectrum and the expanding food and pharma sectors, North America industrial air filtration market size is anticipated to cross USD 1.5 billion by 2024.
The rapid industrialization across the globe is tandem with the growing awareness regarding the importance of maintaining air quality is certain to lend a positive outlook to industrial air filtration market. In order to comply with the stringent regulatory framework, most of the firms have been looking forward to installing air treatment facilities at their workplaces. Driven by the surging requirement of highly efficient and cost-effective air filtration systems, giants in industrial air filtration industry have been investing heavily in research and development activities on a large scale.
Apart from established magnates, the notable contribution of startups toward industrial air filtration industry expansion is not to be ignored. In essence, powered by the support of regulatory organizations and industry biggies, by the end of 2024, industrial air filtration market will surpass revenue collection of USD 6.5 billion.
Author Name : Sunil Hebbalkar