Industrial Automation
Material handling equipment market has stood as one of the most remunerative business spheres in the construction domain. The industry landscape is prominently underlined by technological interventions and development in logistic operations, where the parameters define the key to opportunities and profitability. Amidst this dynamic competitive scenario, product improvisation via mergers & acquisitions have emerged as the top-notch growth strategy adopted by the major players. Toyota Industries' yesteryear tie up with renowned material handling equipment industry player Bastian Solutions LLC is an exemplary precedent depicting the same. The deal signified Toyota full-scale entry in the North America material handling equipment market, in the backdrop of the massively expanding e-commerce sector in the region. It is prudent to mention that e-commerce is indeed one of the major application avenues for material handling equipment industry growth. The segment contributed a total of USD 14 billion to the overall business in 2017.
Germany Material Handling Equipment Market, By Product, 2017 & 2024, (USD Million)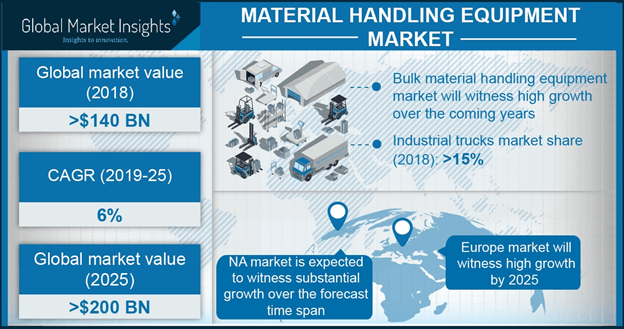 With manufacturers, retailers, and distributors striving to deliver efficient operations that not just meet the traditional business demand, but also the e-commerce operations, development of optimized warehouses and DCs to support the multifaceted operations has become an absolute necessity. Today's advanced material handling solutions significantly improve the inventory control, leaving a subsequent impact on the overall supply chain model. With notable developments in omni-channel operations, in-store pickup, return processing and specialty labelling, e-commerce sector is rightly touted as a major investment spot for material handling equipment market players.
Regionally, the European belt is claimed to be highly profitable growth ground for material handling equipment industry, subject to the stringent governmental regulations with regards to workplace safety in the continent. This has subsequently prompted manufacturers to come up with products that are absolutely in compliance with the standards enforced by the European Union regarding design, construction, and handling of the equipment.
Get a Sample Copy of this Report@ https://www.gminsights.com/request-sample/detail/1384
In a recent turn of events witnessed across Europe material handling equipment market, Plug Power, a renowned name in the energy solutions provider list announced its Europe team's participation as a partner at the World of Material Handling conference. Reportedly, the event is hosted by one of the leading material handling equipment market players, Linde Material Handling in Germany.
Through this venture, Plug Power would be integrating its patent fuel cells into Linde's warehouse vehicles, thereupon increasing the adoption of H2 (hydrogen) in Europe manufacturing market. The collaboration move between Plug Power and Linde is claimed to remarkably facilitate the penetration of hydrogen fuel cells across Europe. Underlined by similar strategic developments in the manufacturing sector, Europe would continue to witness a percentage of supremacy in the business sphere. In terms of commercialization potential, Europe materials handling equipment industry share is forecast to exceed USD 25 billion by 2024.
While a rich application landscape ensures a rather lucrative terrain for the material handling equipment market, the huge capital investments in the maintenance and operation of these equipment might challenge the industry trends in the coming years.  Also, the complexity associated with integrating hardware and software in one platform for upgrading the manufacturing facilities is another deterring factor in materials handling equipment industry growth, Nonetheless, with industry participants making incessant efforts toward developing products that are affordable and efficient, the market is certain to witness remarkable proceeds in the coming timeframe.
One of the anticipated trends to be watched for remains the growth of material handling equipment market in emerging economies, where manufacturing sector is booming. The robotic technology will also mark a disruption of sorts in this domain, primarily fueled by the demand for cost-effective and efficient approaches. In this regard, China and India which are indeed witnessing a remarkable rise in industrialization are slated to be the chief avenues for material handling equipment market. In fact, Asia Pacific, driven by these economies is expected to witness an appreciable CAGR of 6.5% over 2018-2024. The global business share is projected to surpass USD 190 billion by 2024.
The growing technological advancements in IoT coupled with the rising demand for smart connected devices will drive single board computer (SBC) market in the years to come. Basically a compressed, low-cost version of a typical computer, an SBC comprises similar components such as microprocessors, memory, input/output (I/O) and other features all embedded on a tiny circuit board.
China single board computer market size, by processor, 2018 & 2025 (USD Million)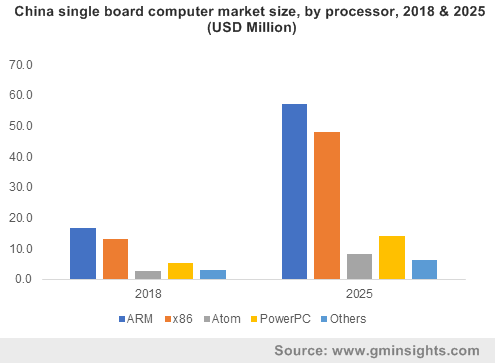 The product has become significantly important for developers seeking ways to design products with greater intelligence, performance and connectivity while reducing power consumption, costs and size. Indeed, the product continues to evolve in sophistication, while its range of possibilities expand. For instance, nowadays SBCs come with features like Bluetooth and Wi-Fi compatibility making them ideal in applications associated with IoT (Internet of Things).
The deployment of the Internet of Things (IoT) in almost all industrial applications will significantly boost the growth of the SBC market in the years to come. By using SBCs, manufacturers are now able to offer efficient IoT solutions to customers. The product has certainly propelled the growth of the IoT sector in the last few years, offering a much smoother commercialization. According to reports, business infrastructure and operations professionals are rapidly shifting towards IoT, while studies indicate that a major proportion of decision-makers are already using IoT-enabled applications from building connected products to transforming operational processes. With rising IoT adoption, IoT software providers like IBM, Cisco, Amazon, GE, and other giants are now developing solutions that simplify the design, creation, integration, and management of IoT infrastructure and enterprise data. This in consequence will majorly propel the product demand, eventually pushing SBC industry trends.
Technological advancements in embedded technology will boost the SBC market
Semiconductor processors, being the core of any SBC, are rapidly evolving to match the capability of modern day applications. To attract the vast tech-savvy customer base, engineers are constantly adopting advanced embedded technologies to gain a competitive edge. For instance, the neural processing unit (NPU) is anticipated to be the next focus for chipmakers as it helps speed up computer-vision applications, such as object and image recognition, and offers enterprises and manufacturers a more powerful platform for developing products used from smart building applications to driverless vehicles.
Get a Sample Copy of this Report @ https://www.gminsights.com/request-sample/detail/1570
Prominent companies are investing heavily in the development of these new technologies. The Chinese tech giant Huawei, in collaboration with Linaro, recently launched its new SBC called HiKey 970 AI computing platform which uses the world's first AI mobile processor, Huawei's Hisilicon Kirin 970 chipset along with a dedicated Neural Processing Unit (NPU). This is quite vividly, an instance that demonstrates how product innovation and investments in technological advancements will add momentum to the expansion of the SBC industry.
Powered by rapid technological developments, single board computers have paved their way into medical sector as well. Medical devices are increasingly being integrated with SBCs to perform and monitor a wide range of clinical processes. The product's reliability, power and versatility have made it ideal for developing customized medical electronic devices, medical monitoring systems, fault-tolerant wearable computers and more. Strategic partnerships between tech giants and medical healthcare firms will thus majorly augment the growth graph of SBC industry.
While SBC market has quite appreciable consolidated itself worldwide, the APAC is said to emerge as a prominent revenue pocket for this industry in the years to come. This may plausibly be the case on account of the expanding electronics industry in the region. With the presence of several consumer electronics and tech firms, the APAC SBC industry is anticipated to depict considerable growth over 2019-2025. Growing government support toward building in-house consumer electronics, such as smartphones, tablets and other gadgets in countries like India and China, will also boost the APAC single board market demand.
Being highly-scaled versions of traditional PCs and laptops, SBC are expected to continue finding long-term application in IoT-driven verticals and consumer electronics. Powered by rapid technological advancements in semiconductor processors and AI, single board computer market is forecast to chronicle itself in the billion-dollar business sphere by 2025.
Author Name :Paroma Bhattacharya