Industrial Floor Coatings Market Update
In the industrial sector, the coating of the floor is considered as a crucial facet, subject to which the global industrial floor coatings market has been witnessing a phenomenal demand over the recent years. The utilization of coatings is touted as an impressive solution for optimal protection and aesthetics of the industrial and commercial infrastructures. The noticeable shift in the consumer preference for high chemical resistance, mechanical strength, and improved finishing ability of the flooring has significantly influenced the product demand. As per a report by Global Market Insights, Inc., industrial floor coatings market was pegged at USD 3.5 billion in 2016 and is anticipated to generate revenue over USD 6 billion by 2024.
U.S. Industrial Floor Coatings Market Size, by Application, 2016-2024 (USD Million)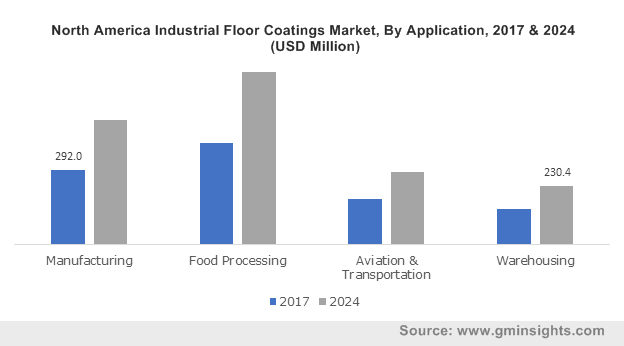 Impact of food processing sector on industrial floor coatings market size
Industrial floor coatings market is expected to witness strong application potential in the food and beverage processing industry. While working in the food processing industry, it is quite important to keep all the areas clean- including the floor. Certain food constituents such as blood, sugar, acids, oils, fats, etc. often fall onto the floors, which are highly susceptible to infections and contaminations. In response to this fact, it is highly important to maintain the sanitary standards of the floors, which has provided a major thrust to the demand of industrial floor coatings market from this application. As per estimates, in 2016, food processing accounted for more than 30% of the overall market and is further expected to grow at an annual rate of 6% over 2017-2024.
Many of the food processing industries rely on the epoxy type of coatings, which are highly durable and withstand strong chemical resistance & thermal shocks. Contributing to over 25% of the overall industrial floor coatings market, epoxy cementitious is estimated to be the fastest growing product with y-o-y growth of 6.5% over 2017-2024.
Get a Sample Copy of this Report@ https://www.gminsights.com/request-sample/detail/1193
Industrial floor coatings market demand from manufacturing units & warehouses applications
Many industries and manufacturing plants witness repeated spills or a high likelihood of oils, grease, or liquids on the floor. In addition to this, floors of warehouses and manufacturing units also need to withstand wear and tear, created by heavy machinery, high impacts, and excessive heat. Subject to this fact, industrial floor coatings market is gaining huge demand from this application, on account of thriving profoundly on the cusp of rapid industrialization and urbanization. The prominent economies of Asia Pacific including China, Malaysia, India, Vietnam, and Japan promise great potential for the growth of industrial floor coatings industry, owing to rapid infrastructural development. As per estimates, APAC industrial floor coatings market is expected to record a CAGR of 6.5% over 2017-2024.
The concrete flooring material is witnessing noticeable demand from the manufacturing and warehouses applications. Owing to its superior properties of wear & tear, prevention from abrasion, scratch resistance, and ease of maintenance with excellent aesthetics, concrete materials coatings is likely to witness a high demand in manufacturing projects. In 2016, concrete floor coating materials contributed to more than 85% of the overall industrial floor coatings market share.
Demand for bio-based industrial floor coatings to drive the future market trends
The global industrial floor coatings market is witnessing a paradigm shift toward environment-friendly floor coatings. Rising concerns over the fluctuating crude oil prices and the growing dependency on fossil fuel have stimulated the paints & coating industry to strive for sustainability. Growing consumer awareness regarding the impact of synthetic resin on the environment has created huge scope for the industry players to focus on the development of bio-based coatings. Bio based floor coatings are derived from natural sources such as soybean oil, succinic acid, sunflower oil, rapeseed oil, and castor oil. The key industrial floor coatings market players are joining forces with biotechnology firms to synergize their domains and address the demand for bio-based products. For instance, in 2016, Arkema a leading company in specialty chemicals, has partnered with several industrial coatings companies to develop bio-based materials to meet the latest industry demand and shifting consumer trends. Following this collaboration, in 2017, Bostik, a subsidiary of Arkema acquired CMP specialty products, a flooring and floor preparation unit of U.S. based specialist CGM. The acquisition gave Bostik a fair chance to further exploit the U.S. construction market and provide better and innovative flooring solutions to its customers.
In light of this dynamic scenario, industrial floor coatings market is certainly liable tourish over the coming years with a projected global demand of 1,300 kilo tons by 2024. Some of the other renowned names in industrial floor coatings industry include Dow Chemical, Sherwin-Williams, Akzo Nobel, BASF, Asian Paints, PPG Industries, Tambour, 3M, Kansai Paint Co., Ltd, and Milliken & Company.
Author Name : Ojaswita Kutepatil