Industrial
Stakeholders envisage facilities management market share to proliferate at a robust pace in the wake of unprecedented surge in smart city projects. Smart cities—integrated, powered and enabled by digital technologies—have propelled commercial spaces, transportation sector, namely. In recent years, awareness of facilities management has heightened owing to expanding tourism and hospitality industries.
Palpable surge in investments in construction and real estate is expected to underscore robust-looking facilities management market size. For instance, the Canadian government issued an additional funding of US$ 81.2 bn in 2017 across five main funding streams, including green infrastructure; public transit; social infrastructure; trade & transportation projects and meeting the 'unique' needs of rural and northern communities. Apparently, the unique needs include facilities to underpin food security, improved broadband connectivity and local access roads.
The Investing in Canada plan propounded in Budget 2016 and expanded on in Budget 2017, aims to build advanced economic cities. With burgeoning construction projects, demand for various services, including maintenance, construction, electric, operation and mechanical work has soared in recent times.
Get a Sample Copy of this Report:@ https://www.gminsights.com/request-sample/detail/4403
Facilities management market size is projected to surpass US$ 2 trillion by 2025, according to the latest research report by Global Market Insights, Inc.
Despite companies in the late 2000s focused on insourcing, of late there has been notable surge in outsourcing consumption. Companies tend to streamline their operations by embracing outsourcing that reduces business risks, expands profitability, grows competitiveness, enhances productivity and lets companies focus on their major business and competitive advantage.
As such, the outsourced services segment is slated to expand profoundly during the forecast period. That said, seemingly tepid adoption of outsourced FM services may dent the growth of the industry. Meanwhile, given that outsourcing apparently enhances operational efficiency, the outsourced services will underscore facilities management market size.
Popularity of smart homes and offices, including HVAC systems, fire safety systems, elevators, mechanical equipment has augured well for hard services segment that is set to hold significant share during the forecast period. As such, potential dominance of hard service segment is slated to bolster facilities management market share by 2025.
North America facilities management market is anticipated to expand robustly against the backdrop of proliferating tourism industry. With huge revenue at stake, governments globally are vying to woo would-be travelers to their countries led by aggressive marketing and favorable policies.
According to International Trade Administration (ITA), the U.S. travel and tourism industry garnered an economic output of over US$ 1.6 trillion in 2017. The dramatic upsurge witnessed in the number of tourists has been instrumental in rendering facilities management services across shopping malls, airports, amusement parks, and large food centers.
Leading companies are grappling to secure a government deal for FM services to augment their profitability and expand facilities management market size. In Q1 2019, Madrid City Government inked a four-year contract worth 18.62 mn with the facility management company ACCIONA. Reportedly, the Madrid City picked ACCIONA to enhance energy efficiency in 400 municipal buildings, including sports centers, schools, social and cultural centers, among others.
Author Name : Sunil Jha
The global PoE solutions market share is on the rise, a trend that is expected to continue over 2019-2025. PoE solutions industry outlook will be augmented by widespread adoption of VoIP solutions, IP cameras, smart office buildings, access control systems etc. PoE solutions are estimated to make huge strides in various sectors owing to the new wave of technology and digital advancements that are transforming security operations.
APAC Power over Ethernet (PoE) Solutions Market Share, By Region, 2018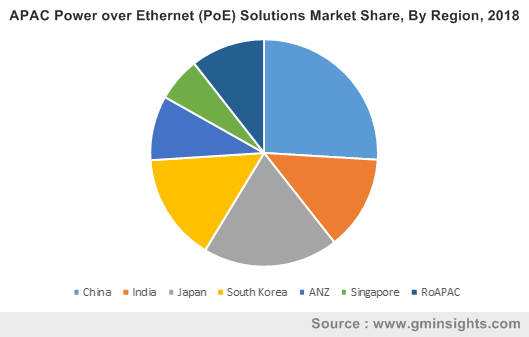 The healthcare ecosystem is increasingly coming to include smart technologies that will significantly contribute to Power over Ethernet solutions market growth in the forecast years. For instance, use of IP cameras in the hospitals and healthcare facilities is anticipated to become ubiquitous in the times to come. Hospitals have started deploying IP cameras to monitor when a patient sits up in bed, gets out of bed, or is tossing and turning in a restless effort to get to sleep. These cameras have enhanced patient care to a greater extent. Use of IP cameras has been growing in hospitals to observe high risk patients efficiently. Adoption of IP cameras will in turn augment PoE solutions market outlook in the coming years.
Another utilitarian device which will supplement growth of PoE solutions industry is increasing use of VoIP phones. By deploying VoIP phones, enterprises have been incessantly improving communication and collaborations among employees and remote users to increase business productivity. Leveraging the benefits of converged voice and data services, companies have enhanced their performance and communication. The convergence of unified communication services and enterprise VoIP to enable video-conferencing, live-chat, and other calling capabilities is expected to fuel VoIP market size and invariably expand PoE solutions industry trends.
Get a Sample Copy of this Report:@ https://www.gminsights.com/request-sample/detail/3346
Several technology companies have been toiling to develop PoE solutions and devices to support innovation. For instance, IP-COM has reportedly rolled out the G3210P, an 8-Port gigabit PoE switch with 2-Port SFP. The G3210P has been designed independently to satisfy the need of building a high-performance Gigabit Ethernet network. It can source electricity to high-power PDs and also can transmit data and supply electricity at the same time to IP Phone or IP Camera, AP via Cat.5e twisted-pair cables. Companies launching such devices in the market will remarkably contribute to foster PoE industry share by 2025.
Proliferation of Internet of Things (IoT) is among major drivers that will lead to PoE solutions market size expansion in the coming years. Adoption of IoT among enterprises has increased rapidly to support advancements in business infrastructure. Around 85 percent of organizations who acquire deep expertise with IoT have succeeded in propelling revenue share faster than rivals.
Nearly 68% of enterprises are using IoT to track security of physical assets, making this use case the most common across enterprises today. Approximately, 34% of global businesses are using IoT in daily operations, up from 29% in 2018, with 95% of IoT adopters already recording appreciable benefits. Rapid deployment of IoT among organizations is going to considerably increase PoE solutions market share as PoE has the potential to power the network ecosystem of the future that will enable global digital transformation.
Businesses have also increased focus on infrastructure security to protect sensitive data. Office spaces these days are being equipped with various security systems that require considerable investments. For instance, Euromicron AG has reportedly secured the contract for a major building technology project worth €3.6 million. The building will be completely equipped with access control. Transponder readers will be installed at all entrances and doors on floors, at the entrances to stairways, in the underground car park and basement, and at the doors to the IT technical rooms. PoE solutions industry outlook will be positively influenced by the rising deployment of security and access control systems throughout technologically advanced office spaces.
Smart lighting is yet another feature that is being widely integrated into the smart buildings of tomorrow. Typically, lighting is responsible for 40 percent of a building's electricity use. To develop smart office spaces with minimal electricity use, smart lighting industry players have been striving to adopt various strategies.
For instance, in the year 2015, Philips and Cisco had announced a global strategic alliance to create new value in energy savings, building efficiency and employee productivity by promoting connected lighting system. Both the companies had intended to deliver a consistent PoE-powered LED lighting solution utilizing a highly secure IT network. Close to 80% in energy savings and decreased building maintenance expenses can be achieved by operating, integrating and regulating a Philips LED connected lighting system via a network with Cisco. Instances of such efforts are in plenty and are anticipated to propel Power over Ethernet solutions market share.
Significantly, commercial sector has contributed to a market share of nearly 30% to PoE solutions industry in 2018 and the trend of integrating smart solution will help to maintain similar growth patterns over 2019-2025.
With growing adoption of smart solutions in office and commercial space, PoE solutions will be much in demand for enabling these smart solutions. Global Market Insights, Inc., has estimated that global PoE solutions market share is anticipated to exceed $2 billion by 2025.
Author Name : Anchal Solanki
Profound application in the commercial and healthcare sectors will drive human centric lighting market size. Human centric lightings (HCL) are designed to offer illumination solutions that physiologically and psychologically benefit human-beings. They are intended to promote improved concentration, efficiency and enhanced safety at offices and other work environments. HCL also supports healing processes and prevention of chronic diseases among people with irregular work routines.
Germany human centric lighting market, by application, 2018 & 2025 (USD Million)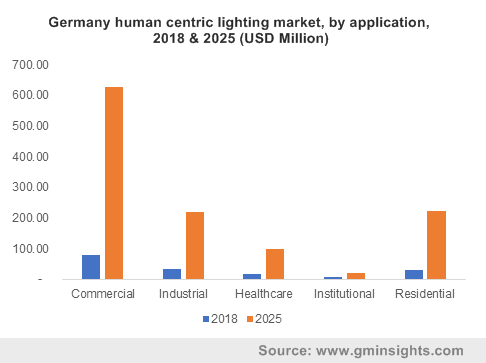 Increasing advancements in lighting technologies along with rapid adoption of Internet of Things (IoT) will support human centric lighting market growth globally. Using IoT, lighting systems can effectively be controlled and customized in real-time. IoT sensors can detect changes in environmental parameters, further directing and improving HCL capabilities.
With emergence of smart LED bulbs that offer a wide spectrum of colors and intensities along with advanced controller hardware, human centric lighting market will witness new growth opportunities over the coming years.
Human centric lighting market is anticipated to garner significant proceeds in the commercial sector. Renovation of enterprise infrastructure and installation of smart building and lighting products to develop comfortable workspaces will foster business growth. HCL solutions allow improved productivity and boost concentration in commercial work areas. In fact, research results suggest that the systems can increase work performance, reduce fatigue and significantly increase concentration and work satisfaction.
According to Lighting Society Europe, human centric lighting can significantly enhance employee performance to the point of improving productivity by 4.5%, reducing errors by 2% and further slashing rate of work absenteeism. HCL can also significantly improve visibility, thereby reducing the risk of tripping, falling and potential injuries. With employees spending more time in offices and other workplaces, HCL systems will become an essential lighting solution in the commercial sector, fostering HCL industry size.
Get a Sample Copy of this Report @ https://www.gminsights.com/request-sample/detail/3637
Increasing traction in the healthcare sector will augment human centric lighting market share. In hospitals and old age homes, HCL is well suited to implement lighting cycles comprising sunrise, sunset and daylight simulations. The system offers patients with enhanced benefits like higher activity levels during day, better sleep during night, reduced recovery time and lowered intake of anti-depressants.
In fact artificial lighting can compensate for biologically active effects of insufficient daylight exposure, thereby stabilizing the sleep-wake rhythm. It can also lead to more restorative sleep, thus ultimately improving the mental and physical wellbeing of hospitalized patients.
In old-age homes, HCL systems can offer high color temperatures, higher illuminance, and dynamically adjusted light distribution levels, further improving the quality of life of the elderly people. Additionally, in the healthcare sector, the systems can significantly reduce surplus cost of electricity bills.
For instance, according to a A.T. Kearney study, the annual efficiency gains achieved from human centric lighting in a hospital with 1,000 beds and 1,500 employees amounted to over €300,000. Instances such as these implicate growth opportunities in the healthcare sector, furthering human centric lighting industry outlook.
Europe human centric lighting market is expected to witness increased traction in commercial, residential and healthcare sectors. Infrastructure refurbishment in Europe currently focus on developing well-illuminated building environments.
The region naturally observes less exposure to sunlight which eventually creates an impact on human health, thereby creating the need for human centric lighting market solutions. With presence of leading market players along with rising investments, Europe human centric lighting market will witness rapid technological growth in the upcoming years.
Global human centric lighting market is being propelled on account of increasing application in healthcare and commercial sector. The industry is witnessing rising investments in R&D from leading players, government organizations, and lighting associations. Increasing consumer awareness and focus on the implementing energy-efficient work environments are anticipated to expand human centric lighting industry size in the future.
Author Name : Mateen Dalal
The global micro data center market will witness immense growth in the years to come due to rapid technological advancements in the IT & telecom sector which has led to expansion in data center infrastructures worldwide. As online banking & shopping, satellite navigation systems, smartphones, TV & movie streaming gain traction, relocation of IT infrastructure becomes mandatory. This increases the demand for modular data center architecture that will drive the global micro data center market size.
U.S. micro data center market, by application, 2018 & 2025 (USD Million)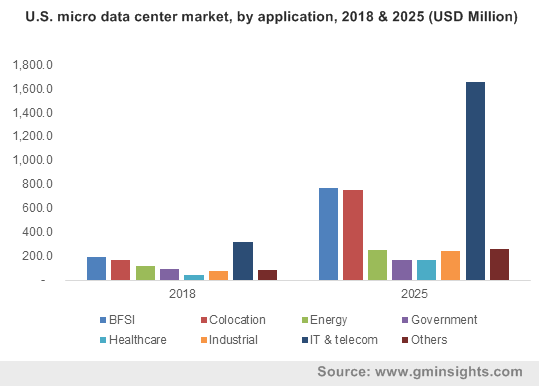 The rising need for containerized data centers for corporate offices that consistently relocate their infrastructure will fuel micro data center industry share. With rising workloads, companies are focusing more on data center expansion. However, enterprises are now wanting to make their presence felt on the cloud, leading to the requirement of portable data centers. Micro data centers have a smaller footprint that conventional data centers and look like with integrated systems. The rising requirement for portable solutions in large-scale enterprises for delivering additional IT support will drive micro data center market size.
The healthcare sector will be a major application segment of micro data center industry. Medical care centers demand efficient power systems for consistent access to patient electronic health records. The rise in the number of chronic diseases and patient admissions can sometimes though, put pressure on hospitals, emergency clinics and rehabilitation centers since conventional data center infrastructure requires a huge investment. But miniaturized, portable data centers eliminate a lot of the up-front investment and are being preferred by medical care facilities, that will drive micro data center market size from hospitals.
Get a Sample Copy of this Report:@ https://www.gminsights.com/request-sample/detail/2762
North America micro data center market will grow significantly over 2019-2025 driven by robust urbanization and digitization trends. The presence of major multinational companies planning on expanding their operational capacities in the U.S. will drive the North America industry. Most huge enterprises in the U.S. require efficient IT infrastructure for business management. The rising need of huge companies and SMBs for portable solutions will fuel the regional micro data center industry share.
Global Market Insights, Inc., estimates the North America micro data centers market size to register a CAGR of more than 23% over 2019-2025. The growth is driven by the launch of various micro facilities by important technology giants such as Schneider and IBM Corporation. The expansion of data center infrastructure market in the region will also propel North America micro data center industry share.
Prominent industry giants are consistently making investments in portable data center solutions to cater to rising demand from hospitals, IT companies, telecom firms, banking establishments, etc. For example, in March 2019, Schneider Electric had declared the launch of new solutions for micro data centers which combine APC by Schneider's physical infrastructure with Cisco's HyperFlex Edge that delivers efficient, fast deployment in edge environments.
Cisco and Schneider Electric's latest partnership on micro data centers will provide system integrators and IT global channel partners the access to new reference designs for deploying the HyperFlex Edge that can be suitably customized for particular micro data center needs. The rising demand for pre-integrated, physically secure, and remotely monitorable containerized data center solutions and increasing efforts by industry players to provide these services will drive the global micro data center market size.
Some of the other players defining the competitive landscape of micro data center include Advanced Facilities, Inc., Zellabox, Schneider Electric SE, Attom Technology, Eaton Corporation PLC, Panduit Corporation, Delta Power Solutions, Canovate Group, Dataracks, Hewlett-Packard Enterprise Company, STULZ GmbH, Huawei Technologies Co., Ltd., IBM Corporation, Dell Inc., and Vertiv Co.
Companies partaking in micro data center industry share are trying to enhance their presence by coming up with new, more efficient portable data center solutions. Delta Power Solutions has a product portfolio of the Delta InfraSuite – a highly integrated, next-gen modular datacenter solution that uses racks and integrates cooling, lightning protection, wiring, fire control, UPSs, and airflow management together.
Global Market Insights, Inc., claims the overall micro data center market size to cross USD 14.5 billion by 2025.
Author Name : Saipriya Iyer
Pour point depressants market size, in recent times, has registered a direct impetus through the expansion of oil and gas sector – tagged as one of the leading consumers of PPDs. Governments worldwide, specifically the Trump government, have been wholeheartedly lending support to the expansion of the oil and gas industry and have been working to speed up its progress.
U.S. EVA Pour Point Depressants Market Size, 2019 & 2025, (Kilo Tons)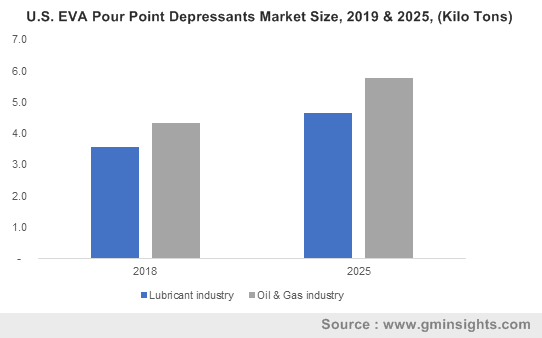 For example, President Trump recently signed two executive orders to speed up construction of pipelines and other projects that will effectively enhance transport of oil and natural gas between not only across states but across international borders as well. Pour point depressants market size is likely to receive a boost from such moves as crude oil is often too thick to be transported with ease over long pipelines.
Crudes and heavy fuel oils, being the mixtures of hydrocarbons that range from paraffins, resins and naphthenes to asphaltenes tend to crystallize when cooled down which lead to sedimentation and eventual blockage of pipelines. To keep crude oils moving through pipelines, pour point depressants have to be added to them, which in turn will lend commendable impetus to pour point depressants market size.
The paragraphs listed underneath elaborate on the application spectrum of PPDs. The rising demand for these products across these verticals is that are expected to enhance the pour point depressants market size over 2019-2025:
Application in crude oil transportation:
To elaborate further on use of PPDs in crude oil transportation, it should be mentioned that 20% of all produced crudes have high wax levels and pour points. Most crude oils have to be transported through pipelines that takes them to refineries, processing plant or storage. Among the various technologies that are deployed to conveniently transport crude oil, use of PPDs has proved to be by far the most economical technology.
With PPD manufacturers working with customers to produce more customized products, the pour point depressants market is expected to gain commendable proceeds over the forthcoming years.
Get a Sample Copy of this Report:@ https://www.gminsights.com/request-sample/detail/3359
Application in diesel fuels and heating oils:
Chemical characteristics of diesel fuels and heating oil are as such that they contain lower molecular weight paraffins which can demonstrate different cold flow properties. For instance, diesel cuts sourced from Gas to Liquid or Coal to Liquid procedures have higher pour points when compared to crude distillation sourced diesel.
Local requirements and pipeline specifications also sometimes make PPDs inevitable for diesel fuels. In this context, pour point depressant market players often work to develop tailored PPDs that will also serve to augment pour point depressant market size further.
Application in marine fuels:
New sulfur emissions restrictions levied by various governments and agencies on marine vehicles have prompted ship owners who are unable to install costly exhaust treatment equipment to use hybrid fuels which are developed with a blend of heavy and light fuels. Pour point depressants market size has gained a considerable impetus through the development and use of such fuels as these marine fuels have to be brought to Pour Point specification with the use of PPDs.
Pour point depressants industry players who had observed this marine market trend early on have been observed to have invested heavily in better R&D regarding the development of tailored PPD additives for new types of marine diesel. In consequence, this has added a significant stimulus to the use of such fuel types.
Application in automotive sector:
The automotive industry has long since struggled with the problem of waxy buildup as wax is present in almost all refined lubricating oils. Given that the wax crystalizes at low temperatures, preventing the oils from flowing, original equipment manufacturers have invested in numerous research and development programs to find a solution to this problem.
It has been found that most OEMs have come to rely on modern, high-performance lubricants to control viscosity and prevent wear under operating conditions. Pour point depressants have been instrumental in helping lubricants to achieve such a target and have kept automotive fluids flowing even in cold weather. This has provided a major boost to PPD manufacturers and they have been found to come up with newer portfolios of products lately.
With evolving needs in various industries that utilize petroleum and where free flowing oils is a major requirement, PPDs will always find major application avenues. The World Bank has increased its investment in fossil fuel development, with $21 billion being invested between 2014 and 2018. Though the general trend is to increasingly eliminate focus from use of fossil fuels, such investments prove otherwise. A report by Global Market Insights, Inc., forecasts pour point depressants market size to surpass $935 million by 2025.
Author Name :Paroma Bhattacharya
The global smart elevator market share is on the rise lately owing to the product's growing adoption in emerging markets like India and China, coupled with growth in the construction and infra sectors worldwide. Smart elevators are estimated to make big strides in the global elevator market owing to the new wave of technology and advancements that are transforming the global landscape.
UK smart elevator market, by application, 2018 & 2025 (USD Million)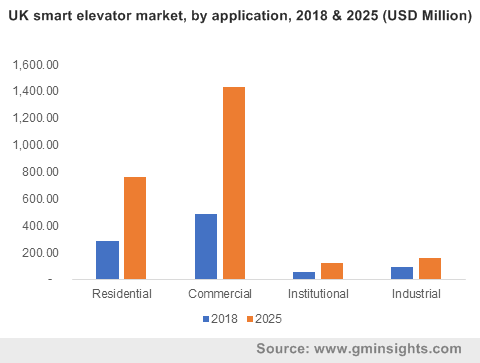 Enumerated below is an insightful summary of the top technological trends which are likely to offer impetus to smart elevators industry share.
1) Internet-connected elevators
The future of elevators is connectivity, which is expected to play a huge role in product demand over the coming years. With several smart elevator manufacturers already considering its implementation, it won't take long for internet-connected smart elevators to become common. A smart elevator company that is currently exploring this possibility is Otis Elevators. The company has initiated development of smart elevators that are capable of communicating with passengers, service staff, building managers, and others for enhancing performance and passenger experience.
Otis is also looking to develop technologies that can enable passengers to summon elevators through their phone. The implementation of connectivity and smart features is a major ongoing trend which is estimated to overcome problems concerned with efficiency, repair schedules, as well as waiting and traveling time. The burgeoning demand for the integration of such technologies within residential and commercial spaces will pump up smart elevator market share in the ensuing years.
2) IoT driven elevators technology
Technologies like IoT are reshaping the surroundings and helping countless businesses perform better. Smart elevators companies have also started recognizing the potential of these disruptive technologies and are beginning to embrace them. A smart elevator market analysis reveals that IoT seems to have majorly influenced the industry dynamics lately. Case in point, smart elevator company Schindler recently entered a partnership with Spanish telecom giant Telefónica to enhance its cloud-based digital offerings with Telefónica's IoT connectivity services.
Such provisions will offer greater convenience, interactivity, and personalized services to smart elevator passengers. Also, the extraordinary pace at which high-rise buildings are mushrooming across the globe offers numerous growth opportunities to the technology providers in the IoT domain. The surging adoption of IoT in smart construction and connected buildings will fuel the smart elevator market share over the forthcoming years.
Get a Sample Copy of this Report:@ https://www.gminsights.com/request-sample/detail/1593
3) Multi-directional elevators
With rapid urbanization, the population in cities will continue to rise, generating a high demand for residential establishments, which can be sufficed by building more high-rise and economical buildings. While the conventional elevator technology obstructs this possibility, the implementation of rope-free and multidirectional elevators seems a viable option.
German elevators giant Thyssenkrupp's latest innovation Multi is a ropeless multidirectional elevator, which can move up and down a shaft as well as move horizontally. The technology is estimated to bring considerable change to the elevator industry owing to its numerous benefits including more space, less wait time, and fewer restrictions due to elevator shaft height. Successful implementation of this technology could offer new opportunities for the smart elevators industry in the future.
4) Maintenance using augmented reality
Regular servicing and maintenance of a residential or commercial elevator system can fix small problems before they get big enough and end up costing a fortune. The elevator technology is evolving rapidly, triggering the next level of technically advanced maintenance technology. An ideal example in this context is of ThyssenKrupp which has equipped repair engineers with HoloLens, Microsoft's augmented reality technology.
HoloLens allows repair engineers to effectively communicate with coworkers back in office, by sharing schematics through the display, for accelerating servicing and repair. Such a technology will create a massive shift in the smart elevators industry, giving builders the confidence to invest in technologically advanced elevators that are compatible with such services and facilitate seamless functioning of a building.
The smart elevators market analysis based on the aforementioned trends sheds light on the possibility that this industry will embrace modernizations owing to constant innovation in information technology and other tech sectors. Numerous other trends in the world of technology and elevators overtly indicate a lucrative phase for the business space.
Furthermore, the construction of technically advanced structures and green buildings would spark a technological revolution, thereby boosting the smart elevator market share in the future. According to a smart elevator industry analysis by Global Market Insights, Inc., this market is anticipated to be worth more than $25 billion by 2025.
Author Name :Krithika Krishnan
The revenue graph of operator training simulator market is projected to foresee exponential growth owing to the continuous improvement in these products and rising emphasis on recruiting skilled workforce. Skill development helps to enhance productivity, safety, profitability, controllability, and stability of the enterprise operations. The increasing focus to reduce injuries and fatalities to maintain safe operations across various business verticals is expected to aid the market growth.
Brazil operator training simulator market, by application, 2018 & 2025 (USD Million)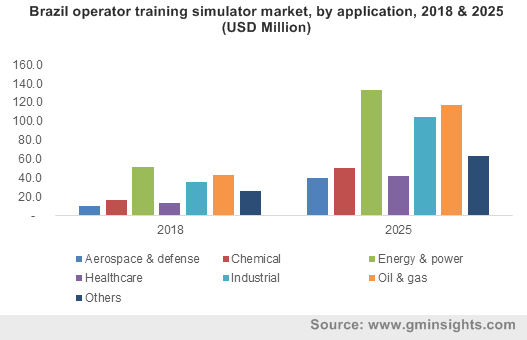 Industry professionals are training their operators to tackle life-threatening situations which has led to increased emphasis on safety of workers, optimization and efficiency of simulators – a factor that is likely to impel the operator training simulator market share in the times to come.
Operator training simulators improve decision making of the operators at critical times while increasing familiarity with the operations. Pilots are required to develop skills like decisiveness, quick thinking, confidence and situational awareness which can be enhanced by simulator trainings. Operator training simulators strengthen confidence to tackle the unfavorable situations. To underscore the significance of simulators, the recent instance of fatal aircraft crash of Ethiopian Airlines can be considered. The crash killed all 157 on board just five months after a similar crash on a Lion Air flight which killed all 189 passengers and crew.
After the accident, the Allied Pilot Association has demanded training on simulators which includes scenarios like those experienced by the pilots of Ethiopian Airlines and Lion Air and additional computer training for 737 MAX to cement the lessons of failure modes in the minds of pilots. Apparently, the deployment of advanced simulators would be crucial in building confidence among pilots, essentially boosting the growth of operator training simulator market.
Get a Sample Copy of this Report:@ https://www.gminsights.com/request-sample/detail/1285
Apart from aviation industry, the railway sector has also emerged as a major end-user to deploy operator training simulator for realistic and robust training to avoid fatalities. For instance, in the year 2018, Indian railways had announced to invest INR 350 crore in operator training simulators to train 1.5 lakh loco pilots and assistant loco pilots to bridge the gap between theoretical and practical learning. The investment is meant to make drivers learn how to navigate rail tracks, curves, signals, bridges and any other situation as if they are driving a real train.
Over 12,000 diesel and electric locomotives daily run on a 66,000-km network across the country. There are about 86,000 train drivers and the simulator training with real feel experiences will assist these drivers to run locomotives efficiently. Apparently, the Indian government's program is a testimony to the increasing prominence of governmental support to high-end simulator training across various geographies – a vital factor that will enhance the growth prospects of the operator training simulator industry.
Notably, defense academies have also been proactive in adopting operator training simulators for public safety and enhancing the overall skill-set of cops. As the police department is responsible for the safety of citizens and maintenance of peace across any country, cops face highly stressful situations on a regular basis which requires high level of patience and panic control. In this regard, simulator training has proved to be of immense help and numerous police academies are deploying these simulators on their premises.
For instance, the New Britain Police Academy has recently adopted simulator trainings to train police to manage stressful responses and make decisions under pressure. The Milo Simulator – chosen by the academy – is an advanced simulator in the state which combines driving an emergency vehicle in highly unfavorable situations such as armed encounters. The human reaction under pressure is unpredictable but this training simulator can help police officers to calmly handle stressful situations.
Operator training simulators have found usage in aviation, railways, police trainings and have applications in several other industries, including healthcare, energy, and chemicals. Operator training simulators play a vital role in training operators in manufacturing and industrial plants. The simulators enhance familiarity with the operations by creating a visual and real-time experience to cement the learnings by experiencing high-risk situations.
Retiring experienced workforce and the increasing demand for quality training of young staff will also contribute in proliferating the operator training simulator industry trends. According to a research report by Global Market Insights, Inc., the operator training simulator market is expected to surpass a remuneration portfolio of USD 20 billion by 2025.
Author Name : Anchal Solanki
The global modular data center market is poised to gain massive impetus in the ensuing years, primarily driven by the increasing adoption of prefabricated IT technologies, the emergence of small & medium enterprises and the rising demand for edge computing.
The demand for edge computing is rising owing to the massive shifts in the way internet is consumed via organizations and individuals. Edge computing is an architecture that enables data processing and computing as close to the end user as possible. The key drivers of the edge computing model include the growing number of consumer mobile devices and the increasing consumption of video and virtual reality content. Eminent players active in the modular data center industry are seeking innovative ways of deploying edge capacity to support end-users including businesses and consumers. Therefore, as the popularity of edge computing grows across several applications, the global modular data center market size is certain to escalate as far as the number of installations is concerned.
U.S. modular data center market, by application, 2018 & 2024 (USD Million)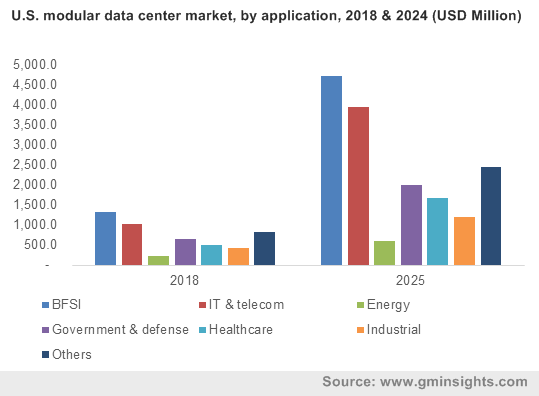 The modular data center market from IT & Telecom application segment is primarily driven by the rising need for the rapid deployment of data centers. IT & telecom business vertical is witnessing a massive adoption of the facility to augment the flexibility and scalability of the business operations. Another factor that is driving the modular data center market is the rapid evolution of IoT technology. With the adoption of IoT sensors, the technology is being used in a wide spectrum of applications, for procuring data from the surrounding environment.
The increasing need for data storage would require more robust load distribution strategies. The burgeoning IoT trend will spur the need for edge computing, which will positively impact the demand for IT infrastructure that is easily deployable in remote locations and cost-effective. Hence, the increasing the need for data storage and processing from IT & Telecom application segment will require more data centers to handle diverse and huge data flows, thereby driving the global modular data center market expansion in the future.
Get a Sample Copy of this Report:@ https://www.gminsights.com/request-sample/detail/1730
SMEs are significant to economies, particularly the developing ones, but they seldom have access to sufficient credit. According to the World Bank Group, around 70% of all micro, small, and medium scale businesses in emerging markets lack access to credit. As modular data centers can do everything, right from computing, storing, processing, cooling, securing, and detecting fire, hence they can help organizations in saving significant infrastructure and setup costs. Which makes small and medium-sized enterprises a major customer base for this technology, thus allowing SMEs to deploy and maintain their IT operations with low capital expenditure but without compromising on quality. Having said that, the burgeoning number of SMEs in emerging economies will thus be a major factor responsible for propelling the global modular data center industry.
The competitive landscape of the global modular data center industry hosts numerous well-known players such as Cisco Systems, Inc., Huawei Technologies, Cannon Technologies, and Dell, Inc. among others. In order to enhance and expand business operations, major players often engage in partnerships and develop innovative technologies, thereby increasing the revenue inflow of the global market. An ideal example involves Huawei's recent partnership with Etisalat to plan and distribute pre-fabricated and next-gen modular data centers in UAE in an effort to suffice the requirements of the cloud and digital services of the future. Such partnerships will fulfill the product demand across diverse geographies and hence contribute to the expansion of the global modular data center market.
Additionally, growing applications fueled by innovations in the fields of retail, telecom, and finance along with the emergence of 5G technology will further advance the modular data center market growth. All in all, consumer reliance on the digital world is growing every minute and with increasing adoption of digitized platforms and technologies, data traffic will continue to grow, boosting the requirement for modular data centers globally. A research report by Global Market Insights, Inc. projects the overall modular data center market to be worth more than $50 billion by 2025. 
Author Name : Krithika Krishnan