Industrial
Tagged as one of the most profitable investment ventures of the recent times, smart HVAC controls market has made its presence felt owing to the ongoing trend of reducing energy consumption. Not to mention, the growing prominence of the Internet of Things (IoT) that has paved the way for building components to be connected to the Internet, resulting in the expansion of the building automation sector, has also led to smart HVAC controls market retaining a profitable position worldwide.
Germany smart HVAC controls market size, by application, 2017 & 2024 (USD Million)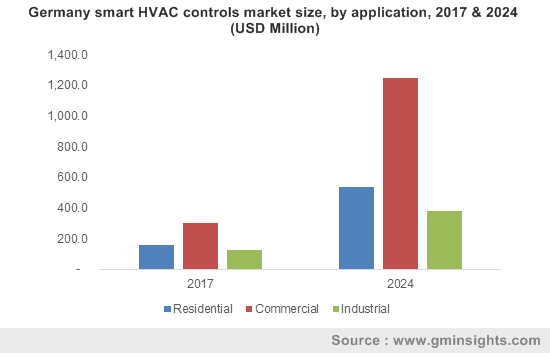 Smart HVAC systems provide the ability to fine-tune temperature, air quality, humidity, and several atmospheric factors in homes and offices. These systems are equipped with high precision sensors for regulating and maintaining air quality and temperature, further improving occupant's health and physical well-being. Indeed, the product can significantly reduce energy consumption and can easily adapt to changing environmental conditions while detecting need for maintenance. Using both advanced hardware and software technology these systems offer enhanced compatibility with smart devices while sustaining the concept of IoT, that has consequently propelled smart HVAC controls market trends.
As far as lowering energy consumption is concerned, smart HVAC modules are seemingly the most energy efficient appliances in modern automated buildings. According to reports, traditional HVAC appliances represent 61% of residential energy consumption in the UK and Canada and 43% in the U.S. The International Energy Agency (IEA) claims that smart HVAC control systems offer controlled use of energy, as the system maintains specific heating, cooling, and ventilation requirements, avoiding access energy consumption while considering end-user comfort. Powered by the robust requirement to optimize energy consumption, smart HVAC controls market is thus on its way to garner substantial popularity ahead.
Get a Sample Copy of this Report:@ https://www.gminsights.com/request-sample/detail/710
How has building automation emerged as a major driver for smart HVAC controls market?
Building automation has lately gained commendable momentum, given that it has been proven to significantly reduce energy consumption and maintenance costs for home owners. Reports from the Buildings Performance Institute Europe (BPIE) 2017, claim that by adopting building automation, owners can reduce energy consumption by around 27% in households, while using smart technology can save an average of 23% of energy consumption in commercial offices. The International Energy Agency (IEA) predicts that adopting digitalization could save around 10% of total energy consumption in commercial and residential buildings by 2040, with efficiency gains largely depicting themselves in cooling and heating applications, specifically with the deployment of smart thermostats and sensors. This has gradually led to a rise in the number of more and more automated buildings, that would eventually result in the expansion of smart HVAC controls market.
Reportedly, residential users are installing smart HVAC systems to ease the deployment and accessibility of heating and cooling systems. The improved efficiency and convenience of offered by these products has encouraged users to install the systems across homes and offices. Due to the compatibility of these products with smartphones and IoT, users can effectively precool and preheat their homes or offices using a dedicated app from afar. The product can also effectively offer information about air quality, maintenance, energy consumption and energy efficiency – in a nutshell, information that can be used by building managers, home owners, energy grid managers, and maintenance staff to take necessary steps for lowered energy consumption.
The demand for smart thermostats has also helped uplift the smart HVAC controls market share, especially on account of the product's extensive demand in colder countries. Smart thermostats use high precision motion and door sensors to save energy by automatically turning off when residents are sleeping or away from home. These low cost, easy to install devices have reportedly gained popularity in colder countries including Russia, UK and Germany, UK. Easy configuration and integration with smartphones and other home appliances have encouraged users to implement these systems on a large scale, augmenting smart HVAC controls industry size.
Speaking with respect to the geographical penetration, North America is anticipated to help impel smart HVAC controls market, primarily on account of the harsh climatic conditions in some of the continent's zones and the large-scale adoption of smart homes. Customers are seamlessly adopting the product to enable control over temperature & humidity to enhance their home comfort. Rapid development in the building automation sector and widespread technology adoption in the country is expected to propel the demand for these products in the region.
Propelled by the fact that smart HVAC enables users to control conditions like temperature, humidity and even fragrance in homes and offices, and helps maintain air temperature and quality at optimum levels, these devices are used extensively to improve the quality of life for occupants. The growing integration of these HVAC systems with smart phones and home appliances and the expansion of the building automation industry will massively augment the smart HVAC controls market size in the years to come.
Author Name : Mateen Dalal
Driven by the rapidly surging deployment of IR LEDs across a plethora of application verticals, the global infrared (IR) LED market has emerged one of the most transformative business spheres over the last few years. Companies forming a part of the automotive, consumer electronics, medical equipment, and myriad other industrial sectors are increasingly using IR assisted products. The use of IR LED helps to maintain working stability, accuracy, improve security, and reliability. The emerging technology trends such as automated driving assistance system, IoT, augmented reality, and artificial intelligence have also had a positive influence on the product demand.
Japan infrared LED market size, by application, 2017 & 2024 (USD Million)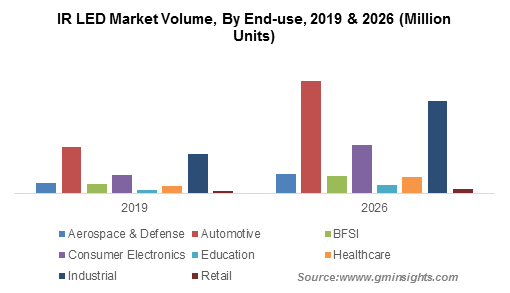 In most of the countries, in order to control the chances of accidents, automakers have been developing connected cars in which IR LEDs have been used prominently. It is thus rather overt that the advent of technically advanced features in every end-use sector will stimulate the infrared (IR) LED industry share. In line with the surging use of sensors in the various products, equipment, and vehicular systems, giants in infrared LED market have been investing in the enhancement of their product ranges.
A summary of the IR LED market trends from the automotive and consumer electronics sectors has been outlined below:
Automotive:
In the last few years, the automotive industry has witnessed a remarkable transformation with the advent of electric vehicles, connected cars, and self-driving cars. In addition, the growing concern among the automakers about the safety of occupants and the driver has encouraged them to bring new sensor assisted technologies such as excellent night vision, parking assistance, and blind spot detection. One of the renowned German automakers, Mercedes has implemented the Night View Assist system in its newly launched vehicle models that have full-LED headlamps incorporated with anti-dazzle infrared technology. The deployment of such IR LED technologies helps drivers bypass animals and pedestrians at night.
In addition, the company has also deployed a thermal imaging and IR camera which could enhance the chances of spotting the objects ahead of the vehicle effectively. The use of IR technologies and innovative features in the recently developed automobiles for improving the safety, driving efficacy, and comfort is poised to propel infrared LED industry share. For the record, in 2017, the automotive sector accounted for 30% share of the infrared LED industry.
Speaking more about innovations, it is prudent to mention that in order to gain competitive benefits, many companies are striving to launch new products in the automotive industry that could have a significant influence on IR LED industry outlook. For instance, recently, in January 2018, the Taiwan based company, Innolux Corporation has launched the first active matrix (AM) based Mini LED technology that has been used in automotive backlight panels. In addition, they are planning to develop a free shaped LCD for improving the appearance and design of future concept vehicles.
Get a Sample Copy of this Report:@ https://www.gminsights.com/request-sample/detail/437
Consumer electronics:
With the deployment of next-generation technologies such as IoT, AR, and AI, consumer electronics sector has emerged as one of the revenue generating business areas lately. In this regard, the giants in the infrared LED market have already increased their focus on research and development activities. Currently the leading smartphone makers and security system providers are innovating a new range of sensor technologies for deploying the same in smartphones and security cameras. As on today, for attracting more customers, smartphone makers are adopting new product designs like the multiple camera setup where they are extensively using sensors and LEDs. Recently, Nokia has unveiled its plan to develop a new smartphone having five rear cameras that could be incorporated with IR focusing apparatus, five lenses, and LED flash.
In another instance, a multinational lighting manufacturer, Osram is planning to invest 1 billion euros to expand an LED chip factory across Malaysia, the products of which will be used in phones, laptops, drones, fitness watches, security cameras, and automobiles. Moreover, Osram has been continuously involved in the invention of infrared LED chip for optimizing the effectiveness of security cameras. The Increasing requirement of CCTV cameras across the Asia Pacific region will further generate lucrative opportunities for the players in the infrared LED industry.
The extensive deployment of technology across the automotive and consumer electronics industries will have a favorable influence on the infrared LED market. The involvement of many industries in digitalization for improving work efficiency, product performance, and consumer comfort also will fuel the product demand over the years ahead. In line with the shifting trends toward digitalization, infrared (IR) LED market will generate a revenue of more than USD 1 billion by the end of 2024.
Author Name :Sunil Hebbalkar
The increasing deployment of heating and cooling systems across various commercial, industrial, and household buildings have been fueling heat meters market. The surging concerns among the policymakers and regional governments about energy efficiency has also been having a positive influence on the product demand pertaining to its capability to measure energy consumption within cooling and heating systems. In the cold climatic regions, governments are encouraging people to deploy district heating systems to maintain warmth in the winters. The growing importance of sustainability and energy efficiency across the globe will thus propel heat meters industry share.
Sweden Heat Meters Market Size, By Application, 2017 & 2024 (USD Million)

On the grounds of garnering heat and electricity savings, most of the countries have been installing heat meters in industrial, commercial, and residential buildings. The large-scale deployment of energy consumption measuring equipment has generated lucrative opportunities for the giants in heat meters market. In addition, many financial organizations also have been supporting regulators to install heat meters by providing favorable funding. For instance, in 2017, the Europe Bank for Reconstruction and Development (EBRD) has sanctioned USD 27 million loan to deploy heat meters across the residential sector. Over the last few years, EBRD has been supporting many nations which are looking forward to harnessing sustainability and energy efficiency.
Another region where heat meters market has been gaining traction is Kazakhstan, wherein the fluctuating climatic condition has been impelling the product requirement. Apparently, in the summer season, the heat in Kazakhstan can increase beyond 30 degree Celsius and in the freezing winter, the temperature reaches to -40 degree Celsius. Amidst these extreme climatic conditions, energy efficiency is playing a vital role in the region, leading to the deployment of heating and cooling systems. The deployment of heat meters to save electricity and heat will also help district cooling/heating system firms to control the system losses, optimize the energy supply, and reduce the energy wastage. In 2017, the Kazakhstan government fit heat meters in about 45% of households and was planning to cover more than 80% volume of household buildings within three years.
Get a Sample Copy of this Report:@ https://www.gminsights.com/request-sample/detail/2597
In another instance, the Swiss government and the International Finance Corporation (IFC) have also lent support to Ukraine to create more energy efficient homes. In this regard, Ukraine's State Agency for Energy Efficiency has designed a program dubbed as Warm Loans to improve the heating system of homes. In most of the apartments across Ukraine, district heating systems have already been deployed, but due to more heat loss, energy bills were perpetually high. Reportedly, households in Ukraine account for more than 50% of its overall natural gas production. The remarkably growing awareness among the Ukrainian people about the rising domestic heating bills is thus estimated to fuel heat meters market size.
The transforming technology trends across the globe have also had a significant influence on heat meters market share over the last few years. The development of smart meters is one of the next-generation product inventions that helps customers track daily energy use very easily. Considering the benefits of modern technologies to improve the energy efficiency, leading giants in the heat meters market have been adopting various new technology advancements such as IoT (Internet of Things) and AI (artificial intelligence). For instance, a team from the Danish smart metering company, Kamstrup, and Finnish electricity firm, Herrfors Nät-Verkko have recently planned to use NB-IoT technology in smart metering. With the help of this technology, the Finnish company can monitor more than 6,000 heat and electricity meters that will result in 10% cost savings.
The development of innovative and cost-effective solutions will favorably promote the heat meters industry trends over the years ahead. The supportive stand taken by the regional governments and energy-related organizations to encourage the installation of heat meters will further enhance the industry growth. In line with the increasing deployment of heating and cooling systems mainly across cold climatic regions, heat meters market will generate a revenue of more than USD 1 billion by the end of 2024.
Author Name :Sunil Hebbalkar
Some of the pivotal factors that have propelled North America microgrid market growth over the recent years are the governmental & regulatory inclinations toward network expansion and the rising financial backing to support such projects. Increasingly becoming the most resilient and sustainable options for industries to provide continual operation during blackouts and natural disasters, microgrids are becoming the essentials of the energy and utilities sector. A substantiation validating the aforesaid is that of a report by the Federal Energy Regulatory Commission that claims the utilities across the U.S. to have invested nearly USD 35 billion in 2016 for the expansion of the energy transmission network.
U.S. Microgrid Market Size, By Storage Device, 2017 & 2024 (USD Million)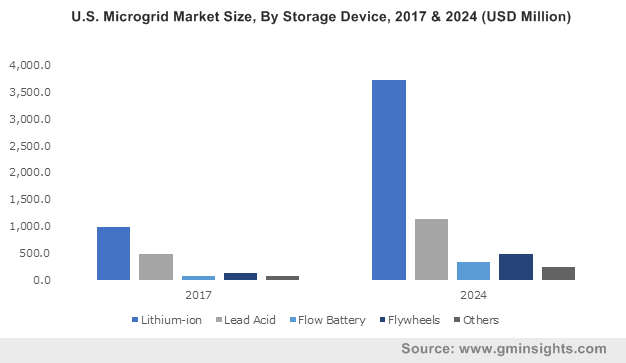 Rising adoption of renewable energy technologies to impel North America microgrid market size
Quite overtly, the spending on energy infrastructure to deliver power to businesses and households has increased remarkably in the past decade and is replacing the conventional poles, station equipment, and overhead lines and devices. With the rising penetration of renewable sources in the mainstream electricity supply, the operational dependability of the grid network has become an intricate issue for the power giants. In fact, several eminent companies are generously investing in microgrids for seamless integration and distribution of clean energy.
Get a Sample Copy of this Report:@ https://www.gminsights.com/request-sample/detail/2833
Recently in 2017, Ameren Corporation unveiled the completion of one of the most highly advanced utility scale microgrids in the North America microgrid market. As a part of its commitment toward building a smart and clean energy infrastructure, Ameren has built a microgrid facility with advanced automation & battery storage. The facility will also test, monitor, and control methods for aggregating renewable & clean energy sources from natural gas, solar, and wind. Reports claim that the Ameren microgrid has a significant production potential of up to 1475 kilowatts, which is enough to power more than 190 households and will be contributing immensely to the expansion of North America microgrid industry share.
North America microgrid market to be swayed by the rise in product demand from the military
Greater reliance on fossil fuel in remote & rural regions in the world is a vulnerable point in military operations, and the results could be devastating, given the transportation challenges. A microgrid solution, in this regard, has not only enabled an installation to generate its own power for the military sector but has also provided protection against cybersecurity risks. These grids have significantly met the needs for stable electricity supply and that too without relying on a larger regional grid that is more averse to interruption and compromises.
To illustrate further, under its Smart Power Infrastructure Demonstration for Energy Reliability and Security (SPIDERS), the U.S. military is aiming to deploy microgrids to supply power in the event of attack or loss of the utility grid. The program is also focusing to integrate solar PV and the diesel backup generators in order to provide diverse fuel sources, enabling uninterrupted power and lower carbon emission.
Recently, the U.S. Department of Defense, in this regard has issued a solicitation for multiple microgrid projects in the military sector that will assess large-scale energy storage. It is also imperative to mention here that the U.S. DOD is the largest petroleum & fossil fuel consumer and greenhouse gas emitter in the world – which is also one of the many reasons why U.S. military are looking at renewable energy microgrids.
Taking into consideration the aforementioned scenario, it wouldn't be wrong to say that the U.S. military has become one of the significant investment ground for potential North America microgrid industry investors. Further powered by government backing and funding advances, the military microgrid projects are expected to be more secure & reliable and are poised to be a lucrative sector of the North America microgrid industry, which according to reliable reports is expected to surpass 7 billion by 2024, with a capacity expansion of 3 GW.
Author Name :Ojaswita Kutepatil
In an era defined by the increasing adoption of robotics, robot sensor market has quite overtly consolidated its stance in the overall electronics space. Robotic automation is now being deployed across a slew of applications, from industrial and domestic to commercial and logistic applications, for achieving several operational and workplace benefits. Apart from being used for obtaining long-term performance benefits at the workplace combined with efficiency, robots are also being deployed on account of their lesser susceptibility to fatigue. The increasing implementation of robots to minimize workplace risks and reduce fatigue is certain to boost robot sensor industry.
China robot sensor market size, by application, 2017 & 2024 (USD Million)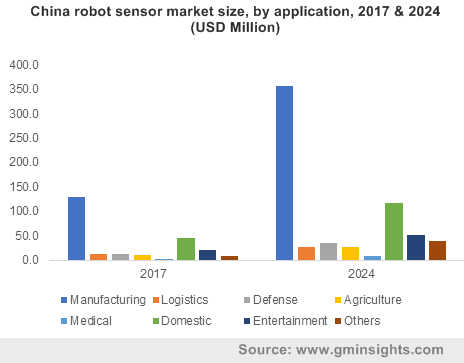 Powered by the current trends of digitalization and innovation, robot sensor market giants have been working toward developing advanced robotic sensing systems. The initiatives taken by the researchers and product developers to increase the effectiveness of conventional sensing systems implemented in the robots will revolutionize the overall robot sensor industry. For instance, recently, a few researchers from the Chongqing university based in China developed a self-powered triboelectric auditory sensor which can be used to manufacture electronic auditory system-assisted external hearing aids that can be installed in intelligent robotics applications. The advent of next-generation auditory systems will thus prove to be ideal for enhancing communication between human beings and robots that would be useful for improving industrial outcomes.
Elaborating on the human-machine interaction, it would be prudent to mention that the shifting focus of the automakers toward the development of autonomous vehicles would prove to a breakthrough that would help augment the commercialization graph of robot sensor industry. Though the current ADAS system does not support high-level automation, the continuous involvement of automakers toward launching fully automated vehicles is likely to generate lucrative opportunities for robot sensor market contenders. In addition to this, for improving workplace productivity, many automakers and industrial product manufacturers have been giving preference for robotic automation. The increasing acceptance rate of robotic automation across the automotive sector will thus massively propel robot sensor industry share over the years ahead.
Get a Sample Copy of this Report:@ https://www.gminsights.com/request-sample/detail/2802
Recently, one of the sensor manufacturing start-ups, Baraja launched a spectrum-scan Lidar which can be used to increase the reliability and flexibility of robot cars. The newly developed scanner provides full control to the car's computer to make the changes in driving, depending upon different road conditions. Another advantage of installing effective sensors in vehicles is the protection they provide against several potential damages.
The extensive requirement of sensors for regulating various industrial and automotive applications including robotics, camera recorders, telematics, ADAS, cluster, IoT, ECUs, HUD, and infotainment systems has created revenue generating opportunities for the players in robot sensors market. Focusing on the increasing demand for robotic automation, renowned robot developers have been joining hands with leading product distributors for extending their regional reach. The surging demand for robots across myriad verticals will also have a positive influence on the development of sensors.
Validating the aforementioned fact, a few days before, Techman Robot signed a deal with OMRON to form a business alliance for distributing its collaborative robots across the globe. In addition, the duo will also collaborate to develop next-generation collaborative robots that could enhance the working harmony between human and machines. In China, one of product manufacturing firms located in Dongguan city replaced 90% of its human workforce with automated machines which helped them to increase the plant productivity by 250% and reduce the chances of defective part production by 80%. Such productive statistics have been possible solely because of effective robotic sensors systems.
The staggering demand from the industrial, manufacturing, and other commercial sectors to ensure efficient outcomes will have a favorable impact on robot sensors industry trends. The increasing availability of next-generation and AI-assisted robotic systems will also propel the product demand over the years ahead. Driven by the ever-rising acceptance of robotic automation across the globe, robot sensor market will surpass a revenue collection of USD 4.5 billion by the end of 2024.
Author Name : Sunil Hebbalkar
Owing to the global drift toward energy efficiency and improved energy consumption practices, the solid state lighting market has emerged as one of the most profitable niche verticals of the sustainable and smart technologies industry. Solid state lighting (SSL) technology is ten times more efficient than incandescent lighting and twice as efficient as fluorescent lighting. Moreover, the SSL technology has witnessed drastic enhancements in the recent times which has resulted in the SSL-based lighting sources such as LED and OLED become a vital component in the affordable high-performance buildings. Additionally, the increasing usage of SSL technology in automotive sector has impelled the solid state lighting industry share.
U.S. Solid State Lighting Market Size, By Technology, 2017 & 2024, (Million Units)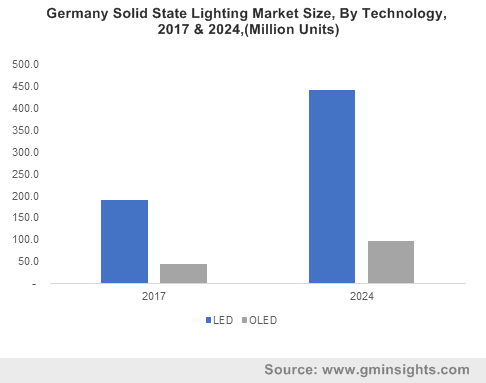 The solid state lighting has been increasingly described as a high-potential technology which is currently in its nascent stage and is yet to reach its fullest potential. Despite rapid enhancements in semiconductor materials and smart control systems, the application benefits and the possibility of this technology lowering energy costs substantially is yet to be extensively researched upon. Taking concrete steps in this direction, the U.S. Department of Energy (DOE) announced a research fund to the tune of USD 15 million in April 2018 to accelerate further breakthroughs in solid state technology across the nation. The funding apparently intends to support innovative research by technology leaders in four prominent areas viz., advanced fabrication R&D, core technology research for LEDs, OLEDs, and Cross-Cutting lighting, novel lighting in a limited Mock Field Application, and proof-of-concept and prototype development for LEDs and OLEDs.
In this context, it is quite imperative to mention that the research grant by DOE is in line with the strategic goals set by the Office of Energy Efficiency and Renewable Energy (EERE) to achieve higher energy-efficiency in residential and industrial sectors of the U.S. Needless to mention, the unveiling of such encouraging research initiatives by government bodies is certain to impel the growth prospects of solid state lighting industry in the forthcoming years.
Get a Sample Copy of this Report:@ https://www.gminsights.com/request-sample/detail/2775
The rising deployment of LEDs in cities, combined with new smart technologies, has been instrumental in creating new opportunities for urban lighting professionals. In addition to this, numerous countries have mandated various policies and laws regarding the implementation of import tariffs for LED components and product utility that is bound to propel LED-based solid state lighting market. As per reliable estimates, the global LED-based solid state lighting industry is slated to garner more than USD 80 billion in revenue by 2024.
Speaking of the regional growth potential, European nations are likely to be one of the most profitable terrains for solid state lighting market in the upcoming years. A favorable regulatory structure coupled with a robust support for new research to effectively implement smart urban lighting systems has caused rapid product penetration across European Union. With an aim to develop advanced tools that would provide cities with a range of competencies in dealing with complex procurement procedures, the European Union had rolled out a project named as FP7 SSL-erate. The project further intends to fast-track the uptake of high-quality SSL technology across the continent by bringing validated information to relevant stakeholders and encouraging open innovation programs. Europe solid state lighting market, as per Global Market Insights, Inc. holds a revenue target of USD 20 billion by 2024.
Elaborating further, the project explored the advantages that smart human-centric lighting can have for urban dwellers and how these systems can align with the goals of a city to become more sustainable in the long run. Needless to mention, the implementation of such pioneering initiatives would have an optimistic influence on the Europe solid state lighting industry share.
Owing to enhanced levels of performance compared to traditional lighting products along with lower cost of ownership, the solid state lighting market has been garnering commendable popularity across sustainable and smart technologies industry in the recent years. With the involvement of multiple stakeholders including national laboratories, academic institutions, and industry researchers who would pour in their expertise in improving the technology, the solid state lighting market is bound to proliferate at an impressive pace in the times to come. In fact, according to a research study compiled by Global Market Insights, Inc., the commercialization potential of solid state lighting industry is estimated to exceed USD 85 billion by 2024.
Author Name : Saif Ali Bepari