Industrial
The rising demand for enhanced storage memory in consumer electronics for extensive data management is likely to drive semiconductor memory market growth in the years to come. Lately, the demand for advanced semiconductor memory has travelled beyond the realm of the traditional personal computer. The requirement of electronic systems including digital consumer electronics, mobile communications, networking, automotive electronics, and industrial/medical electronics has seemingly surged in recent years, subsequently increasing the need for semiconductors.
China semiconductor memory market, by type, 2017 & 2024 (USD Million)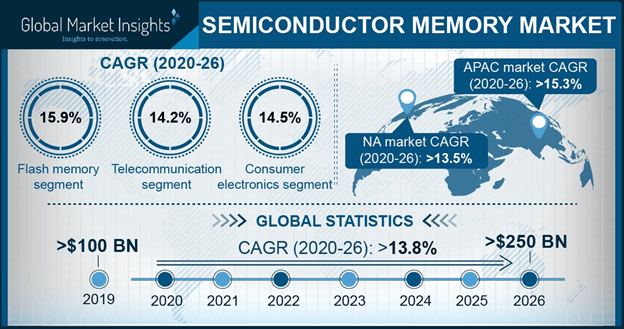 As a matter of fact, all digital consumer electronic products incorporate highly advanced semiconductor memory devices to enable and enhance system storage and performance. Semiconductors are consequently growing in importance as they offer industries with new manufacturing opportunities to develop highly efficient products for customers. The need for high-speed interconnects continues to accelerate and is driving the architecture of next-gen memory technologies. As a result, memory devices and architectures are changing rapidly to satisfy the demand for higher performance electronics, further driving the semiconductor memory market growth.
Android smartphones to offer remarkable growth opportunities to the semiconductor memory market players
Smartphones have reportedly become the preferred computing device for a variety of applications. Reports suggest that over 70% of the world's population is anticipated to use smartphones by 2020, while over a billion Android devices will be used by the same year. For several Android smartphones, varying the flash storage drastically improves the device's overall performance, typically between 100% to 300% across applications.
Storage performance on mobile devices will enhance the end-user experience in the years to come, as its impact is expected to grow owing to emerging wireless technologies that offer much higher network throughput as well as the advent of faster networks and I/O interconnects. This considerably validates the fact that the rising number of smartphones is expected to help drive the remuneration potential of the semiconductor memory market.
Get a Sample Copy of this Report @ https://www.gminsights.com/request-sample/detail/2548
Will India emerge to be a potential investment ground for stakeholder over 2018-2024?
The India semiconductor memory market is anticipated to procure substantial proceeds by the end of the projected timeframe owing to the rising proportion of smartphone users and emerging consumer electronic companies. The region has a steady growth infrastructure and develops emerging embedded technology that offers both hardware and firmware solutions.
The country also depicts considerable growth prospects for the automotive, agriculture, pharmaceutical, IT, construction and defense sectors. The growing adoption of IoT in these sectors will further enhance the demand for semiconductor memory, thereby impelling the regional industry trends. Emerging smartphone applications and the escalating demand for storage memory will also foster industries to develop enhanced memory solutions, expediting the India semiconductor memory industry share.
Some of the key players in the semiconductor memory market include Samsung Electronics, Nvidia, On Semiconductor, Micron Technology, Inc., etc. Manufacturers are focused on product development by investing in R&D activities & engineering capabilities to cater to the needs of mobile industry customers. To stabilize the component pricing, companies are reportedly developing strategies to maintain the average prices of ROM and RAM products. Manufacturers in the semiconductor memory market are also likely to face challenges in the future owing to the emergence of replacements such as MRAM, ReRAM and phase change memory.
As semiconductor memory technology rapidly evolves to meet the ever-growing needs of the electronics industry, it is likely to experience high demand from end-use industries including electronics and automotive. Increased demand and the rapid evolution of smartphones and PCs across the globe will continue to impact the product requirement, on the grounds of which manufacturers will constantly seek ways to expand their production facilities and know-how. This could considerably impact the remuneration portfolio of the overall semiconductor memory market, slated to cross a mammoth USD 730 billion by 2024.
Author Name : Mateen Dalal
One of the most swiftly progressing verticals of the global smart technologies space, light field market has come a long way since its inception owing to pathbreaking inventions to capture the 3D and 4D light fields. The gradually rising popularity of light field cameras across several business verticals such as industrial, healthcare, retail, entertainment and media, and automotive has certainly propelled the product demand in the recent years. As light field cameras are equipped with thousands of micro lenses between the main lens and the sensor, it lets the user shoot first and focus later which ensures an improved image resolution. Numerous companies appear proactive in adopting light field technology and are developing high-grade products – a factor that would widen the horizon of light field industry in the years ahead.
Japan light field market, by application, 2017 & 2024 (USD Million)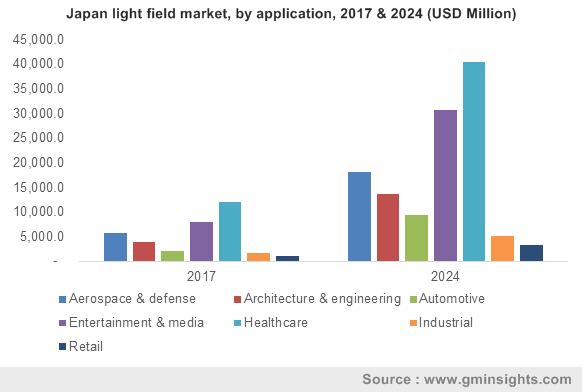 Adoption of light field technology in the entertainment and media sector is altering the contours of the overall industry
One of the major factors that has provided a significant impetus to the light field industry progression is the rapidly expanding entertainment and media application of this technology. In fact, as per a research report prepared by Global Market Insights, Inc., the entertainment and media application apportioned more than 25 percent of the total revenue share of the industry in 2017 – impressive statistics that signify the extensive future growth of this application. This technology is being increasingly incorporated in numerous entertainment medias including amusement parks, theaters, gaming, museums, and apps, predominantly through virtual reality (VR) headsets. Apparently, the light field technology has seemingly demonstrated a new level of how convincing VR experiences can be.
A recent instance lending credibility to the claims of using light field technology effectively in VR is of Google, who has been experimenting with this technology over the last few years. In 2018, the search engine giant released a free application, named 'Welcome to Light Fields', mainly to exhibit the potential of this technology. Notably, the application has been made available on Steam VR for Windows, Oculus Rift, and HTC Vive VR headsets.
Get a Sample Copy of this Report:@ https://www.gminsights.com/request-sample/detail/2664
Speaking along similar lines, it has also been recently reported that Google acquired Silicon Valley-based imaging startup Lytro, which is best known for developing the world's first light field camera and has numerous patents to its name in VR-related imaging technology. With this acquisition, it is being speculated that the company might be looking to strengthen either its VR gaming initiatives or its camera offering in Pixel phones, which is quite unsurprising as prominent players operating in gaming sector are improving customer experience by integrating VR into games. Considering the impact of the top of the line acquisitions and innovative products being unveiled by major tech magnates like Google, the entertainment and media application of the light field industry is undoubtedly set to escalate at an exceptional pace in the ensuing years.
Latin America to emerge as a major revenue pocket for light field industry
Anticipated to register an annual growth rate of more than 16 percent over the forecast timeframe, Latin America has gradually emerged as a lucrative investment avenue for potential stakeholders. The rapidly expanding retail sector in Latin American nations has compelled the major retailers to adopt and leverage new technologies to gain competitive advantage. In this regard, it would be prudent to mention that the proliferation of AR and VR technologies has been assisting the retail sector to improve customer experience and brand engagement ratio.
The brick-and-mortar retail outlets are launching interactive experience devices such as mixed reality headsets to enhance the shopping experience, essentially fueling the growth potential of Latin America light field industry. In addition to the retail sector, the light field technology is being increasingly utilized across other business verticals such as automotive and hospitality, which would, in turn, strengthen the product demand in the times to come.
With light field technology being increasingly used in imaging solution processes along the likes of layout & animation, image construction, 3D scanning, 3D rendering, and 3D mapping and modeling, it remains to be seen how this technology impacts the future of mixed-reality products. However, it is quite imperative to mention that the growth trajectory of light field market appears highly-promising owing to the technology's potential to drastically change the product portfolio of several business verticals. For the record, the commercialization scale of the global light field industry is slated to surpass USD 1.5 billion by 2024.
Author Name : Saif Ali Bepari
Having taken the conventional global lighting marketplace by storm, Europe LED lighting industry, in the recent years has emerged to a fertile investment ground for potential investors. The LED (light-emitting diode) technology, of late, has been gaining traction form variety of reasons, but most notably because of its extended lifespan, lower maintenance, and low energy consumption abilities. In addition, given the strict regulations and energy norms in Europe toward energy efficient solutions, it wouldn't be wrong to quote that Europe LED lighting market share would soar several notches up in the years to come.
Germany Europe LED Lighting Market Size, by End-Use, 2017 & 2024 (USD Million)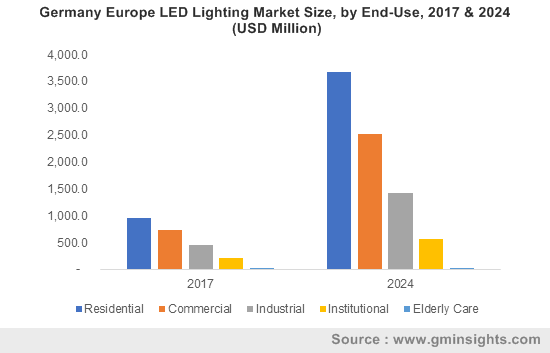 The impact of banning halogen lightbulbs on Europe LED lighting market  
According to reports, the EU announced a ban on the halogen light bulbs in Europe on September 1, 2018 and since then has been encouraging the consumers to switch to more energy-efficient LED technology.  The ban and the switch – forming a part of Europe's massive efforts in limiting environmental damage – have undeniably taken over the traditional lighting sales. According to experts, the move however, has also majorly impacted the masses financially as halogen bulbs are much more cost effective than LED lights. Nonetheless, over the years, many research reports have proved that a halogen bulb may be cheaper to buy, but the fact that the electricity cost will be much more expensive will ultimately nullify the price factor. In addition, halogen bulbs have an average life span of two years, while LEDs last for 15-20 years, in extension promoting the sales of LED lightings.
Another factor that further prompted the ban is the fact that LEDs consume only 1/5th of the total energy consumed by halogen bulbs, and phasing out of these traditional lightings will prevent over 15.2 million tons of carbon emission by 2025. According to EU officials for climate action & energy, this is a significant contribution toward fighting greenhouse gas emissions. Thus, the industry analysts report that the EU's measures to phase out halogen bulbs will provide a strong ground for the growth of the overall Europe LED lighting industry in the coming years.
Get a Sample Copy of this Report:@ https://www.gminsights.com/request-sample/detail/3035
The smart cities drive to favor Europe LED lighting industry expansion over 2018-2024
According to recent reports, the global urban population has escalated from 751 million in 1950 to over 4.2 billion in 2018, and is further projected to hit 7.7 billion by 2050. With the demographic changes, smart city projects have been identified as effective and promising way, many of the most emerging in Europe. In fact, the IDC (International Data Corporation) estimates the European spending on smart cities to surpass USD 19 billion in 2018.
Quite overtly, the increasing rate of smart city projects are indirectly expected to favor the growth of LED lightings, given the demand for smart and sustainable lighting products. It is prudent to mention that this trend has also been majorly fueling the smart lighting market, which is recently traversing on a lucrative roadmap, given the crucial role these components play in smart city infrastructure. The regional government has furthermore launched several smart city programs for deploying smart lighting solutions in the outdoor and indoor spaces. The need for sustainable as well as energy efficient lighting systems will further draw lucrative growth avenues for the Europe LED lighting market in the ensuing years.
Europe LED lighting industry magnates to play a major role in altering the business dynamics
With the advent of LED lightings, it comes as no surprise that there have been significant strides amongst the industry leaders to strengthen their regional foothold. Product breakthroughs and innovation remained the most adopted growth strategies for leading the way. A substantiation validating the fact is of Philips Lighting, that has recently introduced smart outdoor LED light bulbs which automatically turns on at night and turns off in the morning. Reportedly, these Philips' LED Dusk-to-Dawn A19 Frosted Light Bulbs are gaining immense momentum with the smart city drives in the region.
Industry analysts further point out that the government-imposed energy efficiency norms have also been majorly contributing to the overall growth of Europe LED lighting market contenders. An instance bearing testimony to the same is of Future Designs, that has recently announced the development of custom-made LED luminaries to be deployed across many of the stations for the Crossrail transportation system in London, UK. It has been reported that such use of LED lightings in rail settings and subways will be fostering Europe LED lighting market share. Cree is another renowned name, that has recently announced an LED lights retrofit project for the street lights in the quaint New England community.
Clearly, all the above trends are playing a crucial role in the development of Europe LED lighting market size, which is certain to proliferate the profitability quotient of this business sphere. A presumption validating the same is of Global Market Insights, Inc., that claims the Europe LED lighting to surpass a remuneration portfolio of USD 30 billion by 2024.
Author Name : Ojaswita Kutepatil
The global soft exoskeleton market is touted to make a big difference in the wearable industry in the coming years, owing to increasing product demand from patients with musculoskeletal and neurological disorders coupled with plentiful advantages of soft suits over bulky metallic suits. Research and development are the cornerstones of this industry, leading players try and guarantee cutting-edge, practical, and quality products for solving consumer problems. Amidst stringent labor safety regulations, there has been an upward momentum in product demand in manufacturing industries, primarily driven by the need to ensure worker safety and enhance efficiency, thereby bolstering soft exoskeleton market size over the future.
U.S. Soft Exoskeleton Market, By Product, 2018 & 2025 (USD Thousand)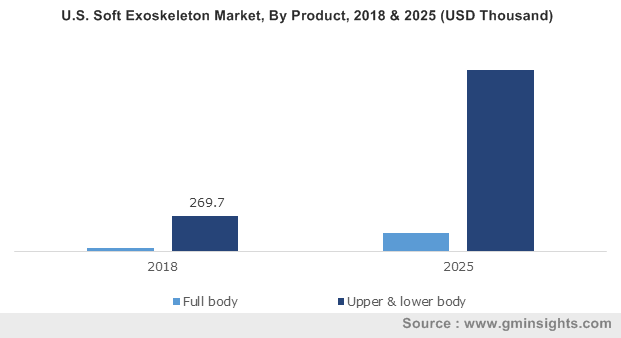 Workplace injuries are a common scenario in industries which require workers to perform tasks in extreme conditions. With that said, the rising incidences of gait disorders and bone-related injuries are set to fuel market growth in the looming future. For instance, the automotive giant Ford is reportedly introducing 75 upper-body EksoVest exoskeletons across fifteen motor making plants across the globe. The auto behemoth has entered into a collaboration with Ekso Bionics to enhance its employees' capabilities in the U.S., Mexico, Canada, Romania, Thailand, China, and Brazil. Ford claims that the physical activity of its workers is similar to an individual lifting a container full of flour or watermelons over its head 4,600 times a day. Thus, the introduction of exoskeletons vests would offer passive mechanical support to the wearers while performing overhead tasks, thereby enhancing their efficiency and reducing muscle strain.
A brief outline of the soft exoskeleton market with respect to the application gamut:
Military Applications
The military sector has always been actively looking for solutions to empower armed personnel in terms of safety and efficiency.  Although military personnel are tough and strong, the nature of their work makes them highly vulnerable to muscle sprains and spasms. A recent development by a multidisciplinary team of researchers from Harvard SEAS and Wyss Institute of Harvard in fact, has put the military sector in a tizzy. The researchers have fabricated a pioneering soft multi-joint exoskeleton ideal for soldiers and emergency labors. The soft exosuit embraces an advanced automatic tuning technique that decreases fatigue and injury during strenuous jobs and allows users to stay active longer.
Get a Sample Copy of this Report@ https://www.gminsights.com/request-sample/detail/3031
The device has been designed to boost mobility by applying mechanical forces to vital joints of the body. The mechanical forces are conducted via cables that run through the exosuit's components to hip joints and ankle to add power to leg movements. Moreover, the exosuit can help elderly or mobility impaired individuals lead more active lives. Thus, it is overt that product innovation initiatives for the betterment of defense workers will influence the commercialization graph of the soft exoskeleton market over the future.
Healthcare Applications
Soft exoskeleton industry size from healthcare applications is anticipated to grow at a rapid rate attributed to the burgeoning adoption of exosuits by patients with physical disabilities such as Parkinson's disease and multiple sclerosis. The rise in the number of hospitals, clinics, and medical centers offering rehabilitation treatment to paralytic patients is projected to impel market penetration in the coming years. In addition to this, the ability of soft exoskeleton to provide relief from spine injuries, traumatic brain injuries, and strokes would further advance market share.
Lately, ReWalk Robotics Ltd., the leading producer of exoskeleton solutions, has reportedly premiered a soft suit exoskeleton prototype, known as Restore, aimed at helping stroke survivors. The soft exoskeleton looks a lot similar to what construction workers wear for safety rather than a wearable robotic system. It contains a waist band fixed with a battery and motor, flexible cables that convey power from the motor to the ankles, shoe sensors, and leg braces. The anticipated release of a marketable Restore soft suit is scheduled for 2018. The expansion of the healthcare industry and the numerous developments it is characterized by will thus prove to expedite this business space in the coming years.
Industrial Applications
The rising implementation of full body soft exoskeletons in the industrial sector to enhance workers' productivity, decrease stress and fatigue would significantly bolster product demand in the years forward. Unlike conventional suits, full-body wearable soft exosuits provide varied flexibilities because of the absence of an exterior metal frame. Additionally, optimum service and support offered by manufacturers to businesses will extend incredible growth prospects for the soft exoskeleton market.
Reportedly, researchers at the Wyss Institute have recently developed cutting-edge soft exosuits that are aimed at mitigating injury risk and improving worker productivity during heavy lifting and reaching jobs. The soft exosuit technology is a textile-based system,  that looks and feels similar to clothing but is intended to offload pressure from the back muscles while performing physically demanding tasks.
Based on the aforementioned factors, it is rather apparent that soft exoskeleton technology looks to revolutionize the physical potential of the mobility-disabled, manufacturing workers, soldiers, and elderly by providing additional strength and stability to help appease exhaustion, pressure, and injuries. The lucrative advantages of the posture and motion support provided by these products across a vast application landscape would significantly amplify soft exoskeleton market size in the imminent future.
Author Name : Nikita Chaurasia
With the rising acceptance of renewable energy sources as a means to derive power, thermal energy storage market has emerged as one of the top-notch verticals of the sustainable ecosphere. The demand can also be cited to be driven by the reducing dependency on fossil fuels as an energy source, primarily due to their innumerable hazardous impacts on the environment. As per reliable reports, primary energy consumption is expected to rise by more than 45% by 2040. It is rather obvious that thermal energy storage which plays a balance between the growing energy demand and the need to address the environmental interruptions will constitute a major ratio of the sustainable energy mix.
Europe Thermal Energy Storage Market Size, 2013 – 2024 (USD Million)
Speaking of the widespread application portfolio, utility and electricity generation is one of the most lucrative end-use arenas for the thermal energy storage market. The technology has gained massive popularity via its adoption in CSP plants where solar heat is stored to generate electricity that can be used at night, providing relatively affordable, cleaner, and uninterrupted power supply.
It is prudent to mention that the residential and industrial sectors, where the technology is being widely utilized for cooling or heating applications as well as power generation, is yet another potential end-use avenue for the thermal energy storage industry. Reports from the International Renewable Energy Agency (IRENA) cite that, in Europe, around 1.4 million GWh/year of energy can be saved, and 400 million tons of CO2 emissions can be avoided, in residential and industrial sectors by extensively using heat and cold storage technologies, figures that identify the growth and profitability potential of thermal energy storage market over the coming years.
Get a Sample Copy of this Report:@ https://www.gminsights.com/request-sample/detail/2589
The energy-saving potential by deployment of this technology is vivid globally, although the rate of penetration of thermal energy storage market varies with different geographies. A series of parameters including the demand ratio, regulatory mix, and infrastructure support are some of the vital parameters responsible for the change of dynamics related to thermal energy storage industry expansion across the regional spectrum.
Below is an outline of the thermal energy storage (TES) market trends with a regional frame of reference:
United States Thermal Energy Storage Market
With heavy R&D investments and high fuel costs, U.S. thermal energy storage market is estimated to register a lucrative growth chart over the coming years. In the year 2017, nearly 41.8MW of energy storage systems were installed across the region, which accounted for 46% of y-o-y growth. In addition, reportedly, 14 U.S. states have deployed around 2GW of energy storage into Integrated Resource Planning (IRP), highlighting the growing popularity of energy storage technology in the region. As per a report by Global Market Insights, U.S. thermal energy storage market share stood at USD 6 billion in 2017.
Europe Thermal Energy Storage Market
With heating and cooling using approximately half of Europe's energy, the demand of thermal energy storage industry in the region is estimated to be substantially high over the coming years. As per European Association for the Storage of Energy, 50% of all final consumed energy in Europe is used to heat buildings or water. Out of this, 85% still comes from fossil fuels, hinting toward the potential opportunities which are yet unexplored in the region. Add to this, the regulatory landscape aggressively boosting the demand for renewable integration to attain the vision of a decarbonized economy will further provide a substantial impetus to Europe thermal energy storage market.
China Thermal Energy Storage Market
With the expanding infrastructure sector and rapid economic development, China is slated to be yet another profitable avenue for the thermal energy storage industry players. The region is actively investing in energy storage technologies with a vision to meet its energy as well as environmental sustainability demands. Reportedly in the first half of 2018, Henan, Qinghai, Jiangsu, and Guangdong provinces declared the construction of energy storage projects of varied capacities totaling 340.5 MW. In yet another instance, Suunpower, China's CSP developer last year signed a partnership deal with Norway's EnergyNest to deploy TES systems in China. The EnergyNest system would facilitate an affordable and eco friendly energy generation eliminating the hazardous impact of coal combustion on the environment.
In a nutshell, it is rather evident from the aforementioned facts and trends, that although the TES technology has penetrated appreciably at a global scale, its full potential is yet to be explored. A trend that is anticipated to change and characterize the dynamics of thermal energy storage market is the high technological developments and R&D investments focusing toward energy efficiency and environment sustainability. In terms of profitability matrix, analysts project the worldwide thermal energy storage industry to surpass a revenue of USD 55 billion by 2024.
Author Name : Mateen Dalal
Tagged as one of the most profitable investment ventures of the recent times, smart HVAC controls market has made its presence felt owing to the ongoing trend of reducing energy consumption. Not to mention, the growing prominence of the Internet of Things (IoT) that has paved the way for building components to be connected to the Internet, resulting in the expansion of the building automation sector, has also led to smart HVAC controls market retaining a profitable position worldwide.
Germany smart HVAC controls market size, by application, 2017 & 2024 (USD Million)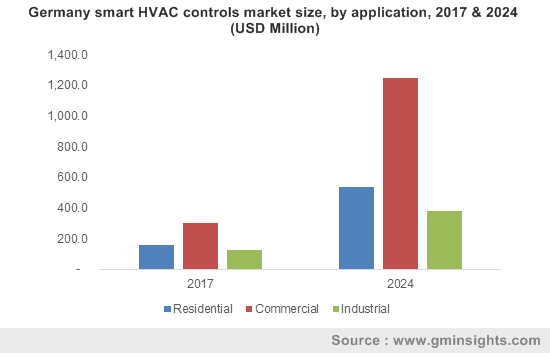 Smart HVAC systems provide the ability to fine-tune temperature, air quality, humidity, and several atmospheric factors in homes and offices. These systems are equipped with high precision sensors for regulating and maintaining air quality and temperature, further improving occupant's health and physical well-being. Indeed, the product can significantly reduce energy consumption and can easily adapt to changing environmental conditions while detecting need for maintenance. Using both advanced hardware and software technology these systems offer enhanced compatibility with smart devices while sustaining the concept of IoT, that has consequently propelled smart HVAC controls market trends.
As far as lowering energy consumption is concerned, smart HVAC modules are seemingly the most energy efficient appliances in modern automated buildings. According to reports, traditional HVAC appliances represent 61% of residential energy consumption in the UK and Canada and 43% in the U.S. The International Energy Agency (IEA) claims that smart HVAC control systems offer controlled use of energy, as the system maintains specific heating, cooling, and ventilation requirements, avoiding access energy consumption while considering end-user comfort. Powered by the robust requirement to optimize energy consumption, smart HVAC controls market is thus on its way to garner substantial popularity ahead.
Get a Sample Copy of this Report:@ https://www.gminsights.com/request-sample/detail/710
How has building automation emerged as a major driver for smart HVAC controls market?
Building automation has lately gained commendable momentum, given that it has been proven to significantly reduce energy consumption and maintenance costs for home owners. Reports from the Buildings Performance Institute Europe (BPIE) 2017, claim that by adopting building automation, owners can reduce energy consumption by around 27% in households, while using smart technology can save an average of 23% of energy consumption in commercial offices. The International Energy Agency (IEA) predicts that adopting digitalization could save around 10% of total energy consumption in commercial and residential buildings by 2040, with efficiency gains largely depicting themselves in cooling and heating applications, specifically with the deployment of smart thermostats and sensors. This has gradually led to a rise in the number of more and more automated buildings, that would eventually result in the expansion of smart HVAC controls market.
Reportedly, residential users are installing smart HVAC systems to ease the deployment and accessibility of heating and cooling systems. The improved efficiency and convenience of offered by these products has encouraged users to install the systems across homes and offices. Due to the compatibility of these products with smartphones and IoT, users can effectively precool and preheat their homes or offices using a dedicated app from afar. The product can also effectively offer information about air quality, maintenance, energy consumption and energy efficiency – in a nutshell, information that can be used by building managers, home owners, energy grid managers, and maintenance staff to take necessary steps for lowered energy consumption.
The demand for smart thermostats has also helped uplift the smart HVAC controls market share, especially on account of the product's extensive demand in colder countries. Smart thermostats use high precision motion and door sensors to save energy by automatically turning off when residents are sleeping or away from home. These low cost, easy to install devices have reportedly gained popularity in colder countries including Russia, UK and Germany, UK. Easy configuration and integration with smartphones and other home appliances have encouraged users to implement these systems on a large scale, augmenting smart HVAC controls industry size.
Speaking with respect to the geographical penetration, North America is anticipated to help impel smart HVAC controls market, primarily on account of the harsh climatic conditions in some of the continent's zones and the large-scale adoption of smart homes. Customers are seamlessly adopting the product to enable control over temperature & humidity to enhance their home comfort. Rapid development in the building automation sector and widespread technology adoption in the country is expected to propel the demand for these products in the region.
Propelled by the fact that smart HVAC enables users to control conditions like temperature, humidity and even fragrance in homes and offices, and helps maintain air temperature and quality at optimum levels, these devices are used extensively to improve the quality of life for occupants. The growing integration of these HVAC systems with smart phones and home appliances and the expansion of the building automation industry will massively augment the smart HVAC controls market size in the years to come.
Author Name : Mateen Dalal