Infectious Disease
Rampant use of advanced PoC (point of care) diagnostics devices across the healthcare sector will spur molecular diagnostics market growth. A swift rise in the aging population prone to chronic ailments is expected to offer huge potential for the industry growth. As per UN reports, the older population (> 65 years) is expected to rise from 901 million in 2015 to nearly 2.1 billion by 2050. According to Global Market Insights, Inc., "Molecular Diagnostics Market size is anticipated to exceed USD 10 billion by 2023." Furthermore, heavy demand for personalized drugs as well as companion diagnostics along with high expenditure on activities pertaining to medical diagnostics clinical research will drive the market trends over the coming six years.
Germany Molecular diagnostics market size, by technology, 2012-2023 (USD Million)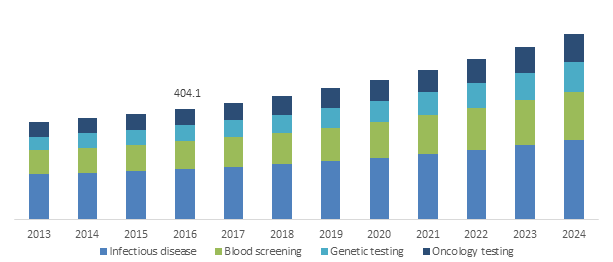 DNA/RNA Purification, PCR (Polymerase chain reaction), and Real-Time PCR are some of the key molecular diagnostics technologies. PCR, which accounted for 46% of molecular diagnostics industry share in 2015, is expected to contribute significantly towards the overall revenue over the coming timeframe. Real time PCR is also expected to make substantial contributions towards molecular diagnostics market size, driven by breakthroughs in clinical microbiology, molecular biology, and instrumentation.
Get a Sample Copy of this Report:@ https://www.gminsights.com/request-sample/detail/434
Contagious diseases such as tuberculosis, hepatitis C, flu, RSV (Respiratory syncytial virus), meningitis, hepatitis B, HPV (human papillomavirus), Dengue, and STD (Sexually Transmitted Disease) are projected to contribute significantly towards molecular diagnostics market revenue over the next few years. STD, which covered a major portion of the overall revenue in 2015, is expected to offer lucrative growth opportunities for the industry over the next few years. High occurrence of sexually transmitted diseases along with the use of advanced diagnostic procedures will drive the growth. HPV is anticipated to nurture molecular diagnostics industry growth over 2016-2023. Rise in HPV infections across the globe is expected to drive the growth.
Below are the regional trends influencing molecular diagnostics market over 2016-2023
APAC molecular diagnostics industry size is expected to grow considerably over the coming timeframe. Rise in incidence of contagious diseases as well HAIs (hospital acquired infections), high patient population base, fast economic development, and preventive healthcare legislations will be the key driving factors. China, Malaysia, and India are predicted to be the major regional revenue contributors.
Introduction of new technologies, enhanced healthcare facilities, increase in patient awareness level regarding early diagnosis of the ailment, and heavy funding for R&D activities associated with drug discovery will boost North America molecular diagnostics market revenue over the coming six years. U.S. is expected to be the key regional growth driver.
Large acceptance of modern technologies along with high investments across the healthcare sector to improve the care services is expected to accelerate Europe molecular diagnostics industry growth. Germany is projected to contribute considerably towards the regional share.
Africa molecular diagnostics industry revenue, estimated at over USD 130 million in 2015, is expected to grow at a rate of 9.5% over 2016-2023. High acceptance of novel technologies such as PoC diagnostic kits plus rise in occurrence of contagious diseases is forecast to drive the regional growth.
Market players will try to expand their product portfolio through strategic collaborations and joint ventures. Key industry participants include Johnson & Johnson, bioMerieux, Becton Dickinson, Abbott Laboratories, Danaher Corporation, Cepheid, Bio-Rad Laboratories, Bayer Healthcare, F. Hoffmann-La Roche AG, Siemens Healthcare, Dako, and Novartis.
Author Name : Dhananjay Punekar
Gene editing market is slated to register a massive double-digit growth rate over the coming seven years. The rising number of biotechnology and pharmaceutical firms will provide heavy revenue generating opportunities for the gene editing industry players over the coming years. Moreover, increasing prevalence of cancer and genetic disorders will further enhance the scope of the gene editing market. According to Global Market Insights, Inc. "Global gene editing market size worth USD 2.17 billion in 2015, is estimated to witness a CAGR of 14% over the period of 2016-2024."
The rapid technological advancements in healthcare industry will also build a profitable roadmap for the gene-editing industry. Precision medicine market, which is estimated to surpass a revenue of USD 85 billion by 2023, will also promote the gene-industry market trends. The government support and increasing investments in R&D to enhance the technological outlook will also boost the gene editing industry share notably over the coming timeframe. The pharmaceutical industry is also actively collaborating with the gene editing firms to implement the technology use in clinical development. In addition to this, the industry will gain wide acceptance on account of its benefits in the wellbeing of humans, animals, and plant ecosystems.
U.S. Gene Editing Market Size, by Application, 2013- 2024 (USD Million)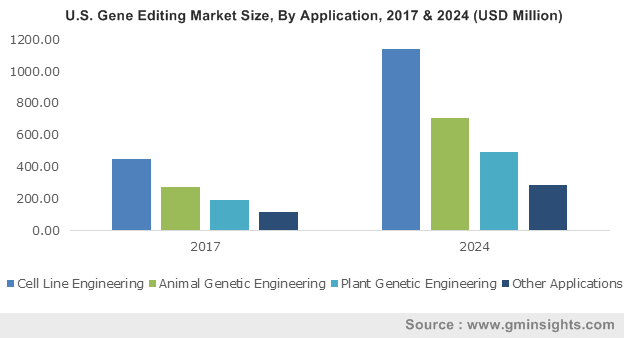 Gene editing industry finds a varied set of applications across areas such as oncology, muscular disorders, infectious disease, and hematology. Hematology led the application landscape with a revenue of USD 807 million in 2015. Rising prevalence of infectious diseases such as HIV will promote the gene editing industry size in infectious disease applications, with a revenue estimation of USD 2.5 billion by 2024. Moreover, oncology applications will also exhibit a decent growth rate over the coming seven years, with an annual CAGR of 16% over 2016-2024. The increasing number and types of cancer will primarily contribute towards the application growth.
Get a Sample Copy of this Report:@ https://www.gminsights.com/request-sample/detail/810
CRISPR/Cas9 is the most prominent technology implemented in the gene editing applications and has been the most buzzed topic among the researchers worldwide. The ability of CRISPR/Cas9 technology to enable multiple edits at once has made it a breakthrough in the gene editing technology landscape. Moreover, its simplicity, specificity, and speed will further promote the technology demand over the coming years. CRISPR technology based gene editing market is estimated to exceed a revenue of USD 3 billion by 2024. Other notable technologies deployed in the gene editing industry include TALENS, Mega nucleases, and Zinc Finger Nucleases (ZFNs).
The major end-users participating in the gene editing market include CROs (Contract Research Organizations), Biotech & Pharma companies, and Research Institutes. Biotech and Pharma dominated the end user landscape accounting for 58% of the overall market share in 2015. The growth can be attributed to increasing applications of gene editing in therapeutics and drug discovery. Moreover, enhancements in the field of genetic engineering will further expand the scope of gene editing market in biotech and pharma sector. CROs will also emerge as a prominent revenue generating sector due to increased outsourcing by the pharmaceutical companies for complex drug discovery.
Considering the global trends, US gene editing industry led the global landscape, with a revenue of USD 518 million in 2015. The trend is likely to continue with the rapid expansion of biotech and pharma industry coupled with the rising prevalence of diseases such as Alzheimer, cancer, and other infectious ailments. UK gene editing market is anticipated to surpass USD 744 million by 2024, driven by the growing geriatric population base and frequent occurrence of chronic ailments across Europe. Asia Pacific will also exhibit substantial growth over the coming years. Improving healthcare infrastructure, technological developments in the medical space, rising geriatric population base, and favorable government norms will stimulate the APAC market growth.
Lack of awareness about gene-editing may prove to be a roadblock for the market growth. However, the government support towards spreading awareness will undoubtedly improve the future business scenario. The emerging economies will gain a major traction of the industry players to expand the regional base. Key market participants include Agilent Technologies, AstraZeneca, Allele Biotech, Cellectis, Bio Rad, Editas Medicine, CRISPR Therapeutics, Lonza, GE Healthcare Dharmacon, Recombinetics, Inc., Qiagen, Thermo Fisher Scientific, and Sigma-Aldrich.
Author Name : Shikha Sinha